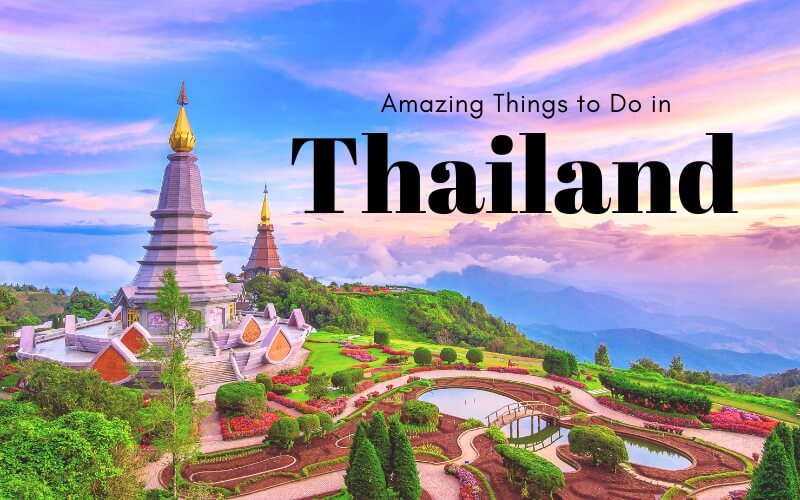 Thailand is a wonderful destination with so many things to do, causing difficulty in choosing what to experience during a Thailand trip. From shopping in floating markets to the busy night markets, hopping between islands, joining a cooking class, or playing and feeding the elephants, etc. Thailand offers lots of activities, so it will be very easy to get overwhelmed and miss out on something. Today, we will help you with that dilemma by offering a list of the best things to do in Thailand.
Be Amazed at The Grand Palace in Bangkok
The Grand Palace and the stunning series of buildings that surround it are now over 200 years old and remain perhaps Bangkok's most famous and recognizable destination. It can sometimes feel like a tourist trap, but its vast history and golden grandeur are evident. Since 1782, this place has been the official residence of the Kings of Siam (and then Thailand).
As you explore the Grand Palace, don't miss the Emerald Buddha and the nearby Wat Pho, home to Thailand's largest reclining Buddha. Another must-see is Wat Arun, also known as the Temple of Dawn. It is magnificent from a distance and intriguing up close, with its mosaic details on the top. Sunset is often the most attractive time to admire the palace. As the sky turns dark, the Grand Palace lights up, it will be a very amazing view.
>>> Pay a visit to the Grand Palace and other tourist attractions in the capital of Thailand with our Bangkok Highlight Tour in 5 Days.
Explore Thailand's Ancient Cities
Thailand has many remnants of its ancient cities that testify to the country's rich cultural and historical past. Here are some of the most popular archaeological sites that you should not miss:
Ayutthaya: This ancient city is located about 80 kilometers north of Bangkok, and used to be the capital of the Kingdom of Siam for over 400 years. It was destroyed by the Burmese in 1767, but many ruined temples and palaces can still be seen today.
Sukhothai: Founded in the 13th century, Sukhothai is considered the first capital of Thailand. It is located in the north of the country and has many beautifully preserved Buddhist temples and stupas.
Chiang Mai: Although Chiang Mai is a modern and dynamic city today, it also has many vestiges of its historical past. Wat Chiang Man, for example, is a Buddhist temple dating back to the 14th century, while the Old Town is surrounded by ancient walls and moats.
Lopburi: This ancient city is known for its Khmer temples dating from the 11th to 13th centuries. Prang Sam Yot is one of the most famous sites, with its three sandstone towers and a mystical atmosphere.
Phimai: Located in northeast Thailand, Phimai was once an important city in the Khmer kingdom. Today, it is best known for its magnificent Buddhist temple, Prasat Hin Phimai, which is considered one of the finest examples of Khmer architecture outside of Cambodia.
Whether you're a history lover or just curious about this country's fascinating past, exploring Thailand's ancient temples and ruins is still considered one of the best things to do in Thailand that will give you a unique and unforgettable experience.
Island Hopping in Thailand
Thailand has over 5,000 miles of coastline, just waiting to be explored. Travel by long-tail boat and discover as many beautiful beaches and islands as possible.
Visit Phang Nga Bay and the limestone cliffs on Thailand's west coast. You can also take a ride to the Andaman Sea, and check out Phuket and Krabi. Here you will find white sandy beaches and plenty of snorkeling opportunities on Koh Phi Phi Lee and Koh Phi Phi Don.
The calm sea and clear waters are also perfect for kayaking. It's a great way to explore the islands without the masses of tourist boats or passenger ferries and to take the experience at your own pace. The coasts of Koh Pha Ngan, Koh Tao, and Koh Samui in the Gulf of Thailand, are particularly picturesque.
Dive underneath the Andaman Sea
Came to Thailand and didn't dive? Believe us, you missed something. Thailand is a paradise for diving enthusiasts, whether it's snorkeling or scuba diving. Almost all the islands have diving centers and schools. You can also get a PADI certificate there. The best dive centers are Koh Lanta, the Similan Islands, Koh Tao, and Koh Pha Ngan.
>>> Do snorkeling, scuba diving, and many other interesting activities at an affordable price with our Phi Phi Island Tour 4 Days.
Visit A National Park in Thailand
In Thailand, national parks are valued for their beauty and scale. You'll also find UNESCO World Heritage Sites here, as well as great hiking and biking trails throughout the country. Doi Inthanon National Park (home to Thailand's highest peak); Khao Yai National Park (considered one of Asia's largest monsoon forests); Sai Yok National Park (with several waterfalls, caves, and rare animals to discover); and Khao Sok National Park (considered the most beautiful in southern Thailand) are some of the must-visit destinations.
Of course, Thailand's natural wonders don't stop at its national parks. Consider visiting some of its best-known waterfalls, all renowned for their size and tranquility. The 16-meter-high Khao Sai Dao waterfall is accessible all year round, and visitors can also enjoy the nature reserve. The Erawan Waterfall is made up of seven levels, each supplying freshwater pools suitable for swimming. Thilosu Waterfall is perhaps the pinnacle – it is considered by many to be the most beautiful waterfall in Southeast Asia.
Go Shopping on A Floating Market
Floating markets can primarily be found in Indonesia, Vietnam, and most popular in Thailand. In recent times, they have been transformed into tourist destinations full of wooden boats with colorful local produce. Here, tourists can not only experience the local way of life but also buy a lot of beautiful things as gifts for relatives and friends.
Damnoen Saduak Floating Market in Ratchaburi is the most famous floating market in Thailand. It is located 100 km southwest of Bangkok, on the Hua Hin/Cha-am road. On the other hand, the Amphawa floating market in Samut Songkhram is a real gem, open only in the afternoon and located next to a temple. The Taling Chan Weekend Floating Market in Bangkok has only recently been discovered by tourists. It is still very authentic and frequented by locals. While there, you should absolutely try a whole host of Thai fruits, including custard apples, yellow longans, and tangy durian.
Go Shopping Wherever You Go
From street stalls to bustling markets, you can shop anytime in Thailand. In Bangkok, Chatuchak (JJ Mall) is one of the country's largest and most popular second-hand markets, held every Saturday and Sunday. Every evening from 4 p.m., city dwellers can also visit the Asian Night Market, which is full of kitschy shops and street food stalls.
If you're going north to Chiang Mai, you'll probably stop first at the daily Night Bazaar. Every Saturday, the Wualai Street Market opens at 2 p.m. and is near the city walls. You'll find locally made souvenirs, street food, and some unique and rare items, but make sure to bargain. In both big cities and small villages, markets and shops in northern Thailand often specialize in local handicrafts, wood carvings, silverware, silks, pottery, and furniture.
Taste Delicious Street Food in Thailand
What is the most rewarding experience in Thailand, you ask, apart from the country's magnificent monuments and natural landscapes? It's obviously Thai street food, so delicious! The fact that the rich aroma of Thai cuisine can easily make us salivate and want to taste it immediately. Thai food appeals to all the senses and comes in every color and variety presentation, not to mention powerful flavors that will make you come back for more.
Interact with Elephants
In Thailand, elephants are considered sacred and emblematic animals. They are respected for their wisdom, strength, and intelligence. However, elephant abuse is a sad reality in some "sanctuaries" that offer elephant rides. Therefore, it's important to avoid participating in these practices that cause harm to animals.
In fact, there are many positive experiences to be had with elephants in Thailand. Several elephant sanctuaries, for example, are dedicated to rehabilitating distressed elephants and offering visitors animal-friendly activities. By visiting these centers, you are helping to support their important work for the protection and welfare of elephants. It is therefore recommended to seek ethical experiences with elephants in Thailand and to support initiatives that aim to protect these majestic animals.
Join The Songkran Festival in Thailand
The Songkran Festival is one of the most popular events in Thailand and is celebrated on the occasion of the Buddhist New Year, which usually falls around April 13 every year. Celebrations usually span for several days and include processions of Buddhas, offerings of food and flowers, and traditional games. But the highlight of this festival is undoubtedly the water fight. In many cities, the streets are closed to traffic and people walk around with buckets, squirt guns, hoses, and other objects to hose down passers-by.
The Songkran Festival attracts thousands of visitors every year and is a perfect opportunity to experience Thai culture and join in a joyous celebration with the locals. It is also an opportunity to cool off during the hot April days in Thailand. However, it is important to take some precautions to protect your belongings and electronic equipment, as there is a high chance that everything will get wet during the water fight.
Meet Ethnic Groups in Northern Thailand
Northern Thailand is a fascinating region, where many ethnic groups have lived for centuries. Each of these communities has its own language, culture, tradition, and way of life. This is one of the most unique and enriching things to do in Thailand that allows you to discover the diversity and cultural richness of the region. Some of the best-known ethnic groups in northern Thailand include the Hmong, Akha, Karen, Lahu, and Lisu.
Many ethnic villages are accessible from the main cities of the region, such as Chiang Mai or Chiang Rai. Visitors can discover local customs, attend traditional dance and music performances, and buy handicrafts. Besides, you can participate in activities with the local communities, such as hiking through the mountains, rice planting, fruit picking, and traditional cooking. These activities are often organized in collaboration with the villagers, allowing visitors to experience local cultures in a responsible and respectful way.
>>> Hang out with the elephants and meet ethnic people with our Northern Thailand 8 Days Tour from Sukhothai to Chiang Mai.
Visit The Golden Triangle
The point where the Mekong River meets the Ruak River is locally known as Sop Ruak. However, to the rest of the world, it is the Golden Triangle – the point where Myanmar (Burma), Laos, and Thailand meet. Sop Ruak was once known as a prolific opium-growing region, and the Hall of Opium exhibits in Golden Triangle Park provide a solid introduction to local history and the effects of the industry, as well as the potency of the drug.
>>> Visit the Golden Triangle with our 8 Days Adventure in Bangkok & Northern Thailand.
Learn about the Dark Past of Kanchanaburi
Kanchanaburi is a province located west of Bangkok, known for its spectacular landscapes, waterfalls, Buddhist temples, and history related to World War II. However, this region also has a dark side, with tragic stories and historical sites that witness the cruelty of war such as Hellfire Pass, Bridge over the River Kwai, JEATH War Museum, War Cemeteries, etc. Visiting all of these places may take you 2 to 3 days; however, it is truly one of the worth-trying things to do in Thailand.
Enjoy A Traditional Thai Massage
A trip to Thailand would be incomplete without a Thai massage session. Traditional Thai massage is unique and famous around the world because it incorporates yogic and natural practices and elements that promote healing and rejuvenation. A massage session includes a whole series of postures and stretches, and the masseuse can even walk on your back. The purpose of these massages is to relieve you of all physical and mental stress.
Watch A Muay Thai Match
Attending a Muay Thai fight is an exceptional experience for lovers of combat sports. This martial art, born more than 1000 years ago in Thailand, is a source of pride for the local population and is an important part of Thai culture. Muay Thai fights are held regularly throughout the country, but the most famous stadiums are located in Bangkok. This is a fascinating cultural experience that allows you to experience the passion and pride of Thai people for this iconic sport while providing insight into the intense competition, impressive athleticism, and vibrant culture of the country.
Above are the best things to do in Thailand for all budgets and all types of travelers – you're sure to find something to like! Do not hesitate to contact us now if you need help organizing a tailor-made trip to Thailand.
Read more: