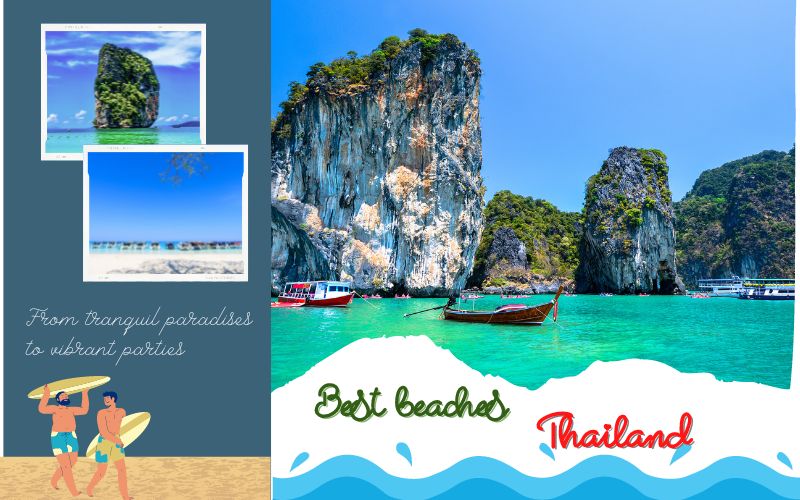 With over 2,500 km of coastline and 1,430 islands, Thailand's beaches have it all. Expect everything from otherworldly craggy limestone formations that seem to balance precariously on the turquoise sea, to colorful coral reefs whose inhabitants are best viewed with snorkels and fins. Along most of these beaches, beach huts and street vendors offer grilled kebabs and locally flavored noodle dishes. These enticing beaches continue to attract all kinds of beach goers, from students on a budget, to families on vacation, to people looking for a lively scene or a dip in the salt air. Here are the best beaches in Thailand you should put in your bucket list:
Freedom Beach, Phuket
Located in Phuket, the largest and most highly visited of Thailand's islands, Freedom Beach offers a throwback to tranquility with its picturesque and untouched beauty. 
Just 10-minute ride in a long-tail boat from Patong will take you to Freedom Beach where you can spend a day relaxing or snorkeling in the clear waters or just lazily sunbathing on immaculate sand to enjoy the atmosphere of utter relaxation, peacefulness and tranquility. 
Patong Beach, Phuket
Patong Beach, one of the best beaches in Thailand is the most popular, busiest, and most crowded beach in Phuket. The 3-km-long sandy crescent beach is busy with cafes, restaurants and bars. 
Patong is a great place for people watching, shopping and dining as well as taking part in many water activities such as paragliding, surfboarding and snorkelling.
Mai Khao, Phuket
If you go to Phuket, the best beach of the island is in the Sirinat National Park, 20 minutes walk from the airport. With its 10 km length, Mai Khao is the longest beach on the island and is one of the most beautiful beaches in Thailand. Go kayaking, walk through the pine forest, swim to the cluster of flat corals and sea anemones, or pick up your phone and watch the jumbo jets fly overhead as they approach the runway.
Maya Bay, Koh Phi Phi
With a white sandy beach, surrounded by towering limestone cliffs and coral reefs, Maya Bay is the crown jewel of Phi Phi Islands in the southern Thailand, a private paradise beach one cannot skip when visiting tropical Thailand. Maya Bay is famous for the location of the film "The Beach" starring famous actor Leonardo Dicaprio. 
Mass tourism in many years had devastated the ecosystem around the bay, forcing the Thai Government to close the beach to tourists in June 2018 in order to allow nature to heal itself. 
The beach was reopened early this year together with stricter entry rules to keep the bay preserved and special. Accordingly, boats are no longer allowed to enter the bay. Passengers will be dropped off at a pier on a different part of the island and visitors will have to walk in. Swimming is also no longer permitted. 
Railay Beach, Krabi
This is an incredible Thai beach paradise offering picture-postcard setting with powdery white sandy beaches, crystal clear waters, tall palm trees and imposing limestone cliffs cutting off mainland access. 
Located in a small peninsula between the city of Krabi and Ao Nang, this paradise can be accessible only by boat via the Andaman Sea but it is well worth the effort to get here.
The beach is perfect for relaxing with some exploration and enjoying water activities.
Hat Tham Phra Nang, Krabi
Golden powdery sand, warm waters and cave-carved karst cliffs make Hat Tham Phra Nang a genuine candidate for Thailand's most beautiful beach.
Located at Ao Nang in the Krabi Province and accessible only by boat, the beach is considered an ideal place for thrill-seekers who can scale the tree-covered karst cliffs at the western end to be rewarded with a panoramic view of Ko Kai, Ko Pada and other craggy neighboring islands. There are also activities such as diving and snorkeling. 
Sairee Beach, Koh Tao
Stretching nearly 2 km up the west cost of Koh Tao, Sairee Beach is the most popular and busiest beach on the tiny island which offers a wide range of accommodation, diving centers, restaurants, bars, cafes, shops and a variety of nightlife activities. 
The beach is perfect for couples and families with children to enjoy the white sand, clear waters and water activities. 
It also offers unobstructed views of sunrise and sunset.
Chaweng Noi Beach, Koh Samui
Chaweng Noi Beach with the shallow water and quite beachfront is a super chill location away from the crowds. It's the place where you can enjoy swimming, sunbathing and water sports. 
There are a plenty of choice of hotels and resorts as the beach can be one of the most exclusive beaches on Koh Samui with most of its part being high-end resorts and villas. 
Ko Simila, Phang Nga
 Ko Similan Island has beaches with soft white sand and the rich underwater world which allows divers to look at the almost untouched coral reef. Similan islands are the best places to go in Thailand for water activities and Ko Similan is the largest and the most popular among nine islands in the archipelago with some of the world's best dive sites and snorkeling expeditions. 
Hat Bang Sak, Phang Nga
While the islands bordering the bay get all the attention in Phang Nga province (including the much-visited "James Bond Island", which appears in the 1974 film "The Man with the Golden Gun"), the mainland has its share of forgotten sunny wonders.
Hat Bang Sak's long, wide strip of sand is adjacent to a grove of mature pine trees; away from the water's edge are mangroves and rubber plantations. Nearby, Be Friend Restaurant adds to the romance of the place with string lights, bamboo tables and chairs on the sand, and island-inspired dishes like shrimp cakes and squid in lemon sauce.
Thong Takian Beach, Koh Samui
Thong Takian, one of the best beaches in Thailand, is the most gorgeous beaches to visit on Koh Samui, surrounded by severe-looking cliffs and boulders. It is only a small beach but unspoiled with salty water big rocks scattered over the seabed and by the shore. Yet, you can find a place for good swimming and sunbathing here. There is also a pathway for divers to go to a coral reef. 
Haad Salad, Koh Phangan
Haad Salad, one of the best beaches in Thailand, is a haven for tourist to come to visit the pristine white sand and crystal-clear waters. Streching over 600 meters long in the northwest of Koh Phangan, the beach is the perfect place to unwind and enjoy a laid-back atmosphere. Back in the days, the bay of Haad Salad was full of pirates (Salad means pirate in the local language of Koh Phangan).
Klong Dao, Ko Lanta
Among the string of 52 small uninhabited islands that make up Ko Lanta in Krabi province, Ko Lanta Yai is the largest and most developed. To the northwest, stretching for 3.5 km, is a wide crescent-shaped beach with powdery sand, few rocks and shallow water, which is a safe and sunny playground for children.
In the center of the island are the caves of Kao Mai Kaew. You will see beautiful rocks and impressive stalactites and stalagmites.
Hua Hin, Prachuap Khiri Khan
A three-hour drive from Bangkok, Hua Hin has the distinction of being Thailand's oldest seaside resort. Developed in the 1920s as a getaway for the elite, it became even more popular when King Rama VII built his summer palace, Klai Kangwon (Far from Trouble).
Hua Hin remains fashionable today and is a good economic alternative to the southern islands. With its famous night bazaar and seafood galore, restaurants like Chao Lay offer a fantastic selection of freshly caught dishes.
Sichon, Nakhon Si Thammarat
To discover a stretch of sand relatively uncrowded by tourists, head to Sichon, in the far south of Nakhon Si Thammarat province, an eight-hour bus ride from Bangkok (or an hour's flight). Visitors are likely to encounter only local fishermen and their brightly colored boats-and if you're lucky, one of the area's 60 adorable pink dolphins, believed to be a subspecies of the Chinese white dolphin, which call the waters home.
Try khanom krok, the local specialty, coconut cakes flecked with chopped onions. Also save room for the freshly caught eels, steamed local clams or pad Thai style mackerel you'll find at small beach restaurants and bustling street food vendors.
Immersing yourself in crystal blue water, feeling caressing waves, walking in the powdery white sand under the stunning orange sunset or enjoying kayaking, paddleboarding, diving and vibrant beach life activities are not-to-be-missed experiences when you have holidays in Thailand. There is no shortage of busy crowed beaches to enjoy bustling beach life besides peaceful paradise beaches to escape from the reality or to be disconnected. From Phi Phi to Phuket, here are top best beaches in Thailand you should put in your bucket list.