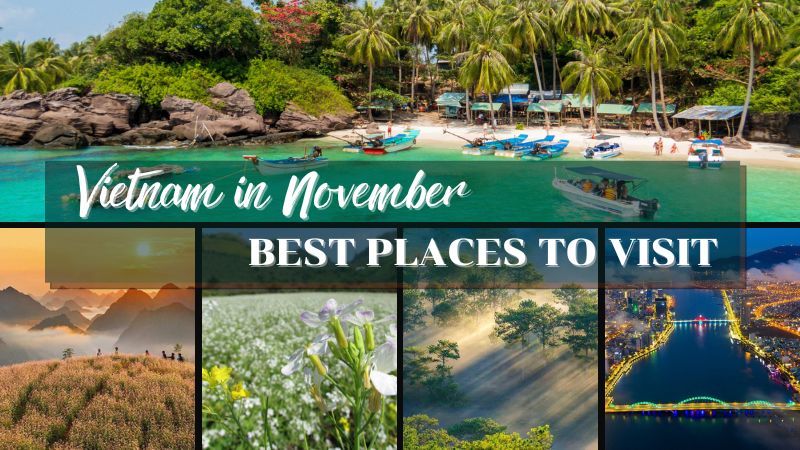 November is the time when the weather of winter with cold air covering. It is also the time of proliferation of many species of flowers, grass which are typical for each region. Besides, the mist also contributes to coloring many scenic spots to become more ideal and mysterious that visitors can only enjoy at the end of the year. IDC Travel will suggest to you some of the most ideal places spread across the country to visit Vietnam in November.
Ha Giang: Buckwheat flowers
Ha Giang is famous as one of the most ideal places when you visit Vietnam in November because each season here has its own beauty. Featured with highland beauty such as winding passes, terraced fields, peaceful beauty from the lives of local people, … Coming to Ha Giang this November, not only can you enjoy the breathtaking beauty of buckwheat flowers but you will be participating in the festival called "Le Hoi Hoa Tam Giac Mach"  with many attractive activities such as the Northwest Tourism Food Festival; cars, motorcycles, bicycles race; cultural festival of ethnic groups in Quan Ba and Meo Vac districts; boat race to conquer Tu San alley, Ma Pi Leng.
Son La: White canola flower
November in Moc Chau district (Son La) is the time when white canola flowers are in full bloom spreading across the valleys and hillsides. This highland land will offer you a series of ideal places to enjoy canola blooms at the most beautiful time of the year. These places are: Ban Hammer, Pine Forest of Ang Village, Pa Phach Village, Moc Chau Farm, etc. Those who love traveling, love flowers, love photography, … will be "satisfied" and bring back the best shots from this ideal place.
Da Nang: Paradise for a variety of travel enthusiasts
Another ideal place to travel in the last months of the year is Da Nang. This "liveable city" not only has the beautiful scenery of a "coastal city" but also is an ideal resort and entertaining paradise that is suitable for a variety of travel enthusiasts. One of the places that makes a name for Da Nang is Ba Na Hill amusement park. This place is especially attractive in November, when the weather is cool and airy and the white mist covers the whole amusement park, turning this place into a "fairytale" place. In addition, you can also have fun visiting VinWonders Nam Hoi An, strolling in the poetic French village or freely taking photos at the giant Golden Bridge, etc.
Da Lat: Most beautiful flowers blooming
Moving a little down to the South Central region, Da Lat city will be the ideal route for you. The most special thing when traveling to Da Lat in November is this is the time of the most beautiful flowers to bloom. Among them, the most brilliant is the wild sunflower – the symbol of Dalat's winter. The most ideal places to see the brilliant yellow of wild sunflowers in Da Lat are: Prenn Pass and Lien Khuong Highway; Van Thanh flower village – Golden Valley; Trai Mat – Cau Dat – Dran Town; etc.
If you do not have time to travel further, you can still check-in some locations that have wild sunflowers, such as Da Lat University, Da Lat railway station, flower garden in Lam Vien Square, etc.
Phu Quoc: Best place for beach holiday
If you want to avoid the cold of winter in the North and Central, then look to the South. Phu Quoc – one of the most famous beach tourism paradises in the South. Phu Quoc is the ideal place for a beach holiday and for those who love to go on tour, swim, have fun and enjoy local cuisine. Those who plan to go to Phu Quoc should go from mid-late November onwards. Phu Quoc offers you many places to enjoy with friends and family such as  Vinpearl resort; four-island destination: Hon Mong Tay – Hon Dam Ngang – Hon May Rut – Hon Thom; pepper farm, Ham Ninh fishing village, pearl farm, etc.
What are you waiting for? Let's create a plan to visit Vietnam in this November.