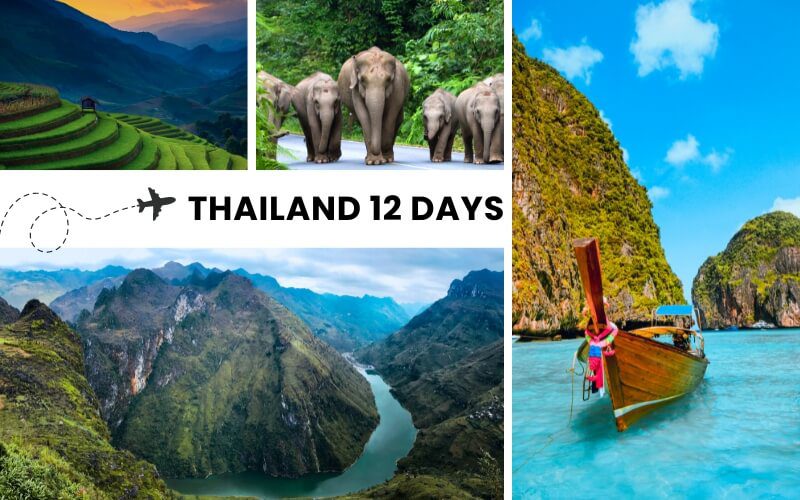 Thailand is a country with rich cultural values and many natural attractions, it's no surprise why this country is always the top destination when it comes to traveling to Asia. Whether you want to explore nature or want to find out more about the land's culture and history, come for a getaway, or enjoy a romantic honeymoon, "The Land of Smile" has everything.  No matter if you are a first-timer or an experienced traveler, we will help you to spend 12 days in Thailand perfectly with suggested itineraries and some tips to make the most out of your journey.
Best Time to Visit Thailand
The cool season, which generally spans from November to February, is the best time to visit Thailand. During this time, Thailand experiences milder temperatures and lower humidity, making it a popular and pleasant time to visit the country. The cool season offers more comfortable weather conditions compared to the hot and rainy seasons. Temperatures are generally cooler, especially in the northern regions of Thailand, and humidity levels are lower. Days are typically sunny and dry, making it ideal for outdoor activities and exploration. However, it's important to keep in mind the increased tourist numbers and higher prices during this period.
Must-visit Places in Thailand
Bangkok
Most of the tours will start from Bangkok, where you can take a domestic flight, book a car, or a train to another city. But there is more to it than just a transition point. Many monuments you might have seen on a postcard from Thailand are located here, from the Grand Palace, Wat Arun, Wat Pho, etc. This city is also called the "Venice of Asia" for the system of canals running through the residential area, pay a visit to the Damnoen Suduak Floating Market, and travel down the canals to explore the locals' daily life. Ideally, you should spend 2 – 3 days in Bangkok to visit the best attractions and try delicious street food in Chinatown before rushing to another destination.
Ayutthaya Ancient City
During the 15th century, Ayutthaya became the capital of the Siam Empire. For 417 years, this city thrived as the political and economic center of the Kingdom, with its wealth primarily derived from agricultural products and trade tariffs imposed on foreign commerce. European visitors from Portugal, France, Holland, and England began arriving in Ayutthaya during the 16th century, marveling at the city's opulence and prosperity, making it a pivotal trading hub, attracting merchants from far and wide.
However, in 1767, after enduring two years of warfare, Ayuthaya succumbed to the invading Burmese army. The conquerors ruthlessly devastated the city, desecrating everything held sacred by the Thai people. Despite its tragic fate, the remnants of Ayutthaya's ancient splendor can still be admired today and listed as UNESCO Heritage Site.
Chiang Mai
The city has a combination of modern and ancient features, making it a very attractive place to visit. Chiang Mai has many ancient temples, can mention Wat Phra Singh or Wat Prathat Doi Suthep. Other tourist attractions in Chiang Mai are the elephant sanctuaries around the city where tourists can come and experience taking care of these giants and Doi Inthanon National Park, home to the highest peak in Thailand.
Chiang Mai has a cooler temperature, which is hard to find elsewhere in Thailand. The highlands give Chiang Mai conditions to grow coffee and tea, don't miss the opportunity to wander in a tea plantation or try freshly brewed coffee made in the traditional way.
>>>Prepare yourself with the essential information about Chiang Mai with our travel guide and be ready to explore the city in the near future.
Chiang Rai
Chiang Rai is located in the furthest area in the north of Thailand. It is known for its rich history, diverse culture, and stunning natural landscapes. The most famous landmarks in Chiang Rai are the White Temple, also known as Wat Rong Khun, and the Blue Temple, officially called Wat Rong Suea Ten. Chiang Rai is also a gateway to the Golden Triangle region, where the borders of Thailand, Laos, and Myanmar meet. This area is known for its scenic landscapes, lush mountains, and the Mekong River.
Additionally, Chiang Rai offers a variety of bustling markets, where visitors can shop for local handicrafts, textiles, and fresh produce. The Night Bazaar and Saturday Night Walking Street are popular spots for experiencing the local flavors and finding unique souvenirs.
Phuket
Phuket is the most famous island in the south of Thailand for its beautiful shores and turquoise water. Besides the lovely beaches, Phuket also has amazing jungles for you to explore, or you can head to the island center and join in the bustling evening activities of the locals. There are many beaches for you to choose from, you can enjoy many services and water sports or come to a quiet, rural shore to enjoy a calm, peaceful site. The jungle in Phuket also offers you the opportunity to join a zipline tour, where you will glide above the trees and take in a bird's view of the lush jungle. A must when coming to Phuket is a trip to Phang Nga Bay, then head to the famous James Bond island, the famous site featured in the movie "The Man with the golden gun".
>>>Read the detailed Phuket travel guide and save some beautiful destinations on your bucket list to enjoy the city more.
Suggested Itineraries for 12 Days in Thailand 
Option 1: Stay in a Region of Thailand
Itinerary 1: 12 Days in Northern Thailand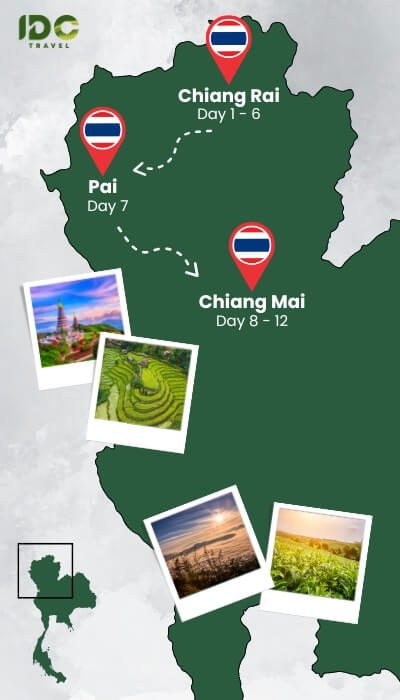 Day 1 – Arrive in Chiang Rai – Check in and prepare for an evening tour in a tuk-tuk.
Day 2 – Nature Walks & Picnic – Visit the Akha tribe outside of Chiang Rai.
Day 3 – Chiang Rai Tour – See the Golden Triangle, the crossing border between Thailand, Myanmar, and Laos.
Day 4 – Enjoy the best of eco-tourism in Chiang Rai – visit the Lisu Lodge, an ecolodge near a hill tribe village, and wander through the paddy fields.
Day 5 – Biking, visiting a tea garden, river rafting, and joining a Thai cooking class – Join a bicycle tour to Muang Guert Village. Stop by a tea plantation on the way. In the evening, you will learn to make a traditional Thai meal.
Day 6 – Travel to Pai.
Day 7 – Watch the sunrise in Yuan Lai, explore Tham Lod Caves, and visit Ja Bo & Kiew Lom.
Day 8 – Transfer to Chiang Mai in a private car.
Day 9 – Visit the Kanta Elephant Sanctuary – Feed, bathe, and play with the elephants.
Day 10 – Discover Doi Inthanon National Park – Trek around the park, and explore epic waterfalls and scenic temples.
Day 11 – Visit Baan Kang Wat & Wat Umong.
Day 12 – Depart Chiang Mai.
>>> For a detailed itinerary, you can check our Ultimate Northern Thailand 12 Days Discovery Tour.
Itinerary 2: 12 Days in Southern Thailand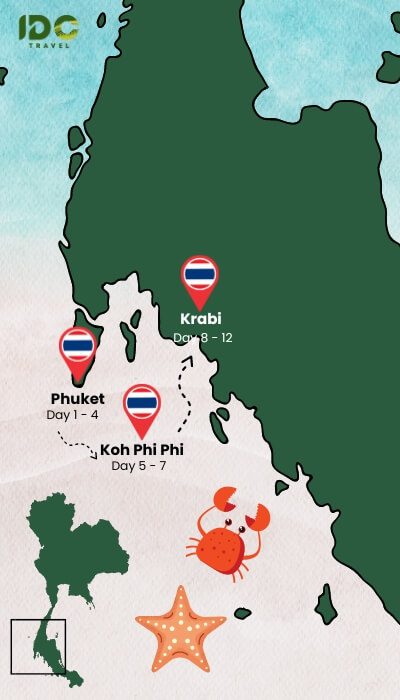 Day 1 – Arrive in Phuket, check in, and relax at the hotel.
Day 2 – Phang Nga Bay Excursion – Kayaking into the Sae Caves inside Phang Nga Bay and learn how to make a floating flower lantern for a natural light show before a buffet dinner.
Day 3 – Free day in Phuket. You are recommended to travel around the city and pay a visit to its major highlights, such as the Big Buddha, Wat Chalong, and Walking Street Market.
Day 4 – Free day in Phuket, optionally join a zipline adventure tour.
Day 5 – Travel to Phi Phi Islands – Hop on a ferry trip to your hotel on Phi Phi Island. After check-in, you'll have the afternoon free to relax and discover the island at your own pace.
Day 6 – Full-day discover Koh Phi Phi's beautiful beaches and join interesting water activities.
Day 7 – A day to discover the island on your own. Don't miss out on the chance to hike up Phi Phi Viewpoint or relax on Maya Beach.
Day 8 – Travel to Krabi – Catch a ferry to Krabi in the morning, meet your driver, and check in at your hotel.
Day 9 – Explore Hong Island – take a speed boat to Hong Island, Pak Bia Island, and Lading Island.
Day 10 – Private tour in Krabi. You can freely tailor-make your itinerary and we will set up the arrangement.
Day 11 – Free day to enjoy the beach of Kok Phi Phi.
Day 12 – Depart Thailand.
>>> Check the comprehensive program here or refer to our Thailand Beach Holidays for more itinerary ideas of your preference.
Option 2: Thailand 12 Days Tour Throughout The Country
If you visit Thailand for the first time and want to explore all the highlights of this country, this itinerary is for you. Landed in Bangkok, you will have several days to explore this city before moving to Chiang Mai for natural adventure. Your final destination is Phuket, which is considered the world's beach and resort paradise.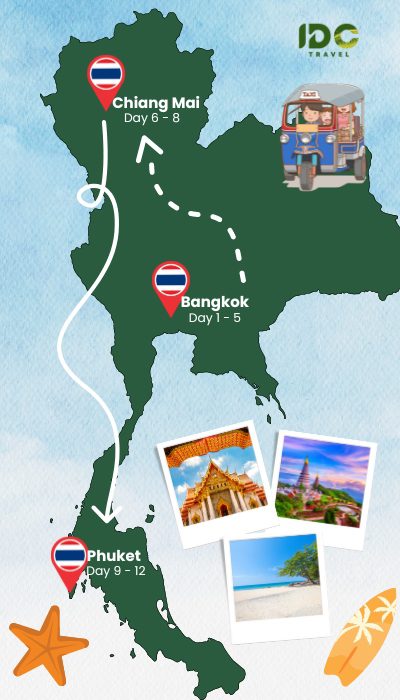 Day 1 – Arrive in Bangkok – Check in and explore the city independently.
Day 2 – Free morning to explore the capital city of Thailand on your own. Then, join an evening food tour by tuk-tuk, and be ready to same almost all the delicious street food of this city.
Day 3 – Bangkok City tour – You will be taken to visit Bangkok's major highlights, such as Wat Pho, Wat Arun, Grand Palace, etc.
Day 4 – Visit Maeklong Railway Market and Damnoen Saduak Floating Market.
Day 5 – Discover the River Kwai and Death Railway in Kanchanaburi.
Day 6 – Fly to Chiang Mai. Visit Chiang Mai Old City if time permits.
Day 7 – Full-day explore Patara Elephant Farm. You will hike to the jungle to visit these giant animals, bathe, and feed them.
Day 8 – Join a zipline tour – a must-try experience for adventure lovers.
Day 9 – Fly to Phuket. Be ready to hop on beautiful islands and beaches.
Day 10 – Full-day explore Phang Nga Bay with amazing water activities, such as swimming, kayaking, scuba diving, etc.
Day 11 – Free day to relax on the beach.
Day 12 – Depart Thailand.
>>> The detailed itinerary of this 12-day Thailand excursion across the country is presented here.
Similar tours:
Option 3: Itinerary for A Multi-country Excursion
With 12 days, you can easily combine Thailand with another neighboring country for a perfect tour of Southeast Asia. Thailand – Cambodia and Thailand – Vietnam are two of the most popular choices. However, if you want something different, you can consider Myanmar – a little bit close country but still offers many interesting experiences. Below is a suggested tour itinerary: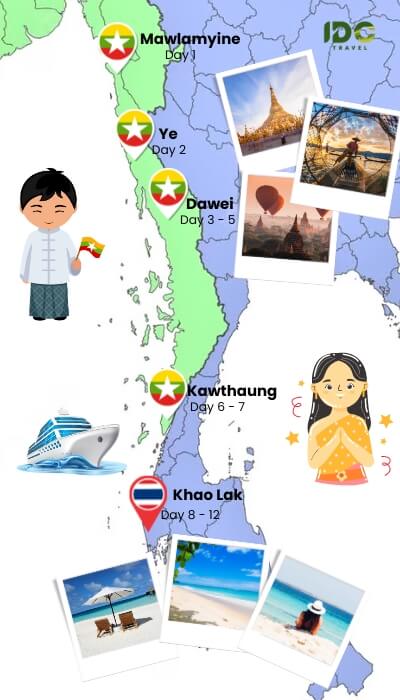 Day 1 – Arrive in Mawlamyine, and visit the Queen Sein Don Monastery before checking in at the hotel
Day 2 – Visit the Death Railway, Banana Mountain, and stop in Ye for a night's sleep.
Day 3 – Transfer to Dawei, and visit Tanintharyi Museum and a local night market.
Day 4 – Visit Strand Road Market and travel to San Maria Beach near the rubber plantations.
Day 5 – Visit Dawei Peninsula, and walk up the mountain to a pagoda with views of Dawei River and Grandfather's Beach.
Day 6 – Dawei to Kawthaung
Day 7 – Kawthaung Tour – Visit the beautiful Mergui Archipelago.
Day 8 – Travel to Khao Lak, Thailand. You will take a boat from Kawthaung Jetty to Ranong, Thailand, and onward travel to your hotel in Khao Lak.
Day 9 – Khao Lak Elephant Camp – Feed and bathe the elephants. Then, come to see a conservation project protecting baby turtles in the Andaman Sea.
Day 10 – Similan Islands Tour – Spend a full-day tour on the islands swimming, snorkeling, and relaxing.
Day 11 – Free day in Khao Lak. It is your chance to take in the tranquil beauty of Thailand's beaches.
Day 12 – Depart Thailand.
>>> Interested in this program, you can check the detailed information at Best of Myanmar and Thailand 12 Days Tour.
Must-try Foods in Thailand 12 Days
Thailand has more than just tourist destinations and relaxing beaches. Any traveler coming to this country will remember their journey for the delicious food here. Maybe you have tried many Thai dishes in your home country, but having an authentic experience in Thailand, made by the locals, is something far more special. Enjoy the well-balanced dishes that make Thailand so popular on the culinary map, we would recommend you try these dishes when come to Thailand to make your journey better.
Pad Thai
Pad Thai is a popular Thai dish known for its flavorful combination of sweet, savory, and sour flavors. Pad Thai typically consists of stir-fried thin, flat rice noodles, which are commonly accompanied by bean sprouts, garlic chives, scrambled eggs, and firm tofu. As for protein, chicken or shrimp/prawns are the most commonly used options, but there can be variations with other proteins or even vegetarian versions. The dish is often garnished with crushed peanuts, lime wedges, and sometimes chili flakes for added spice.
Thai Curry
Thai curry is a flavorful dish consisting of a spiced sauce or paste that blends aromatic spices. It's commonly mixed with proteins such as chicken, beef, pork, shrimp, or tofu, as well as an assortment of vegetables and herbs. What makes Thai curry truly special is the balance of flavors. It incorporates a combination of spicy heat from hot chilies, the freshness of herbs like Thai basil and coriander, and the tangy notes of sour citrus and citrus juices, often from ingredients like lime or tamarind.
Khao Soi
Khao Soi is a delicious and flavorful Thai noodle soup, the best version is in Chiang Mai. The origins of Khao Soi can be traced back to Chinese Muslim communities in southern China. In Chiang Mai's version of Khao Soi, handmade boiled egg noodles replaced the rice noodles used in Myanmar, giving the dish a distinct texture. The coconut base of the curry was enriched with local red curry paste, adding a spicy kick to the soup. The resulting dish became known as Chiang Mai's signature. Khao Soi in Chiang Mai is typically served with fragrant and fiery coconut curry, accompanied by fermented pickles, fresh shallots, and a dollop of crushed, roasted chilies.
While the dish's origins may lie outside of Chiang Mai, the city has embraced and made Khao Soi its own. It has become synonymous with the culinary identity of Chiang Mai and is widely enjoyed by locals and visitors alike.
Tom Yum Soup
A classic and widely enjoyed Thai soup known for its hot and sour flavors. It can be found throughout the country and has numerous variations. The base of Tom Yum soup typically includes ingredients like lemongrass, galangal, kaffir lime leaves, and chili peppers, which contribute to its distinct aroma and spiciness. The soup can have different variations, ranging from clear broths to creamy versions that incorporate coconut milk. Tom Yum soup can be prepared with various proteins, including shrimp, chicken, pork, or even a combination of different meats. Tom Yum soup often balances out the flavors with a touch of sweetness. This can come from ingredients like palm sugar or the natural sweetness of certain vegetables.
Thailand's Signature Dessert: Mango Sticky Rice
Khao Niaow Ma Muang (mango sticky rice) is a heavenly and scrumptious treat that is enjoyed both in Thailand and in Thai restaurants worldwide. The combination of sweet mangoes and sticky rice creates a delectable flavor and texture experience. To make mango sticky rice, you'll need a few key ingredients. Ripe mangoes are essential for their juicy sweetness. For the rice, you'll use Thai sweet rice, also known as glutinous rice or sticky rice. Coconut milk is another crucial component of the dessert. It's recommended to use good-quality coconut milk to ensure rich and creamy flavors.
Mango sticky rice is often enjoyed as a street food dessert in Thailand, but it can be easily made at home with just a few ingredients and some simple preparation steps. It's a delightful treat that captures the tropical flavors of Thailand and is loved by many for its irresistible taste.
>>> You can find out more delicacies of Thailand in our list of best Thai dishes or join our 13 Days Culture & Culinary Tour for an authentic experience.
We hope these suggestions will give you the inspiration to visit Thailand, don't hesitate to contact us and prepare your own trip to the "Land of Smile" now!
Read more: