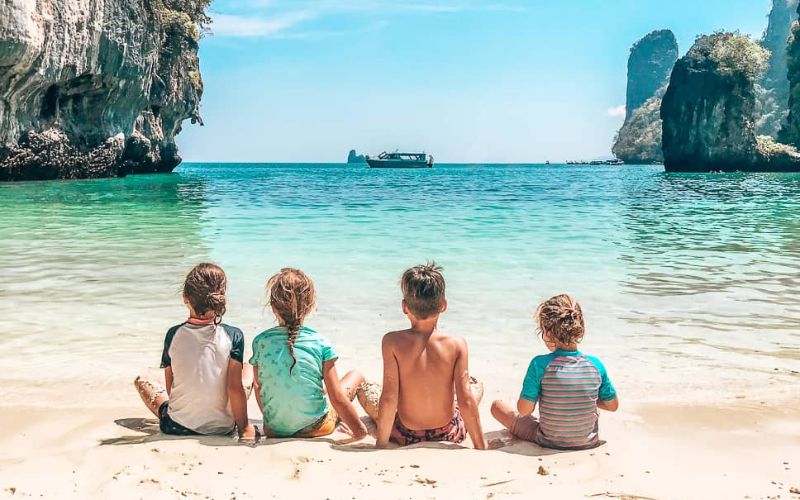 Thailand is a heaven for family travel with turquoise beaches, extraordinary mountains, bustling cities, amazing foods, and wonderful parks. There are so many things to discover, activities to do, and life lessons to learn in this exotic country. In the following article, let's find out the best family destinations in Thailand that will never regret your decision.
Best Family Destinations in Thailand
Phuket – The Best Place to Visit in Thailand with Kids
Phuket hails as one of Thailand's premier destinations and beckons travelers with its irresistible allure. This tropical paradise boasts a myriad of delights, ranging from breathtaking beaches and a captivating old town to enchanting aquariums and exhilarating horseback riding adventures. With an abundance of attractions and activities, Phuket caters to every traveler's desires.
What sets Phuket apart is its remarkable offerings for families. Many of the island's resorts feature dedicated children's clubs and reliable babysitting services, ensuring that parents can enjoy a well-deserved break while their little ones are entertained and cared for. This thoughtful provision adds an extra touch of relaxation and rejuvenation to family vacations in Thailand.
Accessible from various parts of Thailand and offering direct flights from numerous international destinations, Phuket ensures a hassle-free journey for visitors. Whether you're embarking on a domestic or international adventure, reaching this paradise island is a breeze, allowing you to immerse yourself in its splendor without any logistical worries.
Chiang Mai
Located in the north of Thailand, Chiang Mai is the second-largest city in Thailand. If your family wishes to see an authentic Thailand and experience Thai culture, as well as not spending too much time on a beach, Chiang Mai is a good option among the best family destinations in Thailand.
This city is a combination of splendid natural scenery and architectural reminders of an ancient capital. Doi Suthep Temple which overlooks the city from a beautiful hill is the main tourist attraction in Chiang Mai. For nature lovers, there are many thrilling activities you can enjoy here, such as climbing the Doi Inthanon Mountain, the highest peak in Thailand, cruising along the Mae Ping River, and visiting the hill tribes. Visiting an elephant camp is also a must-try activity in Chiang Mai with kids.
>>> Explore the best of Chiang Mai and Northern Thailand with our 5-day discovery tour.
Bangkok – Must-visit Family Destination in Thailand
This exquisite city of Bangkok is always included in tourists' itineraries when planning a vacation to Thailand. This city is famous for its spectacular Grand Palace and the eye-widening Wat Phra Kaew Temple, one of three national treasures in Thailand. A Thailand river cruise from Bangkok is a one-of-a-kind experience to discover in Thailand with kids.
Your kids will have a chance to try numerous delicious local foods in Bangkok, too. Don't forget to buy some fresh seasonal fruits and sample some street foods such as Som Tam (papaya salad), Khao Pad (fried rice), Pad Thai (fried noodles with shrimp), and Khao Neeo Mamuang (Thai mango sticky rice).
Pai
Just a 4-hour drive (135 kilometers) from Chiang Mai, Pai is one of the few family destinations in Thailand which has a laid-back beauty and is a pleasant site for a family getaway. Along the way to Pai, you will be amazed by the extraordinary mountainside views of rural Northern Thailand.
This small town is an ideal place for trekking, rafting, and exploring peaceful local life. Riding a bicycle in Pai is the best way to discover the calm and relaxed atmosphere of this countryside; your family will come across many spectacular waterfalls, green trails, and hill tribe villages. You can also soak in the natural hot springs of Pai, which are renowned for their therapeutic properties, and pamper yourself with a soothing dip in the mineral-rich water.
Hua Hin – Perfect for Beach Relaxation in Thailand
Located 200 kilometers southwest of Bangkok, Hua Hin is famous for its seaside resorts. Used to be a relaxing getaway for the Thai royal family, Hua Hin is now one of Thailand's best destinations to detach from the busy life in the big city in the summer. Some must-see attractions in Hua Hin are the ancient Summer Palace and bustling night markets with local vendors who sell delicious Khao Neeo Mamuang (Thai mango sticky rice).
Visit Hua Hin, Thailand with kids, you can relax on the beach, swim, snorkel, and do many other interesting water activities. Your children will surely enjoy the vibrant atmosphere at Hua Hin Night Market, Cicada Market, etc., known for its arts and crafts, live music, and local food stalls. Don't miss out on the chance to have fun at Santorini Amusement Park and Vana Nava Water Jungle or explore the beautiful Maruekhathaiyawan Palace, also known as the "Palace of Love and Hope" in Hua Hin.
>>> Refer to our Thailand beach holidays for some well-planned itineraries to visit Hua Hin and its surrounding beaches.
Koh Chang
After Phuket, Koh Chang is the second-biggest island in this country, home to many long turquoise beaches such as Lonely Beach, Klong Koi Beach, and White Sand Beach, making it a marvelous place for snorkeling, diving in the coral reefs, and swimming. Not only are the beaches attractive here, but Koh Chang is also home to spectacular mountains, beautiful waterfalls, and unique stone cliffs. This island inhabits a diverse wildlife with a wide range of birds, insects, and elephants.
Here, your kids and observe the vibrant marine life and colorful coral reefs or join a trekking adventure to explore the diverse flora and fauna in the lush rainforests. Hopping to nearby islands like Koh Wai, Koh Mak, and Koh Kood is also an excellent choice if time permits.
Koh Kood
Koh Kood is a pristine island in Trat Province and is home to many undeveloped and unspoiled beaches. Thanks to its seclusion and tranquility, this is the ideal place for families preferring quiet and rural shores. Not many destinations in Thailand are still "untouched" like this.
In Koh Kood, you can explore beaches like Klong Chao Beach, Bang Bao Beach, Ao Tapao Beach, and Ngamkho Beach. Relax, swim, sunbathe, and take in the stunning coastal scenery. For cultural lessons, take your kids into the local way of life by visiting the traditional fishing villages on Koh Kood, interacting with the friendly locals, learning about their traditional fishing techniques, and sampling fresh seafood at local restaurants. Teenagers can ride a bicycle or a scooter to explore the island by themselves, ride along scenic coastal roads, visit local villages, and discover hidden gems off the beaten path.
Koh Samui
Long white beaches with swaying coconut trees have become an iconic image of Koh Samui. Used to be a fishing village back in the 1800s, but nowadays this "coconut island" has become one of the most popular family destinations in Thailand. Compared to Phuket, it is a more quiet island.
Koh Samui is excellent for snorkeling, diving, and surfing, especially on Chaweng Beach. There are many animal rescue centers on this island for your kids to discover wildlife and learn survival skills. This is one of the best destinations in Thailand for family vacations and any vacations for that matter.
Khao Lak
100 kilometers from Phuket Town, Khao Lak is always mentioned as one of the best destinations in Southern Thailand. Here you can relax in the chilling vibes and enjoy good food and sunny beach days. Khao Lak has more than just beautiful beaches, spend some time exploring Khao Lak National Park with the ancient rainforest and the diverse wild animals calling this place their home.
To have a full experience, your family should also visit Similan Islands – a group of pristine islands, famous for crystal-clear water, beautiful coral reefs, and diverse marine life. Discover the natural wonders of Khao Lak-Lam Ru National Park, which is home to lush rainforests, scenic waterfalls, and hiking trails, witness the breathtaking landscapes and encounter exotic wildlife. Finally, relax on multiple beaches on the islands, spend your days soaking up the sun, swimming in the clear waters, and enjoying the peaceful surroundings.
Koh Phi Phi – Best to Visit in Southern Thailand
This is a small archipelago which belongs to Krabi Province. Not far from Phuket, Koh Phi Phi is one of the best family destinations in Thailand, with beautiful clear water. It contains two dreamy islands: Koh Phi Phi Don and Koh Phi Phi Leh, which was the filming location of 'The Beach' featuring Leonardo De Caprio.
Powdery sand, mighty mountains, turquoise beaches, and diverse marine life – Koh Phi Phi has everything qualities of a top destination for a family vacation. Families often come to this archipelago to snorkel, swim or just stroll along the shore. There are also several dive sites around the island where you can witness vibrant coral reefs, tropical fish, and even sea turtles. Take a boat tour to Maya Bay or hop on a longtail boat and explore the surrounding islands of Ko Phi Phi. Visit Bamboo Island, Mosquito Island, and Monkey Beach, where you can observe monkeys in their natural habitat.
>>> Spend a whole day exploring Phi Phi Island with our 3 days Phuket City & Beach Adventure.
Tips for Planning Your Trip to Thailand with Kids
Even if you have been to Thailand before or you are planning for your first, it's worth noting some travel tips to make your trip better and maximize your time with your family.
Teach your kids about the culture, customs, and language differences before your trip.
Most of the sites we recommended above will be ideal to visit during the dry season, that's why you should book your tickets and accommodation in advance, use Skyscanner to find the most reasonable price for your plane ticket to Thailand.
Take advantage of mobile apps to save some money from traveling in Thailand or buying food by using promotion codes and vouchers.
Always stay hydrated in such a hot country as Thailand.
Plan an abundance of activities to try in Thailand with kids.
Read our travel guide to Thailand carefully and learn by heart all the necessary information for your trip.
We hope this blog will give you some ideas for planning your trip to Thailand. Don't hesitate to contact us and prepare for your own tailored family vacation in some of the best family destinations in Thailand today!