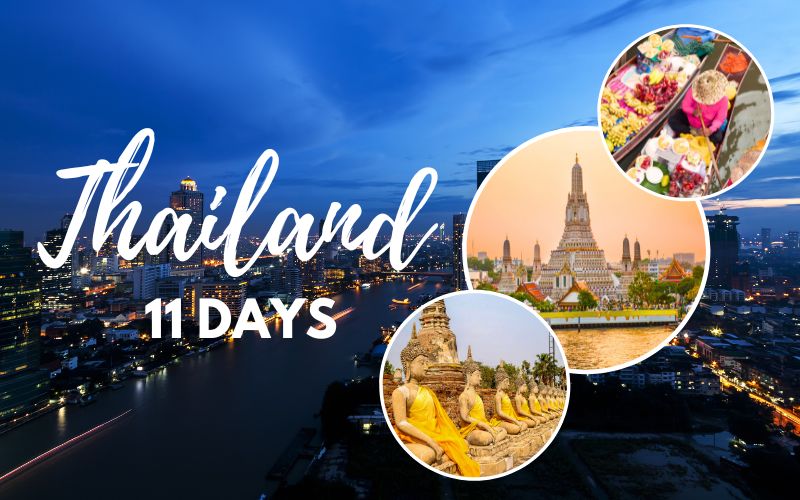 Thailand holds a well-deserved reputation as a beloved tourist destination in Southeast Asia. The warmth and friendliness of its people, coupled with the delectable cuisine and affordability, make it an irresistible choice for travelers. The natural beauty of Thailand is truly remarkable, offering a diverse landscape that includes majestic mountains in the North and enchanting tropical islands in the South. The country is also adorned with historical treasures like Ayutthaya, Sukhothai, and Kanchanaburi, where visitors can immerse themselves in rich cultural experiences. Get ready for an unforgettable Thailand 11 days journey! Regardless of whether you're embarking on this adventure with your family, as a couple, or as a solo traveler, we've got you covered with invaluable information, meticulously crafted itineraries, and cost-effective recommendations to help you plan your trip.
Best Time to Visit Thailand
Thailand offers enjoyable experiences throughout the year, but the best time for a visit is typically from November to April. During these months, you can expect pleasant temperatures and a lower chance of rainfall. However, it's important to note that the Christmas period can be quite busy, so it's advisable to book your accommodations well in advance if you plan to travel during this time.
Thailand's rainy season occurs from July to October, although the severity of the monsoon can vary depending on the specific region you intend to visit.
Traveling during the shoulder season, which falls between the peak and rainy seasons, can be a fantastic way to save money on your Thailand trips while also enjoying fewer crowds. This period provides an excellent opportunity to explore the country with more tranquility.
Itinerary Ideas for a Perfect Thailand 11 Days Trip
Thailand, a stunning country, offers a wealth of scenic spots and boasts a rich cultural and historical heritage. From the refreshing mountains of the north to the sun-soaked beaches of the south, there is a myriad of attractions waiting to be explored. With careful planning and prioritization, you can make the most of your 11 days trip. Immerse yourself in the beauty of ancient and gleaming pagodas, and discover the allure of ethnic minority villages adorned with vibrant customs and costumes. Thailand truly offers a diverse range of captivating attractions to satisfy any traveler's wanderlust.
Thailand Itinerary for Nature Lovers
Thailand is an incredibly diverse and stunning country, offering a wealth of natural beauty. From magnificent mountains to sun-drenched beaches, the landscapes here are truly awe-inspiring. The country's unique natural wonders include lush forests, winding rivers cutting through jungles, sparkling waterfalls, idyllic islands, and pristine coastlines. The tranquil mountains of Chiang Mai provide a peaceful retreat, while the Khao Sok offers the perfect adventure for a day of bamboo rafting. The renowned Phi Phi Islands and May Bay are renowned for their natural splendor, and the beaches of Phuket offer a delightful sun-soaked escape.
Itinerary Suggestion for Thailand 11 Days Adventure to Chiang Mai, Bangkok, Khao Sok & Phuket
Thailand offers a plethora of captivating landscapes, from intricate temples to breathtaking waterfalls and fascinating hill tribes. Additionally, you can explore the stunning islands and beaches by canoe, kayak, or speedboat. Below, you'll find a classic 11-day itinerary for first-time visitors to Thailand, designed to encompass the must-see attractions and hidden gems near cities like Bangkok, Chiang Mai, Khao Sok, and Phuket. Each day of this tour promises a perfect experience, allowing you to immerse yourself in the wonders of this adventurous destination.

Day 1: Arrive in Chiang Mai, free time to explore Worarot Market and Wat Chedi Luang, Wat Chiang Man, and Wat Phra Singh. In the evening, take time to visit Chiang Mai Night Bazaar.
Day 2: Experience a hot-air balloon flight at sunrise. Full-day explore Doi Inthanon National Park.
Day 3: Transfer to Lamphun, and visit Wat Prathat Hariphunchai and Wat Jammathevee. Join a food tour by Tuk-tuk in the evening.
Day 4: Fly to Bangkok. Try another food tour on Chinatown Street.
Day 5: Visit Khlong Lat Mayom floating market, Wat Arun, and Wat Pho temples. After lunch, continue to visit the Grand Palace or Chatuchak Market if it falls on a weekend.
Day 6: Half-day explore the surrounding areas of Bangkok by bike and boat. Enjoy a tea break at the Dusit Thani Café.
Day 7: Transfer to Surat Thani. Free to explore Khao Sok Nation Park.
Day 8: Take a bamboo rafting trip on the Sok River and explore the beauty of Nation Park.
Day 9: Transferred to Phuket.
Day 10: Boat trip to Phi Phi Islands, including Maya Bay and Viking Cave.
Day 11: Have breakfast at the hotel and you will be transferred to the airport for the departure flight.
>>> You can read the detailed itinerary here.
Similar routes:
Thailand Itinerary for Lovers of Thai Culture
Thailand, a country steeped in history and culture, presents an array of captivating cultural destinations awaiting exploration. At the top of the list are the magnificent Royal Palace of Bangkok, the revered Temple of the Emerald Buddha, and the striking landmarks of Wat Pho and Wat Arun. Beyond the bustling capital, travelers have the opportunity to venture into the enchanting traditional villages of northern Thailand, where they can immerse themselves in the vibrant local cultures and experience the lifestyles of ethnic minority communities. These villages also offer a plethora of engaging activities, ranging from immersive traditional cooking classes to picturesque bike rides and eye-opening visits to local farms. 
Itinerary Suggestion for Thailand 11 Days Culture & Culinary Tour to Bangkok, Chiang Mai & Phuket
Situated in Southeast Asia, Thailand boasts a vibrant history and culture that entices millions of visitors annually. Indulge in the tantalizing flavors of Thai dishes, marvel at the grandeur of gorgeous temples, and witness the profound Buddhist ceremonies that permeate the country. This Thailand 11-day itinerary offers a truly unique and unforgettable cultural journey. Moreover, the renowned Thai hospitality and friendly nature of its people will enhance your trip, ensuring a memorable experience.

Day 1: Arrive in Bangkok and visit the temple of Wat Saket. Take a dinner cruise on the Chao Phraya River.
Day 2: Visit Wat Arun and Wat Pho temples. Then, explore the Grand Palace and Wat Phra Kaew (Emerald Buddha Temple). In the evening, join a food tour.
Day 3: Transfer to Ayutthaya and visit the Historical Park, Bang Pa-In Summer Palace, and Viharn Phra Mongkolbopit.
Day 4: Visit two famous local markets of Bangkok, including Mahachai Market & Damnoen Saduak Floating Market.
Day 5: Fly to Chiang Mai and visit Wat Phra That Doi Suthep. In the evening, start a food tour in Chang Puak Night Market.
Day 6: Visit the old town, Wat Chedi Luang, Wat Phra Singh. In the afternoon, take a cooking class about traditional Lanna-style dishes.
Day 7: Meet elephants living in an ecological elephant care project. Try a Khantoke dinner in the evening.
Day 8: Transfer to the airport, fly to Phuket, and visit the old town.
Day 9: Join a cooking class at the renowned Phuket Thai Cookery School.
Day 10: Free day to explore and relax at the beaches of Phuket. In the evening, attend a food tour.
Day 11: Half-day explore Phuket before your departure flight.
>>> Consult the details of this itinerary here. If you have more time, consider extending your trip a bit more and enjoy Thailand 13 Days Culture & Culinary Discovery
Itinerary for Multi-country Adventures
A multi-country trip is a great way to discover the diverse wonders of several countries, allowing you to explore and compare a multitude of landscapes, traditions, and cultures. Thailand beckons with pristine white-sand beaches, splendid Buddhist temples adorned with glittering gold, mouthwatering food that delights the taste buds, and a vibrant nightlife full of energy. On the other hand, Cambodia, a neighboring country to Thailand, fascinates visitors with its rich cultural heritage, highlighted by the iconic temples of Angkor, while also boasting breathtaking natural beauty and warm, hospitable people.
Whether you desire to delve into the history of ancient temples, bask in the sun-drenched beauty of the seaside, stroll through the vibrant local markets, or simply observe and participate in the daily lives of locals, embarking on a multinational journey around Thailand and Cambodia is an experience that will leave an indelible mark on your soul. In this 11-day itinerary that encompasses both Thailand and Cambodia, you'll have the opportunity to immerse yourself in two of Southeast Asia's most captivating countries.
A Glimpse of Thailand and Cambodia 11 Days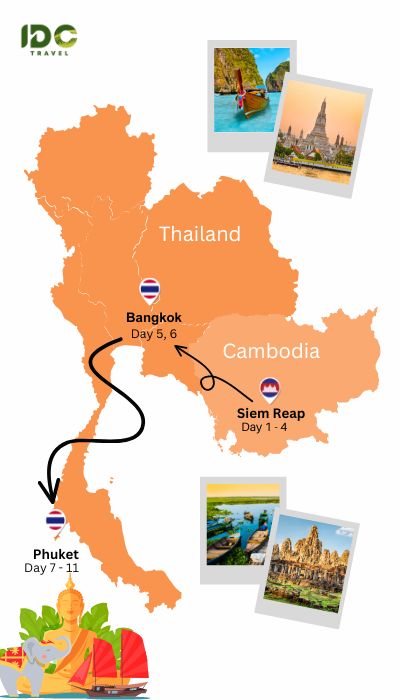 Day 1: Arrival in Siem Reap, consider exploring the city with a hot air balloon ride. In the evening, attend a dinner and watch a circus show presented by Phare Ponleu Selpak.
Day 2: Visit several famous sites in Angkor Archaeological Complex, including Angkor Thom, Bayon Temple, Phimeanakas, Elephant Terrace, Leper King Terrace, and Ta Prohm Temple.
Day 3: Day trip to explore Banteay Srei, Banteay Samre & the Roluos Temples
Day 4: Half-day visit Tonlé Sap floating market, then fly to Bangkok in the afternoon.
Day 5: Full day explore the city, self-guided tour of Wat Traimit and Wat Pho Temple.
Day 6: Visit the Damnoen Saduak Floating Market.
Day 7: Fly to Phuket and visit the old town of Phuket.
Day 8: Half-day adventure in rural areas of Phuket and explore several famous sites, including Wat Chalong, and visit Phuket Cashew Nut Factory.
Day 9: Free time to explore Phuket's beaches.
Day 10: Boat trip to explore Ko Phang Nga.
Day 11: Free time to explore local markets before departing for your next flight.
>>> You can check the detailed itinerary here, or refer to our following tours for more flexible programs:
Thailand Travel Cost for 11 Days
Thailand is renowned for being a budget-friendly destination, offering great value for travelers. Affordable options are abundant, making it possible to have a fulfilling experience without breaking the bank. For instance, you can enjoy a delicious meal at a roadside stand for just 1-2 USD, find comfortable accommodations in a clean guest house for 10 USD or less, and utilize public transportation such as buses or the subway for less than 1 USD. While higher quality options may come at a slightly higher price, they still provide excellent value for money when compared to Western countries. Thailand ensures that travelers of all budgets can make the most of their journey without compromising on affordability.
Here are the estimated budgets for 11 days in Thailand. Please note that these figures are approximate and can vary depending on various factors such as travel preferences, accommodation choices, dining options, and activities.
Cost of International Flights to Thailand
The cost of international flights to Thailand can vary greatly depending on several factors, including the time of year, departure location, airline, class of service, and booking timeframe. On average, flights from North America and Europe to Thailand typically range from $400 to $1500 or more. These prices can vary based on the departure city, time of year, and the airline you choose. During peak travel seasons such as December to February, prices tend to be higher, while shoulder or off-peak seasons may offer lower fares. On the other hand, flights from Asia and neighboring countries can be more affordable, with round-trip tickets ranging from $100 to $400.
There are several budget travel tips to help you find affordable flights to Thailand.
Consider visiting Thailand during the off-season (April to October) to avoid tourist crowds and potentially find lower-priced services.
Utilize flight comparison websites like Skyscanner or Google Flights, which allow you to explore the cheapest departure dates for an entire month. This flexibility can help you snag the best deals.
Cost of Domestic Services in Thailand
For Backpackers visiting Thailand 11 Days
Traveling to Thailand as a backpacker is a popular choice for budget-conscious adventurers. Thailand offers a wide range of affordable accommodations, transportation options, and budget-friendly activities. Below is a breakdown of the projected expenses for backpackers in Thailand:
Accommodation: Budget accommodation options such as hostels and guesthouses are widely available in Thailand. Prices can range from $5-15 USD per night for a dormitory bed or a basic private room. Some accommodations may offer additional amenities like free breakfast or Wi-Fi.
Food: Street food is a great option for budget travelers in Thailand. Local dishes from street stalls and food markets can cost as little as $1-3 USD per meal. Cheap restaurants and food courts in shopping malls offer a variety of affordable options ranging from $2-6 USD per meal. Eating at touristy or upscale restaurants will cost more.
Transportation: Local transportation in Thailand is relatively affordable. Public buses and trains are cheaper options for long-distance travel between cities, with fares ranging from $2-15 USD depending on the distance. Tuk-tuks and taxis are available in urban areas and prices vary based on the distance traveled and negotiation skills. To save the most for food and transportation in Thailand, you can download some useful travel apps and book a service yourself.
Activities and Sightseeing: Many popular attractions in Thailand have entrance fees, ranging from $1-10 USD per person. However, there are also numerous free or low-cost activities such as visiting temples, exploring local markets, and enjoying the natural beauty of Thailand's beaches and national parks. Joining group tours in Thailand 11 days itinerary may cost more but can still be affordable, with prices starting from $10-30 USD.
Miscellaneous Expenses: This category includes expenses such as SIM cards for mobile data, travel insurance, toiletries, and other personal items. SIM cards can be purchased for around $5-10 USD, while travel insurance costs will depend on the coverage and duration of your trip. It's advisable to set aside a small amount for unexpected expenses and souvenirs.
For Mid-Level Budget during 11 Days in Thailand
When traveling to Thailand on a mid-level budget, you can expect to spend an average of $50 to $100 per day. This budget includes accommodation, transportation, food, activities, and miscellaneous expenses. Below is a breakdown of the projected expenses:
Accommodation: Mid-range hotels, guesthouses, or boutique accommodations that offer more amenities and comfort. These options often provide clean and comfortable rooms, air conditioning, Wi-Fi, and sometimes even swimming pools or fitness facilities. Prices can range from $20 to $50 per night and may vary depending on the location and the level of comfort you prefer.
Transportation: Allocate approximately $10 to $20 per day for transportation costs. Buses, trains, and ferries are affordable ways to travel between cities and regions. For shorter distances or more flexibility, consider renting a scooter or hiring a private driver.
Food: While street food remains a great option for delicious and affordable meals, you can also indulge in mid-range restaurants that offer a wider range of cuisine and ambiance. Budget around $10 to $20 per day for meals. This allows you to enjoy a mix of street food, local restaurants, and affordable international options.
Activities: Thailand offers a multitude of activities for all budgets. While some attractions may have entrance fees, you can explore stunning temples, visit local markets, go hiking in national parks, or enjoy water activities like snorkeling or kayaking at reasonable prices. You can spend around $10 to $30 per day on activities and attractions. Prices may vary depending on the specific activities you choose.
Shopping and Souvenirs: Thailand is known for its shopping opportunities, from bustling markets to modern malls. On 11 days trip, set a budget for shopping and be prepared to negotiate prices at markets and smaller shops in Thailand. These activities allocate an additional $10 to $20 per day if you plan on shopping for souvenirs, clothing, or other items.
Miscellaneous: You have to set aside an extra $5 to $10 per day for miscellaneous expenses such as bottled water, snacks, SIM cards, tips, and any unforeseen expenses that may arise.
For Luxury Holidays in Thailand
In addition to economic travel, many tourists to Thailand are willing to spend a large sum of money to stay at luxury hotels in the city center or luxury resorts near the sea. If you are planning to travel to Thailand on a luxury budget, you can spend an average of $200 to $500 or more per day. This budget entitles you to a high level of comfort, luxury accommodation, fine dining, exclusive experiences, and private transportation. However, if you are planning 11 days to Thailand, the cost may be higher than expected. Below is a breakdown of the projected expenses::
Accommodation: Luxury hotels and resorts in Thailand can range from $100 to $500 or more per night, depending on the location and level of luxury. Upscale beachfront resorts or luxury city hotels tend to be more expensive.
Transportation: You'll allocate a budget of around $50 to $100 per day for private transfers, chauffeur services, or renting a luxury vehicle for transportation. This budget includes airport transfers, private drivers, and any other transportation needs during your stay.
Dining: Plan to spend around $100 to $200 per day for high-end dining experiences, including upscale restaurants, rooftop bars, and gourmet cuisine. Thailand offers a wide range of fine dining options that cater to various international cuisines.
Activities and Experiences: Allocate a budget of $100 to $300 or more per day for exclusive activities and experiences. This can include private guided tours, spa treatments, luxury boat trips, private yacht charters, or helicopter tours.
Shopping: Set aside an additional budget for luxury shopping, as Thailand is known for its high-end shopping experiences. Prices for luxury brands and designer goods can vary, so it's best to allocate a separate budget based on your shopping preferences.
Miscellaneous: Plan to have additional funds for miscellaneous expenses such as tips, entrance fees to attractions, cocktails or drinks at upscale bars, and any other luxury services or experiences you may indulge in.
We trust that our comprehensive Thailand 11 Days travel guide has provided you with valuable insights for crafting your itinerary. If you require any assistance in organizing a personalized trip to Thailand, please feel free to contact us for more details.
Read more: