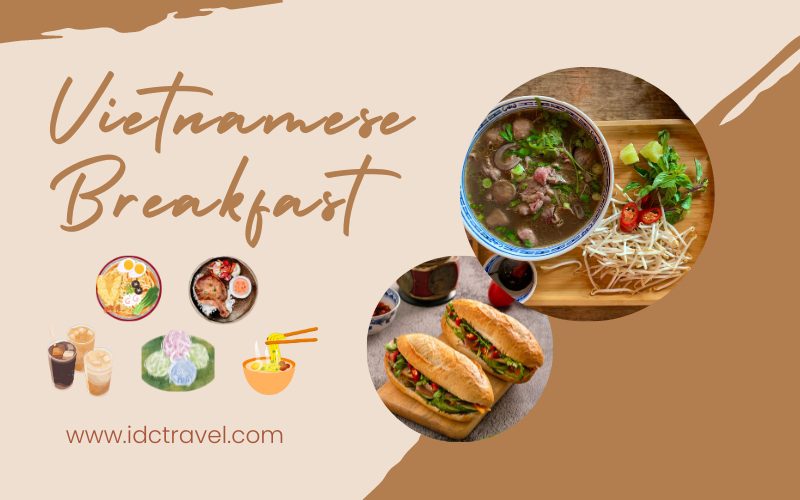 Breakfast holds immense significance as it provides the essential energy to kickstart a productive day. Just like in many cultures worldwide, breakfast holds a pivotal role in Vietnam. In the past, breakfast was skillfully prepared by women in the family, lending a special touch to the flavors. However, in modern times, as Vietnamese women take on more social responsibilities, the frequency of homemade Vietnamese breakfast has decreased, leading to an increased preference for street food stalls and restaurants.
Do you curious about what locals enjoy for breakfast in Vietnam? This article will introduce you to a selection of popular breakfast dishes that can be prepared at home or conveniently found in local restaurants. These dishes offer a taste of authentic Vietnamese breakfast cuisine that will satisfy your cravings and fuel you for the day ahead.
Vietnam Breakfast in 3 Regions
Traditional Vietnamese cuisine is characterized by its abundant use of fresh ingredients, herbs, and vegetables. The delightful combination between herbs and meats is a distinct feature of Vietnamese breakfast flavors. While there is a common thread running through Vietnamese culinary culture, it is also region-specific, showcasing a wide variety of dishes and culinary traditions.
In the northern region of Vietnam, the cuisine tends to be milder in terms of spiciness compared to other areas. It is a harmonious blend of flavors, including salty, bitter, sweet, and sour. Some popular breakfast specialties in this region include Bun Rieu (crab noodle soup), Banh Cuon (steamed rice rolls), and Pho (Vietnamese noodle soup), which are also considered national dishes.
On the other hand, the central region of Vietnam is renowned for its spicy cuisine. With Hue being the former capital and influenced by the royal cuisine of Vietnam, this region offers a rich and flavorful breakfast experience. One well-known breakfast dish is Bun Bo Hue, which features vermicelli noodles with beef.
In the southern region of Vietnam, the cuisine tends to be vibrant, flavorful, and mostly sweeter compared to the northern and central regions. Breakfast favorites should try when traveling to the south include Banh mi (Vietnamese bread) and Com Tam (broken rice), which offer a delightful start to the day.
What do Vietnamese have for breakfast?
Pho (Noodle Soup)
Undoubtedly, Pho stands as the most renowned dish in Vietnam, capturing the hearts and palates of both locals and visitors alike. This delectable soup can be found throughout Hanoi, where the townspeople exhibit a strong passion for its flavors. This dish is a top priority for many tourists when visiting northern Vietnam. Whether it's morning, noon, or night, Pho is readily available in the capital city, catering to Vietnamese people throughout the day.
Pho, a piping hot bowl of deliciousness, features tender white rice noodles swimming in a translucent broth made from simmered beef. The dish is typically accompanied by thinly sliced cuts of beef, such as steak, fatty flank, lean flank, or brisket. In southern Vietnam, variations of Pho may incorporate tendon, tripe, or meatballs. Additionally, chicken Pho is also popular, utilizing the same aromatic spices as the beef version, but with a broth made solely from chicken bones and meat. Some preparations of chicken Pho may also include chicken organs like the heart, undeveloped eggs, and the gizzard.
Bun (Rice Vermicelli Soup)
Similar to Pho, Bun is a Vietnamese dish made from rice flour, but it differs in shape as it features small and circular rice noodles. The recipes for Bun's broth offer even more diversity than Pho, resulting in a range of delicious vermicelli-based dishes. The most popular ones in Northern Vietnam are Bun Cha (vermicelli and grilled chopped meat), Bun Rieu (vermicelli and crab meat soup), Bun Thang (varied vermicelli), Bun Ca (vermicelli with fried fish), and Bun Oc (vermicelli and snail), while Bun Bo (vermicelli with beef) is the specialty of Hue. A distinctive characteristic of Bun is its subtle sour taste, achieved through the use of ingredients like tomatoes, Garcinia cowa, and lime.
Mien (Cellophane Noodles Soup)
Mien, a type of noodle with Chinese origins, shares a similar shape to Bun but is made using seaweed or cassava flour instead. This unique ingredient gives Mien noodles a lower calorie content compared to other noodle varieties. The broth used in Mien is somewhat reminiscent of Pho, but additional flavors such as spicy and sour notes are incorporated, depending on the preferred choice of meat. There are several delightful versions of Mien, including Mien Luon (Mien with eel), Mien Ga (Mien with chicken), and Mien Cua (Mien with crab meat). Each variation offers its distinct flavors and textures, showcasing the versatility of Mien noodles in Vietnamese cuisine.
Banh Mi (Vietnamese Baguette)
A kind of imported food from Western countries a long time ago, Banh mi Vietnam (Vietnamese Traditional Bread) is popular in Vietnam, it also has another name "Saigon baguette or Fried pork bread".  Bread is made with wheat and rice flour. This can be seen as a combination of sandwich and baguette. Thinly sliced carrots, pickles, cucumbers, liver pâté, mayonnaise, and various meats are put into bread and covered by a little soy or fish sauce.
On the streets of Vietnam, small stalls are a common sight where people sell a variety of bread. These stalls offer different preferences and offer a wide range of options for customers. Some popular varieties include chicken bread, omelet bread, shredded pork skin bread, grilled pork bread, and juicy crushed pork meatball bread. If you are vegetarian, you can enjoy it with vegetables and tofu. It is one of the reasons why traditional Vietnamese food is delicious.
The significance of this baguette goes beyond its taste. It plays a crucial role in the lives of Vietnamese people, especially those residing in bustling cities. It serves as a quick and convenient meal for officers and individuals with busy schedules. Whether it's breakfast, lunch, or dinner, Banh Mi Vietnam (Vietnamese Traditional Bread) can be enjoyed at any time. If you are participating in an adventure tour in Vietnam and have no meal requirements, Banh Mi is the most convenient choice for your trip and allows you to indulge in different flavors and never get bored.
Xoi (Sticky Rice)
In Vietnam, "Xoi" refers to sticky rice and has been a staple breakfast for generations. It is a widely enjoyed food throughout the country, available everywhere from roadside vendors to upscale traditional restaurants. The varieties of sticky rice are diverse, catering to different tastes and budgets.
For the common people, there are simple and affordable options like Xoi Gac (sticky rice colored with Gac fruit oil), Xoi Do Xanh (sticky rice with green beans), Xoi Lac (sticky rice with peanuts), or Xoi Ngo (sticky rice with corn). On the other hand, there are more elevated versions such as Xoi Trung (sticky rice with egg), Xoi Pate (sticky rice with pate), or Xoi Cha (sticky rice with meat rolls) that cater to higher preferences. No matter the variation, Xoi remains a beloved and widely available dish, cherished by Vietnamese people from all walks of life.
Banh Cuon (
Steamed Rice Roll) – Most Popular in Southern Vietnam
Banh Cuon, a delightful Vietnamese dish, showcases a strong influence on French cuisine. This savory pastry resembles a thin crepe, made from a rice-based mixture and filled with meat and mushrooms. The preparation process of Banh Cuon is reminiscent of making crepes, except that instead of being fried in oil, the pastry is steamed, resulting in a light and delicate texture that is truly unforgettable.
The flavor profile of Banh Cuon is enhanced by the accompanying sauce, a blend of the fragrant fish sauce combined with a light sour of lime. It is complemented by the addition of "Cha Lua", a traditional Vietnamese pork sausage, and crispy fried onions. For vegetarians, a plain version of Banh Cuon (Banh Cuon Chay) can be requested, which omits the meat component without altering the taste. Banh Cuon can be found in many local eateries in local markets or every few blocks. Look for a steaming pot and a bright yellow sign ¨Banh Cuon¨ and you will be served this delicious delicacy for just a dollar.
Banh Bao (Vietnamese Dumplings)
Banh Bao, originally from China, has found its own unique identity in Vietnam by adapting to Vietnamese taste preferences. Unlike Chinese dumplings, Vietnamese Banh Bao is smaller. The fillings of Banh Bao in Vietnam are influenced by the available local ingredients, which can include ground pork, wood ear mushrooms, vermicelli noodles, sausage, quail eggs, and chicken eggs.
This delightful Vietnamese dumpling has become a popular and convenient morning snack for the locals. You can easily find vendors selling Banh Bao on the sidewalks, offering a warm and satisfying breakfast option at an affordable price. Adding Banh Bao to your list of must-try Vietnamese morning meals is highly recommended, allowing you to experience the flavors and convenience that this delightful dumpling brings. In particular, this dish will be more delicious if you drink it with soy milk, this combination will provide enough energy for an effective working day.
Com Tam (Broken Rice) – Custom breakfast of
Saigonese
Ho Chi Minh City, formerly known as Saigon, is renowned for its signature dish called Com Tam, which translates to "broken rice." The perfect plate of Com Tam boasts dry, separate grains of rice without any stickiness. It is typically accompanied by an array of flavorful components, including eggs, pork pies, spareribs, and grilled pork, alongside a sauce made from fish sauce, sugar, and chili. To add even more flavor, pickled carrots, and radishes are often served alongside Com Tam. These tangy accompaniments complement the dish and enhance its overall taste profile. It is highly recommended to include this mouthwatering meal on your itinerary when visiting the city center of Southern Vietnam.
Chao (Rice Porridge)
Congee, also known as rice porridge, is a common meal in Vietnam that is enjoyed not only for breakfast but also for lunch and dinner. Chao, as it is called in Vietnamese, is very easy to prepare, as most electronic rice cookers come equipped with a porridge cooking function. While traditionally considered a humble dish, Chao can be elevated with the addition of various types of meat. To illustrate, Chao Ga is made by boiling rice porridge with a whole chicken, including the bones, to create a flavorful broth. Similarly, other varieties of Chao such as Chao Vit (duck porridge), Chao Luon (eel porridge), and Chao Ca (fish porridge) follow the same cooking method, resulting in a range of delicious options.
Despite its simplicity, Chao offers a nourishing meal that can be enjoyed throughout the day. It is a versatile dish that showcases the adaptability of rice as a main ingredient in Vietnamese cuisine.
Vietnamese Iced Coffee – A Popular Drink for Vietnamese Breakfast
Vietnam has emerged as the world's second-largest exporter of coffee. Whether it's social gatherings, meetings with friends, or simply starting the day, you'll often find locals at one of its numerous coffee shops. It's a common sight to see Vietnamese people savoring a cup of coffee in the morning, as it prepares them for the day ahead. Renowned for its bold and robust flavor, Vietnamese coffee stands out as a remarkable global beverage. For a unique experience, make sure to visit the sidewalk cafés, which offer an interesting and lively atmosphere that immerses travelers in the local culture.
Although breakfast food in Vietnam may differ from what you're accustomed to, the exquisite flavors and cultural significance of these dishes are worth exploring. However, don't limit yourself to enjoying them only in the morning. Many Vietnamese breakfast soups and dishes are equally delightful for lunch or dinner. If we've overlooked any noteworthy breakfast options or if you desire more information about these delectable Vietnamese dishes, please feel free to contact us for more details.
Read more: