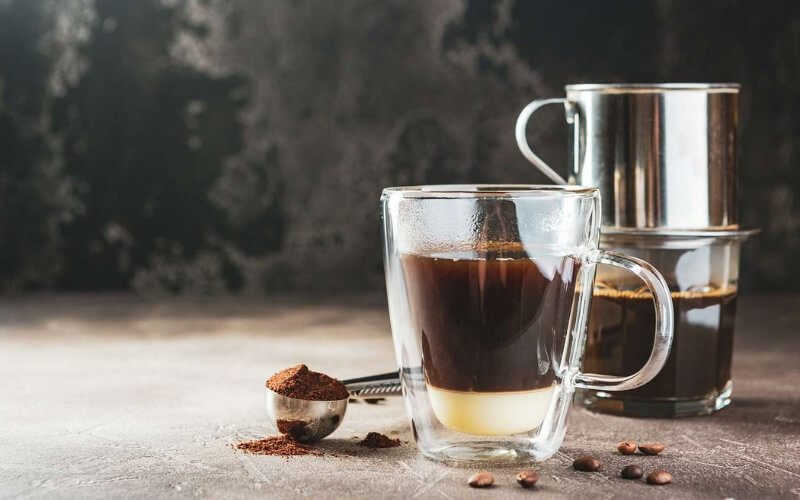 Vietnamese people drink coffee for more than just a jolt of energy to get through a day-long – it is a part of national culture. No matter time of the day and no matter where you are, it is not difficult to find a Vietnamese coffee shop on your way. 
A General Guide to Vietnamese Coffee History and Culture
1. The culture of drinking coffee in Vietnam
Vietnam is the third coffee producer in the world, after Brazil and Columbia, and a must-visit destination for coffee lovers. If the French often drink coffee in the morning, Vietnamese people have this kind of beverage at any time of the day. Each province in the country has a distinct coffee style and taste. Southern people prefer iced coffee, while those in Northern Vietnam favor Ca Phe Phin, for example. Vietnamese people drink coffee while working, reading books, chatting with friends, or listening to music. Sitting alone with a cup of coffee and thinking of life is also an excellent way to relax at the weekend.
In the 1970s – 1980s, cafe shops were small and hidden by the trees on small lands. They were called "Ca Phe Coc" and had no design at all. Local people just got together and enjoyed this strong drink without caring about the traffic passing. 
As time goes by, Ca Phe Coc becomes a part of local memory. It is gradually replaced by modern coffee shops, which have free wifi, music, and nice design. The way of drinking Vietnamese coffee also changes, depending more and more on the Taste and Eyes. They not only drink coffee but also see it. Above all, they desire a cup of coffee that is not only flavorful but also eye-catching. The price also increases, following better service.
2. Different types of Vietnamese coffee
Drip-filter Coffee (Ca Phe Phin)
Ca Phe Phin, or drip-filter coffee, is a must-try drink in Vietnam. To have a cup of drip-filter coffee, local people use roasted Robusta coffee beans, grind them, and then brew them in metal filters. Not to be surprised, these filters are small enough to rest on a cup, which you can also buy as a souvenir for your family and friends. Ever wonder why people use Robusta instead of Abrica coffee beans for this kind of coffee drink? The reason is that Robusta has stronger and more bitter taste. Abrica, on the other hand, is smoother and sweeter. The chocolate-like flavor of Abrica is not enough to create a highly-flavored cup of Ca Phe Phin.
The art of enjoying this drink lies in the moment you wait for each coffee drop to fall on the cup. It is pleasant and can help to calm you down for a while. Because of the bitterness, Ca Phe Phin is an acquired taste. You can sweeten it by adding sugar, condensed milk, or ice. Drip-filter coffee mixed with ice and condensed milk is called Ca Phe Sua Da – a quintessential coffee drink in the hot summer of Vietnamese people.
Egg Coffee (Ca Phe Trung)
The story of egg coffee went far after the war when condensed milk was still not easy to find. Local people sought something to moderate their coffee taste, and egg yolks emerged as an ideal inexpensive alternative. The creamy soft, and meringue-like egg yolks perching on dense Vietnamese coffee will bring an unforgettable flavor. A sip of hot egg coffee is said to be best to warm your soul. However, you can also choose a cold drink. Each load with a distinct taste. The cold one is similar to coffee ice cream, while the hot version is perfect for a winter day. 
Giang Cafe in Hanoi is the best place to enjoy a cup of egg coffee. It was named after the inventor of this taste – Mr. Nguyen Van Giang. Opened in 1946 and relocated twice, Giang Cafe is still a favorite destination of Hanoians. It works based on quality first, according to the owner of Giang Cafe. From choosing chicken eggs and grinding coffee beans to measuring the proportions of ingredients, each step must be done carefully to harmonize the bitterness of coffee and the sweetness of egg yolk to create customers an unforgettable flavor.
Coconut Coffee (Ca Phe Cot Dua)
Whenever you feel overheated during your trip, stop and enjoy a cup of coconut coffee. Ca Phe Cot Dua is more than just a drinkable coffee but is scoopable ice cream. It is a new kind of Vietnamese coffee in which the bartender blends dense coffee drip with coconut milk, condensed milk, and fresh milk. The final product is poured into a cup and served as a fun tropical drink. 
Coconut coffee is considered a kind of pick-you-up, fill-you-up, and cool-you-down beverage. It will wake up your mind with the typical coffee aroma, adding the rich flavor of coconut milk.
Yogurt Coffee (Ca Phe Sua Chua)
If you don't like the flavor of coconut, try yogurt coffee which blends dense coffee with yogurt, ice, and condensed milk. The bitterness of coffee, the sourness of yogurt, and the sweetness of condensed milk will perfectly blend in your mouth, creating an exceptional flavor you will want to retry. Ca Phe Sua Chua has sweeter and smoother taste, in comparison to Ca Phe Phin; so it is more comfortable for women and kids. If you are a sugar rush, there is no better choice rather than Ca Phe Sua Chua. You can order a cup of yogurt coffee for your afternoon snack; it will keep you energized for the following itineraries.
White Coffee (Bac Xiu)
If you have tried Ca Phe Phin, Ca Phe Sua Da, and want something sweeter, White Coffee (Bac Xiu) is the best choice. Ingredients to make a cup of Bac Xiu are similar to Ca Phe Sua Da but different in proportions. Bac Xiu uses less coffee but more condensed milk to create sweetness. Originally, it is a drink from milk, adding some coffee and crushed ice. 
Bac Xiu is more popular in Southern Vietnam. It is a Chinese expression, refering to a white glass with a little amount of coffee. Thanks to the smooth flavor, Bac Xiu is mainly served for children who are taken to the cafes with their parents or women who can't bear the bitterness of dark coffee.
3. How to drink coffee like a local?
Many cafe shops in Vietnam offer Decaf coffee. However, this isn't a good choice for travelers. If you cannot bear the bitterness of Robusta coffee beans, order a cup of Bac Xiu. It is sweet enough to satisfy your flavor. On the other hand, if you are a coffee enthusiast, do as the locals do. The harshness may make you uncomfortable at the first sip, but you will begin to like it after several times. 
True coffee connoisseurs often order Ca Phe Phin and add some sugar to their flavor. You can also imitate them to feel the best taste instead of calling for a sweetened white coffee. 
Also, remember to avoid hunger when drinking coffee in Vietnam. Very few traditional coffee shops serve foods paralleled with coffee. So, you'd better eat beforehand and then go to a cafe to relax. You can bring your snacks, but it is not popular among the locals. In addition, following the native customs of nibbling on sunflower seeds will make you look more localized. 
Where to find the best Vietnamese coffee?
While modern coffee houses are opening in popularity, Vietnam still retains many traditional cafe shops, especially in Hanoi – the center of Vietnamese coffee culture. Depending on your desire and flavor, you can choose different places to experience Vietnamese coffee. Below are some suggestions.
In Hanoi
Cafe Tho (No. 117 Trieu Viet Vuong street, Hai Ba Trung district, Hanoi city): A should-visit 30-year-old coffee shop in the capital of Vietnam. Trieu Viet Vuong is also regarded as Vietnam's Coffee Street with more cafes than anywhere else in this country.

Giang Cafe (No. 39, Nguyen Huu Huan street, Hoan Kiem district, Hanoi city): The best place to try egg coffee. 

Nhan Cafe (No. 39D, Hang Hanh – Hang Trong street, Hoan Kiem district, Hanoi city): Bring the most pleasant aroma of coffee with an exceptional coffee concoction.

Nang Cafe (No. 45, Nguyen Huu Huan street, Hoan Kiem district, Hanoi city): A 50-year-old coffee shop with strong coffee flavor.

All Day Cafe (No. 37, Quang Trung street, Hoan Kiem district, Hanoi city): Have day-by-day roasted coffee beans and elegant space.

Cafes in Hanoi Old Quarter: Have the best view of Hoan Kiem Lake.
In Ho Chi Minh City
Cafe La Tamia (No. 38/05, Tran Khac Chan street, District 1, Ho Chi Minh City): Relax on the sofa, and browse a collection of classical gramophones and TVs while enjoying mouth-watering coffee. 

Tron Coffee and Beer (No. 115, D1 street, District 1, Ho Chi Minh city): Provide excellent coffee quality and airy decoration.

Red Door Cafe (No. 15B, 17/27 Le Thanh Ton Street, District 1, Ho Chi Minh City): A destination for true coffee connoisseurs.

Cheo Leo Cafe (No. 109/36, Nguyen Thien Thuat Street, District 3, Ho Chi Minh city): A 50-year-old coffee shop that serves coffee in pottery pots.
Hope our article helps you understand more about Vietnamese coffee culture and how to drink coffee like a local. Don't hesitate to contact us for a tailor-made trip to this stunning S-shaped country.