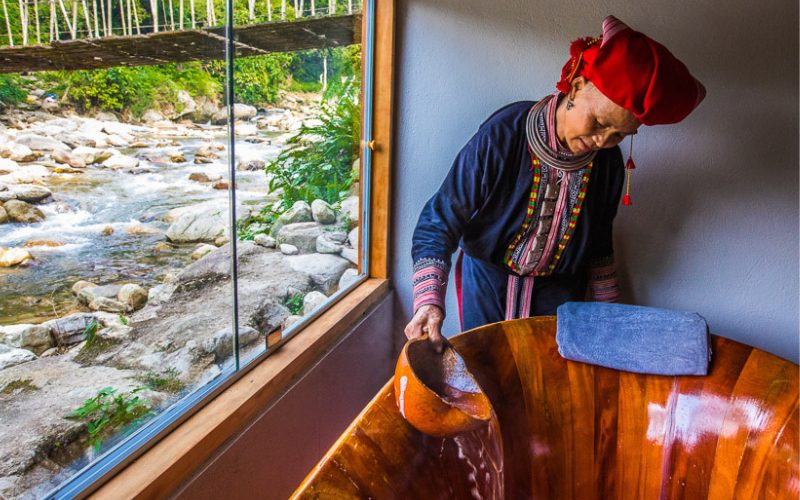 Not to be surprised, Vietnam is an ideal destination to unwind from bustling life and enjoy a wellness break. It is blessed with many natural conditions to develop Ayurveda treatments, including locally sourced ingredients, quaint sceneries, and most importantly, ethnic healing traditions. This country's mouth-watering and healthy cuisine is a pull for this. 
If you are looking for a wellness treatment to recharge your batteries after the Covid-19 pandemic, don't miss out on the following information. 
Must-Try Vietnamese Wellness and Ayurveda Treatments
1. Red Dao Herbal Bathing
Whether you are a wellness enthusiast or not, Red Dao herbal bathing is still a must-try wellness treatment in Sapa, Vietnam. It is not only a healthcare method but also a unique cultural tradition of the Red Dao ethnic people in the Northern Mountains of Vietnam. Traditionally, people use it to alleviate muscle aches and ward off flu and cold in the winter. Experiencers of Red Dao Herbal Bathing also report calm in mind, an increase in blood circulation, and body detoxication.
Red Dao herbal bathing is often set up in small and enclosed rooms so that bathers can inhale the fragrant steam from the water. Local people have different formular to cook bath water. Generally, it consists of 10 or more ingredients, most commonly used are Vietnamese balm, elderberry, fig leaves, bur-reed, wild pepper leaves, cinnamon, and tropical dogwood. They chop these kinds of leaves, dry them in the sun, and then boil for hours to create a sweet-smelling concentrated mixture. It will later be poured into a Pomu-wood bathtub and diluted with warm water. To increase the aroma, local people may add lime leaves, orange peels, or star anise to the tub. 
Finally, it is your turn to soak your body in the water and relax. You can also use a scooper to pour water over your shoulders and back. All you need to do is lying back and feeling the magic of Red Dao herbal bathing. 
Where to find:
Topas Riverside Lodge: Nam Cang 1 village, Lien Minh commune, Sapa town, Lao Cai province
Sapa Napro: Ta Phin Village, Sapa town, Lao Cai province
Dao's Care: No. 351 Hoang Hoa Tham Street, Ba Dinh district, Hanoi City
2. Vietnamese Wellness Treatments – Vietnamese Massage
The practice of Vietnamese massage has reflexology (or acupressure) as an integral part. During a massage, the therapist will apply pressure to specific points on the head, feet, or body to make you feel relaxed. As a result, it helps to increase blood circulation and calm designated organs. High-qualified aromatherapy oils are used as an addition to relieve your muscles and bring the most comfortable feeling. 
If you have a long-term headache or your body does not feel good without any reason, Vietnamese massage is the first natural treatment you should try. With just 60 to 90 minutes of massage, your body will be refreshed and recharged with a full energy level. 
Where to find:
Sen Tai Thu: No. 49, Thai Thinh street, Dong Da district, Hanoi city
Omamori Spa: No. 102/5 Huynh Thuc Khang street and 52A Hang Bun Street, Hoan Kiem district, Hanoi city
Le Spa du Metropole at Sofitel Legend Metropole Hanoi: No. 15 Ngo Quyen street, Hoan Kiem district, Hanoi
The Anam Spa: No.3, Nguyen Tat Thanh street, Cam Hai Dong ward, Cam Lam district, Khanh Hoa province
KOI Resort & Spa: Near Cua Dai Beach, Hoi An ancient town, Quang Nam province
Cat Moc Spa: No: 61-63, Tran Dinh Xu street, District 1, Ho Chi Minh city
3. Mineral Mud Bathing
Mineral mud bathing or bathing with mud is a well-known wellness treatment in the world. Generally, it is the practice of soaking in a pool of mud (made from peat, volcanic ash, and water) to enjoy relaxation and joy. This therapy not only brings smooth and bright skin but also positively affects many health problems. 
Firstly, mineral mud baths help to detoxify the skin, remove dead skin cells, and circulate blood vessels. It helps to prevent aging symptoms thanks to the anti-inflammatory and anti-tangle effects of the mud. Moreover, for patients with dermatological issues, mineral mud is an effective treatment because it has antiseptic properties. 
Above all, mineral mud bathing is a way to rejuvenate the body and relieve muscle tension. Doctors even recommend patients with chronic rheumatoid arthritis, peripheral neuropathies, spinal pain, and chronic diseases of the musculoskeletal system have mineral mud baths regularly. However, the effectiveness of mud bathing will differ from one resort to another. It depends on the number of minerals added to the mud. Below are some suggestions for spas and resorts with comprehensive mud bathing effects:
Where to find:
Amiana Resort: Turtle Bay, Pham Van Dong, Nha Trang, Khanh Hoa province.
I-Resort Hot Spring: 19, Xuan Ngoc village, Vinh Ngoc commune, Nha Trang city, Khanh Hoa province. 
Thap Ba Hot Springs Center: 438 Ngo Den street (15 Ngoc Son), Ngoc Hiep ward, Nha Trang city, Khanh Hoa province
100 Egg Theme Park: Nguyen Tat Thanh Street, Phuoc Dong Commune, Nha Trang City, Khanh Hoa Province
4. Vietnamese Wellness Treatments – Bamboo Roller Massage
Bamboo roller massage is the most innovative massage method at this time. Notably, it helps to prevent aging and muscle dysfunction by applying bamboo of different sizes to some acupuncture points in the body, such as soles, arms, back, neck, ankles, knees, and shoulders. The therapist will heat the bamboo to an appropriate temperature, then roll and press on the body to promote muscles and increase blood circulation. Not to be surprised, bamboo roller massage can effectively reduce muscle tension, accelerate body detoxification, and lower the probability of stroke.
Natural essential oils such as cinnamon, vanilla, ginger, and cherry are also a crucial part of this therapy. The stable heat of bamboo board can help to penetrate essential oil deep into skin layers and promote collagen production, bringing bright skin and a completely-relaxing body. 
Where to find: 
La Belle Spa: No. 08, Cau Go street, Hang Bac ward, Hoan Kiem district, Hanoi, Vietnam
Bamboo Spa Hue Massage Treatments: No.33, Hai Ba Trung street, Vinh Ninh ward, Hue City, Thu Thien Hue province.
HARNN Spa at Intercontinental Phu Quoc: Bai Truong, Duong To, Phu Quoc
5. Thermal Spring Bathing
Vietnam has tropical greenery, a natural condition to develop thermal spring bathing. It is a worldwide wellness treatment, whose benefits have been proven by healthcare providers. This Vietnamese wellness treatment has both physical and mental effects on the body. Firstly, it helps to increase blood circulation, reduce musculoskeletal issues, and relieve pain. Experiencers of this Ayurveda treatment also report better sleep and more beautiful skin. 
If you have a mental or emotional issue, thermal spring bathing is also worth a try. Just close your eyes and let your mind relax while soaking your body in the bathtub. It will help to reduce stress-related symptoms, increase focus, boost mood, and improve cognitive functioning. As a result, it helps improve people's overall well-being, said Jenelle Kim, doctor of Chinese Medicine and founder and lead formulator of JBK Wellness Labs.
Instead of using artificial water, spas and resorts in Vietnam often make use of naturally heated water from the mountains to maximize the benefits. Some of them are:
Where to find:
Kim Boi Hot Spring: Mo Da hamlet, Ha Bi commune, Kim Boi district, Hoa Binh province
Alba Wellness Valley by Fusion – Hue: Phong Son commune, Phong Dien district, Thua Thien Hue province
Nui Than Tai Hot Springs Park: 14G Highway, Hoa Phu village, Hoa Vang district, Da Nang city
Dam Rong Hot Spring: Da Long commune, Dam Rong District, Lam Dong province
6. Vietnamese Wellness Treatments – Coffee Body Scrub
Vietnam is considered the cafe's capital of the world. People in this country not only create many delightful drinks from coffee but also make use of it for beauty and health purposes. A coffee body scrub can assist in fading scars, body breakouts, stretch marks, keratosis pilaris, dry skin, and cellulite. It also helps to remove dead skin cells, preventing pores from getting clogged and causing acne. Most importantly, it is safe and can be used on your lips.
Your skin will absorb the antioxidants from coffee during the scrub to reveal softness and suppleness. Coffee grounds, in combination with sea salt and coconut oil, can be a perfect wellness treatment for all skin issues. 
Where to find:
Aira Boutique Hoi An Hotel & Villa: An Bang Beach, Group 3, An Tan, Cam An Ward, Hoi An, Quang Nam province
Six Senses Spa Con Dao: Dat Doc Beach, Co Ong Town, Con Dao island, Ba Ria – Vung Tau province
7. Cupping Therapy
Cupping therapy is a popular Vietnamese wellness treatment, that originated from Traditional Chinese Medicine. It is used mainly for addressing swelling, muscle pain, and congestion. Cupping therapy helps to increase blood flow, drain toxins, and move energy to specific parts of the body. 
In cupping, the therapist will put a flammable substance on a cup and set it on fire. When the fire goes out, the therapist put the cup upside down on your skin for several minutes to create suction. Then, she removes the cup and makes a light and tiny cut on your skin. Continue with the second suction to draw out a small quantity of blood. As a result, it helps to remove harmful substances and toxins from your body.
You can feel the healing effects, muscle tension relief, and a comfortable body right after a cupping section, but your skin won't look normal until ten days later. 
Where to find:
Serene Spa: No. 68 Ma May street, Hang Buom ward, Hoan Kiem district, Ha Noi city
The Spa at Amanoi: Vinh Hy village, Vinh Hai commune. Ninh Hai district, Ninh Thuan province
Le Spa des Artistes – Hôtel des Arts Saigon: 3rd floor, 76 – 78 Nguyen Thi Minh Khai, District 3, Ho Chi Minh City, Vietnam
Above is the list of the seven best Vietnamese wellness treatments with proven health and beauty benefits. Still wondering where and how to experience these Ayurvedic medicines, contact IDC Travel for a tailor-made wellness trip to Vietnam.