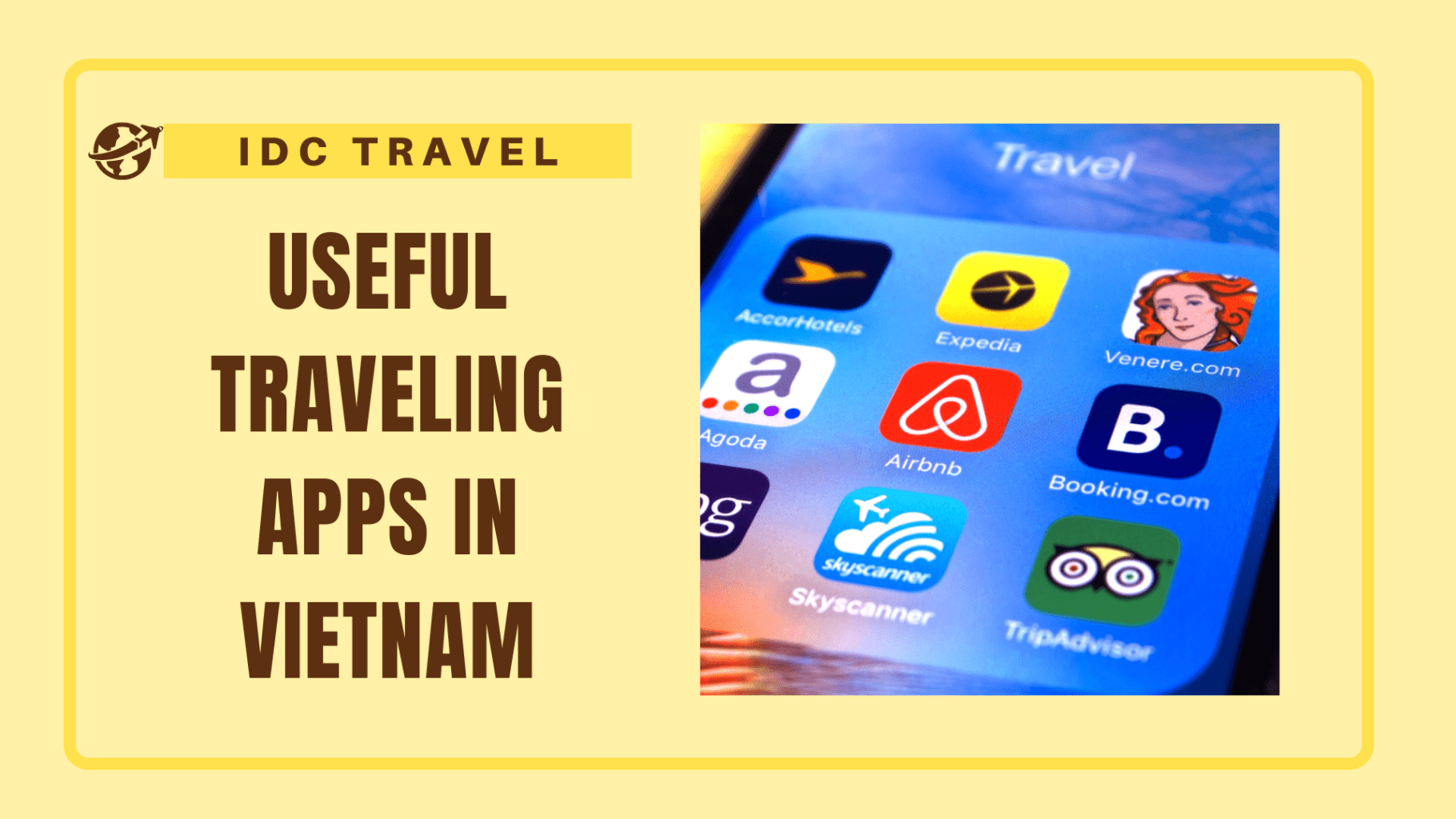 For those who do not have much experience in traveling or do not know the tools to make the trip more perfect, there will be many problems. Some common problems are getting lost, food poisoning, loneliness due to difficulty making friends, etc. These problems can be easily solved if you know how to take advantage of the travel apps in Vietnam that we recommend. With a mobile phone with pre-installed apps when traveling, you will have a more comfortable experience.
Apps for traveling in Vietnam
Apps for Accommodations
Vietnam Booking
With more than 2000 domestic hotels and 30,000 overseas hotels, the Vietnam Booking app offers a wide range of lodging options. The partner hotels of Vietnam Booking application span 63 provinces from North to South. In addition to high-end and luxurious resorts, there are also reasonably priced hotels and motels that are appropriate for all kinds of guests.
Traveloka
 This app specializes in online hotel booking in Southeast Asia and it is also one of the most famous travel apps in Vietnam. The application also integrates the function of booking air tickets in addition to the booking service. Traveloka regularly launches many discount codes up to 60% weekly. Customers can easily hunt for great deals to save travel costs.
In addition to booking hotel rooms and air tickets, Traveloka also provides spa booking services, restaurants, car rental and many other utilities. This place offers visitors many combo packages "airfare – hotel room" at low prices. You can pay through many forms, creating the most convenience.
Agoda
Using Agoda, you can check prices for flights, airport to city center transport, monument listings, tour prices and even car rentals, all from your mobile phone. You may check out and compare various accommodations side by side on the Agoda website or app to consider the benefits and drawbacks of each. Furthermore, Agoda clearly diagrams all the offices and administrations advertised in that particular room so you know precisely what to expect.
Transportations apps when traveling in Vietnam
BusMap
This is a requisite app when you travel in Vietnam in general and in particular, Sai Gon. In a bustling Saigon, it might be difficult to navigate and identify bus routes. BusMap is a cutting-edge tool that facilitates planning and navigating bus excursions throughout the city.
The app's numerous intriguing features include a timer that estimates the quickest route to the desired location. Additionally, it can advise you on which bus routes to take to cut down on travel time. Unfortunately, the app only works with Saigon bus lines right now, but it's a good idea to keep that app in mind since there's a good chance you'll visit lovely Saigon. shave time off of your commute. Unfortunately, the app only works with Saigon bus lines right now, but it would be wise to use it if you were planning on visiting the gorgeous city of Saigon.
Grab – Must-have Vietnam travel app
Southeast Asia's version of Uber is Grab. This is a great alternative to getting ripped off in a taxi or tuk-tuk. Literally everyone in Vietnam use this app not only when traveling but also in their daily life. Prices can be agreed upon in advance, and you can contact the drivers via the app. There are a variety of additional choices, such as an automobile that seats 2, 4, or even 9 people. Before getting into the car, you enter your destination and, based on your choice of driving, you'll receive a precise quote.
Skyscanner
There is a huge possibility that at some point on your trip you'll decide to take an internal flight around the country due to many reasons, we discovers Skyscanner to be the greatest and most dependable tool that shows the flight alternatives of various flight carriers. When it comes to traveling domestically and internationally, using the app provides you the choice to arrange your timing, your budget, and much more. Our advice is to always check Skyscanner for flight information, but don't forget to check the official airline company when making your reservation because, in our experience, prices typically vary to the advantage of official travel companies. This is a must-try travel apps when you visit Vietnam.
Apps for Foods
Baemin
Baemin always offers many promotions and spreads continuously at all times of the year. New dishes are constantly updated. In particular, the application has a friendly and cute interface and makes a first impression with the icon of a fat cat wearing a conical hat with a riding helmet, the words used in the announcement/promotion are all very friendly and cute.
You can also make notes about the dishes for the restaurant, or make notes about the delivery address for the driver. The driver is friendly and polite.
Foody
Foody is without a doubt the first app that comes to mind when thinking about ordering meals in Vietnam. The user experience on the app is fantastic, and using it is comparatively simple. The main issue is that there are so many selections that you frequently have to spend a lot of time choosing which cuisine to eat. You can connect to the app using your phone number or social media profiles. Before placing an order, you may read what other foodies have to say thanks to the app's fantastic community of users who frequently contribute reviews and culinary images.
Apps to make friends traveling in Vietnam
Line
The "green" Line could be considered the Asian messaging app equivalent to Whatsapp. If we mention travel apps in Vietnam, we can not miss Line. You'll need to provide your phone number, name as it appears in all of your contacts, and upload a photo after the installation is complete. The tool provides the ability to place calls and videocalls, exchange messages, and start chat groups, just like WhatsApp. Additionally, you have the choice to publish your images in authentic Instagram fashion online on the "timeline."
Other useful travel apps for traveling in Vietnam
Wifi Finder
During travel, you have to get access to the Wifi. WiFi Finder is the app that was of the utmost assistance to us while traveling. You must rely on WiFi when you can't access your internet data. The outstanding user experience and only checked networks are what make this app so helpful. Since the app's map is updated practically daily, you can always find fresh, dependable, and fast internet hotspots.
You don't need to perform any manual effort to check the network's specs because all of the hotspots have been speed tested and validated. The offline map is a fantastic feature because it allows you to access all the WiFi information even when you aren't connected to the internet.
TripAdvisor
The TripAdvisor app is for you if you've used the website to research new destinations, including restaurants and attractions, and read reviews. It's among the efficient Vietnam travel apps to have the same information at your fingertips.
You may search for hotels and rooms, book tours, and look at airline itineraries using the app. Additionally, you can locate the restaurants or activities that you have "saved."
Due to TripAdvisor's popularity and widespread use among travelers, many of the reviews and listings are of "touristy" places. When reading reviews, use caution because some of them may be fraudulent.
Besides those travel apps you should download when traveling in Vietnam, we introduce you to use our package tour.  IDC Travel's package tour is designed scientifically, logically and by topic. All Vietnam excursions can be uniquely tailored for you depending on your preferences and spending limit. No matter how long you like to travel alone, in a group, or with your family, our team of travel specialists will be there to assist you and point you in the direction of the best options. During the holiday, you can try to have a more luxury experience with our golf tours. Our team is willing to design and custom those tours in accordance with your needs. Don't hesitate to contact us.