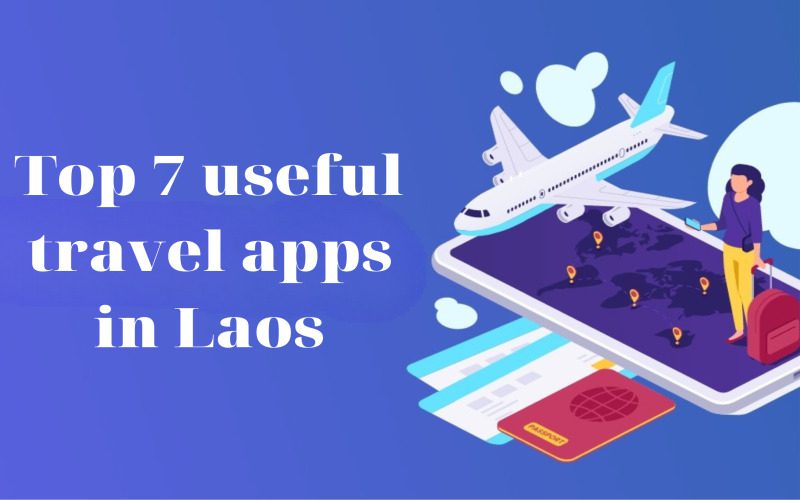 After two years of the pandemic, Laos is now prepared to welcome visitors. Following the lifting of the travel ban, Laos launched a national initiative to build a world-class health and hygiene system. Seven free travel apps in Laos will give you an overview of the trip.
1. Laos travel apps: Foodpanda
Foodpanda is a popular online food and grocery delivery platform in Asia and one of the best apps for traveling in Laos. Those who have visited Thailand or Malaysia may have seen this flashy pink panda on billboards or on delivery motorbikes. This international delivery service has been in Laos for a few years and is very popular among the locals.
Why do you need Foodpanda?
Most low- to medium-priced hotels in Laos will not be offended if you order in, but you should check with the reception before proceeding.
With a few taps, you can access hundreds of restaurants, including street food stalls; simply follow the ratings to find the best spots and place your order! All international credit cards, as well as cash on delivery, are accepted by Foodpanda Laos.
Foodpanda abounds in Laos, with over 300 restaurants.
So you can easily connect to this app to feed your hunger.
Foodpanda is a simple food order and delivery service available through a mobile app for both iOS and Android that provides both app and web services to allow customers to browse from a large variety of big chains and well-loved local restaurants to find the perfect meal with the most convenience.
2. Laos travel apps: Loca 
Loca is the most well-known ride-hailing service in Laos. This brand is unique because it was developed in Laos. Of course, it's one of the best apps for traveling in Laos.
Vientiane, Luang Prabang, Pakse, Savannakhet, and Vang Vieng all have local ride-hailing services.
The user interface is extremely similar to that of Uber or Grab. Cash or an international credit card can be used to pay for the service.
The digital firm not only provides taxi services, but also food delivery, car rental, and bus ticket booking. Loca is unquestionably one of Laos' most innovative companies.
3. Laos travel apps: Zap.la
If you enjoy food, you will enjoy Laos. Zap.la is a must-visit and one of the best apps for traveling in Laos.
Zap.la is Laos' largest foodie community and a gold mine for discovering the best local restaurants in your area. The mobile app gives you instant access to dozens of delicious street food stalls and local eateries in your area, as well as one-tap access to Google Maps to help you get there.
The information is current and crowd-sourced by locals, ensuring that you have an authentic culinary experience that differs from the Tripadvisor recommendations.
If you're too tired to eat out, Zap.la is linked to Foodpanda, so you can find a restaurant that appeals to you and order in.
4. Laos travel apps: WhatsApp
WhatsApp enables users to send text messages and voice messages, as well as make voice and video calls and share images, documents, user locations, and other content. WhatsApp's client application is available on mobile devices and on computers. To access the service, you must own a cellular phone number. 
WhatsApp is not a local application in the traditional sense. But if you're curious about how the locals communicate, this is the place to be! WhatsApp is the most popular communication app in Laos and one of the most convenient apps for traveling in Laos to communicate with your hotel or driver.
How do I obtain a Lao SIM card and data package?
Unitel, Lao Telecom (LaoTel), TPlus (formerly Beeline), and ETL stores sell Laos SIM cards. SIM cards are also available at the airports of Luang Prabang (LPQ) and Vientiane-Wattay (VTE).
5. Laos travel apps: Facebook 
Meta Platforms' Facebook is an online social networking and social media service. Mark Zuckerberg originally established Facebook in 2004 with buddies. As of July 2022, Facebook had 2.93 billion monthly active users and was ranked third all over the world among most visited websites. It was the most popular mobile app in the decade of 2010.
This is important to note that many Lao people use Facebook because it's one of the biggest apps for traveling in Laos. They use Facebook far more than Google. If you want recommendations, you should join a few Facebook groups rather than search on Google. Vientiane Social, Vientiane Foodies, Luang Prabang Foodies, and Laos Tourism are among the most popular English-speaking groups in Laos.
You might want to do a quick search in these groups before asking a question; the ex-pats who run them can be a little grumpy.
6. Laos travel apps: Lao Staysafe
Lao StaySafe is a travel and tourism application developed in collaboration with LaoPay Vientiane Sole Co., Ltd. and the Ministry of Information, Culture, and Tourism of Laos (MICT).
Before leaving Laos, tourists must fill out an Online Application Form and upload a vaccine certificate proving that they have been fully vaccinated as well as COVID-19 test results.
They do not need to bring a vaccine certificate because the app stores vaccine information and a Covid-19 test report. Open Lao StaySafe and display the submit QR Code, which changes every 15 minutes in the app, to scan at the checkpoint, after which you can quickly enter various places.
Tourists can also use the app to report incident issues in their area, receive announcements, statistics, news and videos, and book quarantine hotels.
7. Laos travel apps: Lao Airlines 
The Lao Airlines mobile application is your best tool for making a reservation because it is fast, dependable, and secure. They offer domestic (Lao PDR) and international air ticket services to Thailand, Vietnam, China, South Korea, and upcoming routes to Singapore, Malaysia, and within the region. Customers of Lao Airlines will also benefit from our loyalty program, which can be accessed through this mobile application.
Don't hesitate to contact us and plan an amazing tour.