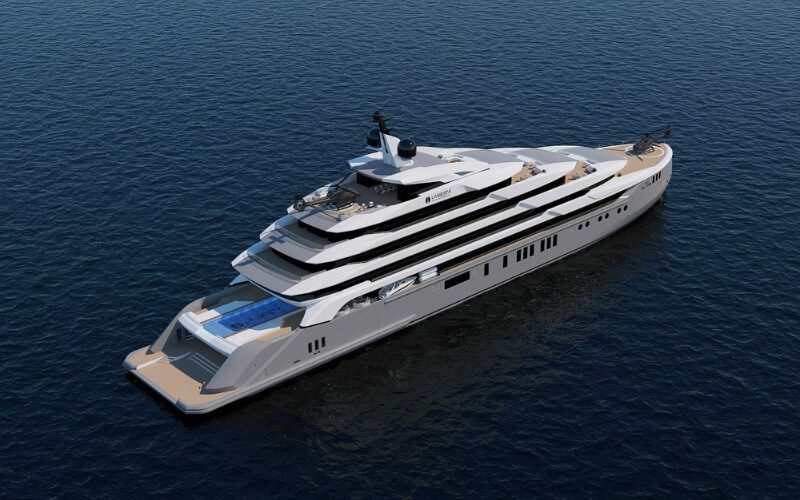 La Siesta Superyacht is the first 6-star super yacht in Ha Long Bay. It is the combination of world-class design and a heart imbued with the national identity of Vietnamese talented architects. It promises to bring visitors a chance to adorn the gorgeous natural landscapes and experience rarely luxurious cruising service in this UNESCO World Heritage Site.
La Siesta Superyacht – The first 6-star cruise boat in Ha Long Bay
State-of-the-art Facilities
La Siesta Superyacht has 55 sumptuous rooms facilitated with state-of-the-art equipment that visitors can find nowhere else in Vietnam. Notably, it uses marvelous glass pieces as walls for guests to adorn the overall panoramic stunning view of Ha Long Bay.
Each cabin of this cruise has an area of 33 to 100 square meters with a private balcony, big wardrobe, working desk, dressing table, TV, and other modern electronic devices. The Master room, or President Suite room, is 100 square meters. It features a large bedroom, working area, dining room, bar, fine dining kitchen, Jacuzzi, and helipad.
Here, you can relax at La Spa, enjoy wine and cigarettes at the private lounge, or indulge in the cool water of the largest saltwater infinity swimming pool in Ha Long Bay. There is also a modern cinema and karaoke to satisfy your passion. Or, if you are a sports enthusiast, there is a gym, billiards, and in-house 3D golf to cater to your needs. 
La Siesta Superyacht is a perfect destination for a family escape. Apart from the above-mentioned modern facilities, this cruise also features a kids club and hair salon for all family members. Moreover, don't miss the international standard fine dining restaurant and sky bar on the top when you visit this super yacht. 
Surprisingly, La Siesta Superyacht has not only 1 but 2 helipads to serve the highspeed and private transportation needs of super luxurious guests. In some aspects, this super yacht is a kind of floating hotel in the middle of the ocean. Vietnamese people built it with the expectation of becoming an extravagant symbol of Ha Long Bay, similar to those in Monaco and Miami. 
Facts about La Siesta Superyacht
110 meters long, nearly 20 meters wide

Five floors, two elevators, 55 rooms

Two helipads

Newly constructed with environmentally friendly materials and an international-standard wastewater treatment system

Be the largest cruise boat in Vietnam with a total investment of more than 700 billion dongs

Be one of the most luxurious super yachts in the world, serving the elite class as the main guest
Activities of La Siesta Superyacht
Kayaking in Ha Long Bay
National Geographic regards kayaking in Ha Long Bay as one of the world's 25 most exciting activities. Imagine how wonderful it is to row through gorgeous caves, immerse in the pristine clear water, and watch the bay on the deck. Driving a nifty kayak will also make you feel more independent and bring you a chance to reach places that a cruise ship cannot. 
Sang Toi Cave, which is located on the border of Ha Long Bay and Lan Ha Bay, is the best place for a kayaking experience. Passing through this cave, travelers can adorn the magnificent landscape of a valley lying on the sea with incredibly high mountains in the surrounding. 
Visiting Pearl Farm
Have you ever wondered how pearls are produced? Here you can find out the answer. With a 3-day-2-night itinerary, La Siesta Superyacht will take you to the Pearl Farm Ha Long Bay to explore innovative methods of producing pearls. To people who may not know, Pearl Farm Ha Long belongs to Ha Long Pearl JSC, which inherits modern Japanese technologies, combining skillful hands and intelligent minds to bring out the most high-qualified pearls. 
Firstly, the tour guide will take you to a floating raft to see how oyster pearls are grown and implanted. Next, you will enter a processing room where workers are transplanting oysters. The most attractive thing is when you witness the worker opening a live oyster to see the pearl inside. This is the signature of the tour and promises to give you an unforgettable memory. The final destination is the museum, where you can see an exhibition of precious pearls and handicraft products made from shells. You can also buy them as souvenirs for your family and friends.
Visiting Caves
Your trip to Ha Long will not be completed if you miss its magnificent caves. Ha Long caves, with Sung Sot Cave being the most outstanding, were formed around 500 million years ago when the region underwent geological processes. Travelers will have a chance to see a diverse composition of rock, stalagmites, and stalactites. They are truly natural treasures of spectacular seascape sculpture.
Make sure to have proper clothes, especially shoes, when visiting caves because it involves a lot of walking and hiking. Although Sung Sot Cave is large (10,000 square meters), there are still small entrances inside; therefore, wear it as comfortably as possible. Also, if you suffer from claustrophobia, please consult a tour guide on La Siesta Superyacht before departing.
Visiting Cua Van Fishing Village
Ha Long Bay is home to several floating villages, and here is a chance for you to experience the local people's life, rowing through the village, having a short hike around, and participating in daily-life activities. In the midst of bustling city life, this is an experience you will want to retry. Don't forget to bring your camera as there will be numerous beautiful pictures of the peaceful life you will want to take. 
If France has Annecy, Italy has Vernazza, Portugal has Marvao, and then Vietnam has Cua Van fishing village. It is ranked the 12th most dreamlike village in Vietnam. Located in a calm sea, the fairy-like Cua Van fishing village is surrounded by rocky mountains. It is a model of a fishing village in Vietnam with bamboo boats in front of houses and houses tied together to against storms. 
Here, you can participate in rowing, squid fishing, pulling nets, and even cooking seafood you have caught. If you are lucky enough to arrive at Cua Van village on a festive day (wedding ceremony, for example), you can also listen to the fishermen singing traditional folk songs of Ha Long Bay.
>>> Interested in these activities, you can refer to our Ha Long itinerary – how to spend 1, 2, 3 days in Ha Long.
La Siesta Superyacht Itineraries
A night's sleep on Ha Long Bay is worth a try. According to some experienced travelers, it a must-try experience in this UNESCO World Heritage Site. With La Siesta Superyacht, you will have a variety of itineraries to choose from, depending on your time and budget. Below are the detailed itineraries with highlights. 
2 Days/1 Night: Ha Long Bay – Lan Ha Bay
With this itinerary, La Siesta Superyacht will take you to discover Ha Long Bay's highlights in complete relaxation and the luxurious space of the yacht.
Day 1: Hanoi – Ha Long Bay – Cua Van fishing village – Sang Toi Cave 
After the morning boarding, you will be greeted with a nice drink on board. Lunch will be served as the cruise comes across the stunning islands and islets of Ha Long Bay. In the afternoon, you can pamper yourself at La Spa or take time to adorn the beauty of Ha Long Bay. You will visit Cua Van fishing village before discovering Sang Toi Cave. In the evening, reward yourself with cocktails, wine, and cigars, or do sport activities such as swimming, golfing, etc., before having dinner with the Western or Vietnamese cuisine of your choice.
Day 2: Ha Long – Sung Sot Cave – Hanoi
Enjoy your second day on La Siesta Superyacht by doing a Tai Chi session on the sundeck at sunrise. Then, have a light breakfast. The cruise will take you to Sung Sot Cave before returning to the port at midday. 
3 Days/2 Nights: Bai Tu Long Bay – Vung Vieng floating village – Thien Canh Son cave
This itinerary is suitable for those who want to explore the glorious Ha Long Bay more in-depth. 
Day 1: Hanoi – Ha Long Bay – Cua Van floating village – Sang Toi Cave
The program is the same as that of a 2-day itinerary. You will have a chance to discover Cua Van fishing village, Sang Toi Cave while enjoying the high-end cruising service.
Day 2: Bai Tu Long Bay – Vung Vieng floating village – Thien Canh Son cave
After a Tai Chi session in the early morning, you will visit Vung Vieng floating village by kayaking or bamboo boat rowing. In the afternoon, continue to cruise Bai Tu Long Bay to reach Thien Canh Son Cave – one of the most breathtaking caves in Bai Tu Long Bay. In the evening, you will be free to join various recreational activities. The cruise may also take you to Ha Long Pearl Farm which owns a huge collection of natural pearls.
Day 3: Ha Long – Sung Sot Cave – Hanoi
Start your third day on the bay with a Tai Chi session. After a light breakfast, proceed to Sung Sot Cave. Remember to take as many beautiful photos as possible. At noon, the cruise will take you to the port to return to Hanoi in the early afternoon.
4 Days/3 Nights: Ha Long – Lan Ha – Bai Tu Long – Cat Ba island
Choose this if you are affordable as you will collect all the majestic beauty of Ha Long Bay and Cat Ba Island into your eyes. 
Day 1 & 2: Hanoi – Ha Long Bay – Cua Van fishing village – Sang Toi cave – Vung Vieng floating village – Thien Canh Son Cave
The program is the same as that of the 3-day itinerary. You will visit Ha Long's highlights while experiencing luxurious services on this super yacht.
Day 3: Ha Long – Lan Ha Bay – Cat Ba Island
After breakfast, the cruise will take you to Cat Ba Island. Have a free day here with your favorite activities: hiking, biking, kayaking, etc. 
Day 4: Cat Ba Island – Sung Sot Cave – Hanoi
You will have breakfast at M Gallery resort before returning to La Siesta Superyacht to come back to Hanoi in the afternoon.
>>> Explore more luxurious cruises in Ha Long Bay.
La Siesta Superyacht is going to be launched in the spring of 2023 after nearly one year of construction. Contact IDC Travel for a reservation if you are ready to experience this state-of-the-art super yacht.