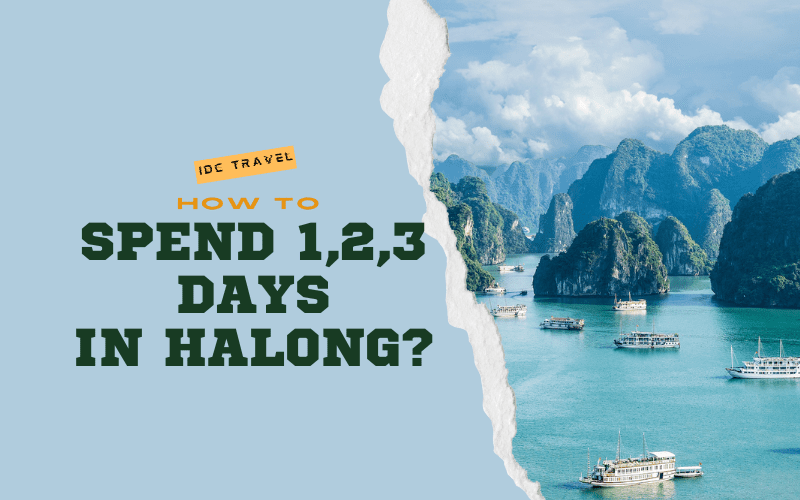 Halong Bay has long been considered one of the best places to go on a peaceful cruise vacation. It is a UNESCO World Heritage Site known for its breathtaking scenery. Halong Bay, one of the Seven Natural Wonders of the World, is home to approximately 2,000 karst formations and uninhabited small islands. It is impossible to explore all the places in HaLong in just 1. 2 or 3 days. However, if that's all you can do, this blog will help to design the best itinerary to visit HaLong.
The best time to visit HaLong
Depending on how you define the ideal travel experience, you may choose any time of year to visit Halong Bay. 
The months of September through November and March through May are perfect for a trip to Halong Bay if the weather is your top concern. You may take advantage of all the activities available on board and enjoy the best possible sightseeing thanks to the dry atmosphere and comfortable temperature.
Plan your vacation between May and September if you like to travel on a budget. When compared to other times of the year, you may save up to 40% on a cruise during this time, which is frequently regarded as the low season and when many cruise liners offer big cabin sales. However, occasional hurricanes and storms are common throughout the months of July and August, which might cause your vacation to be canceled or delayed. In similar circumstances, you might reverse your itinerary and go to Halong Bay later after seeing another place in the north of Vietnam. These storms won't continue for more than three to four days
The best way to explore Ha Long.
A cruise ship is the greatest way to experience Halong Bay. You visit areas of the water where islands are located that are inaccessible from the land. There are literally dozens of unexplored limestone islands that are topped with rain forests and caverns. It's a very different experience from the hectic cities of Asia. You'll genuinely think you're in another place. Here are some of the most popular itenarrities in Ha Long.
One-day cruise itinerary
The one-day cruise in Halong Bay is a convenient and affordable option for a day cruise, with itineraries ranging in duration from 4 to 8 hours. You can only visit 2 to 3 places after a day boat excursion, namely the Halong caverns and fishing villages. Additionally, the majority of Halong day cruises leave Hanoi around 8:00 am, embark at 11:30 am, and return at approximately 6:00 pm, so you will spend more time traveling and less time touring.
Most popular destinations during the cruise.
Depending on the cruise you take, it will offer different stops. However, here are some common destinations that you will visit during a 1-day cruise.
Sung Sot Cave (Surprised cave)
Sung Sot Cave is the most popular stop during HaLong cruises. Almost all the cruises will stop here for tourists to visit one of Halong's most spectacular and substantial caverns.'
You must ascend more than 50 steps to the opening of Surprise Cave, where you may gaze upon Halong Bay's enigmatic natural flora. Because of the incredible variety in the cave, the French gave it the original name "Grotte Des Surprises" when they first discovered it in 1901.
Sung Sot Cave has two sizable chambers and covers an area of around 10,000m2. Each has a unique scientific significance that includes stone stalactites and columns that have been produced over millions of years and are millions of years old. The boat departs after the cave viewing and cruises for around 30 minutes before anchoring for the night.
Dark and Bright Cave (Sang Toi cave)
"Hang Sang Toi" is situated in Lan Ha Bay, a part of the Cat Ba archipelago, in the Hai Phong province . A 70-km long cave that extends onto the water but penetrates the mountain is present. The cave's top is above the water, but its bottom is submerged. Visitors must therefore travel to the cave in a bamboo boat or by kayak. You can reach the nooks and crannies of the fascinating grottoes using a tiny floating vehicle.
Be prepared to be astounded by the view of the hidden paradise when you are boating through the grotto and entering its spacious area. You can admire the expansive water zone there, which is surrounded by stunning high limestone formations. Spend as much time as you like floating on the emerald water, inhaling the fresh air, and admiring the breathtaking scenery. 
Titov Island
It is an island with a crescent form that is renowned for its serenity and glistening waters. You may spend around one to two hours on the island and ascend to the top of a huge observation platform to get a breathtaking 360-degree panorama of HaLong Bay. After that, take your time swimming and relaxing on the beach.
Included activities
A Culinary Demonstration and Sunset Party: Nearly all Halong Bay 1-night cruises feature a culinary demonstration or an instruction in fruit and vegetable carving at dusk. You'll learn how to prepare and decorate several classic Vietnamese meals from the head chef. You may learn a lot about Vietnamese cuisine here.
Tai Chi session: Tai chi originated in China, and the teachings presented on board are straightforward and easy to understand for everyone. You will be led through each section of the session by a Tai Chi instructor. Exercises like tai chi are a soothing approach to relieve tension and weariness. Additionally, this specific martial art may increase flexibility and strength. You can completely relax while listening to traditional Vietnamese music and enjoying the cooling bay breeze.
A two-day, one-night cruise itinerary
It is strongly advised to join a 1-night Halong Bay cruise to explore either well-known or off-the-beaten-path places. Onboard, you may also participate in a variety of activities such as fishing, kayaking, swimming, hiking, cycling, and other sports. The schedule is around 24 hours long, making it acceptable for most international visitors visiting Vietnam for less than a month.
Most popular destinations during the cruise.
Besides all the popular destinations that were mentioned in the previous part, during a two-day, one-night cruise, you will have the chance to see those destinations below:
Thien Canh Son Cave
Thien Canh Son Cave, the "pearl of Halong Bay," is located in the Cong Do Island protected area. The cave is a hidden gem of a unique ecology and one of Halong's most important natural riches. You should be impressed by the stalagmite structure inside the cave and the beautiful foliage approaching the gate of heaven after ascending over 100 stairs to reach there.
In addition to exploring intriguing caves, you may go kayaking or rest on the beach to go deeper. National Geographic Adventures named Halong Bay one of the top 25 kayaking destinations in the world. You should never have passed up this great kayaking spot in Halong.
Bai Tu Long Bay
This vast region offers visitors breathtaking natural views. Bai Tu Long is a large area that has yet to be fully explored. Given that it is still a relatively new tourist destination, it is even more magnificent than Halong Bay in some aspects. Bai Tu Long's attractions include the Cong Do area, the Thien Canh Son cave, the fishing town of Vung Vieng, Da Xep Park, and Tra Gioi beach. There are also several inhabited islands with beautiful beaches, such as Quan Lan, Ngoc Vung, Cong Dong, and Cong Tay.
Lan Ha Bay
Because of its distance from Halong City and the major tourist port, Lan Ha Bay's popularity never truly took off as it did for Halong Bay in the 1990s, and Lan Ha has since stayed in the shadow of its renowned neighbor. You should consider it a blessing that Lan Ha Bay remains a secret gem with deserted places, pristine waterways, and caves to explore. Its most notable feature is unquestionably its immaculate, white beaches, which are unusual in Halong. Finding the perfect spot for swimming, snorkeling, and, for the more courageous, cliff jumping is easy because the harbor is home to 139 white-sand beaches.
Cat Ba Island
Most cruises travel to Trung Trang Valley on Cat Ba Island, which is located in the heart of Cat Ba National Park and is home to the Kim Giao forest. This is the biggest valley, comprising around 300 hectares and ranging in depth from 10 to 30 minutes. Trung Trang Cave is a stunning natural stalagmite and stalactite cave that originated about 2,000 years ago.
Included activities
This itinerary includes all the activities of a one-day cruise and adds 2 more activities: 
Dinner and night events: There will be a special supper filled with tantalizing Western delicacies and traditional Vietnamese fare, depending on the cruise's set menu. Every Halong Bay trip 2 days and 1 night includes evening entertainment such as playing board games or Vietnamese puzzle games, having a beverage at the bar, and participating in the Happy Hour game after dinner.
Kayaking: To explore some destinations, such as the floating village or Dark and Light Cave, you can go by kayak.
3-day cruise itinerary
In comparison to the 2- day cruise, the 3 day- cruise schedule gives you an extra day to explore Halong. On the third day, you will have the opportunity to see less-touristy areas that will bring you closer to the residents and environment. The complete excursion of 48 hours is recommended for people who have enough time to truly see the bay. This cruise will bring you to all the touristy destinations, but during the cruise you will have the chance to discover many unexplored places in Ha Long.
Most popular destinations during the cruise.
Viet Hai Village
Visit Viet Hai village, a Cat Ba Island indigenous community, to pedal down the village route, passing through rain woods and gloomy caves. On the way, let's take in the breathtaking landscape of the rice fields. You should take your time wandering about Viet Hai village, where you may witness a historic native house constructed of straw, mud, and bamboo and learn about everyday local life.
Van Boi floating village
Van Boi floating village is the largest of HaLong Bay's five remaining floating fishing communities. The bamboo boat excursion to Van Boi floating village will give you a better understanding of local life and people. If you want to do something more daring, go swimming and kayaking to explore the bay and relax in an off-the-beaten-path location.
Vung Vieng Fishing Village  and Pearl Farm
The village is a small, secluded community of around 50 houses that make a livelihood by fishing, handcrafting, and other traditional means. It is an excellent location for anyone seeking a genuine experience of local life and the rich traditional traditions of the indigenous peoples.
Nearby Vung Vieng Fishing Village, follow the 3-day cruise, you may get to Pearl Farm  There, you will learn about and watch the whole process of creating a diamond, from growing to harvest. The lecturers introduced pearls and each stage of manufacture with attention.
Included activities
BBQ on the beach: Along with all the activities that are included in 2 other cruise itineraries, you may have a one-of-a-kind opportunity to have a BBQ lunch on the beach, depending on availability and weather conditions. It's an excellent opportunity to enjoy Vietnamese dishes in a relaxed setting. What could be better than sampling a variety of delicious dishes and grilled fish while listening to birdsong, wind noises, and wave sounds?
There's so much to see and do in Halong Bay.. However, if you need to leave quickly, we hope this blog has covered all the details you require for your plan. And here is the compararions if you still confuse about which kind of itinerary is the best for your trip:
If you have found out which cruise itinerary is the best for your trip you can book it by click here.