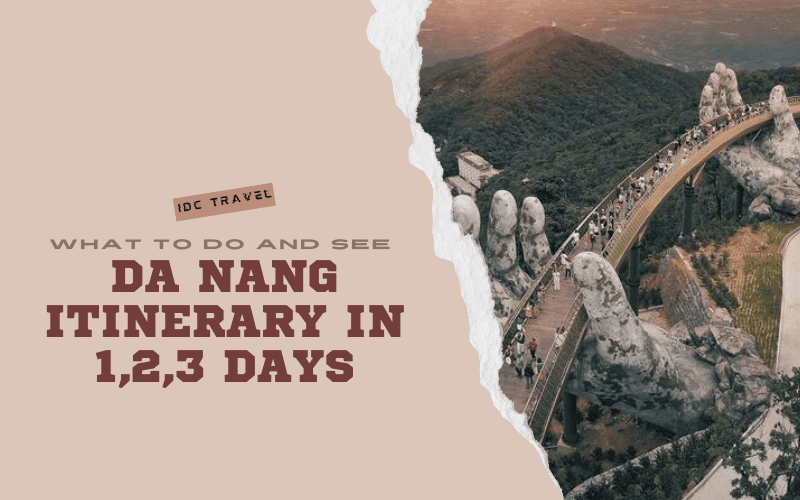 The New York Times magazine named Da Nang as one of the best places to visit in the world in 2015 due to its beautiful sandy beaches. Furthermore, this city clings to tourists' feet with its sophisticated and civilized image, and it constantly has something new to offer. The ideal itinerary for Da Nang is 4-5 days so you can fully enjoy it. Considering that there are still so many other places in Vietnam for you to discover, this blog will serve as your guide to discovering Da Nang in some short itineraries.
The best time to visit Da Nang
Da Nang's weather is described as hot, humid, and rainy during times of the year. Annually, the average amount of atmospheric humidity is around 83.4 percent. The rainy season lasts from September through December.
Visitors may select the ideal time to visit Da Nang, Vietnam based on a variety of variables, including personal interests. If you want to spend your holiday soaking up the rays,the best season to visit is from April to August, when there is less rain and more daylight, making it excellent for sightseeing and outdoor sports. It's summer during this time, yet it's not too hot. This is also Da Nang's prime tourist season.
One day itinerary in Da Nang – Enjoy a true beach holiday
One day is too little for an interesting city like Da Nang. Obviously, you couldn't visit many places in Da Nang. We highly recommend you spend most of your time enjoying the lovely beach in Da Nang and filling your stomach with delicious food. Here are some suggestions for your local sightseeing.
Climb Marble Mountain.
What can be better way to start the day than by climbing a mountain? The Marble Mountains, located in the city's south on the way to Hoi An, are a cluster of five mountains named after the elements – water, metal, earth, fire, and wood.
Since you will not have time to see all of the mountains, you can visit the largest and most popular, Water Mountain. Because all of the attractions are at the top, you can either climb a steep flight of steps or take an elevator. Getting up early and then climbing to the top of the mountain means you have a wonderful morning workout.It takes about 10 minutes to get there. Then you can visit the Sea Watching Tower for a beautiful perspective of the other four mountains.There are various pagodas on the mountain, including Linh Ung Pagoda and Tam Thai Pagoda. Check out the Lady Buddha when you're at the Linh Ung Pagoda; it's one of Danang's three Lady Buddhas.
If you're interested in caves, visit Linh Nham Cave and Van Thong Cave. A concealed route at the rear of the Van Thong Cave climbs to the summit for further views of the shoreline.
Visit Linh Ung Pagoda
Around the mountain, you can find Linh Ung Pagoda, a Buddhist shrine located on the Son Tra peninsula. You'll see exquisite groupings of maintained bonsai trees as you enter the temple grounds.
The primary attraction of the pagoda is witnessing the renowned Lady Buddha, which stands 67 meters tall (219 feet). It is the city's highest Lady Buddha – Marble Mountains and Ba Na Hills. You may easily locate a location to enjoy the city's breathtaking vistas.
Enjoy My Khe beach.
After spending the first half of the day exploring Marble Mountain, it's time to treat yourself to an afternoon at My Khe beach.
My Khe Beach is a 20-mile expanse of white sand located about 6 kilometers east of Da Nang. It was named by American servicemen who visited during the Vietnam War and is regarded as one of Vietnam's most beautiful beaches. My Khe Beach, which is home to a number of high-end resorts and seafood restaurants, is also a popular site for sunbathing, fishing, snorkeling, jet-skiing, and surfing.
Visit Dragon Bridge (especially during weekend)
Going for a walk along the Han River is the best way to end a day in Da Nang. If you visit this city on the weekend, you will have a chance to appreciate the performance on Dragon bridge.
The Dragon Bridge is the longest bridge in Vietnam, measuring 666 meters in length. The 6-lane bridge crosses the Han River and is designed in the style of a golden dragon, which people think represents strength, royalty, and good fortune. While it's a spectacular sight at any time of day, Dragon Bridge is especially stunning – and packed – on weekends since it's lighted with colorful LEDs and breathes fire and spits forth water from 9 p.m. (on Saturdays and Sundays only).
Da Nang must-try food
Da Nang is such a heaven for foodies, but with only 24 hours, you can not try all the food there. Choose wisely, and make sure you don't miss any of the signature foods of Da Nang. Here are some must-try dishes.
Seafood
Have only one day in Da Nang, and what are you waiting for except to enjoy the fresh, delicious seafood there? Da Nang is located on a 74-kilometer-long coastline with several wild islands and a magnificent peninsula to the north of the city. With so much coastline, Da Nang provides a lot of fresh seafood available all year. Moreover, the price is very reasonable, allowing you to fill your stomach with a whole ocean of seafood.
Banh xeo (Vietnamese sizzling crepes)
Another must-try dish is Banh Xeo,  which are delicious Vietnamese crepes that are commonly filled with pork, shrimp, bean sprouts, spring onions, and mung beans. The thin cracking crepe is created with rice flour, water, and turmeric and fried till golden on a hot pan.
This Danang specialty is served with a selection of fresh herbs and vegetables as well as sheets of rice paper. For fantastic taste, roll everything together and dip it into the peanut and pork sauce.
Two day itinerary in Da Nang – Get out of town!
Having a 2- day trip in Da Nang will make your journey much more fun when you can visit Hoi An and experience many things there.You can use the previous schedule for the first day and here is the suggestion for the 2nd day.
Ba Na Hill – Enjoy the calm weather
A hill station called Ba Na Hills is about 45 minutes west of Da Nang's downtown. It is a well-liked resort among both locals and tourists.
The most recent attraction is the famous Golden Bridge, which is also known as the Hands Bridge and is supported by two huge hands. The bridge stands at an amazing 1414 meters (4639 ft) above sea level. While you're there, take in the spectacular views of the mountains from the bridge.
Other enjoyable activities include visiting a French town and dining on European-inspired cuisine, strolling through well-kept flower gardens, and even visiting a Buddhist monastery. The temple is where you'll find Danang's third Lady Buddha. (The other two are in the Linh Ung Pagoda and the Marble Mountain).
Most people take a day trip to get here. Even though you can buy tickets and arrange your own transportation to get here, it will still be less expensive if you sign up for one of those all-inclusive guided day excursions that show you the park. This includes at least three cable car trips, plenty of time to visit the Golden Bridge, Linh Ung Pagoda (similarly called but not the same as the one in Son Tra), French Village, and a buffet lunch.
Hoi An- The Ancient Town
After a day tour of Ba Na Hill, instead of returning back to Da Nang downtown, head to Hoi An to enjoy the wonderful night life there.For good reason, everyone falls in love with this attractive city. Hoi An Ancient Town is a UNESCO World Heritage Site that should be visited. It's a simple 30-minute car trip from Danang to Hoi An, which we took with Grab.
Because Hoi An is very small, you can easily get to all the famous destinations by walking. The city is much more attractive at night, with illuminated lanterns throughout the walking area.
Da Nang- Hoi An must-try food
Bun Cha Ca (Vietnamese Fried Fish Cake Noodle Soup)
Bun Cha Ca is a noodle soup prepared with many types of fish cakes that is a must-try Danang local dish.
This fragrant, sweet, tangy, and savory broth is topped with fish cakes. The texture of the fish cakes is one of the most prominent and distinguishing features of this Da Nang dish.Springy and rich textures are preferred, and the variety of fish serves an important role.
This aromatic soup is traditionally served with fresh herbs, limes, and chiles, as well as a tiny scoop of shrimp paste.The flavors are expertly matched, with a lemony, savory broth and flavorful fish cakes. It's also nutritious because of the light broth and veggies. It is best to have this for breakfast before going to Ba Na Hill.
Com Ga – Hoi An chicken rice
Com Ga originated in China and was brought to Hoi An by Chinese traders who settled in Quang Nam Province. Many of these traders came from Hainan, which is just around 450 kilometers northeast of Hoi An.
Com ga is a dish of shredded poached chicken with seasoned pilaf rice, shredded green papaya and carrot, fresh herbs, and a bowl of chicken broth with offal and cubes of congealed blood that may or may not contain offal and cubes of congealed blood. It's one of those foods that appears bland yet is bursting with flavor.
Banh Mi Hoi An
Outside of Vietnam, banh mi and pho are two of the most well-known Vietnamese meals. Banh mi may be found pretty much anywhere in the country, but the tastiest sandwiches are thought to originate from Hoi An, and it all comes down to the bread. No one knows for certain why the bread in Hoi An is superior, although some believe it is due to recipes left by the French in the mid-1800s.
Three day itinerary – A journey to the islands around Da Nang
Having 3 days in Da Nang is enough for you to visit all the best destinations in Da Nang. For the first 2 days, we have already given the detailed itinerary in the previous sections. So let's start this itinerary from the morning of the 3rd day.
Cham Museum
From the 2nd to the 15th century, central and southern Vietnam were part of Champa. You'll notice the Cham Structures, which are tall towers built of red bricks and decorated with stone carvings, as you journey across the nation.
The Cham Museum has nearly 2,000 Cham statues and artifacts acquired throughout the years as a result of the Cham people's impact. You'll find that Hinduism has influenced a lot of the artwork. Learning about Vietnam's indigenous people is definitely worth the effort.
Cu Lao Cham ( Cham Islands)
After a visit to the Cham Museum, you can spend the whole day exploring Cu Lao Cham (Cham Islands). This perfect destination is blessed with magnificent mountain slope topography and ecological variety.
Cham Island's vast range of recreational activities in a scenic and unspoiled location attracts travelers. Swimming on crystal-clear beaches, sunbathing on extensive stretches of white sand, and exploring the forest are all traditional kinds of relaxation. Water sports such as swimming, water skiing, paragliding, kayaking, kite flying, boat racing, and scuba diving are accessible for individuals interested in marine life discovery activities. This kingdom of aquatic organisms includes marine algae, sea grass, sea critters, and, most notably, coral reefs. Tourists may expect to see a wonderful marine environment full of colorful fish, lobsters, and mollusks beneath the clear water's surface.
Da Nang- must try food
Banh Canh (Thick Noodle Soup)
Bánh canh is a thick, sticky noodle soup popular in Vietnam. Tapioca flour or a rice-tapioca flour blend is used to make the thick and round noodles.The thick sheets of uncooked dough from which the noodles are cut give the dish its name.
The flavor of banh canh is determined by what it is served with. We had banh canh tom with both pork and shrimp, as well as banh canh ca loc (fish). The soup or broth has a strong taste. It is served with fried yellow breadsticks for dipping into the soup.
Banh Trang Cuon Thit Heo (Rice Paper Pork Rolls)
A lesser-known Da Nang native dish is banh trang cuon thit heo, which consists of pork and vegetables wrapped in rice paper.It's another participatory food in Danang that comes with a divisive special sauce. Paper thin slices of wrapped belly pork are served with a variety of fresh vegetables and seasonings. This is served with thin slices of cucumber and carrot.
A unique dipping sauce called "mắm nêm" is served alongside the pork and vegetables. This dish is distinguished by an anchovy fish sauce, which differs from traditional Vietnamese fish sauce. Simply stack up different textured rice papers with pork and a variety of fresh herbs to consume this meal. When dipped in the sauce, the flavors come to life. Fresh noodles are served alongside.
Kem Bo (avocado ice cream)
After a 2-day food tour with a lot of savory dishes, it is best to pamper your stomach with a sweet dessert. Avocado ice cream is the most delicious dessert in Da Nang. Enjoying the cold, soft, creamy coconut ice cream with an avocado smoothie on a hot summer night after a long, exciting journey,nothing could be better than that.
We hope you will have amazing memories from your vacation to Da Nang based on our recommendations. This is a promising destination. What are you waiting for? Book a Da Nang trip right now to enjoy it.