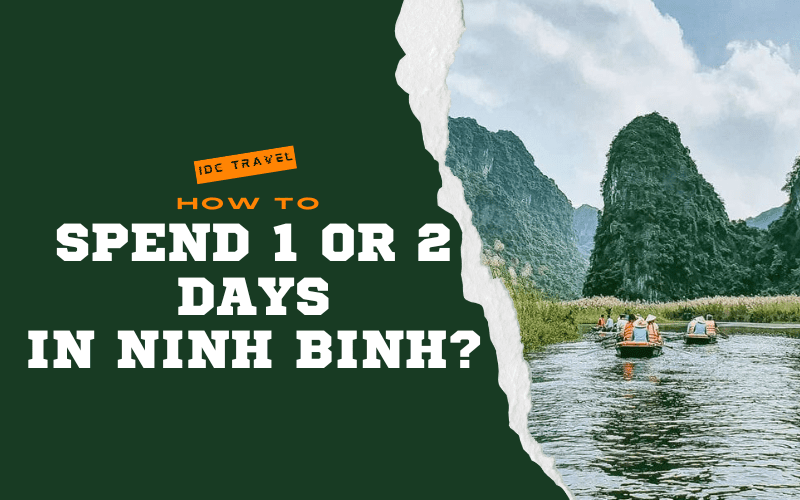 Ninh Binh, which is close to the capital city of Hanoi, is a great choice for tourists who appreciate the natural beauty of the countryside and are looking for a tranquil location to unwind. Many of you must be wondering: "How many days is enough to discover Ninh Binh?" This blog will help you to build the perfect schedule to visit Ninh Binh even if you only have few days to spend.
Best time to visit Ninh Binh
Northern Vietnam is influenced by the tropical monsoon. There are four seasons, each with their own unique traits. So is Ninh Binh. The weather must be taken into account in order to create the ideal itinerary for visiting all of Ninh Binh's attractions. So, when is the best time to visit Ninh Binh?
Although visitors can travel to Ninh Binh at any time of year, they should avoid the rainy and stormy months of August and September. Following the Tet holiday (the Vietnamese Lunar New Year), February and March are the busiest months for festival lovers and pilgrims to visit Trang An Scenic Landscape Complex and nearby pagodas. There will be a variety of traditional, cultural, and ritual events held there at this time for tourists from all over Vietnam and foreign visitors who come to pray for good fortune and take in the scenery. This is also a good time to take a quick trip to a national park to take in the tranquility and fresh air, such as Thung Nham, Vang Long, or Cuc Phuong.
However, the best time to travel to Hoa Lu, the country's first capital, and Tam Coc, where you can see magnificent historical sites and breathtaking photographs of immaculate paddy fields during harvest, is from early May to June. Additionally, June is a beautiful month for those who love flowers and the outdoors, with lots of blooming flowers, especially lotuses and water lilies, against a beautiful natural backdrop.
Depending on your preference, you can choose the best time for you to visit Ninh Binh or if you want to combine visiting Ninh Binh with other destinations in Vietnam you can have a look at our detailed weather guide for all regions in Vietnam in: Best time to visit Vietnam
Ninh Binh in 1 day: Enjoying the tranquil atmosphere.
If you only have 24 hours to visit Ninh Binh, it is not necessary to worry because one day is enough to enjoy the unique tranquil atmosphere there
A cruise on Trang An ( it takes about 2 hours)
During a cruise on Trang An, you can heal yourself. The journey to Trang An's entrance only takes fifteen minutes. In this area, it seemed like there was a picture-perfect postcard scene around every corner. Trang An is a component of the UNESCO Mixed World Heritage Site and is recognized as a Scenic Landscape Complex. 
There are lots of karst limestone formations and mountains surrounding forests, rice fields, caves, and rivers. Streams of brilliant blue water below are home to unusual and natural life. Over the enormous rocks above, vines with floral decorations meander. Here is a topographical museum. Some species have existed here for such a long time that we have no records of them. On the boat trek, you can see some of the landscape shots from the King Kong film. It has fascinating, extensive, dark caves. Some of the most captivating images can be created in both light and darkness. At a few stops, you can also visit local pagodas.
Climbing Mua Cave ( open: 7am-close: 5pm)
Despite being difficult to get to, Mua cave Viewpoint presents a fantastic opportunity for outdoor adventures. You can see panoramic views of the Tam Coc Valley, calm Tam Coc rice paddies, and tranquil rivers after ascending hundreds of stone steps to the summit. Mua Caves Ecolodge and Nguyen Shack Ninh Binh are two places where visitors to Hang Mua can spend the night.
Dishes that you must try in Ninh Binh
A journey can't be perfect if there is no experience with food. If you only have 1 day to spend for Ninh Binh, here are some dishes that you must try.
Rice Crust 
In Ninh Binh, burnt rice is a common dish available in most specialized eateries and well-known tourist destinations. Ninh Binh produces crispy, delectable rice burning. There are numerous variations, including burn-rice dishes with meat, shrimp, onions,..
Shrimp paste
These sauces are made by hand using fried shrimp that have been arranged in rows in the jars.They are sealed for a month after processing to produce cooked food. This sauce is strong, appealing, and delicious at the new level of sweetness. Red is the sauce's defining color. The shrimp paste is much simpler to eat than shrimp sauce but still has the same salty flavor and sweetness of the shrimp. To make a gift for Ninh Binh, don't forget to purchase shrimp sauce.
Ninh Binh Goat Meat 
Because goats are raised and fed on the hills in Ninh Binh, where food is primarily natural, the meat of mountain goats is delicious and not soft or chewy. You can purchase Ninh Binh goat meat for the entire family at the market, dining establishments, or grocery stores.
Nem Yen Mac – Fermented Pork Roll
Fermented pork buns are made with sour pork, chili, and peppercorns and are best served with chili sauce. I make certain that it is simply too amazing to pass up. Guava leaves accompany the fermented pork buns. This is wrapped in banana leaves, which have a lovely look and a sweet aroma.
Ninh Binh in 2 days: A cultural journey
As mentioned, in order to visit all the top destinations in Ninh Binh, you just have to spend 2 days. Having one more day in Ninh Binh, you can learn more about Vietnamese history since Ninh Binh is the location of the Ancient Capital – Hoa Lu if you have one more day to explore this region. 
For the 1st day, you can follow exactly what has been described in the previous part. On the 2nd day, it is time for you to get to know the culture of Vietnam by visiting those places below:
Visit Hoa Lu –  Ancient Capital
Vietnam's first capital is located in Hoa Lu Ancient Capital, which is surrounded by rugged limestone mountains. Built in the 10th century by the Dai Co Viet Kingdom, this is one of the most important historical landmarks nationwide. Tourists will have the opportunity to view a variety of charming pagodas, temples, and tombs there. At specific times of the year, traditional cultural festivals like the Truong Yen Festival take place with many activities and draw throngs of participants.
Bai Dinh Pagoda
The last destination for the day would be Bai Dinh Pagoda, since it is open until 10pm, so after visiting all the destinations that have earlier closing times, you can spend the end of the day enjoying Ninh Binh' tranquil atmosphere in Bai Dinh.
The largest Buddhist temple complex in Southeast Asia, Bai Dinh Pagoda is about 20 kilometers from Ninh Binh City and draws thousands of tourists every year. More than 500 carved Buddhist statues can be found at the location, along with a bell tower that is encircled by flowering trees. Additionally, it is home to numerous national records, including the largest Bodhisattva statue and the most Arhat statues in Vietnam. Take an electric car there to begin your fascinating sightseeing tour and gain a deeper understanding of this religious complex.
Dishes that you must try in Ninh Binh
The second day in Ninh Binh is the time for you to take a risk and try the exotic foods here. You might not into it but it's the experiences you will never forget.
Rice field crabs 
Field crabs are cooked with crisp wild betel leaves. The dish is simple and quick to make. However, it actually helps diners remember the attraction of a dish since it transmits significance in addition to being excellent and distinctive in flavor.
When you consume this dish in the ancient capital, you'll be transported back to a time when Vietnam was underprivileged and its rural areas were simple.
Xoi trung kien (sticky rice with ants eggs)
If you hear the term "ant eggs," you'll be curious about this dinner. The most important ants' egg dish is the brown ant eggs that live in the Nho Quan limestone mountains. Every year, in the second lunar month, the villagers begin their journey to locate eggs.
The ant nest will be washed with warm water and marinated in spices before being transformed into a one-of-a-kind dinner with an odd name. Because ants' eggs are scarce, the price of this sticky rice fluctuates between 50,000 and 100,000 VND each dish.
Braised fish with Gao fruit
In Ninh Binh, braised fish is an unusual meal with regional peculiarities. The name of a plant that grows beside rivers, streams, or in stone caverns is gao fruit. It can both cook and serve as an apothecary. Gao fruit is processed in a unique way in which they chop it into little pieces and place them on the bottom of the pot before placing the fish on top and covering the top layer pieces.
This meal has no set flavor because it is dependent on gao fruit. It might have a somewhat sour or caustic flavor. Because of the gorgeous colors and sour flavor of gao fruit, the taste is rather unique and awakens your taste receptors.
Some notable things when visiting Ninh Binh
There are a few things that you should notice before making a plan to visit Ninh Binh following the schedule above:
There are some places that have closing times, so you should put them on your priority list when visiting.
Most of the destinations are close to each other, but you should check the distance on the map first to put those destinations in an appropriate order.
Bring cash. In Ninh Binh it is hard to find an ATM, so please estimate and bring cash for your trip.
It is hard to say that you can truly appreciate Ninh Binh just by spending a few days there. However, you can totally take advantage of Ninh Binh's tranquility in only 1 or 2 days. After a trip to Ninh Binh, you will definitely feel relieved and at peace.