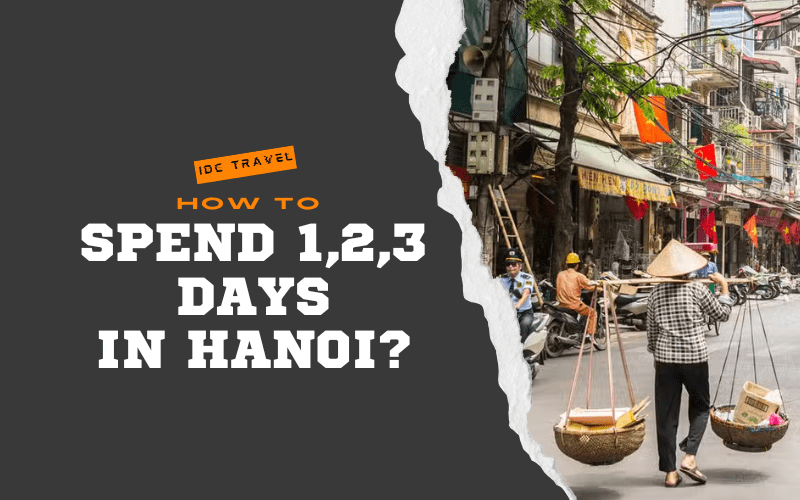 Hanoi is undoubtedly one of the most alluring cities in Asia, with a colorful and turbulent past and a bustling metropolis vibe. The capital city is without a doubt one of the must-see locations in Vietnam. However,how to spend time in Hanoi is a big question. Many tourists wonder how much time is enough to enjoy all of Hanoi. And we're here to assist you in finding the answer. In this article, we'll give you three choices with varying lengths of stay, making it simple for you to come up with a great strategy. Of course, don't forget to look into the ideal seasons for traveling to Vietnam.
Hanoi in 1 day
1. For whom?
Those who don't have much time
Those who also plan other destinations in the northern region, such as Halong, Ninh Binh or Sapa.
2. Where to visit?
Old Quarter
For a day in Hanoi, the best thing to do would be to visit the old quarter of Hanoi. Most of Hanoi's main attractions are located in this area, and some are within walking distance. Therefore, you should spend the whole day in Hanoi to visit around Hoan Kiem Lake.
Immerse yourself in the unique atmosphere of the old quarter of the 36 corporations of Hanoi, where the merchant activity is absolutely breathtaking. Continuing for the discovery of Hoan Kiem Lake, the soul of Hanoi and a true oasis of tranquility whose legend would have it that a giant golden turtle gave a peasant, in the 15th century, a magic sword to fight the Chinese people.
The city wakes up at 5am and begins its bustling morning exercises around Hoan Kiem Lake . Arriving at the lake at dawn, you will be amazed by the crowd already in place: seniors practicing Tai Chi, men running and women dancing.
You can then admire the colonial architectural heritage such as the opera house, Saint Joseph's Cathedral and all the old colonial houses that line the famous Ba Dinh Square. It is on this same place that the president of the country Ho Chi Minh made his declaration of independence on September 2, 1945 and that is quite naturally the mausoleum of Ho Chi Minh . Visit the One Pillar Pagoda and historic site of the Presidential Palace .
Temple of Literature
Founded in 1073 to celebrate the education and teachings of Confucius, the Temple of Literature was the first university in Vietnam that educated children of mandarins from 1076 to 1915. Even today, the Temple of Literature is still the place where Hanoi students celebrate their graduation. In the late afternoon, you will watch the water puppet show , an ancient traditional art of the Red River Delta.
3. What to eat?
Pho
Start the day with Pho, Vietnam's national dish. The intense broth is made not only from meat, but also from bones, ginger, onions and aromatic spices.
Around Hoan Kiem Lake, you can easily find a Pho restaurant that name: "Pho Thin". For those who want to experience the true, traditional flavor of pho, it is the perfect option. Simple, with few options, and with the most distinctive flavor of all the phos in Hanoi, Pho Thin is the best option. The exact address of Pho Thin: 61 Dinh Tien Hoang, Hoan Kiem, Hanoi.
Egg coffee
An ultra-gourmet specialty of Hanoians, egg coffee is a must-have not to be missed during a visit to the capital. It's a coffee that looks like a dessert like a tiramisu, so creamy and unctuous!
In Hanoi, Cafe Giang is the most well-known place to get egg coffee. However, we have a choice that is right on the edge of Hoan Kiem Lake and is in a tiny alley called "Cafe Pho Co" if you are having trouble finding Cafe Giang. This coffee shop is rarely known by the locals themselves. The best rich, creamy egg coffee is served at this unassuming cafe. From this cafe's rooftop, you can also take in the full view of Hoan Kiem Lake. It is located at 11 Hang Gai, Hoan Kiem, Hanoi. It takes four floors of climbing and a long, narrow alley to get to this coffee shop, but the reward is well worth it. 
Bun cha
Just as popular as Pho, Bun Cha is a dish that was made famous when Anthony Bourdain and Barack Obama tasted it during their visit to Hanoi. Like Pho, Bun Cha can be found almost everywhere in Hanoi.
Cha Ca La Vong
Today, you can find it on every street corner in the Old Quarter. Its authentic taste comes from the fat of the fish flesh which harmonizes with the aromas of aromatic herbs specific to Vietnam such as dill, chives, coriander and Thai basil.
Hanoi in 2 days
1. For whom?
Those who like to explore some attractions in Hanoi
Those who really appreciate the cultural things of the city
2. Where to visit?
You will have more opportunity to visit all the cultural destinations in Hanoi if you have 2 days to spend.
For the first day, you can follow the program as a trip to Hanoi in 1 day.
Hanoi is home to many museums. So if you're a history buff, let's add some interesting museums to your itinerary. The variety of museums covering a wide range of subjects from prehistory to war, some of them show the rich cultural history of Vietnam. And so for the 2nd day of your trip to Hanoi, we highly recommend that you visit some of the following museums:
Hoa Lo Prison
the remains of a former prison where Vietnamese revolutionary martyrs were captured by American soldiers. It has been ironically nicknamed the "Hanoï Hilton".
Vietnam Museum of Ethnography
A gold mine if you are interested in beliefs, architecture, fashion or crafts. Splendid traditional houses can be found within the grounds of the open-air museum.
Vietnamese Women's Museum:
This gem shows the role of women in times of war, their subject of motherhood, and also exhibits the vivid costumes of ethnic minorities.
You can plan to visit one or two of these museums in the morning and head to West Lake in the afternoon. Exploring West Lake and several nearby attractions can take half a day. You can visit the oldest pagoda – Tran Quoc, Quan Thanh temple , Van Nien pagoda , water park, or just rent a bicycles and ride around the 15 km lake.
The night will be even more amazing if you go to Ta Hien street to drink a beer and meet other travelers from other countries.
3. What to eat?
In addition to Pho, Bun cha,… symbols of Hanoi gastronomy, taste the other essential dishes of the capital:
Banh mi (Vietnamese sandwich)
This dish is introduced in the Oxford dictionary. Also nicknamed "Vietnamese sandwich", the highlight of this dish is its filling. Grilled pork, liver paste, sliced ​​carrots served with herbs and sauces, that's all you need to make a good banh mi. Crispy, tasty, juicy, try to choose an adjective yourself to describe this tasty food from Vietnam.
Banh cuon (rolled up steamed pancake)
Banh Cuon is another famous Hanoi dish that can be served all day. It is delicious street food that can be the main course for locals. Banh Cuon is made from rice flour, steamed into thin strips like paper. Then it will be stuffed with cooked ground pork and rolled. Before being served, it will be sprinkled with golden dried onions on top. And you will eat with a spicy and sweet sauce that plays an important role in the soul of the dish.
Banh tom Ho Tay (Ho Tay Shrimp Fritters):
In 2019, on the American television program CNN's "Destination", bánh tôm Hô Tây was featured as one of the most popular traditional dishes in Hanoi. Currently, if you want to taste the delicious and authentic shrimp fritter, go to 1 Thanh Nien Street, Tay Ho District, which is the birthplace of this most famous West Lake dish.
Bia hoi (cold beer) This popular drink can be found all over the country, with a surprisingly cheap price in exchange for a tall drink. This drink is much better known for the friendly atmosphere it provides than for its taste. Around a "bia hoi", we can discuss everything and nothing. The best bia hoi in town can be found on Ta Hien Street, where locals and tourists alike flock to unwind over this refreshing drink every weekend night.
Hanoi in 3 days
1. For whom?
Those who wish to discover other parts of Hanoi.
2. Where to visit?
If you have 3 days to spend in Hanoi, you will have the chance to visit more different places, taste more delicious food, meet friendlier locals and better understand this capital of Vietnam
For the first 2 days, please refer to the itinerary for a trip to Hanoi in 1 day and 2 days.
Leave the city behind and head out into the countryside to find an enjoyable experience for day 3 of your Hanoi trip. As most of them are far from the city center, you may need almost a day to visit just one place. So it is better to visit only one of the hidden gems of Hanoi below:
Van Phuc Silk Village
Van Phuc Silk Village is located on the bank of Nhue River, just 10 km from Hanoi Old Quarter. It is famous for its traditional weaving techniques and quality silk products. More than 1,200 years old, this village impresses visitors with its daily lifestyle and images typical of a Vietnamese village, such as banyan trees, communal houses, wells and the sound of looms. When coming here, don't forget to buy their silk, because it will make you feel cooler in the summer and warmer in the winter.
Bat Trang Ceramics Village 
Bat Trang is a well-established village located in Gia Lam district, about 13 km from the center of Hanoi. The village is famous for its high quality pottery products. Visiting Bat Trang village, you will have a chance to experience making a ceramic products by yourself.
Chuong Conical Hat Village
This small village on the banks of the Day River, about thirty kilometers south of Hanoi, is the oldest nón (conical hat) making village in the North. You will find in the village of Chuong the typical features of a traditional village: the entrance gate, the communal house, the pagodas, the market, the small houses surrounded by gardens.
3. What to eat
The capital is a culinary paradise and truly has plenty of must-try dishes on your trip to Hanoi.
Goi cuon (Vietnamese spring rolls)
Fresh and healthy with multiple flavors, goi cuon is an ideal dish, especially on sunny days. In fact, it has made it to the most prestigious dish lists several times. It is in the list of top 10 Vietnam street food that published by CNN.
Vietnamese fried spring roll ( nem/ cha gio)
Since spring rolls are a staple of every Vietnamese regional cuisine, from the north to the south, albeit with different names, they are regarded as the culinary soul of the nation. The "nem" can be eaten every day, but the Vietnamese tend to eat it most often when they welcome people, during family celebrations, with friends, or during the Tet holidays, for example.
Bun dau mam tom (Noodles with Tofu and Shrimp Paste)
Bun dau mam tom is a very popular dish in Vietnam, especially in the North. You can find bun dau anywhere from local, small restaurant on the street to the luxury one. This dish has a very unique taste of shrimp sauce that many people prefer.
You can choose between shrimp paste or fish sauce to eat with the dish. If you are trying the dish for the first time, you will probably want to eat it with fish sauce, as the shrimp paste has a very harsh smell.
Che 
Che is more like a dessert for hot days in all parts of Vietnam, especially Hanoi. It is considered street food by most people, but it is still on the menu of many restaurants. Once you come to a place that sells this dish, you can find various types of Che. The most popular is a mixture of different types of beans and has a sweet taste. You can also add fruit and jelly for more flavor.
A thousand-year-old capital, Hanoi has a remarkable historical, cultural, architectural and gastronomic heritage. Exuberant, modern and at the same time traditional and conservative, the capital of Vietnam is a fascinating city, full of contrasts to discover. Do not hesitate to contact us to plan your next trip to Hanoi.