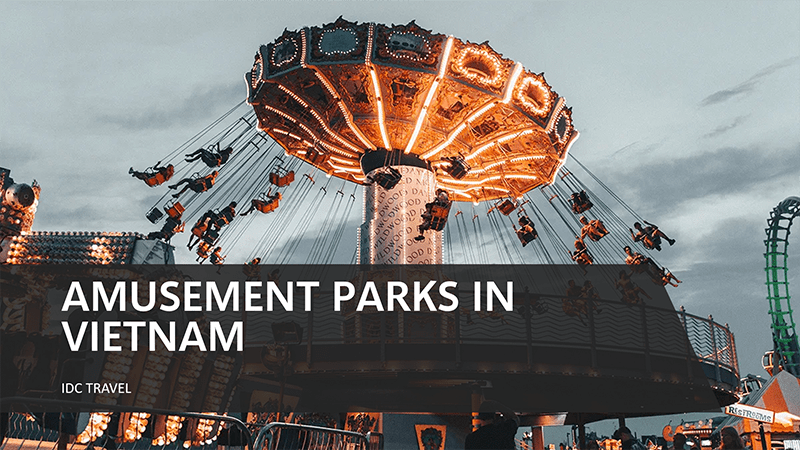 Vietnam is an increasingly attractive country for international tourists. The amusement parks in Vietnam are more invested and are very interesting for all tourists, especially those with families and children. Thereforthe 5 best amusement parks in Vietnam that you must visit.
Amusement parks in the North of Vietnam
1. Ho Tay Park
Address: 614 Lac Long Quan, West Lake, Hanoi
The first of the amusement parks in Vietnam list is West Lake Water Park. The park has 2 main areas: the sun park (land play area) and the water park area.
Water Park 
(Open only in summer)
90cm – 135cm
135cm & above
90cm & below
Over 65 years old and pregnant women over 5 months
Weekdays before 5.00  p.m
130.000 VND/ person
155.000 VND/person
Free
100.000 VND/ person
Weekends and public holidays before 5 pm
150.000 VND/person
180.000 VND/ person
After 5 pm
100.000 VND/person
For all ages, New Sun Park currently offers 15 different modern gaming genres. The games' caliber meets all international criteria. If you want a secluded setting for delicate romance, you can take a seat in the cabin of the enormous ferris wheel. If you love exciting games, you can take part in the float slide, carpet slide, tube slide, multi-lane slide, bridge jump, cable car swing, and other activities.
There is a restaurant at West Lake Water Park, although the selection is limited and prices are a bit higher than elsewhere. In light of this, you ought to eat at home before leaving the house or merely have a snack there.
Your kids can explore games like the Thomas train or ferris wheel. Your whole family can games for adults such as Thang Long Steel Dragon, Cable-stayed swing, Carpet slide. All games surely bring you intense excitement.
2. Vinpearl Park Royal City
Address: Vinhomes Royal City, 72 – 74 Nguyen Trai, Thanh Xuan, Hanoi
Opening hours: From 9:30 a.m. to 10:00 p.m. daily
Entrance fees:
Monday – Friday: 110,000 – 180,000 VND / person
Saturday – Sunday: 160,000 – 230,000 VND/person
In Vincom Mega Mall's extensive entertainment system, Vinpearl Water Park Royal City is a remarkable attraction that is both contemporary and incredibly distinctive.  Royal City Water Park is the first and only indoor water park in Vietnam and now the largest indoor water park in Southeast Asia, with a total area of 24,000m2 divided into numerous useful subdivisions.
Young children will have their own play spaces, allowing them to enjoy the cool, fresh atmosphere in places like the wave pool, family and kids pool (with a central sliding fountain), and Bear's house.
The professional sports swimming pool at Vinpearland Water Park also has two upstream swimming pools and an Olympic swimming pool. If you dislike swimming in the traditional sense, you can take part in fun activities like diving or surfing Stingray Bay. If players lack the necessary abilities to engage in Stingray Bay windsurfing, or swimming upstream, a group of qualified teachers will direct you.
In addition, right next to the Royal City swimming pool are dining areas with all kinds of delicious dishes with Korean, Japanese, Thai cuisine, etc. For that, this is one the Vietnamese amusement parks your family can not miss.
3. Sun World Ha Long Park
Address: Ha Long Street, Bai Chay, Ha Long, Quang Ninh
With a total size of up to 214 acres, Sun World Ha Long Complex is the top entertainment complex in Vietnam. The complex have three primary subdivisions: the Coastal, the Ba Deo, and a third subdivision is connected to the other two by a special cable car system.
Here are a few fun amusement parks to check out:
Open: 14:00-19:00 (Monday to Friday) and 9:00-19:00 (Saturday, Sunday)
Ticket price: 350,000/adult, 250,000/child under 130cm.
You may play games like python challenge, enormous lightning, dragons riding over waterfalls, tornadoes, etc. Besides, many visitors claim that the games are brand-new, unprecedented, special, and highly refreshing.  In addition to fun games, Typhoon Water Park provides a restaurant with a wide selection of food. Typhoon Grill is a great place to go if you like to eat barbeque.
Open: 14:00-19:00 (Monday to Friday) and 9:00-19:00 (Saturday, Sunday)
Ticket price: 200,000/adult, 100,000/child under 130cm.
Dragon Park is a fascinating setting with 20 activities that range from easy to challenging, original, and original. Dragon Park offers entertaining activities for young children including the magic umbrella, pterosaurs, and childhood automobile ride in addition to adventure games.
You can discover more fun at Queen Cable Car & Mystic Hill, KID OLAND children's playground at this great Vietnamese amusement parks.
Amusement parks in the Central of Vietnam
4. Ba Na Hills
Address: Hoa Ninh, Hoa Vang, Da Nang
Traveling to Ba Na is still the most convenient from March to September, because at this time Da Nang has little rain, sunny weather, clear blue, convenient for traveling and taking pictures.
Entrance fees: 550,000 VND /adult and VND 400,000 VND /child.
The Ba Na Hills hold two world records: one for the longest single cable car and the other for the longest distance between upper and lower stations. This is among the most famous amusement parks in Vietnam that you must come to see. The cable car runs from eight in the morning until seventeen in the afternoon, therefore if no one exits by that time, they  have to remain on the Ba Na Hills. If you don't make a reservation in advance, the aforementioned room rates are rather pricey when there are no rooms available.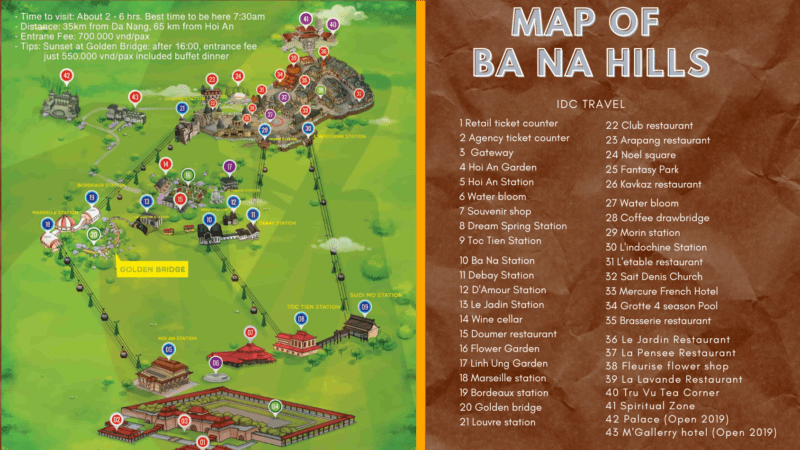 The locations you must see are: Fantasy Park, a three-story indoor theme park built, resembles an ancient, top-notch castle. There are a huge variety of games including both adventure games and enjoyable games for kids, Debay Station with ten gardens, each has a unique name, but all leaves us speechless with their beauty.
Given the abundance of supermarkets on the route to Ba Na Hills, purchasing food there will save you money on transportation. If you have extra money, you can choose to eat at the buffets at AraPang or Buffet Lavender. With a fairly affordable cost of between 250,000 and 300,000 VND per adult.
Amusement parks in the South of Vietnam
5. Dam Sen Cultural Park
Location: 3D Hoa Binh, District 11, Ho Chi Minh City
Opening Hours:
8 am – 6 pm (Monday – Friday)
7.30 am – 9 pm (Saturday – Sunday)
7.30 am – 10 pm (Holidays)
Despite operating for almost 40 years and being known as the "green paradise," Dam Sen is still one of the most popular amusement parks in Vietnam.
In order to create distinct resting area, Dam Sen Park combines two Asian and European architectural forms.
Prices
Activities
Entrance ticket
·     120.000 VND / time/ adult

·     80.000 VND  /time for children.

Watch performances at stages and outdoors.
Regular Package tickets
·     Children (from 1 to 1.4m): 180,000 VND.

·     Adults (over 1.4m): 260,000 VND.

Get access to the whole Dam Sen park.
Evening ticket (18h – 21h)
50.000 VND/time
Visit and play 1 game at the children's area
All-inclusive ticket: 100.000 VND/time.
Visit and play all games at the children's area.
Types of vehicles to get there: personal vehicles, taxis, buses (HCMC owns a bus route to Dam Sen Park continuously from 9am to 9pm daily at 11, 38, 64, 145, 148)
Coming to Dam Sen Kho Cultural Park, your family can experience thrilling games, virtual interactive game, extremely fun children's games: waterfall train, speed rotation, space rotation, power surge, etc. Especially, you can join 5 virtual interactive games: 8D Cinemax movies, Run Raider shooting,  9D Virtual Reality, etc.
Besides Dam Sen Kho, you can experience it at Dam Sen Nuoc with games like buoyant Slide 3, series of "brain twist" slides: Tornado, Twister Max, Black Thunder
There are many more activities waiting for you to experience. Your family can have information with our family tour packages. If you are not satisfied with those Vietnamese amusement parks, then we encourage you to spend more time playing golf with the most attractive golf courses we recommend.