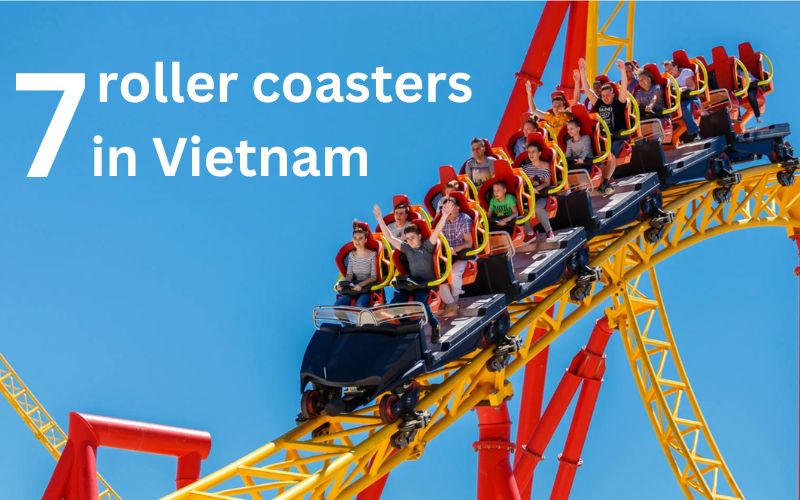 Are you concerned about how much you should spend? Don't worry, check out this blog about a roller coaster in Vietnam for your family vacations. What to see and do, opening hours, admission fees, and things to pack before the journey begins.
I. Why should the Vietnam roller coaster be the best choice for family vacations?
The best benefits that roller coaster provide families, especially those with youngsters, are time and money savings while still providing unforgettable and relaxing activities for family vacations.
Besides that, going to amusement parks benefits the entire family. It allows children to unwind after a long school year, communicate with others, and strengthen their physical health through various activities.
It is an excellent opportunity for parents to spend time with their children while also relaxing after the hectic pace of modern life. Given their safety, security, and diversification among Vietnam family tours. 
II. Vietnam roller coaster for family vacations 
1. Suoi Tien park (Ho Chi Minh City)
As well as Hanoi, Ho Chi Minh City, Vietnam's most energetic city, is one of the most appealing destinations for visitors to this beautiful country. People frequently regard Hanoi as a peaceful and charming city.
Ho Chi Minh City, on the other hand, offers its visitors the appearance of a new Asian cosmopolitan city while still maintaining a strong sense of tradition. With one of the world's fastest-growing cities, Ho Chi Minh City has the world's creepiest traffic, making it difficult to cross the road.
However, this is a great roller coaster in Vietnam. Suoi Tien's inclusion on this list is understandable given that it has long been a major Ho Chi Minh City attraction and the city's most popular amusement park.
When you can enjoy water slides at the artificial Tien Dong Beach, parades or roller coaster rides, 4D cinema, and one of Vietnam's first aquariums, it is an ideal place for your family vacation. Staff in golden monkey costumes will astound you with their tricks and performances.
Suoi Tien is not only a popular entertainment destination, but it is also a popular place for locals to light incense at the numerous prayer halls on the premises, especially during special occasions or the first and middle of the month.
Aside from entertainment, you can also witness traditional rituals and cultural festivals such as the Hung King Anniversary, the Lunar New Year, and the Mid-Autumn Moon Festival for children.
Hours of Working: Everyday 08:00 – 17:30
Identify: 120 AH1, Tan Phu, District 9, Ho Chi Minh City | +84 83 896 0260
The price range is $2.50 for children and $5 for adults.
2. The Ba Na Hills (Danang)
Ba Na Hills, located southwest of the city, is 1,487 meters above sea level. The weather is pleasant all year, with temperatures averaging 17 to 20 degrees Celsius.
Ba Na is unique in that visitors can experience four seasons in a single day.
Spring arrives in the morning, summer at noon, autumn in the afternoon, and winter at night. This is the great Vietnam roller coaster your family has ever seen.
Sun World Ba Na Hills, a sprawling entertainment complex in the cooler mountain air above Da Nang. This is a social media user's dream, as it is home to the famous Golden Bridge.
This mountainside complex has a plethora of attractions, ranging from a picturesque French village to a massive Buddha statue. All are connected by an extensive network of cable cars and funiculars.
Danang, Vietnam, is the location| +84 236 3791 999
Entrance fees are VND 550,000 for adults and VND 400,000 for children.
3. Da Lat's New Alpine Coaster – Datanla's new Vietnam roller coaster 
If you're in the temperate city of Da Lat in Vietnam's Central Highlands, don't miss the Datanla New Alpine Coaster, a one-of-a-kind alpine attraction that allows you to take in the area's beauty at your own pace.
This alpine coaster, located near Datanla Falls, offers guests a high-speed ride down Asia's longest track, which measures 2,400 meters in length. This is a great roller coaster in Vietnam you have to know. 
As entertaining as it is, there are a few prerequisites for those who wish to ride it. There is a minimum weight limit of 20 kilograms (45 pounds) and a maximum weight limit of 120 kilograms (about 264 pounds).
This coaster is not recommended for children under the age of three, pregnant women, people with heart problems, or people with other medical conditions.
As long as you meet the above criteria, the Datanla New Alpine Coaster is an absolute must-do when visiting the mountain resort area of southern Vietnam!
Dalat City, Lamdong Province, Vietnam | +84 98 116 60 68
4. Hon Tre Island – Vinpearl Land Nha Trang, the beach roller coaster in Vietnam 
Hon Tre Island has located just offshore of the beach resort town of Nha Trang on Vietnam's southeast coast. The most popular attraction, Vinpearl Land Nha Trang, is also known as the VinWonders.
This half-natural, half-artificial entertainment destination features a large water park as well as classic rides such as a Ferris wheel and rollercoasters, as well as its own alpine coaster.
The Vinpearl Land Alpine Coaster has two spiraling tracks and a total length of 1,760 meters (5,774 feet), with a 133-meter altitude difference between stations (436 feet).
Riders on this alpine coast will be able to travel in pairs while also maintaining control of their speed.
As previously stated, Vinpeal Land is home to more than just this coaster. Splash Bay, the nation's biggest floating marine park, is located on the property, as is an enormous water park with a variety of colorful waterslides.
The botanical gardens feature a variety of geographical climates, while the aquarium allows visitors to get up close and personal with many sea creatures. 
The most convenient option is to take a ride on the cable car system, which will transport you and another person into the park in about ten minutes.
If you want to combine the manufactured fun of Vinpearl Land with the natural beauty of Hon Tre Island, there are several on-site resorts where you can stay.
If you prefer to visit the park and island in a single day, there are a plethora of dining options to suit all tastes and budgets that will keep you nourished as you ride the coaster and soak up the warmth of Vietnam's climate and culture. This will be the great Vietnam roller coaster your family has ever seen.
Hon Tre Island, Vinh Nguyen Ward, Khánh Ha 650000 | vinpearl.com…
5. Dragon Park Ha Long (Phi Long Than Toc), Dragon's Run
Dragon Park, located in Ha Long, is Southeast Asia's largest theme park. Sun Group built this park, which is part of the Sun World Ha Long Complex. Dragon Park, which has been open since January 2017, has quickly become a popular family attraction in Vietnam. After a cruise to Ha Long Bay, your family can visit this location for some fun and games.
Dragon's Run in Dragon Park, built by the prestigious Swiss company Bolliger & Mabillard, is Asia's longest roller coaster, measuring 1.1 kilometers in length and reaching speeds of 65 kilometers per hour. This roller coaster was previously known as 'Time Machine' in a US-based amusement park. This will be the great Vietnam roller coaster your family has ever seen.
Ha Long City, Quang Ninh province, Vietnam | +84 963 851 651
6. Sun World's Queen Cobra Da Nang's Natural Wonders (Asia Park)
Asia Park in Da Nang is home to a variety of amazing outdoor games. This park, located in the heart of Da Nang, is home to a variety of thrilling rides. Every time this park introduces a new game, it is overrun with families and young people eager to experience the thrill of adventure. This will be the great Vietnam roller coaster your family has ever seen.
Queen Cobra, which has been open since April 2017, is Vietnam's largest hanging roller coaster. It's well-known for its terrifying twists and turns. Queen Cobra will take you up to 34 meters in 96 seconds on a 689-meter track at a speed of up to 80km/h. Its five 360-degree loops will provide you with a memorable experience.
Hoa Cuong Bac, Hai Chau, Da Nang | +84 9113 055 68
7. Hon Thom's wooden
Moc Xa Thinh No is a new game that commemorates the establishment of the Exotica Village-themed subdivision at Sun World Hon Thom Nature Park.
Tourists visiting here feel as if they are entering a one-of-a-kind adventure, complete with massive wooden wrecks, mysterious wild mines, strange sea monsters, and the unexpected discovery of hidden treasure.
This will be the great Vietnam roller coaster your family has ever seen. Along with the Moc Xa Thinh No in the Exotica Village-themed subdivision, Hon Thom "treats" visitors to a variety of new and unique experiences.
Such as vibrant art performances with various themes by international artists, diving trips, and exciting ocean exploration.
A brand new seafront bar where visitors can relax and enjoy the wonderful natural beauty of Phu Quoc. There are numerous entertainment and discovery opportunities.
As well as high-class tourism products, that have earned Hon Thom the brand name "paradise island"
Phu Quoc Island, Kien Giang province | +8486 601 0055 | +8486 609 1515
Do you want to enjoy holidays with your big family, especially the roller coaster in Vietnam? Don't forget to contact us to help you and your family has a wonderful holiday.