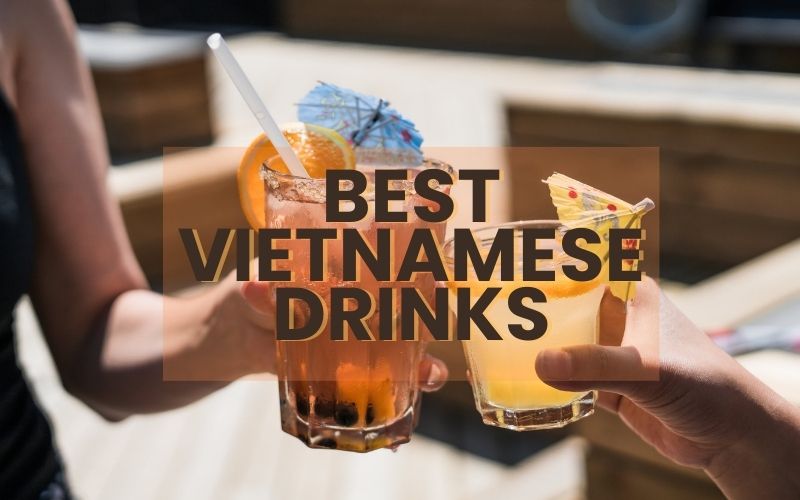 One thing you should never miss when visiting Vietnam is its simple but delectable cuisine. You may be familiar with world-famous Vietnamese foods such as Pho noodle soup, Bun Cha, and Spring rolls, but did you know that Vietnamese drinks are just as appealing as Vietnamese food? If you don't have a Vietnamese drink in mind, this article will suggest the top ten Vietnamese drinks to try. Vietnam is the world's second-largest exporter of coffee beans, as well as a producer of green tea, herbal tea, and an abundance of clean tropical fruits. Thanks to the availability of fresh ingredients and Vietnamese creativity, Vietnamese people make the most delicious drinks, which are an absolute must-try while planning to visit Vietnam.
Egg Coffee – Must-tried drink in Vietnam
Egg coffee, a totally special Hanoi beverage, is a sweet and dense Vietnamese drinks that traditionally consists of strong black coffee mixed with egg yolks and sweetened condensed milk. Giang, a bartender at the Sofitel Legend Metropole Hanoi Hotel, invented the egg coffee. He then opened his own coffee shop, and there are now many coffee shops in Hanoi that serve egg coffee, such as Dinh Cafe and Loading T.
On a cold winter day, it's wonderful to spend time at a small coffee shop in the Old Quarter alleys, sipping a hot egg coffee and watching the rain fall outside the window. If you're in Hanoi, don't pass up the opportunity to try this coffee. A cup of egg coffee costs between 30.000VND and 55.000VND.
Hanoi local draught beer is one of the best drinks in Vietnam 
Vietnam is one of the countries with the highest beer consumption rates in the world. Draught beer in Hanoi is tasty and refreshing, quickly relieving heat and thirst. It's wonderful to drink a glass of draught beer in Hanoi's hot and humid weather. This beer is very light (only about 3° ABV), so don't worry about getting drunk.
Aside from draught beer, Vietnam has fantastic bottled beers such as Saigon Beer, Huda Beer, Hanoi Beer, and so on. Drinks in Vietnam, especially beer, are frequently paired with a plate of roasted or steamed peanuts in their shell. Simply go to a restaurant and order a glass of beer while saying "Mot – Hai – Ba – Dzo" in Vietnamese. If you're in Hanoi, Ta Hien beer street must be visited for a fun night out. A glass of beer costs around $1 (20.000 VND)
Sugarcane Juice is one of the best Vietnamese drinks
If draught beer is the most popular alcoholic drink, Sugarcane Juice is one of the best non-alcoholic Vietnamese summer drinks. Sugarcane juice is available almost everywhere in Vietnam. It's one of the typical drinks in Vietnam. It's delicious, fresh, and quick to make with an electric squashing machine. Calamansi, a tiny sour citrus fruit that smells like mandarin, is commonly added to the drink. Sugarcane juice is beneficial to people who have diabetes and kidney stones; it also helps prevent cancer and treat colds and flu. This drink ranges in price from 10.000VND to 15.000VND.
Fresh coconut water
Another refreshing and healthy drink in Vietnam is fresh coconut water. Coconut water is frequently served directly from a green coconut. It's one of the typical drinks in Vietnam. Fresh coconut water is always grassier and sweeter than bottled coconut water, and it tastes even better when served cold. The smaller coconuts, known as "dua xiem," are sweeter than the larger ones. People can add kumquat juice to coconut water to make it more flavorful and fragrant. The cost of a drink is approximately 20.000VND.
Smoothies and Juices
Smoothies made with fresh fruits, crushed ice, and sweetened condensed milk. It's one of the typical drinks in Vietnam. Custard apples, jackfruit, durian, dragon fruit, papaya, avocado, strawberry, carrot, or apple are some of the fresh fruits used to make smoothies in Vietnam. Smoothies are popular as a breakfast or snack because they contain a high concentration of vitamins and nutrients. This healthy drink costs between 20.000VND and 50.000VND.
Mot Tea- another must-tried drink in Vietnam 
This fantastic herbal tea comes from the ancient town of Hoi An. It's available at the tea shop on Tran Phu Street's pavement. The shop is decorated with brightly colored small plants, herbal remedies, and a lovely round bamboo basket… Mot is the name of the shop's owner, so this drink is named after him. It's one of the great drinks in Vietnam.
This tea contains a variety of herbs, including honeysuckle, cinnamon, Luo Han Guo, lemon, lemongrass, and others, which contribute to its appealing aroma. A cup of Mot tea is embellished with a leaf or a lotus petal to make it more artistic. One cup of Mot tea costs only 12.000VND. The restaurant is only open from mid-afternoon onwards.
Rice wine
Rice wine is a popular alcoholic beverage in Vietnam, particularly among men. This distilled liquor made from fermented cereal (usually rice) is used for special occasions such as the Tet holiday, wedding ceremonies, and funerals. It's one of the typical drinks in Vietnam.
When a wine has a high level of purity and limpidity, as well as fragrance, sweetness, spicy, and relatively high alcohol content (from 39 to over 45 degrees), it is considered to have the best flavor. It should be noted that a few cups of rice wine can easily get you drunk, so only take a small amount. This alcoholic beverage costs around 80.000VND per liter.
Traditional Vietnamese Tea
Traditional Vietnamese tea can be found throughout Vietnam, from urban to rural areas, and is considered an essential part of the Vietnamese people's daily lives. It's one of the typical drinks in Vietnam. Fresh tea and dried tea are the two main types of tea. The fresh one is less tart and bitter than the dried one.
Vietnamese people drink tea at any time of day: a cup of hot tea after breakfast, some iced tea at a roadside makeshift shop while waiting for a friend, or an entire day relaxing in a teahouse. Tea is not only used to quench thirst, but it is also a traditional beauty product in Vietnam. A cup of tea by the roadside costs approximately 5.000VND.
Tube Wine in Central Highlands is one of the Vietnamese drinks
If you visit Vietnam's Central Highlands, you must try this drink. Tube wine or Ruou Can is the tribal people's traditional tube wine, which is made from glutinous rice, mixed with various herbs (leaves and roots of trees in the local forests), and fermented in a jar for at least one month. It's one of the great drinks in Vietnam. This traditional tube wine is served at "Nha Rong" (communal house) or by the campfire on special occasions such as weddings, festivals, and harvest feasts. Ruou can drink through the earthenware jug's long, slender cane tubes. Each person uses their own tube, and up to ten people can share one jar. A jar of ruou can costs around 200.000VND.
Are you excited now and want to take Vietnamese tours? Please don't hesitate to contact us for planning an amazing Vietnamese trip.