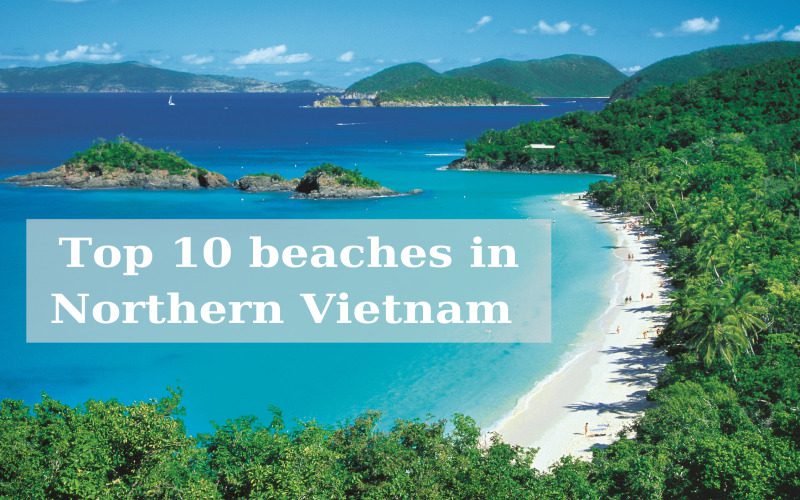 If you're looking for a place to dedicate your summer vacation, don't neglect to check out the most beautiful beaches in Northern Vietnam. When summer arrives, it is the ideal getaway for those needing some fresh air. Here are the top 10 beaches in the North that you should not miss throughout your Vietnam beach vacation.
Best time to have a vacation on some beaches in Northern Vietnam
Vietnam is becoming a well-known tourist destination, and its visitor infrastructure is living a good life. After you've decided on Vietnam as a holiday resort, the next question is when to go. Because the country is over 600 miles long and runs north and south, it includes a diverse range of climate zones. When considering its mountainous interior, there's a lot to think about when deciding when to take a trip.
The rest of Northern Vietnam is best visited during similar seasons. Temperatures can be much warmer at lower elevations, and precipitation should definitely be considered when planning a trip to Hanoi or the surrounding region. The months of October and November are ideal for visiting Vietnam around Hanoi and the lower elevations of the north. This time of year provides a pleasant combination of dry weather and pleasant temperatures.
Best beaches in Northern Vietnam you should visit once
Tuan Chau Beach – This is the one of stunning beaches in North Vietnam
Tuan Chau Island's beach is a 2-mile (3-kilometer) long artificial beach. It is approximately 5 miles (8 kilometers) from Halong City. The sand on the beach is fantastically white and silky smooth. The best beaches in northern Vietnam, you can include is here. 
Tuan Chau, with its many international resorts, is a tourism hub in Halong Bay and serves as an excellent base for visitors. The entire island has been designed to provide the highest level of luxury to its visitors. The island has over 400 different types of accommodations, ranging from luxury villas to high-end hotels and everything in between.
Many large restaurants are designed with ancient architecture in mind but built using modern construction methods. Some of these restaurants can accommodate up to 1,000 customers at a time.
Getting out in nature is one of the best things you can do here because of the diversity of the natural ecosystem. Because the island is quite hilly, mountain climbing, trekking, and camping are all excellent alternatives for nature lovers.
The most popular activities on the island are watersports such as canoeing, jet skiing, kayaking, and fishing. Mountain climbing and camping are two other outdoor activities.
For those who prefer to stay indoors, there are numerous other forms of entertainment available on the island, including seal shows, dolphin shows, martial arts demonstrations, and a Vietnamese circus.
Co To Beach
Co To Island, located in Quang Ninh Province, is a must-see attraction in Vietnam. The island has retained its pristine and peaceful beauty. There are numerous other hills and a romantic path leading to the lighthouse, Co To Island's highest peak. This is one of the stunning beaches in North Vietnam.
Co To Beach has long been one of Northern Vietnam's most popular beach destinations. This lovely tropical beach has a lovely shore with white sand and crystal-clear water. When you walk along Co To Beach, you will encounter a plethora of unforgettable emotions.
Ecotourism tours in Co To Island's forest are another activity to enjoy during your stay. You can also rent a boat to explore the islands, go fishing, or snorkel. The services here also provide incredibly tasty seafood at a very reasonable price.
Quan Lan Beach – one of the stunning beaches in North Vietnam
Quan Lan Island, located in the breathtaking Bai Tu Long Bay, has developed into a tourist destination with great potential. The island's beaches have clear water and fine sand.
Furthermore, due to its remote location, Quan Lan has its own edges between other beaches, making it a one-of-a-kind beautiful wonderland.
Minh Chau Beach, a 2-kilometer-long crescent, is one of the beaches in Quan Lan. It's an excellent location for water sports, particularly surfing and kayaking. After playing and relaxing, tourists can enjoy fresh seafood and cold beer at a variety of beachfront restaurants.
Ecotourism excursions through Co To Island's forest are additional things you can do while visiting. You can also rent a boat to start exploring the islands, go fishing, or snorkeling. The services here also offer incredibly tasty seafood at an extremely fair price.
Dong Chau Beach
The beach is in Dong Minh Commune, Tien Hai District, 30 kilometers from Thai Binh City along National Road 39B, and 145 kilometers from Hanoi. This tourist destination covers an area of approximately 10,000 km2. Dong Chau Beach, with its 5 km length, green pine forests, and small clear beach, is the focal point of this tourist destination.
When visitors come here to relax, they can stay in one of several hotels or guest houses. The hotels and guesthouses are made of coconut. Dong Chau is one of the most stunning beaches in North Vietnam. Con Thu (Thu Hillock) and Con Vanh (Vanh Hillock) are about 7 kilometers off the coast and have white sandy beaches where you can enjoy fresh and cheap seafood.
Although Dong Chau is not ideal for sea bathing, tourists enjoy visiting the hillocks via ships or motorboats from Dong Chau Beach. They resemble two blue waves breaking in the sea, emerging from a 5 ha islet known for its lush forest, green casuarina trees, and small but picturesque and quiet beaches.
Cat Ba Beach – one of the beaches in the North of Vietnam 
Cat Ba island, the largest member of Ha Long Bay, is one of the most appealing and well-known destinations in Hai Phong. The island is a fascinating mix of primitive forests, rivers, caves, hills, valleys, and beautiful sandy beaches.
Cat Ba, with its cool climate and clean air, has recently become a popular tourist destination and one of the most stunning beaches in North Vietnam. Tourists can hire a boat to travel to many beautiful beaches on Cat Ba Island, such as Cat Co, Ben Beo, and Co Tien, and take stunning photographs of the scenery. Furthermore, seafood here is the freshest and most affordable when compared to other sea regions.
Tra Co Beach – one of the beaches in the North of Vietnam 
Tra Co Beach in Mong Cai, Quang Ninh is known as "the most lyrical beach in Vietnam" because of its natural beauty, harmony, and idyllic white sand beach that stretches along calm blue ocean waters in all four seasons. Spending time here will provide you with peaceful and dreamy moments in the sun and wind. One of the most stunning beaches in North Vietnam.
The landscape of Tra Co differs from that of Ha Long, Do Son, or other beaches in that the smooth, blue sea air brings in the shadow of the central coast, but there are mountains that shine making the North Sea appear larger. Tra Co is a gentle, lyrical, and poetic mountain river due to the mingling of the waters.
Do Son Beach
Do Son Beach is located 20 kilometers south of Hai Phong. It is well-known for its smooth sand and coconut trees planted around it, providing swimmers with a true taste of a typical tropical beach. The ideal vacation climate, which is warm in the winter but cool in the summer, also attracts hundreds of tourists who come all year. The beach is divided into three sections that cater to different needs of visitors: the first is located at the entrance to Do Son Town, the second is full of five-star hotels and restaurants, and the third is ideal for relaxation.
Cua Lo Beach – one of the beaches in the North of Vietnam
The beach is located 20 kilometers from Vinh and is easily accessible. It is clean and well-kept, with a shady grove of pine trees and clear, clean waters, one of the most stunning beaches in North Vietnam. The concrete structure, complete with massage parlors and other amenities, is enough to completely relax any tired traveler. When visiting this location, a cool dip and lunch at one of the many restaurants can be the perfect weekend getaway.
Thien Cam Beach
Thien Cam Beach in Ha Tinh province should be at the top of your list of beaches in Northern Vietnam on summer vacation destinations. The reason for this is that it not only has a wild and pristine beauty with a pure environment that is good for your health, but it also has an interesting magical legend. Furthermore, Thien Cam is known for its delicious seafood, which is regarded as a natural gift. While staying here, you can sample lobster, squid, Cu Ky bird, Nhuong fish source, and other Ha Tinh specialties.
Sam Son Beach – one of the beaches in the North of Vietnam 
Sam Son, which is only 170 kilometers from Hanoi and offers a wide range of services and attractions, has become one of the busiest tourist hubs in Vietnam's north. During the summer, the beach is always crowded with Vietnamese tourists. There are also many interesting activities to try, such as sunbathing, beach sports, building sandcastles, or ordering seafood from the walking vendors. If you prefer privacy and luxury service, however, high-end resorts with their own beaches, swimming pools, and spas are always available.
If you plan to go on a beach vacation in Northern Vietnam, it is the ideal occasion to play golf. Are you excited to have a trip right to the best beaches in Northern Vietnam? Contact us for more support.