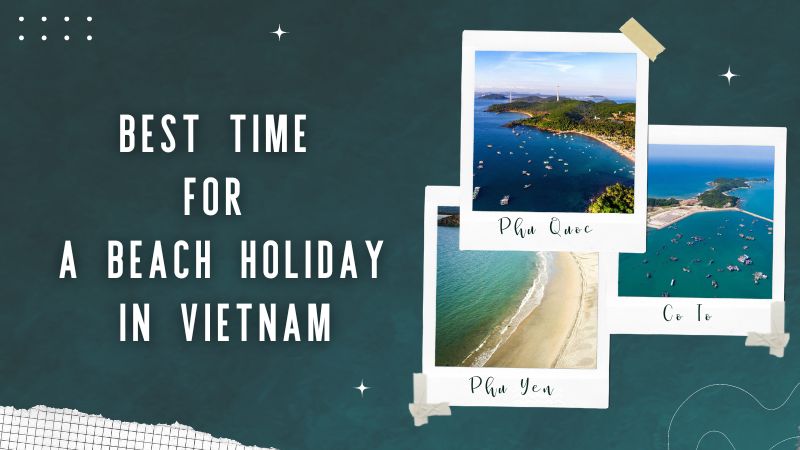 Whenever you think of Vietnam, what comes to mind? Most people would say that images of rice terraces in the mountains, fields of glistening rice paddies or fishing boats sailing on the exotic islets of Halong Bay flash to mind. However, with over 3,000 km of coastline, Vietnam is a paradise for beach and sun lovers. And thanks to the country's diverse weather which differs from region to region, there is always a beach or island with clear blue skies, sunshine and sparkling sea. This article on the best time for a beach holiday in Vietnam will help you easily organize a great trip to the seaside.
Best time for a beach holiday in Vietnam
The weather is obviously a concern when planning a beach holiday in Vietnam. For those who can't stand the summer heat or tropical rain, it is recommended to travel in January. The temperature in January is pleasant and perfect for visiting the beaches of Vietnam. Note that the price of accommodation and services can be high, as January is one of the peak tourist months.
From June to August, there will be fewer tourists in some areas of Vietnam. Accommodation prices will be more reasonable. Therefore, taking advantage of the low season for a beach trip is not a bad idea. However, travelers should pay more attention to the weather forecast due to the abundance of rain in summer.
>>> Read more: Best time to visit Vietnam
Best beaches of Vietnam & Best time to visit
Co To Island, a forgotten archipelago
In the east of Quang Ninh province and in the north of Halong Bay. This archipelago is formed by about 50 islands and islets, of which the small Co To and the large Co To are the two most famous. Known as the most beautiful island in the North – Co To – a beautiful green setting full of charm. Besides natural products, Co To also receives a unique pristine beauty: the sea here is always blue, pure white sand, smooth and soft as far as the eye can see.
Co To Island is accessible all year round, but the best time for a beach holiday on Co To Island is in summer and autumn (April to August). The temperature is around 30 degrees Celsius, which is ideal for traveling.
During this period, you can enjoy clear views of islands, islets, caves, floating villages. And this is the best time to go swimming on the beautiful beaches of the island. However, there may be storms in the summer, so it is better to check the weather forecast before planning your trip. In April and May, there is more sunshine and fewer storms than in other months.
Cat Ba Island, still well-preserved
Situated 30 km from the port city of Hai Phong and 25 km from Halong Bay, Cat Ba has been recognized as a biosphere zone by UNESCO. It is also the hidden setting of small, discreet and refreshing beaches (Cat Co 1, Cat Co 2, Cat Dua, Cat Ong, Cat Trai Gai, Duong Danh, etc.), away from tourists.
Thanks to its cool and pleasant climate all year round, Cat Ba is a perfect destination to travel at any time of the year. If you like the warm tropical climate, lively atmosphere and water activities, summer and autumn are probably the best times to go. Otherwise, you can visit Cat Ba Island in spring and winter, when the weather is cooler; the island is quieter and more peaceful with fewer tourists. The water temperature is too cold to swim in the winter and early spring.
Between Hoi An and Nha Trang, both very busy tourist destinations, nestles a discreet and charming destination: Quy Nhon. Far from the usual crowds, visit the splendid beaches of Bai Bau, the natural reserve of Ham Ho, the islands of Cu Lao Xanh, Hon Kho, Hon Seo and Ky Co. Don't forget to taste the numerous seafood specialties, pride of the region.
To enjoy the beauty of the landscape, it is advisable to visit Quy Nhon during the dry season, from March to September. This time is relatively dry and not too hot, which is suitable for sightseeing and outdoor activities. However, the beaches of Quy Nhon can be quite crowded during the summer vacations (from late May to August), so the best time to visit Quy Nhon is from March to May.
In particular, the number of tourists during this period is relatively low, so you can enjoy your vacation at its best.
Phu Yen
Phu Yen is an off the beaten track destination in central Vietnam. It is famous for its pristine beaches, peaceful fishing villages, sparkling mini desserts, fresh seafood and stunning natural scenery. Many of Phu Yen's beaches are not yet widely hit by tourists.
Surrounded by dramatic hills and lush vegetation, this discreet peninsula is out of the way of major tourist circuits in Binh Dinh and stands out for its soul and historical authenticity. The untouched and well-protected coastline reveals an impressive coral bay.
With a tropical climate, Phu Yen has a warm and humid weather most of the year. The storm season runs from September to November, while April and May are the hottest months. The peak tourist season is from May to August, but January to March is considered the best time to visit Phu Yen. With a little rain and an average temperature of 22-28 °C, the weather is particularly pleasant at this time.
Awarded many times at the international level, Nha Trang Bay gathers a unique underwater ecosystem under its crystal clear waters bordered by sumptuous beaches. Its 6 km of beach, known for its exceptional sites, is a haven for amateurs of leisure and water sports.
The best time to visit Nha Trang is between March and August. However, keep in mind that the weather begins to warm and become more humid in April. So plan your visit in advance for a better tropical experience. When you are not on the beach, you can enjoy the city's nightlife and discover the local cuisine with excellent seafood at a very reasonable price.
Mui Ne
Mui Ne is a popular seaside spot in the south, only 3.5 hours from Saigon.
The best time to visit Mui Ne is between November and March, when the beaches are calm, warm and the weather is cool and windy. There are a variety of activities to enjoy, such as swimming, kite surfing, kayaking, surfing and even sliding down the sand dunes.
Con Dao
Formerly a prison with a sinister reputation, Con Dao has become a popular tourist destination since the end of the conflict. The Con Dao Island is located one hour flight from Ho Chi Minh City. It is especially known for its diversified ecosystem and its crystal clear waters. There are many colorful species of corals, endemic flora and fauna, sea turtles (green and hawksbill turtles), dolphins and endangered dugongs. Take a two-hour hike through thick forests and mangroves, past the hilltop creek, to the Bamboo Lagoon, where you'll get a great view.
In general, Con Dao Island can be visited all year round. The best period is between March and September. A few rains may occur during these months, but there are always many sunny days to enjoy the beach. One of the most memorable experiences is to see the turtles giving birth. Sea turtles lay about 100 eggs at a time, usually in mid-August. The eggs hatch 40 to 60 days later, and the struggle for survival of hundreds of baby turtles begins.
Phu Quoc is an island paradise where you can truly relax together and enjoy the best that nature has to offer. Whether you enjoy more active activities such as diving, kayaking, hiking or exploring the island's back roads by motorcycle, or prefer to spend your time enjoying spa treatments, yoga, relaxing and feasting on deliciously fresh seafood. The unspoiled island of Phu Quoc is a romantic paradise that you may never want to leave!
The best time to visit Phu Quoc Island is between November and March. The temperature is usually between 25 and 32 °C and the water is quite calm and warm.
>>> Click here to discover our best Vietnam Beach Tours & Holidays Packages
It's difficult to say when is the best time for a beach holiday in Vietnam, as the country is full of little corners of paradise to spend an exceptional and intimate trip. Let the sun's rays warm your body and your heart and enjoy the benefits of the sumptuous beaches of the Land of the Dragon during a charming beach holiday in Vietnam. Feel free to contact us if you need any further information!