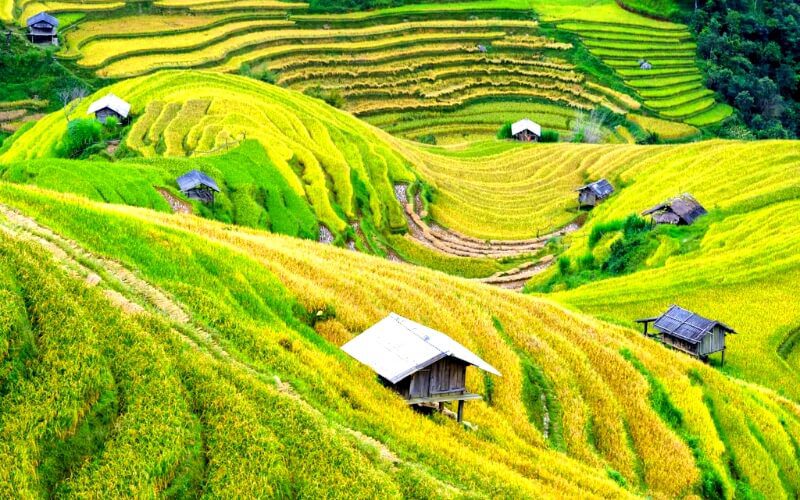 With its serene countryside, welcoming locals, and stunning landscapes, a trip to Mai Chau is a must-do for any traveler looking to escape the hustle and bustle of city life. Whether you choose to spend 1, 2 or 3 days in Mai Chau, you are sure to be delighted by the beauty and tranquility that Mai Chau has to offer. So come and experience the magic of Mai Chau for yourself, and discover the joys of a simpler, more peaceful way of life.
Located approximately 150 kilometers from Hanoi, the picturesque Mai Chau rice valley is renowned for its breathtaking scenery of verdant mountains, lush rice fields, and winding rivers. This region has managed to maintain its natural beauty and charm, offering visitors a glimpse into a simpler, more idyllic way of life.
The Best Time to Visit Mai Chau
Due to the elevated location, the weather in Mai Chau remains cool and pleasant throughout the year. It has neither extreme heat in the summer nor extreme cold in the winter.
While the destination is beautiful at any time of year, there are still certain seasons offering a more romantic and poetic experience. And, it is still important to check the weather forecast before planning your trip to Mai Chau, Vietnam. During the winter months (from October to December), Mai Chau's climate becomes even cooler and more pleasant. It also witness peach and plum blossoms, adorning the town in a gorgeous, ethereal display. Although the region can be humid and foggy at this time, it provides the perfect backdrop for capturing stunning photos. Hiking in the area requires warm clothing and caution.
March and April is the best season to visit Mai Chau for a truly immersive and cultural experience. It is when the Northwestern Vietnam region comes alive with the blooming of the 'ban' flower (Hoa Ban) throughout the hills. The area is also host to several ethnic festivals during this time.
How to Spend 1, 2 or 3 Days in Mai Chau
The enchanting Mai Chau can easily captivate visitors to the region. Spanning over 520 square kilometers, this district has rightfully earned its reputation as a multi-day destination. Here, visitors can indulge in various activities such as trekking, cycling, cruising, cave exploration, or simply unwinding in perfect relaxation.
Below are some suggested Mai Chau tour itineraries, 1, 2 or 3 days in Mai Chau that you should consider when visiting this highlight of Vietnam.
1 Day in Mai Chau
Mai Chau 1 day tour is suitable for those with limited time. However, short itinerary does not mean unexceptional experience. Mai Chau day trip offers a perfect getaway from the hustle and bustle of Hanoi. The scenic drive takes you through breathtaking countryside landscapes, including endless rice fields, small villages, and winding roads.Upon arrival, you can explore the small town's unique culture and traditions. Witness the traditional stilt houses and the iconic bamboo dance, which is performed by local residents in traditional clothing. You can also stroll through the colorful markets and try some delicious local cuisine.
Having an authentic lunch with a local family will also bring you an unforgettable experience. You will encounter friendly locals, who are always eager to share their stories and offer a glimpse into their daily lives. For cultural lovers, this is exactly a must-do activity when visiting Mai Chau, Vietnam. Afterward, you can embark on a bike ride through the picturesque countryside, taking in the beauty of the mountains, valleys, and terraced rice fields. With just 1 day Mai Chau, you can enjoy a stunning sunset over the mountains before returning to Hanoi, feeling refreshed and enriched by your day in the idyllic Mai Chau countryside.
2 Days in Mai Chau
2 days Mai Chau provide tourists with ample time to explore the area's stunning natural beauty, immerse themselves in the local culture, and engage in various activities.
It will take you about 3 hours to travel from Hanoi to Mai Chau. Starting at 08.00 in Hanoi, you will reach your destination at around 12.00. Have lunch at a local restaurant with specialties from Muong or Thai ethnic minority. After lunch, continue your exploration with a visit to the Mo Luong Cave, which is adorned with impressive stalactites and stalagmites. It is also home to a nearby stream. You can also visit the local silk weaving workshops and participate in a weaving class. Learn the traditional techniques and even create your own piece.
In the evening, indulge in a traditional White Thai dinner, accompanied by a cultural dance performance before retiring for the night.
On the second day, you will visit Poom Coong and Lac Villages, where you can ride through stunning landscapes and enjoy the serene atmosphere. You will leave Mai Chau for Hanoi at around 14.00 and arrive at your hotel at 17.00.
>>> For the detailed itineraties and package tours, you can refer to our Mai Chau Valley Break 2 Days or Adventure Mai Chau 2 Days 1 Night.
Another option for Mai Chau 2 days is to take a scenic drive to the nearby Pu Luong Nature Reserve, an unspoiled paradise home to cascading waterfalls and remote villages. Here, you can trek to the Kho Muong Village, a picturesque village nestled within the mountains, and learn about the local culture and way of life. Trek through narrow pathways to reach a lovely settlement where you can enjoy the panoramic view of the surrounding valley. On the way back, you will pass magnificent roads and farms, untamed fields and rivers, bringing a feeling of trekking through ever-changing environment.
3 Days in Mai Chau
Continue the 2-day itinerary over Pu Luong Nature Reserve. With the Mai Chau 3 days itinerary, you will spend the morning trekking in search of beautiful water wheels, where you can see how the water was transported from river to bamboo aqueducts. Then, have a short break at a local fisherman's house before embarking on the tranquil beauty of Cham River and rice paddy fields.
>>> Click here to see the suggested itinerary for Mai Chau – Pu Luong Trekking Tour 3 Days 2 Nights.
Visiting Hoa Binh Lake is also a highly-recommended activity. This is the largest artificial lake in Southeast Asia, which holds up to 9.5 billion cubic metres of water. Then, head to Thac Bo temple – the most sacred temple in Hoa Binh province, Vietnam. You return to Hanoi after lunch and wrap off your 3 days Mai Chau itineraries at around 17.00.
Must-try Foods in Mai Chau
Steamed sticky rice in bamboo tubes (Com lam)
Whether you spend 1, 2 or 3 days in Mai Chau, make sure to try the local specialty known as Com Lam, which is made from high-quality rice with a sweet and fragrant aroma. The rice is soaked overnight or for at least 4 hours before being cooked and placed in bamboo tubes. Coconut water is added to help soften and enhance the flavor of this dish, leaving food tripper an unforgettable flavor.
Man Pork (Lon Man)
The White Thai people of Mai Chau have a unique type of pig to create a delectable food known as 'Man' pork. These pigs are raised in the wild in Mai Chau, resulting more succulent and less fatty meat than the regular pork you can buy in the market. Man pork can be prepared in various ways, including boiling, grilling, and making ground meat. Whatever the cooking method, this is still an addictive food to both locals and tourists.
Hill Chicken (Ga Doi)
Chickens in this region are often referred to as 'hill chickens' due to their being raised in the wild, and given free range to roam the hills rather than being confined to farms. This results in firmer meat with a more pronounced fragrance. Local people typically boil or grill hill chicken and enjoy with lemon leaves for the best flavor. You can enjoy pairing this dish with canned wine to keep warm.
Mai Chau Packaging Tips
Mai Chau weather is usually humid, you can dress in shorts and t-shirts. However, it's recommended to bring the following items to have a convenient and enjoyable Mai Chau tour:
Enough clothes for your Mai Chau package
A towel and a toothbrush
Sunscreen to protect from UV rays even on cloudy days
Swimwear
Mosquito repellent as there are many bugs in the area
Bite and sting relief as it's likely to get bitten during activities or overnight stay
Flip flops for walking around the homestay
Comfortable shoes such as trainers or walking shoes for the trek and bike ride
Sunglasses
Phone, camera, chargers, and other electronics
Hope our information on Mai Chau tour, how to spend 1, 2 or 3 days in Mai Chau helpful to you. Don't hesitate to contact us if you need more information or consultation for a wonderful vacation in Mai Chau.