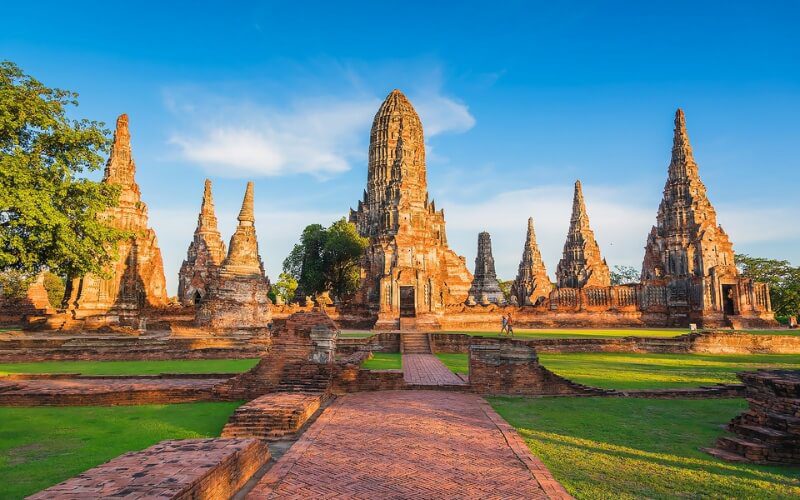 Ayutthaya is a fascinating destination, a city whose rich history seems to have been largely forgotten by the rest of the world. However, this UNESCO World Heritage site is as impressive as the likes of Bagan or Angkor Wat. If you have an interest in history or an appreciation for architecture, then spending 1 or 2 days in Ayutthaya should definitely be part of your Thailand travel plans.
Best Time to Visit Ayutthaya
The best time to visit Ayutthaya, Thailand is between November and January when the rainfall is significantly lower and the weather is pleasant. However, Ayutthaya remains hot and humid throughout the year. It is crucial to stay well hydrated during a day tour as the temperature stays in the thirties.
January is the busiest month, and accommodations may be more expensive. Tourist traffic is lower in April when the temperature can reach up to 45 degrees Celsius. Nevertheless, this time of year can be ideal if you don't mind the heat, as the streets are less crowded, and accommodations are affordable. Sightseeing can be challenging from June to September as it is stormy, making it an off-season for tourists.
How to Spend 1 or 2 Days in Ayutthaya
1 Day in Ayutthaya
Ayutthaya day trip from Bangkok typically involve a boat trip cruising along the Chao Phraya River, followed by a minivan ride in the opposite direction. Ayutthaya itineraries often include a visit to the main cultural heritage highlights, as well as mesmerizing temples and ruins in Ayutthaya. If you plan to spend 1 day Ayutthaya, take a look at our suggested destinations below for the best experience.
Wat Maha That
Wat Maha That is a renowned temple in Ayutthaya, and it's also among the most popular temples in Thailand. The temple is well-known for its enormous Buddha head statue that is intricately entwined in the roots of a banyan tree. Nevertheless, there is much more to see and explore at Wat Maha That beyond this attraction. Its grounds are vast, and visitors can discover numerous stunning corners, including more Buddha statues and prangs (tall tower-like spires).
Wat Phra Si Sanphet
The establishment of the temple of Wat Phra Si Sanphet dates back to the reign of King Rama I and was later dedicated by King Baroma Tri Loka Nat. It is renowned for its three stupas and is a must-visit destination during your Ayutthaya tour. Along with the main stupas, the temple premises feature numerous other historical ruins, including an ordination hall and smaller stupas. Despite its sacred status, the temple did not house any monks and was exclusively reserved for the Royal Family, who used the temple at the Royal Palace. It must have been a grand sight when it was first built.
Wat Phra Mongkhon Bophit
Wat Phra Mongkhon Bophit is a relatively modern temple, constructed in the 16th century, making it younger than most of its neighboring temples. Despite its relative youth, it remains a must-visit destination in Ayutthaya tour. Located right next to the more famous temple of Wat Phra Si Sanphet, it's easily accessible and definitely worth a visit.
One of the main draws of Wat Phra Mongkhon Bophit is its enormous sitting Buddha statue, which is a significant sight to behold. The temple still functions as a place of worship today, so it's important to be mindful and respectful of visitors who may be there to pray. Visitors should dress appropriately and avoid making noise during their visit to the temple to ensure that they don't disturb the peaceful atmosphere.
Wat Phu Khao Thong
Whether you spend 1 or 2 days in Ayutthaya, Wat Phu Khao Thong should be your final destination. This is a remarkable white temple located several kilometers outside the city. Although often overlooked by tourists, this temple stands out due to its unique architecture, blending Burmese and Ayutthaya styles. The lower part of the building is built in the Burmese style, while the upper part is in the Ayutthaya style, creating a fascinating contrast.
The name of the temple, which means Golden Mountain, is reflected in the stunning golden Buddha statue inside. Despite its stunning beauty, this temple is much quieter than other popular sites in Ayutthaya, making it a peaceful and relaxing place to explore. The temple grounds are well-maintained, with paved walkways leading visitors through the ruins of the ordination hall and up to the main stupa.
2 Days in Ayutthaya
For Ayutthaya 2 day itinerary, you can spend time visitng Yacha Mengkong Temple and Wat Ratchaburana. Or, if you are a golf enthusiast, you can spend this day playing at Ayutthaya Golf Club – a well-maintained 18-hole course mainly serving leisure golfers.
Yacha Mengkong Temple
Yacha Mengkong Temple, which is also referred to as Yachai Mengkhao Temple, dates back to the 14th century and was constructed by the founder of the Ayutthaya Dynasty. It was built to honor the victory over Burma, which resulted in the death of a Burmese prince. As a result, the temple was named Yacha Mengkong, meaning "great victory." Its foundation stones on the ground are the only remaining evidence of its original structure, like many other ancient buildings.
One of the main attractions of Yacha Mengkong Temple is its 28-meter-long reclining Buddha, which lies peacefully on its side surrounded by ruins, exuding a sense of peace and detachment that is synonymous with Buddha. The beautiful pagoda also features several Buddha statues, adding to its spiritual ambiance. There is a small Buddhist hall inside, and you can find four gilded Buddha statues in the four corners.
Despite its historical significance and stunning beauty, Yacha Mengkong Temple is not as well-known as other temples in Ayutthaya. Therefore, it is often less crowded. This means that visitors can wander around the paved walkways, admire the scenery, and soak up the peaceful atmosphere in solitude. This is also the reason that makes Yacha Mengkong Temple a must-include destination in Ayutthaya tour.
Wat Ratchaburana
Wat Ratchaburana is an iconic temple renowned for its magnificent pagoda that was erected in AD 1424 by King VII of the Ayutthaya Dynasty. People believe that the temple is served as the burial site for former kings and princes. Upon entering through the gate, which has only one wall remaining, visitors can see the grand tower from afar.
The temple exudes an ancient and impressive ambiance that transports visitors to another time and space. Its complex features towering trees and numerous smiling Buddha statues. Climbing to the top of the pagoda offers breathtaking views of the entire ancient city. The basement of the pagoda is home to some of the oldest mural paintings of Buddha statues in Thailand.
Visitors can also explore the walled temple and the memorial porch, among other areas. In 1957, a remarkable discovery was made in the basement of the pagoda. Archaeologists found a large number of gold jewelry and precious cultural relics, adding to the temple's fame.
Regularly, 1 or 2 days in Ayutthaya package is combined with days in other tourist attractions such as Bangkok or Chiang Mai. This helps to create a perfect holiday in Thailand that offers tourists with fully impressive experience of Thailand nature and culture. Click here for the detailed itinerary.
Must-eat Food in 1 or 2 Days in Ayutthaya
Seafood Tomyum Goong
Tomyum goong (sometimes pronounced tom yum kung) is the quintessential flavor of Thailand. "Tom yum" is derived from two Thai words: "tom" and "yam." "Tom" refers to the boiling process, while "yam" refers to a spicy and sour Lao and Thai salad. As a result, "tom yum" is a hot and sour soup that is the most well-known Thai soup. Despite the fact that we refer to it as soup, you can enjoy it with rice or rice noodles, making it similar to Vietnamese pho.
Even better, this delicious dish is an excellent remedy for colds and flu bugs. It guarantees to clear your sinuses and warm you up. It's even being studied scientifically as it appears to have immune-boosting properties as a natural remedy for cold and flu viruses.
Thai Deserts
Thai desserts are a delightful and exciting addition to the already extensive list of Thai cuisine. Exploring the world of desserts in Thailand unveils a new dimension of Thailand's sweet flavors and presents a gastronomic adventure that never ceases to amaze. This speciality is typically sweet and often filling, unlike their light and fluffy Western counterparts. They feature sweet syrups, coconut cream, tropical fruits, and sticky rice.
To make it easier to navigate, the list of Thai desert you must try during your 1 or 2 days in Ayutthaya tour includes mango sticky rice, durian sticky rice, Thai banana fritters, Khao Mao Tod, Thai banana roti, etc.
Packaging Tips for 1 or 2 Days in Ayutthaya
Spend 1 or 2 days in Ayutthaya, you won't need anything out of the ordinary for your trip to Thailand, but there are a few essential items you won't want to forget.
Clothes appropriate for temples – Ayutthaya tour includes numerous temples that require respectful attire, usually including t-shirts that cover your shoulders and long, airy trousers.
Scarf or sarong – although Thailand can be hot, it's important to cover your shoulders or legs when entering temples. Bring a scarf or sarong to wear over shorts and tank tops.
Socks – if you'll be exploring in sandals during your Ayutthaya tour, bring socks to wear when you need to remove your sandals in temples. The floor can get quite hot!
Reusable water bottle – bring a reusable water bottle to help save the environment and money. Consider a stainless steel bottle to keep your water cold.
Camera – don't forget your camera to capture memories of the amazing temples you'll see.
Above is all necessary information to plan a perfect 1 or 2 days in Ayutthaya. Refer to our Thailand travel guide here for more information on transportation, accommodation, etc. in Ayutthaya in particular and Thailand in common. Or, contact us for private consultation and a tailor-made Ayutthaya tour.