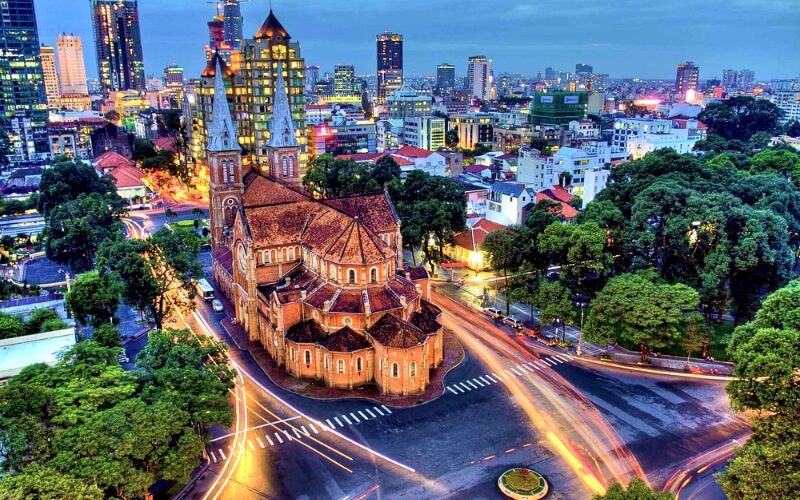 If you're planning a trip to Vietnam, a visit to Ho Chi Minh City is a must. As the country's largest commercial hub, this bustling metropolis offers a fascinating mix of history, culture, and modernity that will leave you captivated. Wonder how to spend 5 days in Ho Chi Minh City, there are plenty of must-see attractions and activities to add to your itinerary. Check out the following article for some useful suggestions.
Best time to visit Ho Chi Minh City
Due to the monsoon season, Vietnam experiences a varied climate, splitting into three distinct zones: North, Central, and South, with specific weather characteristics. Ho Chi Minh City is located in Southern Vietnam and has a tropical monsoon climate with two distinct seasons.
The rainy season typically lasts from May to November, followed by the dry season from December to April. The average temperature in Ho Chi Minh City is 27 degrees Celsius, with high humidity and rainfall.
For those planning to stay in Ho Chi Minh City 5 days, the best time to visit is during the dry season, which typically spans from September to the end of March of the following year. This period offers ideal weather conditions to explore the city's lush nature and go sightseeing without unexpected downpours.
On the other hand, the rainy season from May to October can be challenging for travelers due to severe weather conditions, high humidity, and hot temperatures. However, visiting during this period can come with some benefits, such as fewer tourists and lower prices for services and accommodation.
>>> Read more: The best time to visit Vietnam with detailed weather information in each region. Or, check the current weather condition in Ho Chi Minh City here.
What to See during 5 Days in Ho Chi Minh City
1. Cu Chi Tunnels
The Cu Chi Tunnels, famous for their role as the base of operations for the Viet Cong during the Vietnam War, offer visitors a glimpse into the history and hardships of this period.
Spread over 155 miles (250 km), this massive tunnel network once provided shelter to over 16,000 guerrilla fighters. Originally constructed in 1948 to guard against French air and ground attacks, the tunnels later served as essential supply routes, storage facilities, hospitals, and living quarters for Vietnamese fighters during the American war.
Visitors to the site can choose to venture into the tunnels themselves, experiencing firsthand the cramped and challenging conditions endured by the Vietcong. The tunnels also showcase the ingenuity of these fighters, with innovative booby traps on display that were used to thwart enemy soldiers. This is a must-see destination whether you spend one week or one day in Ho Chi Minh City.
Location: Cu Chi district, Ho Chi Minh City
Opening hours: 07:00 – 17:00 daily
Entrance fee: 90,000 – 100,000 VND/person
2. Notre Dame Cathedral
Notre Dame Cathedral in Ho Chi Minh City is a stunning architectural marvel, constructed by the French between 1863 and 1880. This attraction, officially known as the "Basilica of Our Lady of The Immaculate Conception", stands out with its imposing twin towers amidst the hustle and bustle of District 1.
This is a true testament to the French influence on Vietnam's history and architecture. Its towering presence and intricate design make it a must-visit destination for those interested in both religious and cultural experiences in Ho Chi Minh City.
The cathedral's beauty is not limited to its exterior, as the interior is equally impressive. Visitors have the chance to attend mass on Sundays at 9:30 a.m. in either Vietnamese or English.
Location: No. 1 Cong Xa Paris, Ben Nghe Ward, District 1, Ho Chi Minh City
Opening hours: 08:00 – 11:00 and 14:00 – 16:00 daily
Entrance fee: Free
3. Saigon Central Post Office
A visit to the Saigon Central Post Office is highly recommended during your 5 days in Ho Chi Minh city tour. This post office, which is the largest in Vietnam, was built during the early 20th century when Vietnam was a part of French Indochina.
Despite its primary function as a post office, the building is also an excellent example of Renaissance architecture in Vietnam, with a neoclassical design style that was created by the renowned architect Gustave Eiffel. This style perfectly complements the surrounding area, making it an even more impressive sight to behold.
Location: No. 125 Cong Xa Paris, Ben Nghe Ward, District 1, Ho Chi Minh City
Opening hours: 07:00 – 19:00 daily
Entrance fee: Free
4. Reunification Palace (or Independence Palace)
The Reunification Palace, also known as the Independence Palace or Norodom Palace, was originally built by a Vietnamese architect named Ngo Viet Thu in 1973. Prior to this, it was used by the Governors-General of French Indochina. Later, it became the presidential palace under Ngo Dinh Diem's administration in 1956.
During the Vietnam War, the palace was heavily damaged by bombing. In response, Ngo Dinh Diem ordered its demolition and commissioned the construction of the current building. Today, the palace stands as it did during the fall of Saigon on April 30, 1975, when the North Vietnamese army's tanks breached the entrance gate and forced the Southern Vietnamese president to surrender.
Location: 135 Nam Ky Khoi Nghia, Ben Thanh Ward, District 1, Ho Chi Minh City
Opening hours: 08:00 – 15:30
Entrance fee: 40,000 VND/adult and 20,000 VND/child
5. Ho Chi Minh City's Museums
War Remnants Museum
While visiting this city, it's hard to ignore the War Remnants Museum. The former US Information Service building, established in 1975 after the war, is a stark reminder of this period in history. Originally named the 'Exhibition House for US and Puppet Crimes,' the museum's name was changed in 1996 to promote pacifism.
The museum houses an extensive collection of photos and documents relating to war crimes, with a particular emphasis on the devastating effects of Agent Orange. Visitors can view photos of deformed children, bottles containing chemical substances, and other exhibits that serve as a sobering reminder of the consequences of warfare. The museum's courtyard is home to an impressive collection of tanks and helicopters used during the war, providing visitors with a glimpse of the military technology used during this period.
Location: No. 28 Vo Van Tan Street, District 3, Ho Chi Minh City
Opening hours: 07:30 – 11:45 and 13:30 – 17:15 daily
Entrance fee: 10,000 VND/person
Museum of Fine Arts
Museum of Fine Arts is a collection of important Vietnamese art housed in three magnificent colonial-era mansions that have stood the test of time. The harmonious fusion of French and Chinese architectural styles will impress you upon your visit to this museum. These grand buildings were constructed by the renowned Hui Bon Hoa family, including contemporary works, sculptures, paintings, and lacquerware.
Location:  No. 97A Pho Duc Chinh Street, District 1, Ho Chi Minh City
Opening hours: 09:00 – 17:00. Close on Mondays.
Entrance fee: 10,000 VND/adult; 3,000 VND/child
6. Ho Chi Minh City's Temples & Pagodas
In Ho Chi Minh City, there are numerous Buddhist temples that offer visitors a glimpse into the rich history and culture of the region. From the centuries-old temples to the more modern ones, there is a wide range of options to choose from. Each temple is unique in its own way, boasting distinct features and designs that reflect the city's diverse cultural heritage. With so many temples to explore, visitors can take their pick based on their preferences and interests.
Whether you're looking to immerse yourself in history, admire intricate architecture, or simply soak up the tranquil ambiance, there is a temple in Ho Chi Minh City that is perfect for you. Some of the most famous temples and pagodas during your Ho Chi Minh City tour can be named Vinh Nghiem Pagoda, Ngoc Hoang Pagoda (also called Jade Emperor), Thien Hau Temple, Giac Lam Pagoda, etc.
7. Ho Chi Minh City's Markets
If you're looking for a unique shopping experience during your south Vietnam tours, forget about the luxurious shopping malls and head to the local markets. These markets offer a fascinating glimpse into the local culture, and are a great place to pick up souvenirs and gifts to take back home.
One of the most famous markets in the city is Ben Thanh Market, which is a bustling hub of activity day and night. Here, you can find everything from clothing and accessories to traditional handicrafts and souvenirs. It's a great place to test your bargaining skills and try some local street food.
For a more authentic local market experience, head to Cho Lon, also known as the Chinatown market. Here, you can find a wide range of goods, from spices and herbs to clothing and electronics. It's a great place to immerse yourself in the local culture and pick up some unique items that you won't find anywhere else.
8. Binh Quoi Village
Binh Quoi Village, located on the Saigon riverside, is a hidden gem that provides tourists with a glimpse of the charming beauty of the Mekong Delta region. The village has two branches, Binh Quoi Tourist Village 1 and Binh Quoi Tourist Village 2. The former is situated at 1147 Binh Quoi, Binh Thanh District, while the latter is just a few kilometers away, at the end of the road. Both villages are approximately 8-10 km from Ho Chi Minh City center, making them an ideal day trip destination for those seeking an escape from the bustling city.
Upon arrival, visitors can enjoy the peaceful surroundings of the villages, which are dotted with thatched cottages and coconut trees. The villages offer similar services and feature a range of activities, such as rowing boats, fishing, and folk games. The scenery of the Mekong Delta is reflected in the blue canal, dinghies, and rough monkey bridge, which are surrounded by lush water coconut trees.
For food enthusiasts, a weekly culinary buffet program is held outdoors, named "Reclaiming Southern Food." This program serves numerous dishes that have been enjoyed for hundreds of years, providing a harmonious blend of people and nature.
What to Eat in 5 Days in Ho Chi Minh City
Com Tam Saigon – Broken rice with grilled pork
Saigon's most famous street food is Com Tam, which consists of broken rice as its base, hence its name. Broken rice is rice that is damaged during harvesting, transportation, or milling, making it less valuable. The dish is served with a variety of accompaniments, including grilled pork, pork ribs, pork skin, shredded pork, fried eggs, and vegetables. Local people enjoy it together with a side of pickled vegetables and a small bowl of Nuoc Cham, a savory dipping sauce made with fish sauce, lime juice, sugar, garlic, and chili peppers. This dish is a popular choice for breakfast, lunch, and dinner, and can be found at food stalls and restaurants throughout the city.
One of the reasons why Com Tam is so popular among locals and tourists alike is its affordability and accessibility. It is a hearty and satisfying meal that can be enjoyed on the go, making it a perfect option for those who are busy and on the move.
Hu Tieu – Saigonese noodle soup
Having a bowl of Hu Tieu is one of the must things to do in Ho Chi Minh City. This is a beloved culinary treasure of Saigon, akin to Pho in Hanoi. The dish is made up of soft, silky rice noodles swimming in a flavorful broth made by simmering pork bones for hours. It is then topped with tender pork meat and intestine, along with a mix of fresh vegetables such as onions, bean sprouts, and chives. To enhance the flavor, diners often add a touch of chili sauce or a squeeze of fresh lemon. Hu Tieu is typically eaten for breakfast or lunch, and can be found at many street vendors, restaurants and food stalls throughout the city. Its unique taste and aroma has made it a favorite among locals and visitors alike.
Banh Xeo – Vietnamese pancake
Banh Xeo, also known as Vietnamese pancake, is a must-eat dish during your Ho Chi Minh City tour. The name "Banh" means cake, and "Xeo" refers to the sizzling sound the pancake makes when it's being cooked. The batter is made from rice flour, coconut milk, and turmeric, which gives it its bright yellow hue. Banh Xeo is filled with pork, shrimp, and vegetables such as bean sprouts and onions, creating a delightful mix of flavors and textures.
Suggested 5 Days in Ho Chi Minh City Itineraries
Spending 5 days in Saigon, you have many time and options to explore its scenic spot. Below are some suggested Ho Chi Minh City Tours that you can consider.
Itinerary 1: For historical lovers
This Saigon 5 days itinerary will take you to visit almost all historical and cultural destinations of Ho Chi Minh City. On the first day, you will come across War Remnants Museum, Reunification Palace, and Notre Dame Cathedral, following by Saigon Central Post Office and Museum of Fine Arts.
On the second day, spend time at famous Saigon temples and pagodas, such as Jade Emperor, Thien Hau Pagoda, and Giac Lam Pagoda. This day, we suggest you to spend the night witnessing the hustle and bustle of Nguyen Hue or Bui Vien walking street. Stop by Can Gio Crocodiles & Monkey Island and Cu Chi Tunnels in the 3rd and 4th days. Then, end your 5 days in Ho Chi Minh City tour with an escape at Binh Quoi Village.
>>> Here is the detailed Ho Chi Minh 5 days historical and cultural exploration.
Itinerary 2: For beach lovers
Beach lovers visiting Ho Chi Minh City 5 days can combine this city with famous Vietnam beaches in Vung Tau or Mui Ne (Phan Thiet). You will spend the first and second days discovering Saigon's highlights before leaving for Mui Ne on the third day. Unwind with your family members or friends here until your departure flight on the 5th day.
>>> For the detailed itinerary, you can refer to our 5 days Saigon highlights and beach vacation.
Itinerary 3: For nature lovers
The first day will be the same as that of the previous tours, in which you visit all tourist attractions within Ho Chi Minh City's center. The next days, you head to Vung Tau, Cu Chi Tunnels, and Mekong Delta alternatively for the best nature discovery experience. Still wondering how?
>>> Check out the full program for Saigon and Mekong Delta ultimate serenity in 5 days at this link.
Above is all necessary information for you to plan your 5 days in Ho Chi Minh City tour. Looking for means of transportation from/to and within the city as well as the best area to stay in Ho Chi Minh city, you can refer to our Ho Chi Minh City travel guide for more information. You can also contact us for consultation or a private tailor-made tour to Ho Chi Minh City and Southern Vietnam.