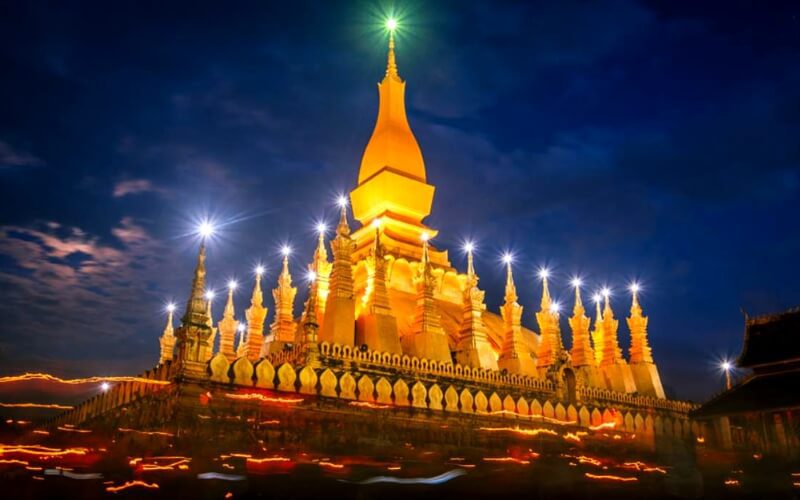 3 days in Vientiane is enough for visitors to uncover the beauty of this city, delve deeper into the Lao culture, sample their food and handcrafted items and even explore the surrounding countryside. There are plenty of activities to fill your itinerary such as cycling through serene villages, taking in the breathtaking sunsets over the Mekong River, and indulging in traditional Lao saunas. Hiking through the country parks is also an excellent way to admire the scenic beauty of the region. To top it off, you can enjoy the finest Lao delicacies while discovering the city. Here's an idea of what you can do during your Vientiane 3 days itinerary.
Best time to visit Vientiane
Vientiane – the capital city of Laos offers visitors a mix of traditional culture, historical landmarks, and natural beauty. When planning a trip to Vientiane, it's important to consider the weather condition carefully. The ideal time for a Vientiane package is from November to February when the weather is sunny and comfortable. During this period, the temperature ranges from 20°C to 30°C, and the humidity is low, making it the perfect time to explore the city and its surroundings.
From March to May, the temperature starts to increase, and it can get quite hot. The temperature can range from 30°C to 38°C, and the humidity levels start to rise as the wet season begins in May and June. If you decide to visit Vientiane during these months, it's important to stay hydrated and take precautions against the sun and high humidity levels.
Wet season in Vientiane begins in May and lasts until the end of October. During this time, you can expect rainfall and high humidity levels. However, if you don't mind the rain, the wet season can be a great time to visit as the countryside is lush and green, and the waterfalls are at their fullest. The temperature during the wet season can range from 25°C to 33°C, and the humidity can be quite high.
>>> Read more: Best Time to Visit Laos
Where to Go in 3 Days in Vientiane
1. Wat Si Saket
During your visit to Vientiane, make sure to check out Wat Si Saket, the oldest temple in the city. Constructed between 1819 and 1824 by Chao Anou, this impressive structure still showcases its original Thai-style architecture, complete with intricate markings and ornate details.
Though the temple has undergone two restorations, the most recent being in 1930, it has managed to maintain its unique historical significance throughout the years. Wat Si Saket provides an excellent opportunity to learn about Laotian history and culture, and should definitely be on your list of must-visit sites during your three-day stay in Vientiane.
2. Vientiane Tour to Laos National Museum
Laos National Museum is situated in a grand administrative building in Vientiane, dating back to the 1920s. It is a fascinating tourist attraction, especially for history enthusiasts, providing insights into the country's colonial past, revolution, and its endeavor to establish a distinct identity. The museum houses a vast collection of artifacts and photographs displayed in chronological order, illustrating the country's journey. From weapons used by the French colonizers during the war to baskets and tools utilized by the Laotian resistance, visitors can explore a wide range of exhibits showcasing Laos' rich history and culture.
3. Wat Si Muang
This Buddhist temple is one of the primary sites for the That Luang Festival held in October or November, with Si Muang venerated as the city's guardian. Every day, local Buddhists flock to this temple to seek its "good luck" powers as it is believed to have the power to grant wishes if one prays and makes a promise simultaneously. It is a popular belief that praying at this temple increases the chances of wishes being granted. However, the Wat Si Muang you see now is not the original construction built in 1563. The structure was seriously damaged by Siamese invaders in 1828 and reconstructed later.
4. Pha That Luang Stupa
Pha That Luang Stupa is a significant landmark and a symbol of the city of Vientiane. This grand structure was home to a golden stupa, built in 1566 with a height of 45 meters and a width of 69 meters in a pyramidal shape. Around it, there are up to 30 smaller stupas. Pha That Luang is designed with three levels, each representing the ascension from earth to sky. Its golden hue exudes grandeur, making it a must-visit destination for tourists spending 3 days in Vientiane.
5. Trip to Vientiane's Buddha Park (Wat Xieng Khuan)
Located 25km west of Vientiane City, Buddha Park (also known as Wat Xieng Khuan) is a must-see destination that showcases over 200 concrete statues of Buddhist and Hindu deities. The park is a sculpture enthusiast's dream, with unique and intricate artworks that may be perceived as beautiful or unconventional, depending on individual taste. Regardless of one's preference, the park's collection of sculptures is an impressive sight that should not be missed during a Vientiane tour.
6. Phou Khao Khouay National Park
Phou Khao Khouay National Park is an extraordinary and unspoiled natural wonderland that boasts breathtaking views of mountains, sandstone cliffs, and picturesque rivers with gorges carved into them. Wild orchids and cascading waterfalls add to the park's charm, making it an ideal place for nature lovers to visit. This park is also an opportunity to explore the traditional way of life, culture, and handicrafts of ethnic minorities such as Hmong and Lao Tay, who live in charming villages scattered throughout the park.
7. Patuxai Victory Gate
Patuxai Victory Gate is a significant monument in the spiritual life of Laos and is also known as the Victory Gate. Its design is similar to the Arc de Triomphe in Paris, giving Vientiane a touch of Parisian charm. This destination is a popular tourist spot where visitors can climb to the top of the gate for a breathtaking view of the city. At the base of the monument, visitors can explore the intricate designs and intricate carvings on the walls, which depict the country's history and culture. The Patuxai Victory Gate is a must-visit destination during your trip to Vientiane.
8. Vientiane Tour to Morning Market (Talat Sao)
Vientiane Morning Market (Talat Sao) was once a bustling traditional market and has now transformed into a shopping destination consisting of two malls and a market. It is still a popular spot to purchase traditional Lao skirts and fabrics, as well as unique souvenirs like snake whiskey and wooden boxes.
9. Nam Ngum Lake
Constructed in 1971, the Nam Ngum Lake obstructs the Nam Ngum River, a major Mekong tributary, and is now the largest lake in Laos, spanning approximately 370 square kilometers. This hydro-electric project, which includes a 70-meter high and 468-meter wide dam, generates the majority of the country's electricity and even exports excess power to Thailand.
Nam Ngum Lake features sandy beaches and islands, including Don 516, which houses around 500 permanent residents. While basic accommodations can be found along the shoreline, the Dansavanh Nam Ngum Resort is a notable exception, offering a golf course and 24-hour casino and attracting senior government officials from Laos and Thailand.
What to Eat during 3 Days in Vientiane
Laos papaya salad
Papaya Salad, also known as Tum Maak Hoong, is a beloved spicy salad in Laotian Cuisine. The name "Tum" comes from the process of pounding the unripe, shredded papaya and other ingredients in a mortar with a pestle, while "Mak Hoong" refers to the papaya fruit. Unripe papaya gives the salad a crunchy texture, and the combination of spicy, salty, sweet, and sour flavors creates a satisfying experience for your taste buds. The salad typically includes ingredients such as chilies, garlic, cherry tomatoes, lime, sugar, and fish sauce. Some variations may include slices of Thai eggplant and long beans for extra crunch.
Larb (minced meat salad)
Larb or Laap, the unofficial national dish of Laos, is a traditional minced meat salad prepared in different regions where Laotian people live. What makes this dish special is its fresh taste, despite the usually heavy minced meat. The balance of lime juice, lemongrass, lettuce, and coriander creates a perfect harmony. Larb can be served with lettuce leaves or sticky rice.
Mok Pa (steamed fish in banana leaves)
Mok Pa is also a must-try dish during your 3 days in Laos. This is a kind of traditional steamed fish wrapped in fresh banana leaves. Unlike Chinese steamed fish, which is cooked in a sauce, Lao fish parcels are made by mixing diced fish fillets with herbs, seasonings, and fermented fish paste called padaek. This helps to give the dish a unique umami flavor. The mixture is then portioned and wrapped in banana leaves before being steam cooked. Mok Pa is usually served with sticky rice, known as khao niao.
Suggested 3 Days in Vientiane Itineraries
It is not so difficult to plan your 3 days in Vientiane itinerary. On the first day, spend time visiting this city's historical and cultural monuments such as Wat Sisaket, Pha That Luang Stupa, Buddha Park, etc. Join a night market to see how bustling this city is.
A trip to Nam Ngum Lake is highly recommended on the second day. This is the largest lake in Laos with sandy beaches and islands. From here, you head to Ban Keun to learn the local method of rice wine whiskey distillation.
Before checking out on the third day, you should come accross this city's Morning Market for Laos souvenirs and specialties.
>>> Here is the detailed itinerary for this Vientiane 3 Days Classic Tour.
Visitors to Vientiane often extends their holidays to other scenic spots in Laos such as Luang Prabang, Xieng Khouang, Pakse, etc. or to the neighbor capitals such as Hanoi (Vietnam) or Bangkok (Thailand) to make up 10 – 15 day trips. This is a perfect way to gain a deeper glimpse into the culture and nature of Indochinese countries. Below are some suggestions for your Laos tours:
How to Plan a Trip to Vientiane
Planning to go on a Vientiane tour, it is necessary to know when & where to go, what to eat & bring, etc. For the detailed information, you can check our Laos travel guide. Here are some tips to help you prepare a perfect holiday in Vientiane:
Ensure you have all necessary documents, including a valid passport, passport-sized photos, travel insurance, visa, and enough money for import/export fees and visa fees.
Research Laos cultural norms to avoid culture shock. Follow some important Dos and Don'ts, such as dressing neatly at religious places, asking permission before taking photos with locals or stepping over someone in your path, taking off your shoes before entering any Laotian home, not touching a monk, monk's robe, or someone's head, not raising your voice in public, and not showing public displays of affection or wearing swimsuits/bikinis in public.
Pack according to the season, including summer gear like T-shirts and shorts, comfortable footwear, formal clothes for special places, warm clothes for December and January, lightweight raincoats for the wet season, and other personal items such as sunscreen, sunglasses, hat, insect repellent, toiletries, a small medical kit or your own medications, refillable water bottle, earplugs, a universal travel adaptor, and a backpack for day trips.
Keep your personal belongings safe in public, and carry copies of your personal documents for safety.
Make early service reservations before your trip in peak season to avoid any fully-booked status or lower quality than expected.
Hope this piece of information helpful to you while planning your Vientiane 3 days trip. Contact us if you still need help or a private consultation.