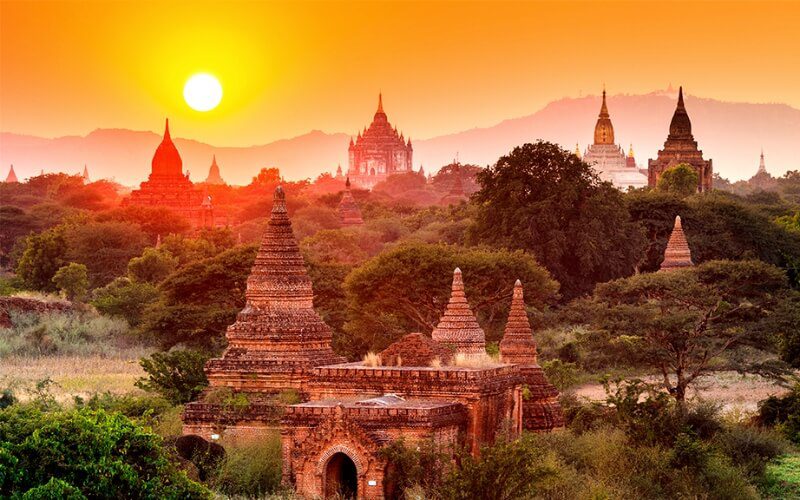 Bagan is an ancient city in Myanmar (Burma) that holds immense historical and cultural significance as a Buddhist relic. It is also a popular tourist destination on the west bank of the Irrawaddy River in central Myanmar. To fully experience the wonders of this city, it is recommended to spend 3 days in Bagan discovering the area, particularly the stunning pagodas and their spectacular sunrise or sunset views. Exploring the historic pagoda jungle can be done by horse-driven cart, while watching the sunset from atop a pagoda is a must-do activity. Don't miss the opportunity to take a hot-air balloon ride over the Bagan plains.
Why Visit Bagan?
Bagan is a famous tourist destination that attracts visitors from all over the world. Foreigners see it as the gateway to discovering Myanmar, while the locals take pride in it as the country's landmark. From the 11th to the 13th centuries, over 10,000 Buddhist temples, pagodas, and monasteries were built in Bagan plains; 2,200 of them remain to tell their story nowadays. 
No one can guarantee their safety from geological hazards, so visiting this historical city is a must before it becomes history itself. In 2017, the Myanmar government submitted an application to UNESCO for Bagan's recognition as a World Heritage Site. If approved, it will be the country's first. Don't miss the opportunity to visit this soon-to-be World Heritage Site of Myanmar.
Best Time to Visit Bagan
Bagan experiences three distinct seasons: hot, rainy, and cool. The hot season spans from March to May, with temperatures averaging above 40°C. From June to October, Bagan has a rainy season characterized by hot and humid weather, with daily rainfall. 
November to February is the cool season, with favorable weather conditions for tourism. This is also the best time to visit Bagan. However, sun protection is essential due to strong ultraviolet radiation, and visitors should wear long-sleeved trousers to avoid sunburn. The weather is cold in the morning and evening, with temperatures below 15°C and daytime highs below 30°C. 
Suggested 3 days in Bagan Itinerary
Day 1: Visit Bagan Temples
Start your Bagan 3 days itinerary with a visit to Nyaung U Market. This is the best time to capture the daily life of the locals and the bustling trading activities. Despite being just a local market, there are plenty of interesting things to explore, such as fresh produce, beautiful clothes, handmade ceramics, and much more. After that, take a cab to the renowned Shwezigon Pagoda, one of the most significant Buddhist sites in Bagan. It follows the traditional Burmese stupa style and showcases a close relationship between Theravada Buddhism and the Burmese religion.
The next stops are the 13th-century cave temples of Kyansittha and Gubyaukgyi in Wetkyi Inn village. The caves are adorned with fine frescoes depicting sconces from the Jataka. Then, have lunch at a local restaurant with local specialties.
In the afternoon, head to the Htilominlo Temple, built in 1218 and known as the most iconic temple in the Burmese style in Bagan before visiting Ananda Temple, with its symmetrical structure and Greek diagonal layout. Then visit the Dhammayangyi Temple, the largest temple in the area, with a pyramid shape and no pointed top. It was constructed in 1167 by King Narathu after murdering his father. Witness the stunning sunset at the Shwesandaw Pagoda before returning to the hotel for relaxation.
>>> Read more: Popular Temples in Myanmar: The Top 10 You Should Visit
Day 2: Hot Air Balloon Ride and Visit Mount Popa
Taking a hot air balloon ride to witness the sunrise is a can't-miss activity during a Bagan trip. It's an incredible opportunity to marvel at the breathtaking view of Bagan while floating over the temples, and rivers, and watching the sunrise gently ascend over the mountain. However, this service is only available from October to April.
After that, you will head towards Mount Popa to appreciate the diverse landscapes of northern Myanmar. Mount Popa is considered a symbol of Bagan travel. It is the crater of an extinct volcano and is home to a sacred monastery, believed to be the dwelling place of the most powerful Nats, and four Buddhist spirits worshipped by the Burmese.
While en route, you may stop at various locations to take photographs and learn about countryside living. To reach the top of Mount Popa, tourists must walk barefoot over 777 steps and wear suitable clothing for a religious relic. It is undoubtedly worth the effort to appreciate the stunning view of the landscapes, the panoramic sight of an extinct volcano, and the plain of Bagan.
Day 3: Indulge in Bagan's Daily Life
After 2 days of exploring the downtown areas, it would be rewarding to dedicate a day to gaining a deeper understanding of Bagan's rural life and experiencing how the locals live. For a less touristy experience, consider traveling to Myinkaba Village by local horse cart, where you won't find any souvenir shops as only local traders are present. Next, visit the Manuha Pagoda to observe local methods of producing peanut oil and special Bagan cigars. End your 3 days in Bagan itinerary here.
A trip to Bagan is regularly integrated into Myanmar tours. It means that you will combine a visit to Bagan with other tourist attractions of this country such as Yangon, Mandalay, Heho, etc. Our Myanmar Spiritual Adventure in 10 Days is an example, in which you will visit almost all important temples and pagodas in Myanmar to learn about the country's history and culture.
What to Eat in 3 Days in Bagan
Tea Leaves Salad
Trying tea leaves salad is one of the must things to do in Bagan. This is the national dish of Myanmar cuisine, also called Lahpet Thoke. It is made by fermenting the best tea leaves, then mixing them with sesame oil, fried garlic, peas, peanuts, roasted sesame, crushed dried shrimp, chopped ginger, and chopped coconut. The perfect blend of these ingredients creates a slightly sweet, spicy, and crunchy salad that many locals believe has healing properties. Tea leaves salad is a popular dish among students to help prevent fatigue and drowsiness.
Shan Tofu Noodle
In Bagan, noodles are a popular food with various types, including Shan Tofu, Nangyi thoke, Mohinga, and Shan's noodle. Among these, Shan Tofu Noodle is the most delicious. It is made from yellow lentils and chickpeas, giving the tofu a thick soup-like texture. The soup is then poured over noodles, accompanied by chicken or pork, and garnished with satay. Pickled vegetables and broth are served on the side.
Despite its unusual combination, the taste of Shan Tofu Noodle is pleasing to the palate, offering a refreshing and satisfying experience. It can be enjoyed in three different ways: cold with the mannequin, hot with soup, or with hard tofu. Locals often have Shan Tofu Noodle for breakfast, but it can be enjoyed at any time of the day, especially in popular tourist destinations and Bagan night market.
Tea Mix
Tea shops are ubiquitous in Bagan, and the must-try signature tea for every tourist paying a visit to Bagan is the "Tea Mix", which has a unique and appealing flavor with a hint of black bean taste, made with condensed milk. Tea shops in Bagan also serve as gathering spots for locals to socialize and chat. If you visit a Chinese-owned tea shop, you'll often find sweet dumplings made from red and green beans served with your tea. The refreshing taste of lemonade also makes it a popular drink during a Bagan trip and can be found at night markets, bars, restaurants, and fast-food joints in shopping centers.
Moun
Moun, the Burmese sweets, are often served with tea and are known for their unique sweetness that comes from ingredients like copra, coconut milk, sticky rice, and fruit.
There are different kinds of moun you can find in Bagan, including
Has Nwin Ma Kin: a small cake made from flour mixed with coconut milk, butter, and raisins.

Koh Pieh: a type of cake made from sticky rice, covered with a layer of sesame and coconut, and seasoned with a little salt and pepper.

Koh Puo: made from black or white sticky rice and baked on charcoal. This cake is served with syrup made from palm sugar.

Kauknyintok: a cake made from banana, coconut milk, sugar, and sticky rice.
Important Notes for a Trip to Bagan
Bagan is a beautiful destination in Myanmar that offers a unique experience to visitors. However, the hot climate in Bagan can be a bit overwhelming, especially at noon time. You are suggested to spend this time enjoying a delicious lunch or heading back to your hotel and taking a dip in the pool.
You should also keep in mind that the climate in Bagan can vary greatly between day and night. While it may be hot during the day, the temperature can drop quite a bit at night. It is recommended to take warm clothing, such as a sweater or jacket when heading out to see the sunrise or sunset. You will often have to stand barefoot or sit on cold ground while waiting for the sunrise, so warm clothing is essential to staying comfortable.
Finally, one of the most popular activities in Bagan is a hot-air balloon ride. This is a unique and unforgettable experience that allows visitors to see the ancient city from a whole new perspective. While it may be hot up in the air, it is important to enjoy the moment and not hide your excitement from the camera. Other passengers are usually happy to take photos of each other, creating wonderful memories that will last a lifetime.
>>> To get a better knowledge of Bagan and Myanmar culture & customs, means of transportation, accommodation, etc. before packaging your luggage, you can refer to our Myanmar travel guide and these 15 must-know things about Myanmar travel.
Above is all the necessary information for your 3 days in Bagan. If you are planning a family travel to Bagan, then this itinerary will be a perfect choice. Simply book with us if you are ready for a Bagan trip or let us know if you still have any questions.