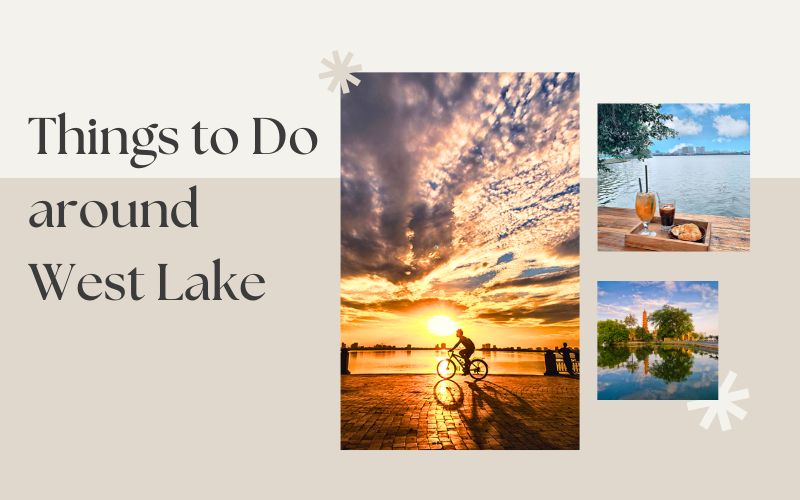 West Lake in Hanoi, the city's biggest natural lake (also known as Tay Ho Lake), offers travelers a pleasant view, but it holds far greater significance for the locals. It serves as a crucial space for finding tranquility, engaging in social interactions, and staying fit. Taking a stroll along the lake's 15-kilometer circumference allows one to escape the hustle and bustle of the city and gain insight into the authentic lives of Hanoians.
Besides being a hub for socializing and relaxation, West Lake boasts numerous historical landmarks and is surrounded by charming hotels, delightful restaurants, cozy cafes, and a vibrant nightlife scene. In the following article, let's discover the wonderful things you can do around West Lake.
Best Time to Visit West Lake in Hanoi
West Lake welcomes visitors throughout the year, but for a mesmerizing sight of lotus fields, plan your visit in either May or June.
The prime time to explore this enchanting locale is during the later afternoon and evening. Especially in the scorching summer, the temperature cools down significantly, making the experience more pleasant. During this time, locals flock to the lake to socialize, take strolls, and engage in workouts, offering a wonderful glimpse into their daily lives.
Top Things to Do Around West Lake Hanoi
Stroll around the Lake
To truly immerse yourself in the local life around West Lake, avoid confining yourself to just one part of it. A delightful way to experience both daily life and picturesque views is by taking a stroll along the lake's edges.
The entire lake's circumference spans over 15 kilometers, making it a bit too extensive for a complete walk. Instead, consider the perfect alternative of a traditional cyclo ride. Cyclos are readily available in the area, particularly between Ba Dinh Square and Tran Quoc Pagoda. Remember to negotiate a reasonable price with the cyclo riders, as they might initially quote a higher fare.
If touring the entire lake seems too much, you can opt to cover a specific section via a cyclo ride, combining it with a pleasant walk and a visit to a lakeside cafe. When heading back to your hotel in the Old Quarter, a taxi will efficiently take you there.
Alternatively, you can seize more freedom and flexibility by renting a bike and cycling around West Lake on your own. This way, you won't be bound by the cyclo rider's schedule, allowing you to relish the experience at your own pace. Having a motorbike tour around West Lake to enjoy the breathtaking scenery and sample delicious street food is also a wonderful idea.
Watch Sunset and Sunrise over West Lake
West Lake offers some of the most exquisite sunsets and sunrises in Hanoi. Treat yourself to a refreshing drink at one of the cozy coffee shops, and then find a serene spot along the lake to sit back and savor this magical moment.
Ride a Swan Boat around the Lake
You can venture out on West Lake by yourself. Boats and swan pedal boats are available for rent by the hour. This experience can be truly delightful, offering a chance to escape the city's hustle and bustle or share an intimate moment with your partner.
During the summer, it's advisable to avoid going out at the hottest time of the day to ensure a more comfortable outing. On the other hand, in winter, be prepared for the chillier temperatures on the lake.
Take Photos at the Lotus Pond
During May and June in Hanoi, West Lake becomes adorned with blooming lotuses, a magnificent sight to behold. The lotus flower holds special significance as Vietnam's national flower, creating an exceptionally picturesque backdrop for photography enthusiasts. You can find shops around the lake that offer the rental of Vietnamese traditional clothes, allowing you to capture stunning photos amidst the enchanting lotus scenery.
>>> Check out more places to take photos in Hanoi in our article here.
Enjoy Lakeview Coffee
Strolling around the lake provides an authentic taste of local life, but for some travelers, savoring a drink while enjoying splendid views sounds even more appealing. Along the lake's perimeter, numerous cafes and restaurants await, with a special highlight: many of these establishments boast rooftop seating, offering breathtaking vistas. With hundreds of options available to cater to all budgets, you can easily find a suitable cafe or restaurant with multiple floors, ensuring you can sit back, relax, and relish the fantastic scenery.
Visit Temples and Pagodas around West Lake
Around West Lake, there is an abundance of breathtaking temples to visit, including Tran Quoc Pagoda, Quan Thanh Temple, Van Nien Pagoda, and Thanh Nien Pagoda. Each temple has its own special architectural features and plays an important role in the spiritual life of Vietnamese people. If you are lucky to visit Hanoi in January, don't miss out on the chance to experience the Tet Holiday atmosphere at these sacred places.
Admire the Architecture of Chu Van An High School
Built-in 1908 under the French colonial government, Chu Van An High School (also known as Buoi High School) stands as one of Vietnam's oldest educational institutions. What sets this school apart is its remarkable French-styled architecture, lending it a unique and captivating charm. Adding to its allure, a plethora of ancient trees grace the school grounds, enhancing its distinct beauty and transforming it into not only a historic landmark but also a favored tourist attraction.
Pay a Visit to Ba Dinh Square
West Lake perfectly complements some of Hanoi's most significant attractions. Just 500 meters from the southernmost tip of the lake lies Ba Dinh Square; you can follow the road along the lake, passing Tran Quoc Pagoda to the south.
On this expansive square, you'll encounter the awe-inspiring Ho Chi Minh Mausoleum, serving as the final resting place of the esteemed former President Ho Chi Minh. Behind the Mausoleum stands the One Pillar Pagoda, a site of utmost religious importance in Vietnam. Within the park towards the main square, you'll find the Presidential Palace and Ho Chi Minh Stilt House, where Ho Chi Minh once resided. To delve deeper into the life of Uncle Ho, a visit to the Ho Chi Minh Museum in this area is highly recommended.
Enjoy Authentic Hanoi Street Food
Shrimp Cake
When speaking of Hanoi, it would be incomplete not to highlight the renowned shrimp cakes of West Lake. For generations, these delectable shrimp cakes have been predominantly sold on Co Ngu Street, now known as Thanh Nien Street, near West Lake. Hence, whenever West Lake's culinary delights come to mind, shrimp cakes take the lead as the dish of choice.
The key to crafting these delightful treats lies in using shrimp freshly caught from West Lake. Each shrimp is carefully fried to perfection, creating a crispy crust that forms the ideal shrimp cake.
Vermicelli and Shellfish Soup
In Vietnam, shellfish hold a special place as a unique delicacy, and the shellfish vermicelli soup on Thuy Khue Street has gained popularity among gourmets for a considerable time. This dish's fame can be attributed not only to its fantastic taste but also to the meticulous and hygienic preparation and cooking processes. The delightful combination of the broth's sweetness and the tanginess of tomatoes blends harmoniously with the distinct flavor of "ốc," resulting in an unforgettable shellfish vermicelli soup that leaves a lasting impression on every visitor.
Ice Cream
In the vicinity of Hanoi West Lake, numerous ice cream parlors await visitors, offering a delightful treat to be enjoyed while relaxing by the lakeside. The coolness of the creamy ice cream, combined with the luscious coconut flesh and delectable fruit syrup, creates a truly refreshing experience that perfectly complements the serene ambiance of West Lake.
Local Tips to Visit West Lake
For a truly invigorating experience and to witness the mesmerizing sunrise, it's best to arrive early in the morning. Alternatively, if you seek a romantic ambiance and captivating night scenery, consider visiting in the evening.
To actively explore the lake and its fascinating surroundings, bike riding would be the ideal choice. Dress comfortably as you'll be on the move, but do remember to wear formal attire if you plan to visit any temples or pagodas.
Located approximately 2 miles from the heart of the Old Quarter, getting to West Lake on foot is feasible for those with high fitness levels. However, for most visitors, it is advisable to opt for a taxi ride.
As mentioned earlier, West Lake can be conveniently combined with nearby attractions like the Mausoleum and One Pillar Pagoda. To make the most of your visit, it is recommended to explore these attractions first and then take a taxi to Ba Dinh Square.
A leisurely walk to West Lake during the late afternoon, when the summer heat subsides, is a pleasant idea. This way, you can also witness the captivating sunset over the lake, adding a touch of natural beauty to your experience.
Finally, exercise caution and stay vigilant against pickpockets and thieves to ensure a safe and enjoyable time at West Lake Hanoi.
Hope this piece of information has provided you with essential information on things to do around Hanoi West Lake. Ready for these thrilling experiences? Plan your trip with us now.
Read more: