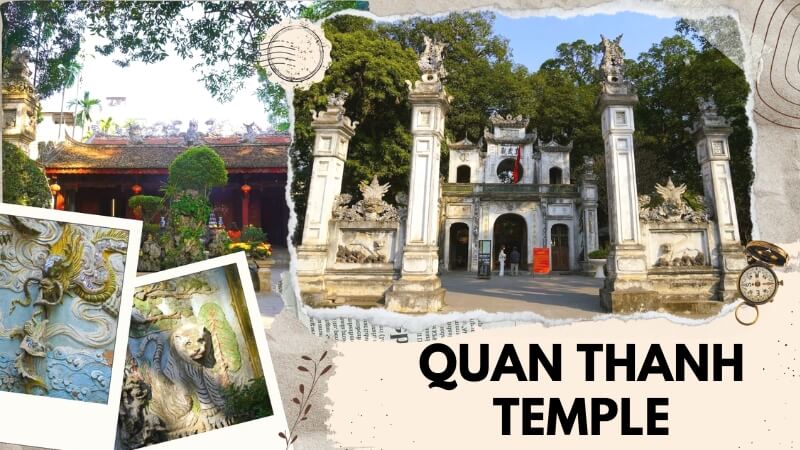 Quan Thanh Temple (also known as Tran Vu Temple), located on Thanh Nien Street, Ba Dinh District, is a must-visit destination for historical lovers visiting Hanoi – the capital of Vietnam. The temple worships Tran Vu, the Taoism god who protects the Northern gate of Thang Long Imperial Citadel. It is more than 1000 years old and contains many historical items and records throughout the history of Vietnam.
Useful Information about Quan Thanh Temple
Location: Thanh Nien Street, Quan Thanh Ward, Ba Dinh District, Hanoi
Opening hours:

Every day from 08:00 am to 05:00 pm
Open all day during Lunar New Year's Eve
The 1st and 15th of every Lunar month: 06:00 am – 08:00 pm

Quan Thanh Temple entry fee:

Adults: 10,000 VND per person
Students and children: 5,000 VND per person

Dress code: Polite and modest clothes that cover shoulders and legs.
Quan Thanh Temple is a Taoist temple and is one of Hanoi's four sacred temples which were built to worship four protectors of the city, they are believed to protect the city from demons and invaders. Each temple is located in a direction around the Imperial Citadel:
Quan Thanh Temple (Quan Thanh Ward): The Northern Gate
Kim Lien Temple (Phuong Lien Ward): The Southern Gate
Voi Phuc Temple (Cau Giay Ward): The Western Gate
Bach Ma Temple (Hang Buom Street): The Eastern Gate
History of Quan Thanh Temple
The legend was that Quan Thanh Temple was built in 1012 under the Ly's Dynasty when King Ly Thai To decided to move the nation's capital city from Hoa Lu (Ninh Binh) to Dai La (former name of Hanoi) and then repaired in 1474 under King Le Thanh Tong's reign.
Through many events, after each restoration, they put a stele in the temple for the purpose of record. The most recent record was made in 1894 by Hoang Cao Khai – a viceroy under King Thanh Thai Dynasty during the French colonial period.
Quan Thanh Temple's Architecture
During its history, Quan Thanh Temple was reconstructed many times, most significantly in 1893 when the principal gate and the shrine were remade. Combined with a mixture of architectural styles, Quan Thanh Temple stands as one of the few structures with unique architectural features in Hanoi.
Quan Thanh Temple's architectural style is heavily influenced by Buddhism, the most popular religion when it was originally built, while Taoism and Confucianism later influenced the temple's structure. After long changing progress in Hanoi, the remaining architectural features resemble the Nguyen Dynasty's architectural styles.
The gate features patterns from the imperial era, with one giant primary door in the middle and two smaller doors on the sides. Passing the gate, you will see a spacious yard shaded by a giant banyan tree, a classical layout in Vietnamese temples and pagodas. The main indoor area is for the display of statues and carvings, as well as the shrines.
Attractions of Quan Thanh Temple
Tran Vu Deity Black-Bronze Statue
In 1677, during the reign of King Le Hy Tong, artisans from Ngu Xa village offered Quan Thanh temple a black-bronze statue of Tran Vu Deity, which is the second largest in Vietnam until now. The statue's height is 3.96 meters and weighted around 3,600 kilograms. The Deity is depicted with a serpent and a turtle and reflects the bronze casting techniques of Vietnamese artisans, being recognized as the national treasure of Vietnam on April 9, 2023.
The Giant Bronze Bell
Another remarkable relic in the temple is the 1.15 meters high bronze bell. Both were created by Master Trum Trong, whose statue was placed in Quan Thanh Temple by his students in his honor. Many ancient texts such as poems and duilians from the 17th and 18th centuries are displayed here. Copies written in ancient Chinese ("chu Han") and ancient Vietnamese ("chu Nom") are both available.
If you plan to come to Quan Thanh Temple to pray or devote offerings, the Tet holiday or the first and the 15th day of the Lunar month is a good time to go, join the local people and come to pray for health, good luck and success, worship and devote offerings. But if you just want to find a peaceful and quiet site to relax, you should avoid these days.
Quan Thanh Temple's Nearby Attractions
Tran Quoc Pagoda
Also situated on Thanh Nien Road, this sacred Tran Quoc pagoda is a place you shouldn't miss. The temple is located on an island, to the East of the West Lake and you can only get to it by crossing the bridge on Thanh Nien Road. Tran Quoc Pagoda also has a unique architectural feature with an 11-tier tower, each floor has a Buddha statue inside, and on top is a tower made of gems in the shape of a lotus. Used to be the place where Vietnamese Kings come to pray, the pagoda is now a famous attraction in Hanoi that not just Vietnamese people but also foreign tourists admire every day.
West Lake
Being the biggest freshwater lake in Hanoi, West Lake is more than just a natural occurrence but also a destination to find calm and serenity. Rent a bike and travel around the lake to discover historic sites like Tay Ho Temple, find hidden restaurants and coffee shops, enjoy the cool breeze from the giant lake, sample delicious street foods, etc.
How to Get to Quan Thanh Temple and Nearby Attractions
Just 15 minutes away from the Old Quarter, where many tourists choose to stay when coming to Hanoi, it's easy to get to Quan Thanh Temple and the nearby attractions, you can consider the following means of transportation:
Taxi
This may be the most familiar one to tourists, they can get you anywhere in the city. Using a taxi will be a great option, especially on rainy days or hot summer days. A downside is that some streets in Hanoi are small, and a car can't get in.
Motorbike
The most common transport in Vietnam, you can rent a motor from your hotel at a price from 150,000 to 200,000VND a day. The good thing about motors is that they are small and you can travel through many alleys of the city, join in the busy life with the locals. Renting a bike will also be a good option because you can go and explore freely as you wish. Remember to check your motor before paying to avoid any unexpected damage fees.
Another option with the motor is the motorbike taxi. The drivers are available everywhere in Hanoi, and they work late too. Just get the travel app on your phone and book a ride. Put in your location and your destination, and the app will find a driver and show you the fee for the ride. It's straightforward and convenient. Or, you can join our Hanoi Motorbike Tour 1 Day to visit West Lake and its surrounding at a reasonable price.
Bus
You can choose a public Hanoi bus or a tourist double-decker bus. The double-decker bus will take you around the city's best attractions within a day and the guide assigned on that bus will show you the histories of those destinations. However, going on a double-decker, you may not be able to get inside to visit each place for too long.
Quan Thanh Temple is definitely one of the must-visit attractions in Hanoi. Make sure to drop by and take in the calm atmosphere and enjoy the serenity of this sacred place during your city tours. Don't hesitate to contact us and plan your trip to Vietnam today!