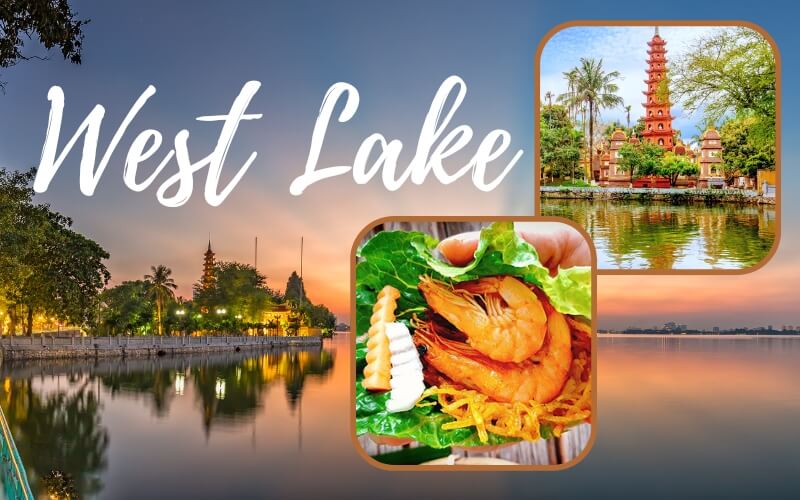 Belongs to Tay Ho District, located to the Northwest of Hanoi city, West Lake (or Ho Tay) is the largest freshwater lake in the capital, with a total area of approximately 5.3 km2 and a shoreline of 17 km. The lake is more than just a beautiful landscape, for the people living in Hanoi, it's a place to work out, relax and hang out with their loved ones. Let's go through some highlights of the West Lake and you will decide whether to add it to your bucket list.
Historical Stories about The Origin of West Lake
West Lake is a part of the Red River that flows through Hanoi to the sea. There are many stories about how the lake became as it is today, each story giving the lake a different name. It was not until 1573 then the lake was named Ho Tay (in Vietnamese for the lake in the West). Many stories and legends, but there are only 2 that are the most popular in Vietnam.
The Story of The Fox Corpse Swamp
A long time ago, the area of West Lake used to be rocky mountains, the lair of the nine-tailed fox. The fox can take a human shape and often kidnaps children and capture beautiful girls. Knowing about this, the Dragon King Lac Long Quan tracked the fox to its lair and set up a trap to drown it. The lair of the ancient nine-tailed fox turned into a deep pool, and the local called it the fox corpse swamp.
The Story of The Golden Buffalo Lake
This story was based on the legend Golden Buffalo of China. In Vietnam, there was a monk named Minh Khong. He not only had good strength but also was very talented in medicine and very wise. Once, the Prince of China was sick and every healer in China couldn't help, the King invited Minh Khong Monk to come to China to help his son. The Monk successfully saved the Prince, and as gratitude, the King allowed Minh Khong to take as much gold and treasure as he wanted, but Minh Khong just took some black bronze to his temple and melted them to make a bell. The sound of the bell woke up the Golden Buffalo of China (in many Asia cultures, black bronze is the mother of gold). The buffalo eagerly headed to the temple, but when she came, there was only a bell. Frustrated and infuriated, the buffalo trod the ground so hard that everything collapsed. Soon, the water filled in the hole and became the Golden Buffalo Lake.
Must-do Activities around West Lake
Riding a Bike around West Lake
Not just a means of transportation, riding a bike has become a common sport in Hanoi now. With a shoreline of 17 km, West Lake is an ideal place for a bike ride. You can rent a bike from a bicycle shop on the street and go around for a few hours at a very reasonable price, enjoy the cool breeze and the calm vibes around the lake as you ride through some temples and beautiful mansions. The best time will be at dusk and dawn when you can enjoy the romantic view of the lake. It would take nearly 2 hours to complete the ride, don't worry if you get tired mid-way, many small shops around the lake provide fresh drinks and light meals.
If your health does not allow it or you don't have enough time, you can join our Hanoi motorbike tour to travel around West Lake an easier way. You will be taken care of by a careful driver, visit popular attractions, and sample street foods around the lake like a local.
Riding A Swan Boat on Truc Bach Lake
Also on Thanh Nien Street near Tran Quoc Pagoda and Tran Vu Temple, Truc Bach Lake opens a swan boat service that we highly recommend for couples, this can be a way to enjoy the romantic and private atmosphere, especially at dawn when you can watch the sunset and stay away from the busy streets. The ticket will be 100.000 VND for each person for 1 hour, each boat is for 2.
Kayaking on West Lake
Thanks to the vast area, you can easily get the feeling of the sea while on West Lake. Joining a kayaking tour in the morning or afternoon will be a remarkable experience when visiting Hanoi. The service fee will be about 150.000-250.000 VND per person.
Attractions around West Lake
Tay Ho Temple (Phu Tay Ho)
Location: Northern bank of West Lake in Hanoi, Vietnam
Ticket: Free
Opening hours: Daily from 6:00 to 19:00; till 21:30 on the 1st and 15t of every Lunar month
Phu Tay Ho is a popular religious site located on the northern shore of West Lake. It is primarily dedicated to the Mother Goddesses of Three Realms—Heaven, Earth, and Water. These deities are believed to have the power to bring fortune, health, and happiness to devotees. The temple complex features different altars and shrines dedicated to these goddesses. Phu Tay Ho is also renowned for hosting lively festivals, particularly the Phu Tay Ho Festival, which takes place on the 3rd of the third lunar month.
Quan Thanh Temple
Location: Thanh Nien Street, on the shore of Truc Bach Lake, facing West Lake, Hanoi, Vietnam
Ticket: VND 10,000
Opening hours: Daily from 5:00 to 19:00
Built-in the 11th century under King Ly Thai To's reign, the Taoism temple is used to worship Tran Vu, one of the four saints that protect the capital. The temple has many Chinese – Vietnamese features, starting from elaborate wood carvings to colorful paintings. Inside the spacious yard, there is a banyan tree, many craved poems and shrines. The highlight of the temple is the black bronze statue of Tran Vu. Nearly 4 meters high and 4000 kg in weight, the statue describes Tran Vu holding his sword with a snake and a tortoise surrounding him.
Tran Quoc Pagoda
Location: Thanh Nien Street, Ba Dinh District, Hanoi, Vietnam
Ticket: Free entrance
Opening hours: 7:30 – 11:30 and 13:00 – 18:00 on Monday – Saturday, 7:30 – 18:00 on Sunday and holidays
Tran Quoc Pagoda is a Buddhist temple located on an islet in West Lake, Hanoi, Vietnam. It is one of the oldest and most prominent temples in Vietnam, renowned for its historical significance, architectural beauty, and serene surroundings. Tran Quoc Temple dates back to the 6th century, making it the oldest Buddhist temple in Hanoi. It was originally built during the reign of Emperor Ly Nam De and was initially named Khai Quoc (National Founding) Pagoda.
Tran Quoc Pagoda shows a harmonious blend of Vietnamese and Buddhism architectural. The main temple is 15 meters high and consists of 11 levels, each one representing an aspect of Buddhist teachings. The temple has many intricate carvings, statues, and colorful decorations. A notable feature is the towering stupa called Bao Thap (The Precious Tower.) Standing at a height of 15.6 meters, the stupa has eleven levels and is topped with a gem-shaped pinnacle. It is considered a symbol of Tran Quoc Temple and Buddhist values.
Getting to West Lake And Nearby Attractions
Located in Tay Ho District, near many attractions in Hanoi, it is very easy to get to West Lake from your accommodation in the city center.
Motorbike
Very common transportation in Vietnam, you can rent a motorbike from your accommodation, and the price would vary from 150-200.000 VND per day. Make sure to test the bike carefully beforehand if you don't want to pay for some maintenance or unwanted visit to the bike shop. Please check the signal lights, horn, and accelerate handle.
An easier way is to book a motorbike taxi with famous apps like Grab, Be, etc. Just download these travel apps to your phone and book a driver with several simple steps. The good thing is you don't need to check for directions or worry about the situation of the vehicle. The price to travel between each location can vary but one trip would cost you about 60.000VND or lower.
Bicycle
Using a bicycle is cool too. You can save a lot of money by renting a bike and going around. A bicycle ride around West Lake is an amazing experience as you can enjoy the cool breeze from the lake and take a moment of peace and serenity in the quiet neighborhood around Quang An and Quang Ba Street. Going to the nearby attractions would be easy too because they aren't far from each other. Just keep in mind that some attractions will require you to wear politely so you may need to pack some extra clothes for your ride as well. Renting a bike will cost about 30,000 – 50,000 VND per day.
Taxi
This will be a more popular means of transportation among tourists, the price will be around 80,000 – 150,000 VND per ride. Keep in mind that some roads in Vietnam are quite small and your taxi may not get in easily. To limit your expenses on transportation, you should arrange your route and walk around if the destination isn't too far.
Buses
In the center of Hanoi, many bus routes take you to West Lake. This is a fun way to travel in Vietnam too, the buses are comfortable and it would drop you near your destination. Ticket prices will be from 8,000 – 15,000 VND.
Another bus that serves tourists in Hanoi is the new double-decker bus which will take you to all the attractions in Hanoi within a day. You will go and see the streets from the open roof on the second floor, a tour guide will accompany you on your trip so you won't miss any information. As it travels around like that, you might not get to know much about the interior of the place you visit, still, it is a fun way to go around in Hanoi.
What To Eat And Drink Around West Lake
Deep-fried Shrimp Cake
Shrimp cakes are one of the best 7 specialties of Hanoi. Most visitors who used to go to Hanoi will eagerly go out and try the specialty West Lake fried shrimp cake in "Banh Tom Ho Tay" restaurant, not only just to taste the shrimp cake itself, but also to enjoy the beautiful view of West Lake.
West Lake Ice-Cream
You'll find an array of delightful ice cream options in Hanoi, including Thuy Ta Ice Cream, Trang Tien Ice Cream in Hoan Kiem Lake, and the distinctive West Lake Ice Cream. The West Lake Ice Cream store stands out and is conveniently located on Thanh Nien Street, opposite Tran Quoc Pagoda. Notably, West Lake Ice Cream offers a more affordable price compared to Trang Tien. Although seating is limited, you have the freedom to choose any available spot and request friendly sellers to serve your ice cream in cups. Alternatively, grab a cone and savor your treat while taking a stroll around the beautiful lake.
Lake-View Coffee
Exploring the city with your fellow travelers and making a pit stop at one of the lakeside coffee shops is an absolute must-do! Embrace the serene and cool autumn atmosphere as you indulge in a sip of authentic Vietnamese coffee while marveling at the mesmerizing sunset over West Lake. If coffee isn't your preference, fret not, as a wide variety of refreshing beverages and delectable snacks await your selection. With countless cafes to choose from, we suggest opting for multi-level establishments that provide elevated vantage points. This way, you can relish the sunset panorama undisturbed by street traffic.
These are some attractions and highlights of west lake, we hope this will give you some insight about this beautiful site of Hanoi. Don't hesitate to contact us and start planning your own customized trip to Hanoi today!