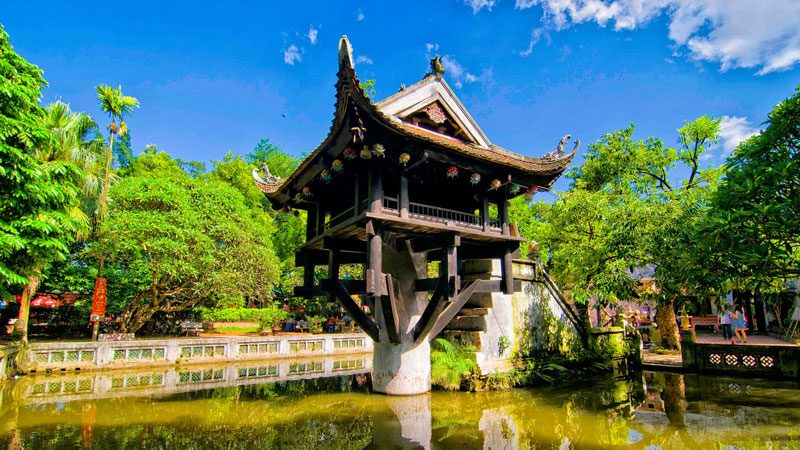 Vietnam is not only distinguished by its cultural values but also by the construction and preservation of traditional cultures. Besides intangible cultural heritages such as festivals, folk games, performing arts, worship, etc., this country is home to a lot of tangible heritages such as temples and pagodas. In this article, let's discover the 15 most famous temples in Vietnam, some of which have been recognized as world heritage sites. 
How are Pagodas and Temples in Vietnam Different?
It is not easy to know whether such a monument is a temple or a pagoda, especially for travelers discovering Asia for the first time! The distinction between pagodas and temples is very complex due to the architectural similarities between these two types of religious monuments.
The Vietnamese temple is a building that makes it possible to venerate and pay homage to a God, a goddess, and/or an important historical figure, such as the saint of a community. The pagoda, on the other hand, is a place of worship dedicated to the Buddhas and highlights all the principles of Buddhism. If the Vietnamese temple is most often a place of worship, the Vietnamese pagoda is, moreover, the place of residence of the monks, who are neither more nor less, Buddhist monks.
Now check out our list of the best temples and pagodas you must visit on your trip to Vietnam.
Famous Temples in Northern Vietnam
The One Pillar Pagoda (Chua Mot Cot) – Hanoi
This Buddhist temple is a significant monument and a historic symbol of the capital of Vietnam, with its long ancient history and cultural and spiritual values. This is one of the most familiar and famous temples in Vietnam, located on Doi Can Street, Ba Dinh District, Hanoi, featuring a unique structure with its full strength based on a cylindrical body carrying 8 wooden wings, in the shape of a blooming lotus.
One Pillar Pagoda was built by Emperor Ly Thai Tong from 1028 to 1054. In 1106, the temple overcame an enlargement and renovation by Emperor Ly Nhan Tong and became a large architectural complex. In 1109, the King attempted to erect the largest bell in the country; however, the bell was too big and heavy that could not be installed. Instead, people moved into the countryside at nearby farmland adjacent to Nhat Tru Temple.
The Perfume Pagoda (Danh Thang Chua Huong) – Hanoi
The Perfume Pagoda is located in the center of Huong Tich cave of Huong Son commune, My Duc district, Hanoi. In fact, the Perfume Pagoda or Huong Son is a vast cultural and religious complex in the capital of Vietnam, which includes dozens of Buddhist temples and communal houses. The center of this complex is the Perfume Pagoda, also known as the Inner Pagoda. Currently, the pagoda houses a stele dating the construction of the stone steps and Kim Dung Shrine which was built in 1686, during the reign of Le Hy Tong.
Tran Quoc Pagoda (Chua Tran Quoc) – Hanoi
Tran Quoc Pagoda has its location on Thanh Nien Street, on a peninsula on the vast West Lake, in the heart of Hanoi city. This 1500-year-old historical site is one of the oldest temples in Vietnam. It was built in the 6th century, during the reign of Emperor Ly Nam De (from 544 to 548). The temple consists of 3 main buildings, the front house facing the street, the house for burning incense, and the upper palace. The temple grounds are prominent with a 15-meter high and lotus-shaped stupa, built in 1998 with 11 floors.
Tran Quoc pagoda has been listed 9th among the top 20 most beautiful Buddhist temples voted by the US magazine National Geographic and is one of the most famous temples in Vietnam. Earlier, in 2017, Wanderlust – a U.K. travel magazine, also listed Tran Quoc pagoda as one of the top 10 incredibly beautiful pagodas.
The Tran Temple (Den Tran) – Nam Dinh
The Tran temple is located on Tran Thua Road (Loc Vuong commune, Nam Dinh City, Nam Dinh province). The site venerates the 14 kings of the Tran dynasty, who ruled Vietnam about 9 centuries ago. This vast complex of several tens of hectares includes several temples, pagodas, and mausoleums built on the ancient foundations of a palace, in which the Thien Truong temple is dedicated to the 14 kings of the Tran dynasty, and the Co Trach temple is dedicated to Tran Hung Dao.
This temple is known for its two biggest festivals, the traditional Tran Temple Festival (from the 15th to the 20th day of the 8th lunar month) and the Seal Opening Ceremony (on the night of the 14th day of the first lunar month). There are many cultural activities not to be missed on these occasions, such as the palanquin procession, the traditional popular theater performance, and traditional wrestling.
Phu Day Relics Complex (Phu Day) – Nam Dinh
Phu Day is one of the most famous temples in Vietnam, a relic complex of Vietnamese traditional and architectural beliefs, and the heartland of the Mother Goddess worship. The site spreads over Kim Thai Commune, Vu Ban District, Nam Dinh Province, near Highway 10, Highway 37B, and Highway 38B from Nam Dinh to Ninh Binh City.
Phu Day means "the big temple in Ke Day village". It consists of 2 main sites, Phu Tien Huong and Phu Van Cat, about 2km far from each other. Both of them worship Princess Lieu Hanh – one of The Four Immortals of Vietnam and a leading figure in the Mother Goddess. In 2016, UNESCO recognized Vietnam's traditional practice of "Tho Mau Tam Phu" (Worship of Mother Goddesses) on Phu Day as an Intangible Cultural Heritage of Humanity. Phu Day Festival takes place annually from the 1st to the 10th of the third lunar month.
Bai Dinh Pagoda (Chua Bai Dinh) – Ninh Binh, largest temple in Vietnam
This Buddhist temple is located on Bai Dinh Mountain, a quiet forest in Gia Vien District, Ninh Binh Province. The construction of Bai Dinh Pagoda started in 2003 and finished in 2010. Nowadays, it covers a large area of 700 hectares. The compound has the original old temple and a newly created larger one. This is the largest complex of Buddhist temples in Vietnam and a popular sacred place for Buddhist pilgrims.
>>> Visit Bai Dinh Pagoda with our Hanoi – Ninh Binh 1-day Tour or Ninh Binh 2 days 1 night.
The Hung Temple (Den Hung) – Phu Tho
Hung Temple is located on Nghia Linh Mountain, Co Tich Village, Hy Cuong Commune, Phong Chau District, Phu Tho Province. This is a historical complex of several temples that worship the legendary Hung Kings and has had a majestic architectural construction since the 15th century.
The Ancestral Anniversary Festival of the Hung Kings, one of the largest ceremonies in the country, has been recognized as an Intangible Cultural Heritage of Humanity by UNESCO in 2012. It takes place at the beginning of the third lunar month for about one week. There are millions of people converge on Hung Temple annually to commemorate their ancestors and pray for the best.
Yen Tu Pagoda – Quang Ninh
The Complex of Yen Tu Monuments and Landscape is a combination of numerous monuments and landscapes at the intersection of Quang Ninh, Hai Duong, and Bac Giang provinces. The heritage site is mostly situated in a mountainous region that is about 600m above sea level. With its peak at 1,068m above sea level, Yen Tu is famous for its beautiful natural landscape and cultural heritage, also known as the ancestral land of Truc Lam Zen Buddhism in Vietnam.
Yen Tu was considered "the fourth blessing land of Giao Chau". It was first built by King Tran Nhan Tong who reigned from 1279 to 1293. A lot of Vietnamese Buddhists have chosen the place for religious practice thanks to its mystic beauty covered in clouds and sacredness. Especially, this mountain is also home to the statue of An Ky Sinh who came here to practice and reached the peak of his way in Buddhism.
Famous Temples in Central Vietnam
Thien Mu Pagoda (Chua Thien Mu) – Hue
Thien Mu Pagoda is one of the famous tourist spots in Hue, which has been mentioned in several traditional folk songs. This place is located on the hill of Ha Khe and on the north bank of the poetic Perfume River, about 5 km from the citadel of Hue.
Nicknamed the Pagoda of the Celestial Lady in French according to a legend of an old lady predicting that whoever would build a pagoda at the top of this hill would found a dynasty. Its tower is made up of 7 floors, each of which represents a reincarnation of the Buddha. After passing through three gates guarded by imposing guardian statues, a peaceful garden awaits you, with its pond and multiple bonsai trees. This building is located next to the Perfume River and is the emblem of the imperial city of Hue.
The Linh Ung – Bai But Pagoda (Chua Linh Ung) – Da Nang
Located on Hoang Sa Street at Son Tra Peninsula, Linh Ung – Bai But Pagoda is one of three pagodas with the same name forming a sacred triangle in the city of Da Nang. It is also considered one of the most famous temples in Vietnam, first built in 2004 and officially inaugurated in 2010. It was said that during the Ming Mang Emperor's time, on an early morning, some fishermen found a small Buddhist statue emerging from the sands. They built a small temple to pray and named it Bai But (the land of Budda). From that moment on, the land was very peaceful and the fishermen had a very good life. Linh Ung – Bai But pagoda is described as "a meeting place of heaven and Earth's sacred air and people's heart" by Lonely Planet – a large travel guidebook publisher.
This site has a 67m tall Guanyin Statue, the tallest in Vietnam up to now. It has its own unique and beautiful landscape with mountains in the back, the ocean in the front, and a breathtaking view of marvelous scenery. Tourists coming to Da Nang can see this pagoda from every place in the city.
>>> Visit Linh Ung – Bai But Pagoda and other tourist attractions of Da Nang with our 2-day tour program.
Truc Lam Zen Monastery (Thien Vien Truc Lam) – Da Lat
Truc Lam Zen Monastery in Da Lat is one of the 3 biggest in Vietnam. It is located 5km from the Da Lat city center, on Phung Hoang Hill near Tuyen Lam Lake. The place has a lot of pine forests around with comfortable fresh cool air. Access to this site requires passing Tuyen Lam Lake and 222 steps crossed the triple gated entrance to enter the main courtyard of the temple. Located at about 1300m above sea level, this monastery is home to approximately 100 monks and nuns practicing in the private religious area at the temple.
Famous Temples in Southern Vietnam
Black Virgin Pagoda (Chua Ba Den) – Tay Ninh
Black Virgin Mountain is the highest mountain in Southeast Asia. It is also a famous spiritual tourist destination and the symbol of Tay Ninh province. Black Virgin Pagoda is located on Thanh Tan Street, halfway up the Black Virgin Mountain, which is 986 meters high. This pagoda has existed for more than 300 years. At first, it was just a small temple with the main deity worshiped on the mountain the Black Virgin (Ba Den), also known as "Linh Son Thanh Mau".
A path of 1,500 steps, surrounded by rocky hills and lush forests on both sides, leads to the pagoda. From the foot of the mountain, it takes more than an hour to reach the temple located more than 200m above sea level. A cable car is available for tourists to admire the landscape of mountains or fields extending to Dau Tieng Lake below.
Ba Chua Xu Temple (Mieu Ba Chua Xu) – An Giang
Being one of the most famous temples in Vietnam, this sacred tourist spot worships Ba Chua Xu – one of the Mother Goddesses in Vietnam. It is located on the foot of Sam Mountain of Chau Doc Town, An Giang Province, near the border with Cambodia. The layout of this temple resembles the writing of the word "Country" in Chinese with the main hall, the guest house, and the east and west corridors. Ba Chua Xu Temple has attracted millions of visitors to come and worship, especially during the Ba Chua Xu Temple Festival, which takes place every 23rd to 27th of April in the lunar calendar.
Vinh Nghiem Pagoda (Chua Vinh Nghiem) – Ho Chi Minh City
Vinh Nghiem Pagoda in Ho Chi Minh City was built between 1964 and 1971 by two Superior Buddhist Monks from North Vietnam, with the aim of replicating the Vinh Nghiem Pagoda in Bac Giang Province. The pagoda's design incorporates traditional Vietnamese temple architecture, with modern construction techniques and materials, resulting in a bright and spacious atmosphere. The pagoda's features include a three-door gate, a seven-story bell tower, a main building, a statue of Guanyin, a parking lot, a vegetarian restaurant, a public relic tower, a rest-in-peace house, and rooms for monks. The pagoda is a notable example of Vietnamese Buddhist architecture in the 20th century.
Buu Long Pagoda (Chua Buu Long) – Ho Chi Minh City
Buu Long Pagoda is not the most famous temple in Vietnam, but it is among the most beautiful temples in the world. It is located at No. 81, Nguyen Xien Street, District 9, Ho Chi Minh City; on the bank of the Dong Nai River. It takes visitors 45 minutes to travel east of Ho Chi Minh City to arrive at this site, about 20km far apart.
Buu Long Pagoda was first built in 1942. In 2007, this temple received investment in construction and restoration, becoming a typical architectural work with the combination of the architectural elite of the Nguyen Dynasty and Southeast Asian culture. It also features characteristics of the Nam Tong Zen sect, intricately carved dragons. It owns a turquoise lake reflecting white walls and a golden tower as well. Especially in this peaceful pagoda, tourists will have a chance to admire the Gotama Cetiya Stupa, which is the main stupa in the temple with the largest scale in Vietnam. It is 56 m high and consists of 4 surrounding towers, taking white as the main color, combined with brilliant gold, making it a must-visit destination on a trip to Ho Chi Minh City.
Things to Do and Avoid When Visiting Temples in Vietnam
Dress politely when visiting temples and pagodas in Vietnam. Do not wear shorts or sleeveless T-shirts. This rule applies to both women and men. Women should cover their shoulders and cleavage and wear clothes that fall below the knee.

Keep silent: Loud laughing, shouting, and teasing should be avoided when visiting Vietnamese temples and pagodas.

Pay attention to your feet: When you sit on the ground near the temples, you should also be careful not to spread your legs and point your feet towards the Buddha or the stupas. Likewise, visitors should avoid stepping on the figure of standing monks, especially on their heads, which is considered a rude act.

Take off your shoes and remove your headgear when entering a pagoda in Vietnam.

Altars in temples and pagodas in Vietnam often present a lot of fruits, cakes, drinks, etc. They are offerings to the deceased. Above all, do not touch them, it would be a great misfortune.
Above is the list of 15 must-see temples and pagodas in Vietnam. Their unique architecture, the beauty of the surrounding landscapes, and their soothing atmosphere will allow you to feel all the emotions. Want to visit these famous pagodas and temples in Vietnam, contact us right now for a tailor-made Vietnam tour.