Apart from the historical Hanoi capital and Hoi An Ancient Town, the former capital of Hue is also a must-visit destination in Vietnam, especially for culture lovers. Come and enjoy the tranquil atmosphere of this city, where you can indulge in the sacred feeling of many cultural sites.
General Information
The former imperial capital of Vietnam is located in central Vietnam, more than 10 km from the east coast. Hue City was an important political, cultural, and religious center under the Nguyen Dynasty (1802 – 1945) and has been a UNESCO World Heritage Site since 1993.
With its imperial city, the tombs of its emperors, and its various pagodas, Hue traces the rich imperial past of Vietnam. Hue is notably crossed by the Perfume River, which separates Hue into two parts: the old town and the modern city and has inspired many Vietnamese painters, singers and poets. The city of Hue is known for its refinement, its finesse, both in its music and its cuisine. Do not miss to discover Hue, the former royal city has many surprises in store for you.
Hue Weather & Best time to visit
Like the climate of central Vietnam, Hue has 2 main seasons: the dry season and the rainy season. Summer in Hue is from March to August, it is hot and the temperature can reach 40 degrees. From late August to January, it is cooler with an average temperature of 20 degrees. The rainy season from late July to October is not recommended to visit Hue.
The best time to travel to Hue, in particular, is March and April when it is generally dry and the climate is cooler, although there is still light rainfall. If you like Hue as an ancient capital with royal music, it is recommended that you visit this city during the Hue Festival which is usually held around April every year, or the Hung Kings Festival (the 10th day of the third lunar month).
Getting to

 

Hue
By plane
There are daily flights to Hue from major cities in Vietnam such as Hanoi, and Saigon (Ho Chi Minh City). Hue Airport or Phu Bai International Airport is 15 km from the city center (30 minutes by car).
Hanoi – Hue (700km): 1h10 minutes flight
Ho Chi Minh – Hue (950km): 1h25 minutes flight
By train
Hue is a stop on the famous "reunification train" which runs from north to south. The ideal is, therefore, to go there by train, you travel comfortably and cheaply.
Every day trains run between Hue and other cities in Vietnam (Hanoi, Nam Dinh, Thanh Hoa, Vinh, Dong Hoi, Danang, Nha Trang, Ho Chi Minh City…). The trains are of good quality. And you have the option of traveling according to different categories: hard seat, soft seat with or without air conditioning, hard bed, soft bed, with or without air conditioning.
Hanoi – Hue (688 km): 12 – 14 hours
Ho Chi Minh City – Hue (1038 km): 18-22 hours
Danang – Hue (103 km): 2h30 minutes
By bus
Hue has two bus stations for northern and southern destinations. This principle is the same as for trains. You can easily connect Hue with the main tourist destinations in the country.
About fifteen buses connect Hanoi and Hue every day. It is simple to find a comfortable sleeper bus that departs from Hanoi Bus Stations and Downtown to Hue Downtown or Hue Bus Stations. For the distance of 700 km, the Hanoi – Hue journey by bus takes about 14 hours on average.
Bus Ho Chi Minh – Hue (943 km): approximately 24 hours.
Bus Danang – Hue (110 km): 2-3 hours
Getting around Hue
Taxi
Hue is one of the biggest cities in Vietnam, so you can easily find a taxi in Hue. However, due to the variety of choices, the quality is not always the same for all taxi companies. Here are some taxi companies in Hue: Taxi Mai Linh, Taxi Thanh Cong, Taxi Hoang Sa, and Taxi Dong Ba.
Mai Linh Taxi: 0234.3.89.89.89 / 0234.3.82.47.47
Thanh Cong Taxi: 0234.3.57.57.57
Hoang Sa Taxi: 0234.3.75.75.75
Dong Ba Taxi: 0234.3.84.84.84
Private car
The best way to discover the city is to hire a private car with a driver. English-speaking driver with his knowledge can help you get the most out of your trip to Hue. Price and quality are negotiated before departure. Check out our Hue car rental service or contact us. Our experts are happy to provide you with all the information you need.
Xe Om (motorcycle taxi)
There are many xe om in every corner of Hue as you can find in other cities as it is a very convenient mode of transportation in Vietnam. You should always remember that traveling by motorbike is fun and a bit adventurous and, above all, the price should be agreed upon in advance.
Another option for you is Grab (like Uber). Unlike the traditional motorcycle taxi, Grab is also a way to gradually dominate the transportation market, and very convenient for tourists. There are other apps that provide taxis on demand like Be, Gojek, etc.
Bike / Pedicab
If you want to immerse yourself in the gentle rhythm of Hue, bicycles, and pedicabs are the way to go. Take a bicycle or pedicab ride through the streets and visit tourist destinations to feel the tranquil beauty of Hue city.
Boat
A boat ride is a very popular activity to experience a peaceful and romantic atmosphere on the Trang Tien River. While cruising the calm waters, you can also enjoy a performance of traditional Hue songs while admiring the beautiful scenery along the river. An imperial dinner on the boat is also a recommended activity.
Where to Stay in Hue
You will have no trouble finding accommodation in Hue of any quality at a very reasonable price. You can stay in a downtown hotel near the Perfume River. At night, this is the liveliest area with cafes and restaurants. There are hotels for all budgets. From there you can walk to the bridge and the Imperial City. Some hotels offer great views of the babbling river and even the city of Hue. For lovers of nature and tranquility, a hotel near Hue is the best option. However, a hotel near the beach is an oasis of peace for all sea and nature lovers. Here are some recommendations for you:
La Residence Hue Hotel & Spa (5-star)
Address: 5 Le Loi Street, Vinh Ninh Ward
Vedana Lagoon Resort & Spa (5-star)
Address: Zone 1, Phu Loc town, Phu Loc District
Moonlight Hotel Hue (4-star)
Address: 20 Pham Ngu Lao Street, Phu Hoi Ward
Saigon Morin Hotel Hue (4-star)
Address: 30 Le Loi Street, Phu Hoi Ward
Rosaleen Boutique Hotel (3-star)
Address: 36 Chu Van An Street, Phu Hoi
Thanh Lich Hotel (3-star)
Address: 33 Hai Ba Trung Street, Vinh Ninh
Best places to visit in Hue
This dreamy city has fascinating historical, religious, and cultural sites, as well as breathtaking natural scenery. When visiting Central Vietnam, you can combine your visit to this location with visits to Da Nang, Hoi An, and Nha Trang.
Hue Citadel
The Citadel of Hue is part of the Monumental Complex of Hue, a World Heritage Site. It is an essential place in the city. It was the administrative and political center of the Nguyen dynasty and the royal residence. Built on an area of ​​more than 500 hectares, the Citadel includes the Imperial City and the Forbidden City, which are famous for their royal architecture and royal gardens. The Citadel has seen historical ups and downs and has become an echo of the nation's glorious past. Hue Citadel is considered a relic of national significance by the Vietnamese government.
Imperial Citadel
The Imperial City is the second section of the Citadel of Hue, and it protects the most important palaces, the shrines of the Nguyen Dynasty's ancestors, and the Forbidden City. The Imperial City is surrounded by four large brick walls and was constructed between 1804 and 1833, with a system of 147 monuments.
Forbidden City
The Forbidden City is the residence of kings, it was called the Forbidden City because citizens were forbidden to enter it. In the Forbidden City there are about 50 major and minor architectural works divided. Unfortunately, it was almost completely destroyed during the Vietnam War and the 1968 Siege of Hue City.
Thien Mu Pagoda (Pagoda of the Heavenly Lady)
Thien Mu Pagoda, also known as Linh Mu Pagoda, is an ancient pagoda on Ha Khe Hill, about 5 kilometers west of the city center, on the left bank of the Huong River (Perfume River). This pagoda was built in the 1600s and has been well preserved. Thien Mu Pagoda is a must-see tourist attraction when visiting the city. The pagoda's ancient, beautiful, and sacred features draw many Buddhist visitors and pilgrims.
Tomb of Minh Mang
Minh Mang's tomb is located in Cam Ke Mountain, Huong Tra District, near Bang Lang Fork, where the Ta Trach and Huu Trach rivers form the Huong River. This tomb is located 12 km from the city center with 40 large and small monuments. This tomb is disproportionate in size: two lakes, numerous bridges crossing them, several temples and pavilions, and an elaborate burial; nothing was too big for Emperor Minh Mang.
Tomb of Tu Duc
Also called Khiem Lang, Tu Duc's tomb is characterized by its great beauty, and its enchanting natural environment reflecting the romanticism of the ruler. In addition, Tu Duc himself designed his mausoleum, which took nearly two years and the participation of 50,000 soldiers to build. Located in the middle of a pine forest and covering more than 12 hectares, the campsite consists of a lake, an islet, and large gardens. It also has 50 architectural structures spread over terraced grounds shaded by various species, including frangipani and longans.
Tomb of Khai Dinh
Khai Dinh's tomb, officially the mausoleum of Ung, is located on Mount Chau Chu near Hue. It was built for King Khai Dinh, the 12th emperor of the Nguyen Dynasty. It is the best-preserved tomb and one of the most recent (built-in 1925). The tomb is very sumptuous, with an abundance of large statues and mosaics. It is a mix of Western and Eastern architecture.
Tomb of Gia Long
Located on Thien Tho Mountain, belonging to Huong Tho Township, Huong Tra District, Thua Thien-Hue Province, this tomb is actually a series of tombs in which several members of the royal family are also buried.
Tomb of Thieu Tri
Thieu Tri Tomb, also known as Xuong Lang, one of the famous royal tombs of the Nguyen Hue Dynasty, is located behind Thuan Dao Mountain, about 8 km from Hue Citadel. It is a remnant in the monumental complex of Hue which was recognized as a UNESCO World Heritage Site on December 11, 1993. It is the final resting place of Emperor Thieu Tri, the third emperor of Vietnam's last feudal period.
Hue Royal Art Museum
The main building of Hue Royal Art Museum is Long An Palace, which is built of fine wood, more than 1000 poems can be observed on pillars. The museum displays more than 300 gold and porcelain items, such as Nguyen Dynasty costumes and royal artifacts that give visitors a glimpse into real life in Hue. Hue Royal Art Museum has 700 ceramics, glazed pottery, and woodwork from the Ly Dynasty to the Nguyen Dynasty. There are also Chinese, Japanese, and French ceramics.
Hue Museum of Royal Antiquities
The museum complex, a former school for princes and children of the upper middle class, includes several museums: one for archaeology, one for natural sciences, one for anti-colonial resistance, and relics from 1975, since the fall of Hue.
Bach Ma National Park
Dubbed an earthly paradise for nature lovers, Bach Ma National Park is known not only as the sanctuary of a rare ecosystem but also for its haunting and serene natural beauty. It still preserves a good part of the vast virgin forest with a diverse flora of 2,147 species and a fauna of more than 1,500 species, of which 93 species are on the Vietnam Red List and the World Red List.
Beaches
Beaches like Lang Co Beach, Thuan An Beach, or Canh Duong Beach in Hue are always among the best beaches in central Vietnam, attracting many tourists to Hue.
Truong Tien Bridge
Truong Tien Bridge (also known as Trang Tien Bridge) is located in the center of Hue, on the north side of Phu Hoa District, on the south side of Phu Hoi District. The bridge has 6 spiral steel girders spanning the romantic Perfume River.
Best things to do in Hue
Enjoy 'Nhã nhạc of Huế court' (Nhã nhạc cung đình Huế)
Sitting in the boat watching the Perfume River and listening to Nha Nhac (Hue folk songs) is an experience you must try when traveling to Hue. In particular, an evening boat trip allows you to watch the sparkling city of Hue and immerse yourself in the romance of Hue night.
Royal dinner
If you want to have royal experiences in Hue, we recommend that you book the Royal Dinner on the Perfume River Boat. You will have the chance to taste royal dishes while listening to traditional music and even wearing royal clothes.
Visit historic sites
The main attraction of Hue is the system of tombs, citadels, and monuments of the Nguyen dynasty. Visiting historical sites is a must-do activity on any trip to Hue. The most famous sights are the Hue Citadel and the three tombs of Khai Dinh, Minh Mang, and Tu Duc.
Visit villages
Thuy Bieu village is an ancient village located along the upstream bank of the Perfume River. In Thuy Bieu you can participate in a cooking class, discover the life of the inhabitants, take a bike ride under the trees or on a boat to admire the romantic beauty of the river or enjoy a great herbal massage.
Must-Try Foods in Hue
Hue cuisine represents the gastronomy of central Vietnam. The local cuisine will not disappoint you. You will find everything from royal delicacies to local delicacies.
Com hen (rice with clams)
This dish is one of the specialties of Hue. Clams that have been stir-fried are combined with rice, herbs, roasted peanuts, star fruit, sesame seeds, and pork cracklings before being placed in a bowl. To improve the flavor, add chili and shrimp paste. Noodles can be purchased in addition to rice for this dish.
Bun bo (vermicelli soup with beef)
"Bun bo Hue" is known as a typical Hue dish in the region and in many cities. This dish is a soup made with rice noodles, lemongrass, vegetables, and beef. It has a very spicy taste, so be careful when tasting it.
Banh bot loc (steamed shrimp dumplings)
This dish is made with tapioca flour, shrimp, pork, and onions. The wontons are then steamed and served on banana leaves. This is a dish full of flavor.
Nem lui (grilled minced pork)
"Nem lui" consists of ground pork seasoned with salt, pepper, garlic, and chives. Pork is wrapped around a stalk of lemongrass. Fresh herbs, fresh rice noodles, and rice paper are served with this dish. This is an essential dish not to be missed while in Hue.
Banh Khoai (pancake with filling)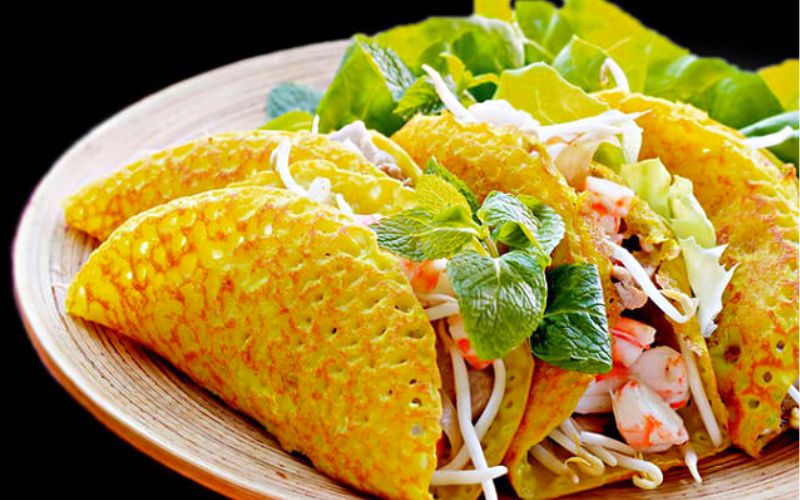 This crispy dish looks similar to banh xeo, a popular dish in Vietnam. Inside the rice cakes, the filling combines of put bean sprouts, eggs, onions, herbs, vegetables, and shrimp. They are then dipped in fish sauce. This kind of fresh and savory dish will surely leave an unforgettable taste in your mind.
Souverir
Me Xung (Sesame candy)
Me Xung is Hue's very famous type of candy in Vietnam. It is made from sugar, peanuts and sesame seeds. There are dozens of Me Xung factories in Hue City, such as Song Hy, Thien Huong, Thong Huong, Thanh Binh, Nam Thuan, Hong Thuan… Each pack sells from 20,000 to 50,000 depending on the type, brand, and quantity. The Vietnamese Dong is different.
Lotus seeds
Tinh Tam Lake Lotus Seeds are the highest quality seeds in Hue. Currently, other lakes in Hue also produce lotus seeds, but not as well as Tinh Tam Lake. If you want to buy fresh or dried lotus seeds, you can also go to Dong Ba Market, which has many kinds of lotus seeds. The price of 1 kg of fresh lotus seeds is about 200,000 VND.
Non la (conical hat)
The conical hat is not only a hat but also a craft. The conical hat is a typical souvenir of Hue and is very popular among tourists.
Where to buy: From big markets like Dong Ba, An Cuu, and Ben Ngu to smaller markets like Pho Trach. Most importantly, Dale Market is a conical market that has been maintained for hundreds of years. Price reference: 60-100,000 VND/top.
Royal tea
Royal tea is processed according to the imperial formula of the Nguyen Dynasty. Hue Royal Tea is now packaged for easy shipping. Reference price: VND 40-150,000 per box.
Where to buy: Duc Phuong Royal Tea, 24 Nguyen Hue, Vinh Ninh, Hue.
Other souvenirs
If you want to buy traditional handicrafts such as bronze statues, wood carvings, or embroidery, please check the following addresses:
XQ Silk Embroidery Gallery, 81 Tran Hung Dao Street: specializes in the production of high-quality embroidery
Dong Ba Laquer, 4 Tran Hung Dao Street: specializes in lacquer and fine arts
Nguyen Phuc Long, 8 Hung Vuong Street: specializes in bronze products
Duc Thanh, 82 Phan Dang Luu Street: specializes in silk embroidery
From culture, history, and food to relaxation, a trip to Hue offers everything you can expect. Don't hesitate to contact us now to arrange your first trip to Hue!
Start planning your tailor-made tour with 1-1 help from our travel advisors.
Plan your tailor - made trip with a local expert

Book securely with money-back guarantee

Travel stress-free with local 24/7 support