Hai Phong is located 102 kilometers east of Hanoi on the Northern Vietnam coastline. The city is a major port and industrial area in Vietnam. Hai Phong is the main traffic connection in North Vietnam, conveniently located at the crossroads of major sea routes, waterways, railways, and highways.
General Information
The word "Hai" means "ocean," and the word "Phong" means "to defend." As a result, Hai Phong can be ferocious, with its oceans repelling invaders on multiple occasions to protect Vietnam's sovereignty. However, with its temples and beaches, this city can be both magnificently elegant and rich. It is known as "Flamboyant City" because of the abundance of red flamboyant trees that grow throughout the city.
Travel 102 kilometers from Hanoi to reach Hai Phong, one of North Vietnam's most beautiful and strategically important port cities. Despite its strong commercial and industrial base, the city itself is a delightful mix of colonial and modern architecture. Temples, shrines, pagodas, mausoleums, museums, art, architecture, and restaurants serving delicious local fare are among the many cultural attractions. There are also beautiful beaches, plenty of shopping, and an exciting nightlife scene.
Streets lined with Flame of the Forest trees, which delight the eyes with their bright red blooms during the summer months, are one of Hai Phong's most iconic sights. In May, the annual Red Flamboyant Festival brings art troupes from all over Asia, as well as other performances and exhibits, to celebrate the trees' vibrant flowering.
Weather in Hai Phong and the Best time to Visit
Hai Phong experiences a cold, dry winter from November to April and a hot, humid summer season from May to October due to monsoon winds. Storms are common from June to September, with an average rainfall of 1.600 to 1.800 mm. The average humidity is 80-85%, and the average temperature is 20-23 degrees Celsius. Temperatures can range from 40°C in the summer to 5°C in the winter.
The best months to visit the city are March to April and September to October when historical exploration can be combined with outdoor enjoyment at the beach and boat tours.
How to get to and around Hai Phong
Because of the short distance between Hanoi and Hai Phong, motorbikes, buses, and trains are the most cost-effective modes of transportation.
Traveling 120 kilometers by motorcycle or train takes about 2.5 to 3 hours. Traveling by bus takes about 1 hour and 10 minutes due to the highway that connects the two cities. Here are the full instructions:
By Flight 
Flights from HCMC to Hai Phong depart daily, with fares ranging from VND900,000 to VND1.5 million.
By Bus 
Traveling by bus from Hanoi to Hai Phong, Vietnam, is the quickest option. Hai Au operates several daily buses from Gia Lam bus station to Hai Phong bus station. The trip takes about 1 hour and 10 minutes and costs 100,000 VND per ticket.
Duration: 1 hour 10 minutes
Cost: 100,000 VND
Bus station
Gia Lam bus station: 09 Ngô Gia Khảm, Ngọc Lâm, Long Biên, Hà Nội
Hai Phong bus station: 1 Thiên Lôi, Cầu Rào, Đằng Giang, Ngô Quyền, Hải Phòng
By car
Hiring a private car from other cities to Hai Phong is a bit more expensive than by bus or train. However, it is much more comfortable and convenient than the others. The distance between Hanoi and Hai Phong is 130 kilometers. It will take you only 3 hours to get there.
By train
Duration: 2.5 hours
Cost: 70,000 VND
If you dislike taking buses, taking the train to Hai Phong is an excellent option. The cost of train tickets is lower than that of bus tickets, but the journey time is longer. Daily trains run from Hanoi to Hai Phong, taking approximately 2.5 hours. Passengers can select from hard or soft seats and bring up to 20 kg of luggage per person.
By motorbike
Because Hai Phong is relatively close to Hanoi, traveling to Hai Phong by motorbike is a good option for those who enjoy the freedom of driving on their own. Travel time on either route ranges from 2 hours to 2 and a half hours.
Route 1
Take the Hanoi – Hai Phong highway for 1 hour 50 minutes, 121km distance.
Advantage: Because the Hanoi-Hai Phong Expressway has six lanes, the road surface is relatively large and convenient for travel.
Difficulties: The fee for highway travel is relatively high. Furthermore, this road is quite far from any residential areas. This road is quite far away if you are in the city center or north of the city.
Route 2
Take Highway 5 and Highway 5B for this route. This distance is the same as Route 1, but it is more erratic. The journey takes about two and a half hours. The disadvantage is that this route has high traffic fees.
Tips for traveling by motorbike
Remember to bring all vehicle documentation and to follow all road traffic safety laws when traveling by personal vehicle. You should also bring a smartphone with a downloaded or offline map to check the route. The quickest way from Hanoi is a 1.5-hour motorbike ride on the Hanoi-Hai Phong Expressway. Bus tickets are sold by the Hoang Long and Anh Huy transportation companies for VND120,000-135,000 per person. A limousine with drop-off service in the city costs between VND230,000 and VND250,000.
Where to stay in Hai Phong
Luxury hotels in downtown Hai Phong, such as Hotel Nikko, Mercure Hai Phong, and Vinpearl Hotel Imperia, are located near popular tourist attractions and have room rates ranging from VND1.2-2.5 million ($50.72-105.66) per night.
Vinhomes and Hoang Huy, as well as Dreamland – Chi house and Vancao Green Homestay, are more affordable options, with prices starting at VND250,000 per night.
There are several high-end resorts in Hai Phong, mostly on Cat Ba's pristine beaches.
The Flamingo Cat Ba Beach Resort, Hôtel Perle d'Orient Cat Ba – MGallery, Nam Cat Island Resort CatbaBay, and Monkey Island Resort all offer luxurious accommodations for as little as VND1-2 million per night.
Places to visit in Hai Phong
Do Son beach
Do Son, which stretches 22 kilometers between the rivers Cam and Van Uc, has long been a popular beach destination due to its soft white sand. Do Son processes many cultural and historical artifacts in addition to the lush natural beauty of its three beaches.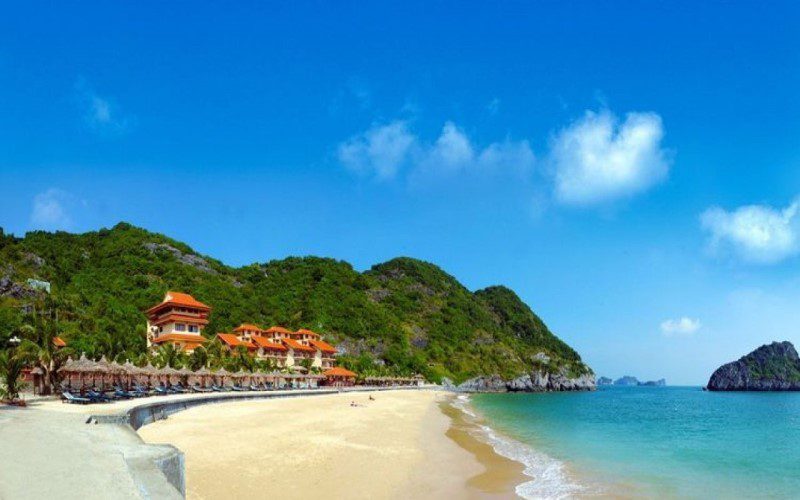 On top of Ngoc Son Mountain, there are the ruins of a ten-story clay tower and an ancient Buddhist temple (both built in the 11th century). The temple houses one of the most opulent and significant Vietnamese Buddhist bells of the time. After falling during a large storm, the bell was submerged in the ocean for several hundred years. It wasn't until 1958 that local fishermen discovered the bell and brought it back to shore.
Despite nature's harsh treatments, the bell (made of a high percentage of pure gold) continues to chime near-perfectly.
Buffalo fighting is a well-known local tradition dating back hundreds of years. Tourists visiting Do Son on the 9th of the 8th month of the year (according to the lunar calendar) can see the final rounds of this highly anticipated festive event at the town stadium.
Those interested in history may wish to visit the "No-Number Port," where ships from North Vietnam without license numbers began their journey on the Ho Chi Minh Sea route to bring aid to the North Vietnamese army during the war. Another historic site is the recently restored Bao Dai mansion, where Vietnam's last king spent many summer vacations and entertained important guests. Do Son also has a grand casino that promises fun and entertainment to all who remember to bring their passport with them when they enter.
Cat Ba Island
Cat Ba is the largest of the nearly 2000 islands that surround Halong Bay. Cat ba is home to 17.300 hectares of tropical forest, 570 of which are primeval. A diverse ecosystem with hundreds of valuable medicinal herbs and trees exists beneath the green canopy. The endangered Komodo iguana, which can weigh up to 100kg, also calls Cat Ba home. Tourists visiting Cat Ba have many options, including tropical beaches, caves, and the Cat Ba National Park.
Hai Phong Opera House 
The Hai Phong Opera House is a must-see. All of the materials used to construct it were imported from France, and the work was overseen by French architects.
The Opera House attracted an elite audience of French officials and wealthy locals who could afford tickets to shows featuring famous French troupes as well as widely recognized local talents. The Hai Phong Opera House has seating for 300 people on two floors in the main performance hall. Its plush, red-cushioned chairs sparkle with gold trim. The high domed ceiling adds to the opulence. The Kim Dong Park, just a few steps from the Opera House, has at its heart a multi-roofed building built by the French in 1942. It now serves as the Hong Bang District's public library.
Quán hoa (Flower market)
Quan Hoa, designed by the French in 1941, is a complex of small flower stalls and boutiques designed to combine Western and Oriental beauty standards. Many artists and photographers have been inspired by this bustling yet elegant flower marker.
Den Nghe (Nghe temple)
The temple is dedicated to the female general Le Chan, who is regarded as the founder of Hai Phong. The temple is unique in that it has a bed and musical stone made entirely of stone, with intricate dragon decorations.
Because Hai Phong is a harbor city, fresh seafood is abundant, resulting in the most delectable dishes you've ever tasted. The most well-known traditional Hai Phong foods use the daily catch as their main ingredient.
What to eat in Hai Phong
Banh Da Cua (Brown Noodles with Crab)
Banh Da Cua is made up of chewy brown rice noodles and two types of crab meat cakes, pork balls, and beef that are simmered in a luscious broth with greens. The soup is usually served with shredded lettuce and perilla leaves on the side. Depending on the restaurant or street vendor, chilis and nuts may be added to your bowl. This is Hai Phong comfort food, a light and delicious meal that will make your taste buds tingle.
Banh mi Pate (Bread filled with pate)
Spicy breadstick stuffed with "pate," or ground pork paste, and served with a special chili sauce is popular dish among both locals and visitors. It can be found all over Hai Phong. The most well-known bread stalls are at 28 Dinh Tien Hoang, 57 Le Loi, and 184 Hang Kenh.
Nem Cua Be (Crab Spring Roll)
Ground crab meat, ground crab tile, lean pork, kohlrabi, carrot, ear mushrooms, bean sprouts, rice paper, vermicelli, and seasonings are stuffed into these square spring rolls. The rolls are frequently served with rice vermicelli, lettuce, and cucumber slices, as well as a sweet-spicy-salty-sour dipping sauce. Fans of traditional cylindrical Vietnamese spring rolls (nem ran) will enjoy nem cua be.
Nom sua (Cool Red Jellyfish Salad)
The cool red jellyfish salad is the ideal antidote to Hai Phong's hot, sweltering summer days. Before being sliced into bite-size chunks with a bamboo knife, red jellyfish is flavored with lemons, kumquats, and other seasonings. The slices come with grilled tofu, young coconut, mint, perilla, and shrimp paste on the side.
Bun ca (Rice noodles with Fish)
The flavors of the sea and the flavors of the countryside combine in Hai Phong's fish noodles. This soup contains both saltwater and freshwater fish, as well as parts of the fish that most Westerners do not consider edible: the bladders, stomachs, and heads, all of which contribute a distinct and delicate flavor to the soup. The broth is enhanced with vegetables and noodles, creating a filling meal in a bowl.
Lau Cua Dong (Freshwater Crab Hotpot)
Nothing beats a bowl of hot soup in the winter, and lau cua dong is Hai Phong's winter remedy. Before being ladled into large bowls, an aromatic bone broth is packed with freshwater crab meat, beef, fried fish, tofu, vegetables, and mushrooms.
Sui Din
Boiling cakes of pounded rice, sesame seeds, peanuts, and coconut are placed in a bowl and drenched in a sweet-salty sauce. Chinese immigrants from Ho Chi Minh City brought this popular street food to Hai Phong.
Che dua dam (softened coconut with milk)
Dua dam, or coconut milk, is also popular in Hai Phong and can be sampled at 124 Lach Tray or 100/124 Lach Tray. This dish is popular in many parts of Vietnam, including Ha Noi and Ho Chi Minh City. Coconut flesh, coconut milk, condensed milk, and jelly combine to create a fresh, sweet, and cool flavor.
We hope the preceding article was helpful in providing you with information about Hai Phong. Please do not hesitate to contact us and begin planning your Hai Phong tours right away!