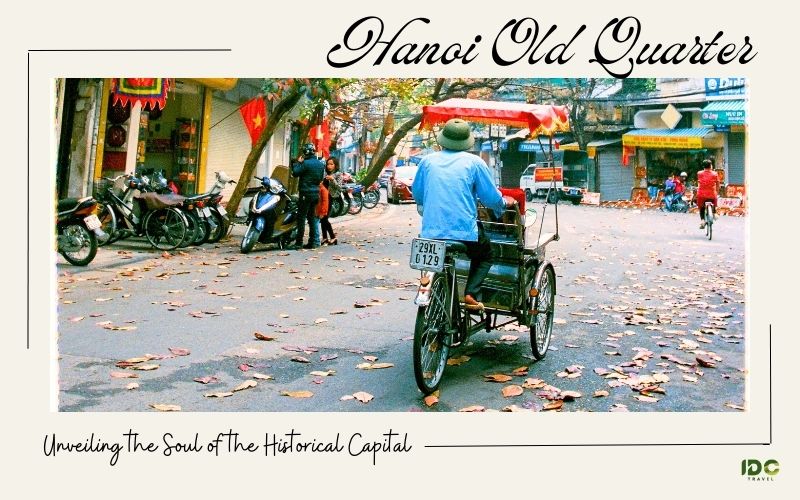 When talking about Hanoi, the phrases "36 Streets of Hanoi" and "Hanoi Old Quarter" immediately spring to mind, as they are synonymous with the city's historical narrative. The Old Quarter of Hanoi has become an alluring tourist hotspot that captivates visitors and simply cannot be missed. The fame of Hanoi Old Quarter stems from its multitude of attractions, diverse culinary offerings, lively nightlife, and distinctive handicrafts. This downtown area serves as a vivid reflection of the city's historical journey, making it an ideal destination for tourists to delve into Hanoi's culture and indulge in sightseeing on foot. If you're eager to discover more about the enchanting Hanoi Old Quarter, continue reading this article until the very end!
Location of Hanoi Old Quarter
The Hanoi Old Quarter, situated at the heart of the Hoan Kiem district, is nestled close to Hoan Kiem Lake and spans a specific area as outlined below:
– To the north is Hang Dau Street.
– To the west is Phung Hung Street.
– The southern section encompasses Hang Bong, Hang Gai, Cau Go, and Hang Thung streets.
– To the east are Tran Quang Khai Street and Tran Nhat Duat Street.
The History of Hanoi Old Quarter
The origin of the Hanoi Old Quarter dates back to the 17th century when King Ly Thai To made the pivotal decision to shift the capital from Hoa Lu (Ninh Binh) to Hanoi. As this new capital emerged, it started drawing craftsmen from the surrounding regions during the 13th century. These skilled artisans gradually came together, forming guilds and cooperatives to strengthen their trade and enhance collaboration within the burgeoning community. This collective effort laid the foundation for the development and growth of the Old Quarter, shaping it into a vibrant hub of craftsmanship and commerce.
In the 15th century, the Old Quarter of Hanoi thrived with a vibrant presence of at least 36 trade guilds. These guilds specialized in various goods and services, contributing to the area's bustling commercial activity. To reflect the nature of their trade, streets within the Old Quarter were named after the predominant goods traded by each guild. An illustration of this naming convention is Hang Tre Street, which became renowned as the hub of the bamboo (tre) market. As artisans and merchants engaged in the trade of bamboo products congregated on this street, it acquired its distinctive name, perpetuating its association with the bamboo trade throughout history.
During the 1950s, the influence of the French brought about a shift in architectural styles within the area. Western architectural influences gained prominence over traditional Vietnamese and Chinese styles. Presently, the Hanoi Old Quarter does not adhere to a singular dominant architectural style, but many of its notable landmarks showcase French architectural elements.
Hanoi Old Quarter Main's Highlights
The preserved Old Quarter of Hanoi today helps visitors get a depth insight into the rich history and cultural heritage of the city. It represents the remnants of Hanoi's 36 streets from the past, offering visitors an opportunity to envision the culture, socio-economic dynamics, and the people of the ancient Thang Long Citadel. The Old Quarter is characterized by its craft streets, which were formed by skilled artisans from craft villages surrounding the historic Thang Long Imperial Citadel. These craftsmen came together, creating distinct craft quarters that still exist today.
Among the most renowned craft streets in Hanoi's Old Quarter are:
Hang Bong Street: Known for its sale of quilts, blankets, and cushions.
Hang Bac Street: Specializes in gold and silver jewelry.
Hang Dao Street: Famous for its diverse range of fabric offerings.
Hang Ma Street: Noted for its sales of votive paper, decorations, and toys for festivals like the Mid-Autumn Festival and Christmas.
Hang Quat Street: Known for its offerings and ceremonial items.
Hang Buom Street: Famous for its assortment of sweets and jams, particularly for Tet (Vietnamese New Year).
Hang Thiec Street: Specializes in metal processing, including tin and iron, used in crafting household items.
Ma May Street: Offers a variety of travel and tourism services, catering to visitors exploring the Old Quarter.
These craft streets encapsulate the essence of Hanoi's Old Quarter, preserving the traditions and skills of generations of craftsmen. Exploring these streets provides an immersive experience of the cultural heritage and vibrant atmosphere of the area, allowing visitors to connect with the city's past while appreciating the craftsmanship and traditions that continue to thrive.
Best Things to Do in Hanoi Old Quarter
Walk around Hoan Kiem Lake
Situated in the heart of Hanoi, Hoan Kiem Lake, also known as Sword Lake, holds a special place in the city's landscape and cultural heritage. It is not only a serene and picturesque destination but also an important symbol of historical and spiritual significance. A visit to Hanoi would be incomplete without experiencing the allure of this iconic lake. Legend has it that Hoan Kiem Lake is associated with a mythical turtle deity who claimed a magical sword. The lake and its surrounding areas beautifully showcase the historical and spiritual traditions of the capital, leaving a lasting impression on visitors.
At the center of Hoan Kiem Lake stands the ancient Turtle Tower, adding a touch of intrigue and charm. The lake also features a small peninsula that hosts several renowned landmarks, including the Pen Tower, The Huc Bridge, Tran Ba Communal House, and Ngoc Son Temple. These sites provide insights into Hanoi's rich history and cultural heritage, inviting visitors to delve into the city's past. In addition to the historical and spiritual elements, a visit to Hoan Kiem Lake offers an opportunity to indulge in the delectable Trang Tien ice cream. This famous local specialty has been enjoyed for generations in Hanoi and is a must-try for anyone exploring the area.
Visit Dong Xuan Market – One of the Prides of Hanoi
Located at the westernmost side of Hanoi's Old Quarter, surrounded by Dong Xuan, Hang Khoai, and Cau Dong streets, is the renowned Dong Xuan Market. Much like Ben Thanh Market in Ho Chi Minh City or Dam Market in Da Nang, Dong Xuan Market holds great significance as a symbol and a source of pride for the people of Hanoi. The market pulsates with activity, welcoming thousands of visitors each day who come not only to shop but also to capture memorable photographs, explore its offerings, and savor the local cuisine.
This market occupies a substantial area of 6,500 square meters, housing over 2,100 stalls and 71 kiosks. It serves as a prominent wholesale market, catering to the needs of Hanoi's residents and serving as a crucial supply hub for traders. Dong Xuan Market has become an integral part of the daily lives of Hanoi's inhabitants. It offers a vast array of merchandise, ranging from fresh produce to textiles, household goods, handicrafts, and more.
A visit to Dong Xuan Market allows you to immerse yourself in the dynamic rhythm of Hanoi's daily life, witness the interplay of commerce, and indulge in the flavors and colors of this vibrant city. It is an experience that captures the essence of Hanoi and leaves a lasting impression on those who explore its bustling aisles.
Explore the Spiritual Treasures of Hanoi
Be ready for a spiritual itinerary as you delve into the historical treasures of Hanoi. Among these treasures lies the Ma May Ancient House, located at No. 87 Ma May Street in Hanoi's Old Quarter. Dating back to the 19th century, this remarkable house served as both a residence and a place of business. Through meticulous preservation efforts, the house stands today in all its original splendor, showcasing its authentic design and architectural beauty.
Another awe-inspiring landmark awaits your exploration: the renowned Old City Gate of Hanoi, affectionately known as O Quan Chuong Gate. Constructed during the reign of King Le Hien Tong in 1749, this magnificent gate proudly stands at the convergence of Hang Chieu Street, Dao Duy Tu Street, Thanh Ha Street, and O Quan Chuong Street. Crafted with stones and bricks meticulously hammered together with wooden mallets, this two-story gate features an elegant pavilion adorned with a gracefully curving roof. Once a watchtower for vigilant guards, the gate's second story now serves as a distinguished platform for displaying the national flag during special occasions, symbolizing national pride and unity. Besides, you shouldn't miss visiting the Imperial Citadel of Thang Long, which is recognized by UNESCO as a World Cultural Heritage. The citadel has a rich history dating back over a thousand years and reflects the influences of various dynasties that ruled Vietnam.
Moreover, you can also immerse yourself in the charm and heritage of Hanoi's Old Quarter through an engaging walking tour, where you'll discover the vibrant streets and fascinating history of this iconic district.
Explore the Vibrant Ancient Streets in Hanoi Old Quarter
While the passage of time has brought changes to many streets in Hanoi, a select few have retained their nostalgic allure. Step onto Hang Bac, famously known as Silver Street, and be transported by the tinkling sounds of exquisite jewelry and the animated exchanges of currency traders. Wander through Hang Ma, where a kaleidoscope of religious artifacts and festive embellishments entices visitors seeking spiritual keepsakes. And let Silk Street, or Hang Gai, envelop you in its essence, as fabric shops and skilled tailors weave a vibrant tapestry of bespoke suits and elegant dresses. The Old Quarter's legendary 36 guild streets stand as a testament to the city's rich cultural heritage, offering an enchanting voyage into the past. Explore their winding alleys, immerse yourself in the energy of the markets, and discover the stories woven into the very fabric of these time-honored streets.
Enjoy Hanoi Draft Beer at Ta Hien Street
Ta Hien Street is often hailed as a paradise for those seeking vibrant nightlife experiences in Hanoi. Renowned for its exceptional brews, Ta Hien Street stands out as the ultimate destination to savor the city's energetic ambiance while indulging in a refreshing beer. When the weather turns scorching hot, there's no better place to relish the coolness of a chilled beer alongside friends.
What sets Ta Hien Street apart is the unique atmosphere it offers. Instead of sitting in traditional pubs, you can sit down on outdoor stools, enjoying their bottles of beer that rest on similar stools. This unconventional setting allows guests to immerse themselves in the traditional and unpretentious Hanoi lifestyle. Moreover, the beer experience is often complemented by a mouth-watering array of culinary delights. Delicacies like roasted squid, fried fermented pork rolls, roasted birds, and sunflower seeds are frequently served alongside the beer, enhancing the overall enjoyment. Ta Hien Street encapsulates the essence of Hanoi's vibrant nightlife, where locals and visitors alike come together to celebrate life with the perfect blend of camaraderie, refreshing beer, and delectable street food.
Savor local street food
Within the Old Quarter of Hanoi, you'll find an abundance of culinary delights that showcase some of the finest food in Vietnam. While many foreign tourists are familiar with popular Vietnamese dishes like banh mi and pho, which are truly amazing in their own regard, there is a treasure trove of other gastronomic wonders just waiting to be discovered!
In addition to the well-known classics, the Old Quarter offers a diverse range of mouthwatering cuisines that will tantalize your taste buds. From savory street snacks to flavorful noodle dishes and delectable seafood specialties, the options are seemingly endless. Coming here, you can delve into the world of banh cuon, delicate rice flour rolls filled with savory ingredients, or savor the crispy goodness of cha ca, a local favorite featuring grilled fish with aromatic herbs and vermicelli. Don't miss out on the tantalizing flavors of bun cha, a dish consisting of grilled pork served with rice noodles and a savory broth. And if you want to challenge your taste buds, sample some exotic treats like snail dishes or fertilized duck eggs.
Beyond the savory delights, the Old Quarter also boasts an array of sweet indulgences. Treat yourself to Che, a delightful Vietnamese dessert made with various ingredients such as beans, jellies, and coconut milk, or satisfy your sweet tooth with the famous egg coffee, a unique blend of rich coffee and creamy egg yolk.
Travel Tips to Visit Hanoi Old Quarter
The Hanoi Old Quarter Night Market, also known as Hanoi Walking Street, is open from 6 p.m. to 11 p.m. every Friday, Saturday, and Sunday. During these hours, the pedestrian street comes alive, transforming into an open-air stage for various artists to showcase their talents. To fully experience the vibrant atmosphere of entertainment, dining, and art alongside the locals of Hanoi, it's important to plan your visit accordingly.
When exploring Hanoi's Old Quarter, you'll find a multitude of shops offering souvenirs that make perfect gifts for your loved ones. However, we recommend you visit these shops in the afternoon to enjoy the freedom of choice and payment. The shopkeepers tend to appreciate customers who genuinely intend to make a purchase, rather than merely inquiring without buying during the morning hours.
As the evening sets in and the pedestrian streetlights up, the entire area transforms into an outdoor stage. Talented artists come together to perform a wide range of acts, including traditional and folk performances, as well as singing, dancing, contemporary music, and more. It will be a delightful experience for you to witness these remarkable performances while immersing yourself in the lively ambiance of Hanoi's Old Quarter.
No matter where your footsteps take you within the Old Quarter, its enchanting yet bustling streets will leave an indelible impression on you. This vibrant district is a captivating fusion of historical landmarks, distinctive architecture, bustling shops, cozy cafés, and mouthwatering culinary delights, making it an unsurprisingly popular destination for tourists in Vietnam. Whether it's your first visit to the Hanoi Old Quarter or you've strolled through its quarter numerous times, this captivating neighborhood will always have something fresh and unexpected to offer. Please contact us for more details if you're planning a trip to Hanoi in the near future.