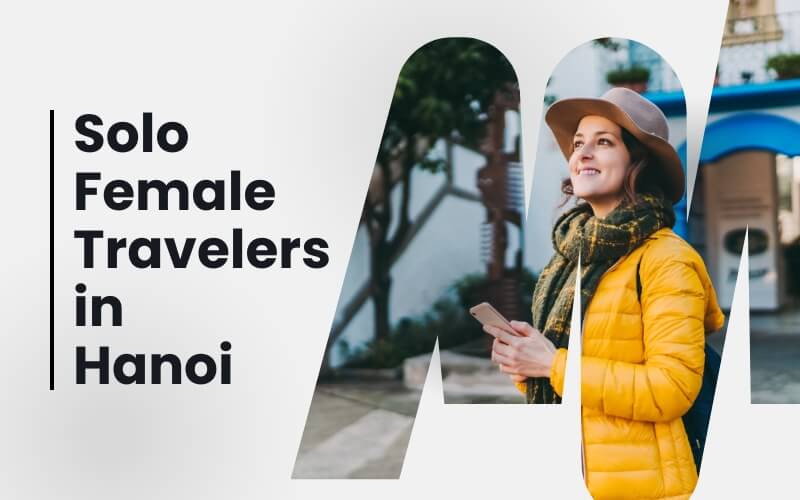 Dubbed the "City of Lakes," Hanoi stands as the second-largest city in Vietnam by population. This vibrant city earned the title of a "City for Peace" by UNESCO in 1999 and is highly favored among female solo travelers. With relatively safe streets and convenient transport options compared to other Asian cities, Hanoi offers a comfortable environment for exploration. However, it remains essential for any female solo traveler to prioritize regular safety precautions. The following are some safety tips tailored to female travelers in Hanoi.
Is Hanoi Safe for Solo Female Travelers?
Vietnam is renowned as a top destination for solo travelers, boasting friendly locals, delectable yet affordable cuisine, and a captivating mix of modernity and history. Particularly, the country's capital, Hanoi, is an ideal haven for wanderlusters who revel in cultural experiences, capturing Instagram-worthy photos, and immersing themselves in Vietnamese nightlife.
Tripzilla, a prominent travel magazine, has recognized Hanoi as one of the eight safest Asian destinations for solo female travelers. The magazine emphasizes that violent crimes against tourists are rare in this city, and most locals are friendly and welcoming.
Despite being often overlooked when discussing the best solo trips for women, Vietnam's capital offers a generally safe environment for travelers, as noted by the Singapore-based publication.
Tourists are encouraged to explore St. Joseph's Cathedral on Nha Chung Street in Hoan Kiem District, which was constructed during French colonial times and boasts a Gothic Revival style reminiscent of Notre Dame de Paris. For those with an interest in Vietnam's history, the Temple of Literature, an 11th-century Confucian temple dedicated to scholars, and the Ngoc Son Temple, honoring three significant figures in the country's history, are highly recommended must-visit spots.
More than that, Hanoi proves to be a budget-friendly destination for solo travelers, with luxury hotel accommodations averaging around US$150 per night, and meals costing approximately $10 per day, according to Tripzilla's findings.
Tips for Women Traveling in Hanoi
Map Out the Travel Itinerary In Advance
Prior to your Hanoi trip, it's essential to conduct some research on your intended destinations. Familiarize yourself with the means of transportation available in the city.
For instance, keep in mind that the Uber ridesharing service is no longer operational in Hanoi. If you prefer ride-hailing services over conventional taxis, consider options like Grab or Go-Jek. To avoid any hassle, download these respective travel apps on your smartphone before arriving in the city. This will save you time and ensure you have access to convenient rides when needed.
>>> Check our article on How to Spend 1,2,3 Days in Hanoi for amazing itinerary ideas for your trip.
Dress Politely
It is advisable for solo female travelers to wear modest clothes while exploring Hanoi or any other city in Vietnam, as the country follows a relatively conservative cultural norm.
Hanoi, being a favored holiday destination, attracts numerous tourists seeking to dress comfortably for its subtropical weather. However, there's no need to compromise style and Instagram-worthy looks. Opt for fashionable, light long-sleeved cotton blouses, or choose covered yet comfortable sundresses or slacks.
Enjoy the Nightlife Responsibly
As a solo female traveler in Vietnam, it's crucial to prioritize your safety. Enjoy the nightlife responsibly, and remember that you are solely responsible for yourself. Drinking in moderation is essential, and be aware that illegal possession of drugs, including marijuana, can lead to severe consequences in Vietnam.
Exercise caution when it comes to alcohol, as occasional cases of alcohol poisoning have been reported due to the presence of fake alcoholic beverages. Be cautious of branded liquors with unusually low prices, as they may seem too good to be true and potentially unsafe. Your safety is of utmost importance, so remain vigilant and make informed choices during your night out.
Be Careful with Your Belongings
To minimize the risk of falling victim to petty crimes, it's essential to take some precautions. Keep valuable items like jewelry, smartphones, and cameras out of sight to avoid drawing unnecessary attention and standing out as a target.
Carry only a minimal amount of cash, and consider using padlocks to secure your bags, even when they are in your hotel room. When using public transport, taxis, or cyclos, be extra cautious, as bag-snatching thieves may seize opportunities during these moments to grab your belongings and escape. Always keep your hands on your bag, ensuring it remains in a secure position, especially in crowded areas.
Be Mindful of the Local Culture and Tradition
Traditional values hold significant importance in Vietnamese culture. To avoid attracting judgmental glances, it's advisable to refrain from displaying excessive wealth. The same principle applies to clothing choices; despite the heat and humidity, dressing modestly is a sign of respect, particularly when visiting pagodas and temples where arms and legs may need to be covered.
Solo female travellers in Hanoi might encounter cultural differences, such as Vietnamese people frequently asking personal questions about age, income level, or marital status. It's essential to understand that these inquiries are not meant to offend but rather to foster a closer connection. If you feel uncomfortable answering such questions, don't worry; Vietnamese individuals won't insist or press further.
Stay Connected
While seeking the freedom of solitude, it remains crucial to maintain communication with your loved ones. Always inform someone of your whereabouts and travel plans, creating a support system in case of emergencies.
To ensure you stay connected throughout your trip to Hanoi, consider purchasing a sim card or eSIM from a reputable provider upon your arrival at the airport. This will grant you access to mobile data, enabling connectivity wherever you are in the country. Be sure to obtain your sim card or eSIM from reliable providers like Viettel, Mobiphone, or Vinaphone, as they often offer affordable tourist packages. This way, you can stay connected and share your experiences with friends and family while enjoying your solo journey.
Suggested Tours for Solo Female Travelers in Hanoi
The thrilling city of Hanoi offers solo female travelers an abundance of things to do and places to visit. It doesn't matter how many days you spend in this city, there is always something for you to enjoy.
If you are a historical lover and only have one day in Hanoi, you can visit the Ho Chi Minh Mausoleum, Hoa Lo Prison Relic, Vietnam National Museum of History, etc. Cultural lovers can pay a visit to Tran Quoc Pagoda, One Pillar Pagoda, etc. A night street food tour promises to be an unforgettable experience for adventure seekers.
>>> Check out our Hanoi full-day tour or half-day tour for more itinerary ideas.
If you have more time, 2-3 days, or even 5 days, you can consider visiting nearby tourist destinations such as Ha Long Bay, Ninh Binh, Mai Chau, Sapa, etc. These are all perfect destinations for a 2-day 1-night tour from Hanoi.
>>> See our tour examples:
Hanoi is a totally safe destination for female travelers. However, with a careful plan, your trip will be more comfortable. Don't hesitate to contact us if you want to get more advice for women travelers in Hanoi or a customized tour itinerary of your preference.