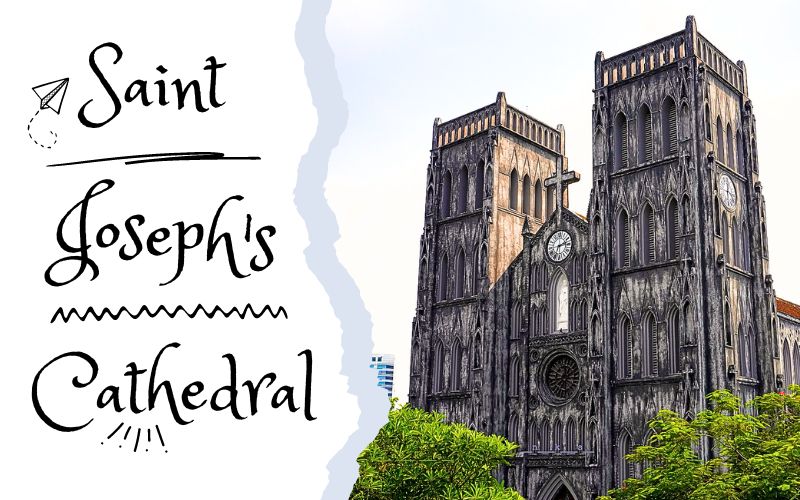 Among several famous attractions in Hanoi, St. Joseph Cathedral is one of the most popular destinations. Have yourself a chance to stop by this place and admire its unique European medieval Gothic architectural construction.
Essential Information for Tourists
Location of St. Joseph Cathedral
St. Joseph Cathedral is located right in the heart of Hanoi, detailed address at No. 40 Nha Chung Street, Hoan Kiem District. You can easily find the cathedral as it is situated at the intersection of three major streets: Nha Tho, Ly Quoc Su, and Nha Chung.
Opening Hours and Entrance Fee
You can go to this place and admire the outside architecture at any time you wish every day. However, please note that tourists can only visit inside the cathedral when there is a ceremonial practice. You can check out the ceremony schedule below to see which time is convenient.
Weekday: 5:30 AM and 6:15 PM
Saturday: 6:00 PM
Sunday: 5:00 AM, 7:00 AM, 9:00 AM, 11:00 AM, 4:00 PM, 6:00 PM, and 8:00 PM
History of St. Joseph's Cathedral
The current location of St. Joseph Cathedral was formerly Bao Thien Pagoda – a place built during the Ly Dynasty. In the 18th century, Bao Thien Pagoda was destroyed and became a marketplace for Dai Viet people residents. Next, the Catholic Church got permission from the government to build the church.
In the past, the church was built of temporary wood. From 1884 to 1888, the Catholic Church modified this place by rebuilding it with bricks. The church's official title is St. Joseph Cathedral. The inauguration ceremony of the cathedral was held on the occasion of Christmas in 1887. However, only in the 1920s did the cathedral and bishopric of the Diocese of West Tonkin move from So Kien to its present-day location in the inner city of Hanoi.
Architecture of St. Joseph Cathedral
St. Joseph's Cathedral has always left tourists with a profound impression of its unique architecture. Identified as the cathedral with the best architecture in Hanoi, this place is the typical construction for the European Gothic style. The primary building materials of the church are terracotta bricks, and the walls are plastered with mulch paper. The church has a length of 64.5 m, a width of 20.5 m, and two bell towers 31.5 m high with heavy stone pillars at four corners. A stone cross is placed on the top of the cathedral.
When entering the cathedral's hall, you can see one large door and two smaller doors on both sides of the tower. All doors and windows in this place are tapered according to Gothic art. The architects decorated the pointed doors with beautiful and harmonious stained-glass paintings of Saints, creating a natural light source inside the church. The Gothic architecture of the building is also combined with indigenous architecture, reflected in the terracotta tile roof system outside and the interior carving system. The sanctuary and the altars are decorated according to traditional folk art, carved with unique and sophisticated wooden patterns. You can find a terracotta statue of St. Joseph over 2m high in the main hall.
The cathedral also has a set of Western bells, including four small bells and one large bell. The large clock, which engraved alarms, time alarms, and alarm systems link with five bells hanging on two towers, is mounted in the middle of the church facade.
St. Joseph's Cathedral is divided into three compartments: the reception hall, the sanctuary for the ceremony, and the ceremony area. Inside the cathedral are three tombs of Cardinal Trinh Van Can, Cardinal Trinh Nhu Khue, and Cardinal Pham Dinh Tung. In the middle of the sanctuary is a statue of Saint Joseph holding Jesus; on both sides, there are altars of Our Lady and many other holy statues.
Things to Do at St. Joseph Cathedral
Join a Ceremony at St. Joseph Cathedral
Attending ceremonies is considered the most attractive activity when coming to St. Joseph's Cathedral, whether you are religious or not. Through masses such as baptisms or weddings, you can understand more about the beliefs and religions of the laity and essential rituals in a Catholic ceremony.
The cathedral will be open to visitors to visit and attend the services. You can follow the service schedule above to come to this cathedral at suitable time slots. Please note that when attending the ceremony, you must wear polite, discreet, and neat clothes and avoid making noise or having bad words related to religion and saints.
Enjoy Christmas Atmosphere at St. Joseph's Cathedral
Every Christmas, St. Joseph Cathedral is decorated more brilliantly than ever. Every stream of people flock to this place to attend the ceremony, wishing for a peaceful and happy Christmas. Non-religious people also gather here to admire a warm, sparkling Christmas atmosphere with pine trees, caves, and colorful electric lights.
Have Iced Tea at St. Joseph Cathedral
It would be a great loss if you don't try the "traditional" iced tea right in front of the cathedral. The iced tea shop is famous among young Hanoians since they always gather with friends and talk for many hours, even until late at night. It might be some simple cups of iced lemon tea, but the young vibe and the beautiful view of St. Joseph Cathedral will definitely impress you.
Places to Visit Near St. Joseph Cathedral
Hoan Kiem Lake
After visiting St. Joseph's Cathedral, you can stop by Hoan Kiem Lake since it will only take you 5 minutes to walk there. Have yourself an opportunity to feel the peaceful ambiance of Hanoi when walking around the lake and enjoy a cup of coffee with a fascinating view of Hanoi's streets.
Hoa Lo Prison Relic
Don't miss the chance to visit the Hoa Lo Prison Relic, another notable attraction near St. Joseph Cathedral. Exploring this site will expose you to numerous significant stories from Vietnam's history. It will bring you a comprehensive perspective on the harsh realities endured by Vietnamese political prisoners. You can check out the official website of this place here to have more information.
Getting to St. Joseph's Cathedral
Taxi/Grab/Private Car
The most convenient way to reach the cathedral is by taking a Taxi or using ride-hailing apps such as Grab or Be. Just provide the address, and the driver will take you directly to your desired destination.
For those seeking a more comfortable and personalized means of transportation, renting a car with a private driver is highly recommended. With this option, the driver can take and pick you up everywhere every time you wish. You can also receive some helpful travel tips from him as most drivers are local people. If you are interested in this option and need more details, feel free to contact us.
Walking
If you find your accommodation near St. Joseph's Cathedral, you can get there on foot. Enjoy the vibrant atmosphere of Hanoi's streets and admire the blend of ancient architecture and modern elements in the houses on both sides of the road, and you will have a chance to truly experience the local culture in this capital city.
St. Joseph's Cathedral is definitely a place you must visit when traveling to Hanoi. This destination will serve you a profound impression with its unique architecture and the atmosphere around it. If you want to explore more attractions in Hanoi, check out our Hanoi city tours because they will definitely satisfy your needs.