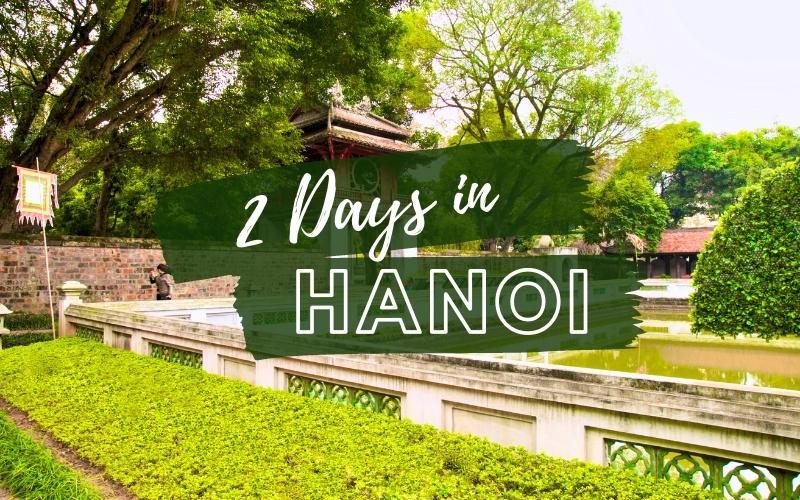 Once you step foot in Hanoi, you will surely be enchanted by its unique allure and find yourself smitten with this delightful destination. This article offers you all the essentials for your trip, including not only the suggested itineraries in Hanoi for 2 days but also the best restaurants in the city and possible souvenirs for your beloved ones.
Are 2 Days Enough for Hanoi?
If you are still considering where to spend your vacation in 2 days, Hanoi is perfect for you. Millions of tourists from all over the world choose Hanoi as the destination for their trip. This city is famous for its captivating culture, millennia of history, and an array of breathtaking sights. All of these make it a city that charms visitors effortlessly.
2 days might sound quite short for a trip. However, this amount of time is enough for you to stop by the most well-known attractions in Hanoi and experience the succulent local cuisine.
Best Time for 2 Days in Hanoi
You might wonder what time is perfect to go to Hanoi. This place is actually a year-round tourist destination, with several festivals throughout the year. Nevertheless, Hanoi is a tropical city with four distinctive seasons.
Spring: Hanoi's spring often starts from February to April with temperatures ranging from 15℃ to 27℃ and average humidity at 70%. During this time, there are several festivals occurring as this is the time of the Tet Holiday. You will find every corner of Hanoi being decorated colorfully during this time.
Summer: The summer of Hanoi is extremely hot, often taking place from May or June to the end of August. The temperatures during the summer range from 25℃ to 33℃. On the hottest day, the temperature might reach 38℃. The average humidity of Hanoi in summer is about 78% with various sudden showers of rain, causing uncomfortability to visitors who are not used to this weather.
Autumn: This is the most romantic season in Hanoi, usually lasting from September to early November. Hanoi weather during this time is especially pleasant with temperatures ranging between 20℃ to 30℃ and average humidity of about 75%. There is no sudden rain or burning heat, only wind breezing and light sunshine, so you can enjoy Hanoi at its most.
Winter: Hanoi's winter is different from winter in other countries. Although the temperature ranges from below 10℃ to about 20℃, higher than winter in several countries, it is cold because of the high humidity in the air, about 70%. Hanoi weather in winter will make you feel bitterly cold.
We suggest you spend your 2 days in Hanoi during spring or autumn, as the weather is most comfortable at this time. Therefore, you can explore Hanoi with ease. However, if you want to experience summer or winter in Hanoi, there are still several interesting activities for you to take part in.
Suggested Hanoi Itinerary in 2 Days
Itinerary 1: Best Itinerary for Urbanites
Day 1: Explore every corner of Hanoi
On the first day in Hanoi, you can spend your time visiting the famous attractions in the city. There are several places that you can explore, such as the Ho Chi Minh Mausoleum or the Imperial Citadel of Thang Long, a UNESCO World Heritage Site. These historical sites stand as testaments to Hanoi's rich heritage and storied past. Moreover, you can also visit various museums in the city to gain a comprehensive understanding of Hanoi's culture.
In addition, you can visit ancient villages in Hanoi to learn more about the traditional crafts of each place. You will also have a chance to experience making the craftwork with local craftsmen and bring the products home as souvenirs.
>>> Check out the detailed itinerary: Hanoi Full Day Tour | 4 options for a great day of sightseeing
Day 2: Experience making Hanoi traditional food
Coming to the second day, also the last day in Hanoi, you can try cooking a traditional Hanoi dish by participating in a cooking class tour. This immersive experience allows you to delve into the fascinating world of Vietnamese cuisine. Why not step out of your comfort zone and embrace something novel? Joining the cooking class, you will gain hands-on knowledge in preparing and savoring a delectable Vietnamese meal. It is a perfect chance for you to discover the secrets behind the flavors and techniques that make Vietnamese dishes so special.
Itinerary 2: Ideal Trip for Travel Enthusiasts
Day 1: Discover the charms of Hanoi
During your 2 days in Hanoi, you can have the first day to explore the beauty of this city. Not only the famous attractions, but you will also have the opportunity to experience Hanoi's unique food, from the world-famous Pho and Bun Cha to lesser-known gems like Banh Xeo and Bun Thang. The diverse culinary culture of Hanoi promises to delight your taste buds and leave you craving for more.
>>> You might find this article helpful: Best Restaurants in Hanoi for A Full-Day Food Tour
Day 2: Explore interesting places near Hanoi
If you are a globe-trotter, you might find it interesting to travel to other places near Hanoi and discover the picturesque scenery there. You can immerse yourself in the beauty of the golden rice field while floating on the evergreen river in Ninh Binh. Known as the "Ha Long Bay on Land," Ninh Binh is a refreshing escape from the bustling energy of Hanoi.
>>> Consult detailed itinerary at Hanoi – Ninh Binh 1-Day Tour
Furthermore, for travelers seeking an authentic ethnic encounter with the locals, Mai Chau presents an ideal destination for your final day. Amidst its stunning natural scenery, you will have the opportunity to immerse yourself in the rich tapestry of local culture. Beyond admiring the breathtaking landscapes, a unique and unforgettable experience awaits as you share an authentic lunch with a welcoming local family residing in the village.
>>> You can find more details at Mai Chau 1 Day Tour from Hanoi
Please note that the above itineraries only serve as the reference for your trip. You can switch the order of visiting days or change any destinations in the schedule as you wish. You can also easily create a trip with IDC Travel. Just tell us where you want to visit, and we will help you with all the rest.
Budget for 2 Days in Hanoi
You might be curious about the budget you should set aside for your 2-day adventure in Hanoi. The main expenses primarily revolve around accommodation and flight tickets if you opt for air travel. Typically, round-trip flight tickets per person range from 2,000,000 VND to 5,000,000 VND. When it comes to lodging, if you aim to keep costs minimal, you can opt for budget-friendly homestays priced between 500,000 VND to 1,000,000 VND per night. On the other hand, for those seeking a more luxurious experience, premium hotels offer opulent stays ranging from 2,000,000 VND to 5,000,000 VND per night. As for food and shopping expenses, they generally don't pose a significant burden on your budget, so you needn't fret. A sum of around 1-2,000,000 VND should more than suffice for your delightful journey spanning 2 days in Hanoi.
Ideal Souvenirs to Bring Home
After traveling around Hanoi 2 days, you might want to buy something home for your beloved ones. Hanoi provides an enchanting variety of souvenirs that beautifully embody the spirit of Vietnamese culture and traditions.
Handicrafts: In Hanoi, skilled craftsmen produce exquisite handicrafts such as lacquerware, embroidered textiles, and bamboo goods. These finely crafted articles can serve as perfect gifts for you to bring home.
Silk products: Van Phuc Village is a famous place in Hanoi for making silk products. You can visit this destination and get beautiful silk scarves or clothing to give your friends as souvenirs.
Traditional art: Traditional Vietnamese paintings, known as "Dong Ho paintings," depict scenes from rural life since Hanoi has not developed. Getting these pictures is also a wonderful option to bring Hanoi artistry into your home.
Ceramic and pottery: If you have a chance to go to Bat Trang Village, a place well-known for making pottery products, you can easily buy delicate ceramic items here as presents for your beloved ones.
>>> Discover more Vietnamese souvenirs at 14 Best Vietnam Souvenirs To Bring Home
Opting 2 days in Hanoi is a fantastic choice for a concise itinerary. In this span, you will have the opportunity to delve into the captivating history and vibrant culture of Hanoi. Moreover, your taste buds will be delighted as you savor the delectable local cuisine. For an exceptional holiday in Hanoi, consider tailoring your journey with IDC Travel. With us, you can ensure a flawless trip that matches your preference, all at a competitive price and top-notch service. Feel free to get in touch with us, as we are more than happy to provide you with the finest tour options.
Read more: