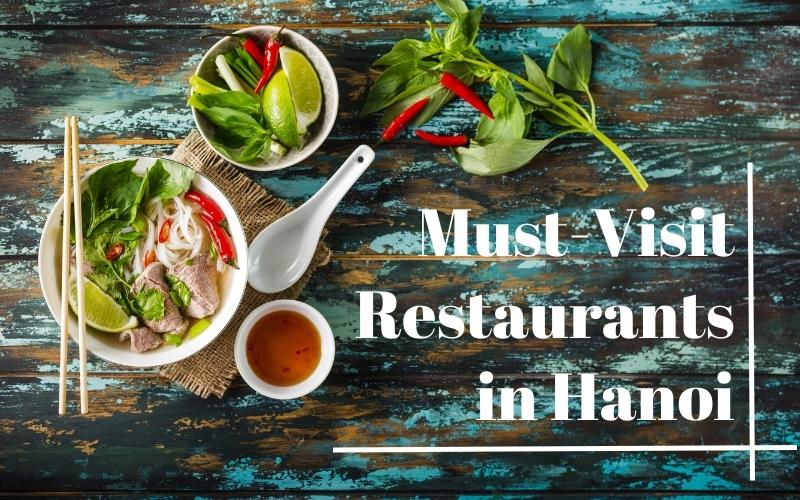 Tourists visiting Hanoi are not only interested in the famous attractions but also eager to try the city's distinctive cuisine with thousands of years of history. Hanoi is renowned for its rich culinary heritage with a wide variety of unique traditional dishes. When mentioning Hanoi, people immediately think of Pho, but Hanoians enjoy a diverse range of other dishes, carefully categorized for different meals – breakfast, lunch, dinner, and snacks. Moreover, different Hanoi dishes must be eaten at different Hanoi restaurants so that you will have the best taste of the food. In this article, IDC Travel offers you a list of recommended restaurants to experience a perfect full-day food tour in Hanoi.
Hanoi Restaurants for Breakfast
All Hanoians share the same habit of enjoying traditional breakfast. Several dishes are served as a nutritious meal to kickstart the energy for people to start an effective day. Let's become a local for one day and check out where to have the best breakfast in Hanoi.
1. Pho 10 Ly Quoc Su
Address: No. 10 Ly Quoc Su Street, Thanh Xuan District, Hanoi.
Opening hours: 6:00 AM to 9:00 PM
One of the most famous Hanoi restaurants is Pho 10 Ly Quoc Su. This Pho restaurant has appeared on many famous food review sites. It was also once visited by Former South Korean President Moon Jae-in. This place offers a bowl of Pho which broth is simmered from various beef bones, resulting in a naturally sweet taste without harshness. The homemade Pho noodles are white, translucent, and immediately melt in your mouth. As for the beef, no one ever doubts its quality since it is fresh and odor-free.
2. Xoi Yen (Yen Sticky Rice)
Address: No. 35B Nguyen Huu Huan Street, Hoan Kiem District, Hanoi
Opening hours: 6:00 AM to 11:00 PM
Xoi Yen has always been listed as one of the best sticky rice restaurants in Hanoi. Located in the Hanoi old quarter, Xoi Yen is the restaurant that serves you the best breakfast with enough energy for the whole day. This place offers you a menu with an array of different delicious types of sticky rice, such as sticky rice with chicken and mushrooms, or sticky rice with braised egg and meat. You can also customize your favorite toppings for your bowl of sticky rice. Xoi Yen also serves several beverages, such as soy milk or fresh juice, for you to enjoy with your breakfast.
3. Bun Rieu 16 Hang Luoc
Address: No. 16 Hang Luoc Street, Hoan Kiem District, Hanoi
Opening hours: 6:00 AM to 9:00 AM
Bun Rieu (Crab Noodle Soup) is a traditional breakfast in Hanoi. However, not every Bun Rieu restaurant is worth eating. Bun Rieu 16 Hang Luoc is one of the most well-known Hanoi restaurants among the locals. The restaurant has been there for more than 20 years, serving customers with quality portions of Bun Rieu. Every Bun Rieu bowl here is full of fresh beef, fluffy crab cake, fried tofu, and grilled chopped fish. What impresses the most is the tasty broth. It is the perfect combination of crab cake and fresh beef's natural sweetness and tomatoes' fragrant sour flavor, offering customers an ideal balance. This place only opens in the morning, so you should manage your schedule to have a chance to taste the best Bun Rieu in Hanoi.
4. Banh Cuon Co Phuong (Phuong Steamed Rice Rolls)
Address: No.16 Dao Duy Tu Street, Hoan Kiem District, Hanoi
Opening hours: 6:00 AM to 9:00 PM
Banh Cuon Co Phuong is always loved by not only the locals but also foreign visitors to Hanoi. Even though the restaurant is not luxurious, the food here is so delicious that customers keep coming back to taste the unforgettable flavor. The steamed rice rolls at Banh Cuon Co Phuong are made following the Thanh Tri style. The secret family recipe has been passed down through two generations, making a unique flavor of rice rolls in this place.
Hanoi Restaurants for Lunch
5. Bun Cha Dac Kim (Dac Kim Kebab Rice Noodles)
Address: No. 1 Hang Manh Street, Hoan Kiem District, Hanoi
Opening hours: 8:30 AM to 9:00 PM
Bun Cha Dac Kim is a famous restaurant in Hanoi for this traditional dish. A portion of Bun Cha at Dac Kim restaurant is sold at different prices of 40,000 VND, 60,000 VND, and 90,000 VND. You might find the price here a little higher than in other Hanoi restaurants, but a portion of Bun Cha here is often larger than in other places. The minced pork patties in each dish are soft and fragrant, while the grilled pork is perfectly cooked without any burnt taste. You can pay 20,000 VND to add a dish of spring rolls. Bun Cha Dac Kim serves you perfect rolls that have crispy outer shells and is filled with juice and delicious meat. Having lunch at Bun Cha Dac Kim is definitely a worth-the-price experience.
6. Bun Dau Co Tuyen (Tuyen Rice Noodles with Fried Tofu)
Address: At the end of Alley 29 Hang Khay Street, Hoan Kiem District, Hanoi
Opening hours: 7:00 AM to 9:00 PM
The Alley 29 Hang Khay Street is famous for rice noodles with fried tofu, so please remember to walk to the end of this alley to get to the authentic restaurant. Bun Dau is a traditional dish from Northern Vietnam. A full portion of Bun Dau at Co Tuyen restaurant consists of small and flavorful rice leaf rolls, crispy fried tofu, fatty sausages, thinly sliced and tender boiled pork, and fried green sticky rice cakes. The shrimp paste here is known for being delicious and flavorful. If you cannot stand the smell of shrimp paste, don't worry because this place also offers sweet fish sauce to go with the dish.
7. Com Suon 47 Dao Duy Tu (Baked Ribs Rice 47 Dao Duy Tu)
Address: No. 47 Dao Duy Tu Street, Hoan Kiem District, Hanoi
Opening hours: 10:00 AM to 10:30 PM
As a long-standing Hanoi restaurant in the famous old quarter, Com Suon Dao Duy Tu still follows the criteria of Delicious-and-Cheap. With only 50,000 VND, you have a rice meal as delicious as being cooked by your mother. The secret to retaining fastidious customers that make up the Dao Duy Tu Baked Ribs Rice brand is that the input ingredients are always ensured fresh, and the ribs are always ready in the kitchen, ensuring enough quantity to serve customers even at peak hours of the day.
8. West Lake Shrimp Cakes Restaurant
Address: No.1 Thanh Nien Street, Tay Ho District, Hanoi.
Opening hours: 9:00 AM to 9:00 PM
Coming to Hanoi, do not miss out on this famous restaurant. The shrimp cake is covered in a golden fried batter, giving it a unique crispy texture. The shrimp is not too big but extremely sweet and fresh. You will find it both soft and crispy when taking a bite after dipping the cake into the sweet and sour fish sauce. With the stunning view of West Lake and airy atmosphere, this restaurant is a perfect dining destination for all Hanoi's visitors. Apart from the famous shrimp cake, Banh Tom Ho Tay restaurant also serves several other dishes made from seafood, such as crab soup, crab spring rolls, grilled lobsters, or seafood stir-fried noodles.
Hanoi Restaurants for Dinner
Dinner is considered the most meaningful meal among families in Hanoi. During dinner time, all members of a family would gather together and enjoy the meal with several delicious dishes. The restaurants recommended for dinner below are suitable for families or groups of friends. Therefore, you can have quality time with your beloved ones while experiencing Hanoi's local dishes.
9. Cha Ca La Vong Restaurant (La Vong Grilled Fish)
Address: No. 14 Cha Ca Street, Hoan Kiem District, Hanoi
Opening hours: 9:00 AM to 11:00 PM
Cha Ca La Vong is a traditional dish of the Doan family. The original address of this Hanoi restaurant is No. 14 Hang Son Street, now known as Cha Ca Street. Over nearly 150 years, Cha Ca La Vong still preserves its delicious flavor, impressing every customer stopping by. The main ingredients of this dish are lang fish and snake-head fish. The fish is ensured to be firm enough not to break apart when grilled. Every piece of the grilled fish is crispy on the outside and tender on the inside. Being marinated with perfectly balanced and fragrant spices, Cha Ca La Vong offers customers an unforgettable flavor combined with a bowl of sweet and sour fish sauce.
10. Tam Vi Restaurant – Best Restaurant in Hanoi
Address: No. 4B Yen The Street, Dong Da District, Hanoi.
Opening hours: 10:00 AM to 2:00 PM and 5:00 PM to 10:00 PM
Tam Vi Restaurant is famous for its delicious flavor of Nothern Vietnamese cuisine in Hanoi. The tranquil atmosphere of this place recreates an old house with antique tables and chairs and bamboo-made chopsticks. The menu is adjusted seasonally to enhance customers' experience at the restaurant. You can order a set menu or choose individual dishes according to your preferences. There are many delicious dishes to try, such as shrimp rolls, green mango salad with dried shrimp, braised pork, and more. Customers can enjoy all the above dishes with fragrant rice to experience a traditional meal of Hanoian. In 2023, the restaurant just receive a Michelin Guide star, ensuring its best quality.
11. Pho Cuon Huong Mai (Huong Mai's Pho Rolls)
Address: No. 25 Ngu Xa Street, Ba Dinh District, Ha Noi.
Opening hours: 9:00 AM to 11:00 PM
Pho Cuon Huong Mai is a renowned brand of Vietnamese Pho Rolls. This restaurant is a must-try for people looking for delicious Pho in Hanoi. Pho Cuon Huong Mai Restaurant represents the development of Pho Rolls across three generations of a Hanoian family. The fresh flavor of Pho Rolls with soft beef dipping in the sweet fish sauce would beat every dish in Hanoi summer. Coming to this restaurant, you should never miss out on the Fried Pho. The crispy pieces of Fried Pho combined with the rich flavor of stir-fried beef would impress you profoundly. You could never find this unique taste anywhere else. Pho Cuon Huong Mai Restaurant is decorated beautifully and equipped with air-conditioners to enhance customers' experience.
12. Highway4 Restaurant – Best Hanoi Restaurant for North Vietnam Cuisine
Address: No. 5 Hang Tre Street, Hoan Kiem District, Hanoi
Opening hours: 10:00 AM to 10:00 PM
Highway4 is a restaurant in Hanoi specializing in typical Northwestern region dishes. The restaurant owns a distinctive menu of Vietnamese cuisine with diverse and attractive dishes. Highway4's food is of very rustic origin, using only clean ingredients, satisfying safety and hygiene standards. No need to travel to the far Northwest, you still can experience regional dishes. Why not give yourself a chance to dine here because this Hanoi restaurant is also named in the Michelin Guide list.
Must-try Snack Bars in Hanoi
13. Nom Long Vi Dung (Long Vi Dung Dried Beef Salad)
Address: No. 53 Dinh Tien Hoang Street, Hoan Kiem District, Hanoi
Opening hours: 9:00 AM to 12:00 PM
Nom, or dried beef salad, is a traditional snack of Hanoians. A hearty plate of dried beef salad at Long Vi Dung restaurant will leave a lasting impression on you. The fresh vegetables combined with rich flavored dried beef and sweet mixed sauce create a unique taste to this Hanoian salad. The ambiance of the restaurant is perfect for you to observe the pedestrians while enjoying the salad. Why don't you try experiencing it to fully feel Hanoi's vibe?
14. Che Nha Suvy (Suvy House Sweet Soup)
Address: No. 33 Quang Trung Street, Hoan Kiem District, Hanoi
Opening hours: 11:00 AM to 9:00 PM
Che Nha Suvy is famous for a dessert called "Che Khuc Bach". This Hanoi restaurant offers you a bowl of Che with a rich and milky taste of milk jelly, big fresh longan, and fragrant almonds. You can find various young people coming to this place to enjoy the dish. If you have a sweet tooth, this dessert is perfect for you, especially in the hot summer of Hanoi.
15. Duong Hoa Caramel
Address: No. 29 Hang Than Street, Hoan Kiem District, Hanoi
Opening hours: 10:00 AM to 11:30 PM
The restaurant is one of the oldest Hanoi restaurants serving dessert. Duong Hoa Caramel is open year-round, but most crowded during summertime. Caramel, or flans, has become the typical dish of this place. Simply made with three main ingredients, including eggs, milk, and coffee, but the caramel here is surprisingly smooth and fluffy. This dessert restaurant serves about ten different types of caramel in order to satisfy all customers' requirements. You can also try other desserts here, such as mango sweet soup or coconut jelly. These are the favorite desserts of Hanoians of all ages.
We hope this article on the best restaurants in Hanoi would be helpful for you to have the best food tour and be able to try all the local delicious food of the capital city. If you want to explore more destinations in this city, feel free to contact us. It is our pleasure to help plan your trip to Hanoi and serve you all the best local experience.
Read more: