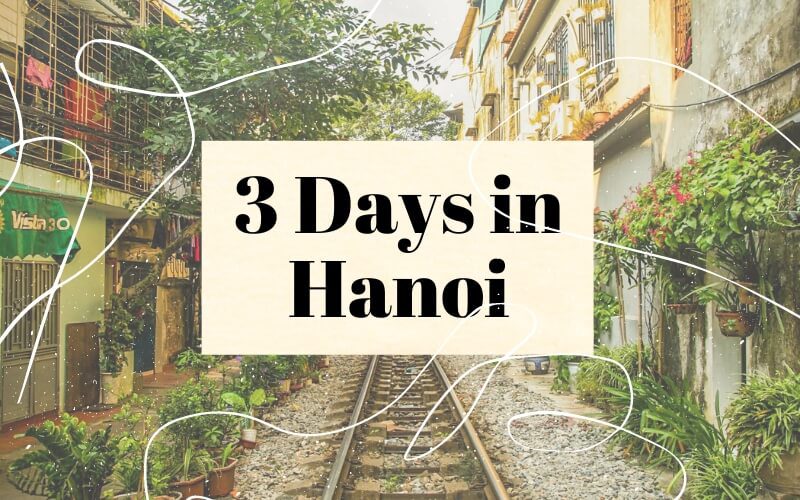 You might wonder in your head, "Is it enough to travel around Hanoi in 3 days? Or is it too much time for a city?" Hanoi is one of the must-visit cities in Vietnam. You will never regret spending your time exploring all the beauties of this capital city. This article will help you answer all your questions, including recommended times to visit Hanoi as well as advice for you on places to stop by and special cuisine to experience.
Why Visit Hanoi in 3 Days?
If you are planning a short trip for about 3 days, Hanoi, the capital city of Vietnam, is the perfect destination for you. With thousand years of culture and rich heroic history, you will find several attractions in this city to explore.
Coming to Hanoi, 3 days are enough for you to travel around, discover every corner here, and learn more about the culture and history of this city. Multiple museums and historical sites are waiting for you. You can also experience Hanoi's diverse cuisine to fully immerse yourself in the local atmosphere.
Moreover, if you seek some novel experiences with extraordinary scenery, you can spend one full day exploring locations nearby Hanoi and discovering amazing things there. 3 days in Hanoi would give you an unforgettable adventure.
Best Time for 3 Days in Hanoi
Hanoi has different beauty in different periods of the year. You can enjoy the appeal of Hanoi every time you travel to this city. However, due to its tropical condition, Hanoi's weather is separated into four distinctive seasons: Spring, Summer, Autumn, and Winter. The question is, "When is the best time for you to start your 3 days trip to Hanoi?"
Hanoi's weather in summer is extremely hot, with the highest temperature up to 40ºC outside. Therefore, visitors are not suggested to come to Hanoi during this time. You should travel to Hanoi in October and November since these are the autumn months in Hanoi. You can avoid the heat as well as sudden downpours of summer. Hanoi's weather during this time is truly comfy, with ideal temperatures ranging from 18 – 28°C and pleasant breezes blowing.
Another perfect time for your journey to Hanoi is January and February. During these two months, the capital city is changing from winter to spring, so the weather is a combination of cold and warm, bringing a chilly atmosphere for you. Moreover, the Tet Festival, the biggest festival of Vietnamese, usually occurs in one of these two months. Coming to Hanoi during this time, you can immerse yourself in the festive atmosphere of Hanoi and enjoy the vibrant decorations all around the city.
Ideal Itineraries for Hanoi 3 Days
Option 1: Itinerary for Leisure Travel
Day 1: Explore Hanoi
On the first day of your trip, after arriving in Hanoi and settling the luggage at your hotel, you can go and visit Hanoi Old Quarter. The unique ancient architecture here would impress you right the moment you come.
You can discover Hanoi on this first day in the way you wish. There are multiple interesting sites for you to explore near the Old Quarter, such as Hoa Lo Prison or Ho Chi Minh's Mausoleum. This first day is perfect for you to learn more about Hanoi's culture and history.
Day 2: Discover Hanoi's Traditional Village
Coming the next day, you would have time to experience exciting activities in some out-of-town destinations like Bat Trang Village or Duong Lam Village. The driver will pick you up at your hotel and move to the village. Immersing in the tranquility of the rural town, you will have the chance to understand the culture of the country town in Vietnam and the traditional handicrafts. Additionally, you will be able to participate in making handmade products with the locals.
>>> For further details, you can check out Duong Lam Ancient Village 1 Day
Day 3: Try Being a Local Cook
During your last day in Hanoi, taking part in a cooking class tour would be a great choice for you. You will be able to explore several exciting things about Vietnamese food. Experience Vietnamese cuisine at restaurants is surely convenient, but why don't you try something new? You will have the opportunity to prepare and enjoy a traditional Vietnamese meal yourself. It would be an unforgettable memory on your 3 days trip.
Option 2: Itinerary for Fast-pace Travelers
Day 1: Experience Hanoi Street Food
The first day arriving in Hanoi is the ideal time for you to visit the Old Quarter. After a long trip to arrive in the city, it would be an impressive adventure for you to explore every corner of Hanoi and try the unique street food to refill your energy. Several famous restaurants gather in this area, offering you a wide range of culinary choices.
Day 2: Full-Day City Tour
Having a full day in Hanoi, don't miss the chance to travel around and visit inner-city attractions. Every attraction has its own meaning in the process of formation and development of Hanoi, reflecting the struggling past of Hanoians. You can visit the Imperial Citadel of Thang Long or St. Joseph's Cathedral to admire the unique architectural constructions. Visitors to Hanoi also go to the Temple of Literature as well as various museums in the city. At each site you visit, you will have the chance to learn more about the rich culture and heroic past of Hanoi.
Day 3: Explore Nearby Attractions
Being the center of Northern Vietnam, there are several worth-visiting destinations nearby Hanoi. If you are an art person and love to discover the various types of art, spending one day in Bac Ninh would give your trip a perfect ending. This place is the hometown of folk singing in Vietnam as well as Dong Ho traditional paintings. You will also have a chance to indulge in the charms of Bac Ninh and savor the delicate traditional cuisine of this place.
In addition, if you prefer an ethnic experience with the locals, Mai Chau would be an ideal destination for you on your last day. Not only discover the picturesque natural landscapes, but you can also have an authentic lunch with a local family living in the village, gaining a comprehensive understanding of their culture as well as daily life.
>>> Consult the detailed itinerary at Mai Chau 1 Day Tour
Option 3: Itinerary for Exploring Lovers
Day 1: Discover Hanoi City
You can spend your first day discovering Hanoi city. There are various attractions for you to visit, such as Hoan Kiem Lake or West Lake. These two lakes are situated in the center of Hanoi, so you will find it easy to move around. If you love the sacred atmosphere, there are a lot of famous temples and pagodas in Hanoi for you to explore. You will surely fall in love with their special architecture.
Day 2 & 3: Experience New Ambience
Dedicating the last 2 days of your trip to travel outside Hanoi would bring you a novel experience. If you are a nature lover and want to explore the old Citadel of Hanoi, Ninh Binh is the perfect stop for you. You will be able to discover several famous attractions in this province and immerse yourself in the golden rice field while floating on the evergreen river.
>>>Perfect Ninh Binh trip for you: Ninh Binh 2 Days 1 Night
However, if you love to indulge in the beauty of the ocean and its impressive natural features, why don't you enjoy your last 2 days at Ha Long Bay? You can pleasantly feel the tranquility of the sea and admire the breathtaking natural beauty here. You will be able to enjoy a comfortable space on a cruise and discover not only the caves but also the small islands on the ocean. 2 days in Ha Long Bay would satisfy your travel spirit and give you a memorable experience.
The order of to-visit attractions and traveling days can be switched up flexibly. Therefore, you can adjust any of them to make it more suitable for your trip. If you find the suggested itineraries not appropriate, you can easily create your trip with IDC Travel.
In addition, you can also choose destinations outside of Hanoi for your trip. Most tourists coming to Vietnam do not stay in one certain city but choose Hanoi to be their first stop, discover the city, and then travel onward to other locations to explore the country.
>>> Read more:
What to Eat for 3 Days in Hanoi
Pho – Hanoi Traditional Cuisine
Pho Hanoi is a famous Hanoi dish all over the world. Pho is special thanks to the sweet and clear broth simmered from cow bones. The chewy rice noodles combined with a bit of green onion, chili vinegar, and fresh vegetables create the perfect flavor that you cannot find elsewhere.
Besides Pho with beef, Hanoians also like to eat Pho with Chicken. The soup of Chicken Pho and Beef Pho have different processing methods. While Beef Pho uses bone broth, Chicken Pho soup is the water used to cook the chicken, which has the warm taste of ginger. If you have the opportunity to come to Hanoi, do not miss out on this dish.
Bun Cha
If you want to discover the unique traditional flavors of Hanoi, Bun Cha is a dish not to be missed. Bun Cha is not only a delicious meal, but this dish also serves as a way to enjoy the simple and genuine life of Hanoians.
Hanoi's Bun Cha is considered one of the famous culinary symbols of the city, imbued with culture and history. This dish consists of tender and fragrant grilled pork balls that are meticulously seasoned, along with fluffy vermicelli and fresh vegetables. The unique flavor of sweet and sour dipping sauce blends with vegetables and spices to create an attractive dish.
Cha Ca La Vong
Cha Ca La Vong is a traditional dish that is only available in Hanoi. This dish is famous for the firm piece of fish, which are fragrant and carefully seasoned. The fish is grilled at the table until ripe, giving off an attractive scent. Cha Ca La Vong is usually served with a bowl of rice noodles and fresh vegetables. This dish is often used with shrimp paste. However, if you are not used to the rich taste of shrimp paste, Cha Ca La Vong can also be served with sweet and sour dipping sauce.
During 3 days in Hanoi, you can enjoy the delicious Cha Ca La Vong in Cha Ca Thang Long Restaurant, located at No. 6B Duong Thanh Street. This restaurant just received a Bib Gourmand from Michelin Guide for its high-quality food and beautiful dine-in space.
Vietnamese Egg Coffee
Egg coffee is a special drink made from a delicate combination of strong Vietnamese coffee and egg yolk. Created in the 1940s in Hanoi, this coffee has become the capital's cultural symbol and specialty.
When enjoying egg coffee, you will feel the characteristic aroma with a great blend of coffee flavor and soft egg cream. This is not only a cup of coffee but also a unique culinary experience, giving you a warm and relaxing feeling, especially on the windy days of Hanoi.
Budget for Hanoi Itinerary 3 Days
You might wonder how much money you should prepare for 3 days in Hanoi. The highest expenses are mostly flight tickets and accommodation. It usually costs from 2,000,000 VND to 5,000,000 VND for round tickets per person. As for accommodation, if you want to set your budget to the lowest, you can choose some homestay with a price ranging from 500,000 VND to 1,000,000 VND per night. However, you can also experience luxurious staying at premium hotels with a price from 2,000,000 VND to 5,000,000 VND per night. Expenses for food and shopping might not cost you much, so you don't have to worry. About 3,000,000 VND is more than enough for you in 3 days.
Traveling to Hanoi in 3 days is an ideal option for your short itinerary. During this time, you can discover the interesting history and culture of Hanoi. More than that, you also have the chance to experience all the delicious local food here. If you tend to spend your holiday in Hanoi, why don't you customize your trip now? With IDC Travel, you can have a perfect trip at its best price and service. Don't hesitate to contact us, we are always glad to offer you the best tours.
Read more: