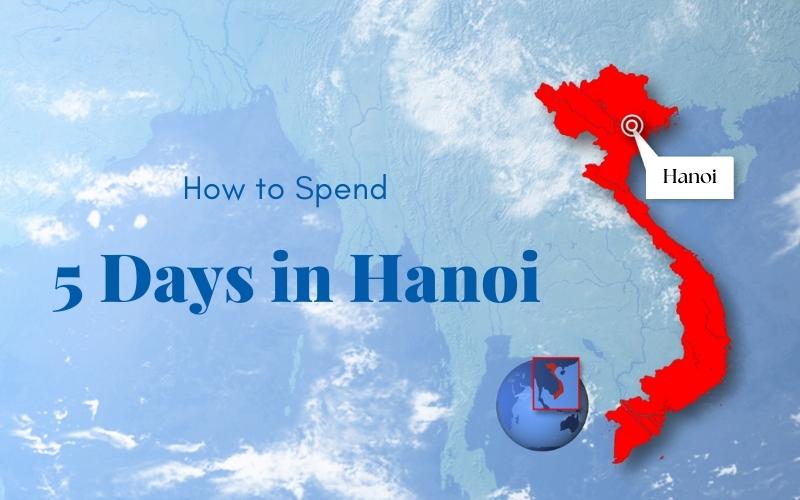 The following article will unveil exciting itineraries to make the most out of your 5 days in Hanoi & Northern Vietnam. You will have a chance to embark on a memorable journey to a captivating place where tradition meets modernity, and every corner reveals a fascinating tale.
Is 5 Days Enough to Visit Hanoi?
Generally speaking, 5 days is a reasonable amount of time to visit Hanoi and its surrounding area, allowing you to experience many of North Vietnam's highlights. While you won't be able to explore every single aspect of Hanoi in five days, it is ample time to get a good taste of the city's culture, history, and cuisine.
During your Hanoi 5 days tour, you can explore Hanoi Old Quarter, visit iconic landmarks like the Ho Chi Minh Mausoleum and the Temple of Literature, take a leisurely stroll around Hoan Kiem Lake, and delve into the city's unique blend of French colonial architecture and traditional Vietnamese structures. You'll also have the opportunity to try the diverse street food scene, take a cyclo ride through the narrow streets, and immerse yourself in the bustling atmosphere of local markets.
If you wish to venture further, day trips to nearby attractions like Ha Long Bay or Ninh Binh are also possible from Hanoi. You can visit these places and return to Hanoi within a day or stay there for 1 night.
Places to Visit in Hanoi 5 Days
Hanoi City Center
Hanoi city center with famous landmarks such as Hanoi Old Quarter, Hoan Kiem Lake, the Temple of Literature, Ho Chi Minh Mausoleum, etc. is a must-visit destination for every trip to Hanoi. These attractions will take you around one day to discover them all. Starting in the early morning, you can visit Ho Chi Minh Mausoleum, followed by One Pillar Pagoda and Ho Chi Minh Museum. After that, you discover the Temple of Literature before stopping for lunch. In the afternoon, you can visit Hoa Lo Prison Relic and the Imperial Citadel of Thang Long, both are essential historical relics reflexing Hanoi's long history and culture.
>>> For more ways to explore the center of Hanoi city, you can refer to our list of Hanoi day tours here.
Hanoi's Traditional Villages
In the vicinity of Hanoi lie numerous traditional villages, providing a captivating glimpse into the rustic charms of Vietnamese life and craftsmanship. Within this enchanting cluster, Bat Trang Pottery Village stands renowned for its exquisite ceramic pottery, while Van Phuc Silk Village excels in the art of silk weaving. Additionally, Dong Ho Painting Village (in Bac Ninh province, just 50 kilometers from Hanoi city center) boasts a rich tradition of woodblock printing. Immerse yourself in the allure of these age-old practices, as skilled artisans showcase their time-honored production techniques. This unique opportunity allows you to acquire authentic handmade goods directly from the gifted craftsmen themselves.
Ninh Binh
You may seek respite from the bustling city of Hanoi 5 days by embarking on a day tour to the picturesque Ninh Binh, where the serene countryside beckons. Revel in the choice between the enchanting Tam Coc or Trang An boat trips, both of which offer breathtaking views of the mesmerizing karst landscape. Don't miss the opportunity to ascend to Mua Cave's viewpoint, providing an awe-inspiring panorama of the entire region. For a deeper connection with the surroundings, consider venturing on a cycling adventure through the tranquil countryside.
Yet, if time permits, it is highly advisable to extend your stay to a minimum of two days in Ninh Binh or even longer. This allows you to savor a more comprehensive exploration of the area, unraveling its hidden treasures and embracing the tranquil beauty of this Vietnamese countryside gem.
Sapa
Situated approximately 350 km north of Hanoi, nestled close to the Chinese border, lies the charming village of Sapa. This picturesque destination is renowned for its breathtaking vistas, especially the awe-inspiring valley adorned with terraced rice fields that come into full view on clear days.
Encircled by majestic mountains, Sapa offers a scene straight out of a postcard, with its peaks rising above in every direction. While the landscape's grandeur is sometimes softened by the caress of dense fog cascading over the summits, the vibrant presence of local hill tribes infuses the city with a kaleidoscope of colors, adding an enchanting touch to this already mesmerizing setting.
Within your Hanoi itinerary 5 days, you can take a night train to Sapa and spend about 2 days trekking, visiting minority villages, seeing terraced rice fields, etc. in Sa Pa.
Ha Long Bay
Renowned as one of Vietnam's most celebrated destinations, Halong Bay captivates with its captivating allure of limestone islands, each a masterpiece of nature's craftsmanship, earning it a coveted spot on the UNESCO World Heritage List. With an impressive array of approximately 2000 islands, lush greenery envelops many of them, inviting visitors to embark on delightful walks amidst the pristine landscapes. A treasure trove of caves further adorns these islands, adding a sense of mystery and wonder to the experience.
The ultimate way to embrace the magic of Halong Bay is through a memorable cruise, which offers an intimate encounter with these majestic islands. You will get up close with the wonders of nature, and relish excursions to fascinating caves and enchanting floating villages, where the daily rhythm of life unfolds amidst the waters.
>>> Check our Ha Long Bay cruises for the one that best fits your preferences.
Suggested Hanoi 5 Days Itinerary
With 5 days in Hanoi, you have so many places to visit and things to do. The only problem is how to plan your trip smartly so that you can save more time and money while still gaining exceptional experience. The following are some suggested itineraries for Hanoi 5 days:
Itinerary 1: Hanoi Itinerary 5 Days For City Lovers
Day 1: Arrive in Hanoi, you will be picked up at the airport and transferred to your hotel in Hanoi Old Quarter. Take a short break before joining an evening food tour.
Day 2: Hanoi Full-day Tour. In the morning, you will visit the Ho Chi Minh Mausoleum, One Pillar Pagoda, and the Temple of Literature. After lunch, continue your journey to Bat Trang Pottery Village or Van Phuc Silk Village if you want.
Day 3: Depart for Ha Long Bay at 08:00 am and arrive there at around 12:00 pm. Embark on a cruise and follow its itinerary to discover the gorgeous bay.
Day 4: End of the cruise program at noon and return to Hanoi.
Day 5: Depart Hanoi. If time permits, you can go shopping around Hanoi Old Quarter for some exciting souvenirs for your relatives and friends.
Itinerary 2: Hanoi Itinerary 5 Days For Hiking Lovers
Day 1: Arrive in Hanoi, you will be picked up at the airport and transferred to your hotel in Hanoi Old Quarter. Take a short break before joining an evening food tour.
Day 2: Enjoy a day trip to Ha Long Bay. You will discover this world heritage site of Vietnam on a 4-hour or 6-hour cruise. Have lunch on the boat. Return to Hanoi in the late evening for an overnight staying.
Day 3: Transfer to Sapa in a private car. Check in at the hotel and experience Red Dao Herbal Bathing before having dinner.
Day 4: Trek Mount Fansipan in the morning and then return to Hanoi.
Day 5: Depart Hanoi.
Itinerary 3: Hanoi Itinerary 5 Days For Sightseeing Lovers
Day 1: Arrive in Hanoi, you will be picked up at the airport and transferred to your hotel in Hanoi Old Quarter. Take a short break before joining an evening food tour.
Day 2: Depart for Ha Long Bay at 08:00 am and arrive there at around 12:00 pm. Embark on a cruise and follow its itinerary to discover the gorgeous bay.
Day 3: End of the cruise program at noon and return to Hanoi. Overnight in Hanoi
Day 4: Enjoy a full-day tour of Ninh Binh province. Starting at 07:30 am in Hanoi, you will arrive in Ninh Binh at around 10:30 am. Your first stop is Hoa Lu Ancient Capital. Then, transfer to Tam Coc, embark on a bamboo boat to row along Hoang Long River while observing magnificent limestone karts, seeing local people catching fish, etc. Return to Hanoi at 04:00 pm.
Day 5: Depart Hanoi.
Please note that these itineraries are customizable. Don't hesitate to contact us if you want a tailor-made tour for yourself. Also, to save money on international flight tickets, you should combine visiting Hanoi with other tourist destinations in Vietnam, such as Da Nang, Nha Trang, Sai Gon, Phu Quoc, etc. Not only cutting down on the travel cost, you will also enjoy a fulfilled experience of Vietnamese people, history, culture, and landscapes.
Consult our following tour itineraries for more ideas on where to go and what to do when visiting Vietnam:
Steps to Plan a Perfect 5 Days in Hanoi
Choose the Best Time to Visit
For the most favorable weather, consider planning your Hanoi 5 days trip during two distinct periods: February to April and October to November.
Spring, spanning from February to April, offers a delightful experience with its warm, sunlit days and pleasant temperatures. The landscape comes alive with colorful blooms, creating a picturesque setting. Average daily high temperatures gradually increase from 20°C to 28°C (68–82°F) during this season.
Alternatively, the fall season from October to November brings sunny and drier conditions to the city. The weather remains mild and inviting, with reduced humidity. Average high temperatures range from 25°C to 29°C (77–84°F), making it an ideal time to explore the wonders of Hanoi and Halong Bay without the sweltering heat.
If you want to steer clear of crowds and secure budget-friendly options, the optimal time to explore Hanoi is during its low season, spanning from May to September. Throughout this period, you'll encounter fewer tourists, enjoy economical accommodations, and stumble upon enticing deals. However, it's essential to be mindful that this time aligns with the hot, humid, and rainy season, resulting in periodic showers and occasional storms.
Get Vietnam Visa
To enter Vietnam, you need a passport that is valid for at least 6 months from the entry date. The visa exemption policy for up to 45 days is applied to citizens from Korea, Japan, Sweden, Finland, Norway, Denmark, the United Kingdom, France, Germany, Russia, Italy, and Belarus.
From August 15th, 2023, visitors from all countries and territories in the world can apply for a Vietnam E-Visa, which is eligible for 90 days, instead of 30 days as before.
To apply for Vietnam E-visa, you need to follow these steps:
Step 1: Prepare enough documents: (one 4×6 passport photo, jpg images of your passport data, valid passport, temporary address in Vietnam, points of entry and exit, and debit/credit card for payment of visa fee).
Step 2: Enter the website of the Immigration Department of Vietnam, refer to "E-visa Issuance" and choose "Outside Vietnam foreigners"
Step 3: Upload your .jpg photos and fill in all the required information.
Step 4: Pay the visa fee (US$25)
Step 5: Copy the document code. Use this code to allocate your visa online after 3 working days. Download and print it out (at least 2 copies for safety).
>>> For more information on Vietnam Visa, please refer to our directions here.
Choose a Tour Style
You may want to go in a group or on your own. However, opting for a tour guide during your journey in Hanoi comes highly recommended. With a knowledgeable guide by your side, you can anticipate a tailor-made itinerary, unlocking the most authentic facets of Vietnam's capital. Moreover, your guide will expertly navigate the bustling city, circumventing traffic jams in the downtown area.
Especially in regions like Sapa, Mai Chau, and Ninh Binh, where transportation systems may pose challenges, a private guide will arrange a suitable vehicle for your convenience. They'll accompany you to local markets, ensuring an immersive experience. Additionally, your guide will lead you on safe hiking routes, guaranteeing an enjoyable and secure adventure.
When traveling in a group, individual needs may not be fully met, while venturing alone demands extensive planning and transportation organization. Embracing a tour guide one more time helps to streamline the process, granting you the freedom to relish a seamless and enriching journey.
Find the Best Place to Stay during Hanoi 5 Days Tour
For optimal accommodation choices in Hanoi, look no further than the Old Quarter and West Lake areas.
Staying in the Old Quarter presents numerous advantages, including easy access to transportation, an abundance of restaurants, shops, spas, and budget-friendly hotels. However, bear in mind that the area can be noisy at night, and traffic jams are common. Many tourists opt for hotels such as Sofitel Legend Metropole Hanoi, Hotel de l'Opera Hanoi, MGallery by Sofitel, and Hilton Hanoi Opera. These establishments offer stunning views of Hoan Kiem Lake and are conveniently situated within walking distance of the downtown area.
In the emerging urban district around West Lake, you'll find an array of new hotels, including luxurious options like the Waldorf and InterContinental hotels. While they offer opulent experiences, they may not truly represent the authentic essence of Vietnam.
Learn about Hanoi Food Culture
Hanoi is actually a food lovers' paradise. Here, you will find an abundance of Indian, Chinese, Korean, and other countries cuisines. However, Hanoi food itself is genuinely mouthwatering and will never get you bored even if you spend 5 days in Hanoi or more. Beyond famous dishes like Pho and Banh Mi, you can try bun cha, pho rolls, banh cuon, cha ca la vong, etc. Common street foods such as tofu, dried beef salad, boiled snail, etc. will also delight your taste buds.
>>> Check out the most authentic Hanoi food that you should never miss when visiting this beautiful city.
To sum up, 5 days in Hanoi is not too long or too short. It is enough for visitors to discover almost all aspects of the city and even nearby destinations. The important thing is to plan your trip smartly to save time for transportation and unexpected expenses. Contact us right now to plan a perfect 5 days Hanoi itinerary to unlock the traveling experience far beyond.
Read more: