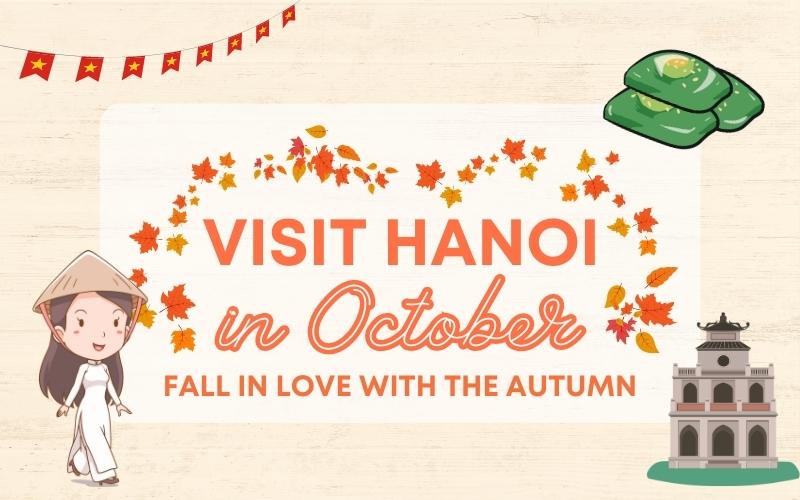 In October, Hanoi started to enter autumn, the most beautiful and romantic season. Even for those who were not born and raised in this city or are just travelers who accidentally stop by during the autumn, the scent of this season is hard to fade in their minds. Hanoi's autumn is so gentle that the fatigue will gradually disappear when you simply walk down the street. Why hesitate any longer but find out what Hanoi's appeals are in October with IDC Travel!
Hanoi Weather in October
October is the perfect time to come to Hanoi and enjoy the comfort and coolness of autumn weather. In this month, the city enters autumn with charming and gentle beauty. The weather in Hanoi in October is usually very pleasant and varied, giving visitors a comfy experience.
In October, the temperature in Hanoi ranges from about 22-29°C, with sunny days and clear skies. This is an ideal condition for you to participate in outdoor activities. During the day, you can wear a light jacket or sweater, depending on how you feel. However, the temperature can drop and get cooler in the evening and early morning, so you should bring warm clothes to avoid catching a cold.
October is also the season of little rain, which soften the air and make the landscape more lush. This also creates favorable conditions to comfortably explore Hanoi's famous historical sites and scenic spots.
Best Places to Visit in Hanoi in October
Imperial Citadel of Thang Long
The Imperial Citadel of Thang Long, one of Vietnam's heritage sites recognized by UNESCO, is the ideal destination for visitors in October. Coming to this place, you will have the opportunity to discover part of Vietnam's prominent and heroic past.
With its poetic landscape and fresh air, October is an excellent time for you to visit the historical sites, impressive gates, and sophisticated architecture in the Imperial Citadel. You can walk down the historic streets, see unique architectural construction, and learn about the stories behind every corner of this ancient capital.
Not only offering rich historical knowledge, Thang Long Imperial Citadel is also a place for visitors to enjoy the peaceful atmosphere and learn more about Hanoi's rich culture. Take the time to visit the Imperial Citadel of Thang Long and immerse yourself in the ancient cultural atmosphere of this city.
West Lake
In October, when autumn comes, West Lake becomes brilliant with beautiful natural scenery and fresh air. Located in the heart of Hanoi, West Lake is one of the attractive destinations that you should never miss out on.
The weather at West Lake during this time is not too hot like in summer. You can rent a bicycle to cycle around West Lake to admire the scenery and enjoy the atmosphere of Hanoi in October. Cycling around West Lake also gives you a local experience when you are immersed in the streets of Hanoi's capital.
Things to Do in Hanoi in October
Visit the Flower Alley
October is the time when flowers in Hanoi bloom. Visitors can choose the West Lake Flower Valley as a destination to enjoy the flowers. There will be countless kinds of flowers for you to explore, from the typical species of Hanoi such as lotus or peach blossom to famous flowers in other regions like buckwheat or dandelion.
Stepping into the flower valley, you will find yourself in a green and peaceful space of nature. West Lake Flower Valley is not only a place to visit and take photos but also an ideal destination to relax and enjoy the fresh air. You can walk around, sit down to enjoy a hot cup of coffee, or relax in birds singing.
Ride a Duck Boat at Truc Bach Lake
If you want to enjoy the autumn scenery of Hanoi with a whole new experience, why not join the duck boat ride on Truc Bach Lake?
You will be able to lead the duck boat on the water yourself and explore Truc Bach Lake from a whole new perspective. Riding a duck boat is an activity that is not only fun but also helps to exercise your strength and agility. You will find it highly relaxing when riding the boat on the freshwater, enjoying the fresh air and the serenity when stepping away from the hustle and bustle of the city.
Enjoy Hanoi's Specialties in October
Don't miss the chance to experience traditional dishes when you travel to Hanoi in October. One of Hanoi's autumn specialties is green rice. Hanoi's green rice can be processed into several different dishes, including green rice cake, sticky green rice, fried green rice, and many other delicious snacks. Each dish offers unique flavors that fascinate diners. You can choose the most delicious and attractive dishes made from green rice based on the taste and needs of your family.
In addition, in the cool weather of autumn, don't forget to get yourself a chance to try famous Hanoi dishes like Pho or Bun Cha. You will surely enjoy the hot dishes of Hanoi in the cool air of October. The diversity of Hanoi's cuisine would amaze you with an array of delicious food.
Tips to Visit Hanoi in October
October is one of the most beautiful times in Hanoi. However, to have a great trip, please pay attention to the following tips!
In addition to the essential personal items, when coming to Hanoi, you should bring a thin jacket or scarf in case the weather cools down in the evening.

The rains in Hanoi's autumn are sometimes downpours and quite heavy rain. So remember to bring umbrellas and raincoats to keep yourself dry.

You can move between locations by taxi or Grab. But renting a car with a driver is most convenient since you can move without worrying about anything. The driver can introduce you to several good places to dine in because he is a local.
Traveling to Hanoi in October will surely bring you exciting experiences with ancient landscapes and delicious dishes. With the above useful information, you can make a specific plan for your trip to Hanoi in October. You can customize your trip with IDC Travel to get rid of all unwanted risks and have the best holiday in Hanoi.
Read more: