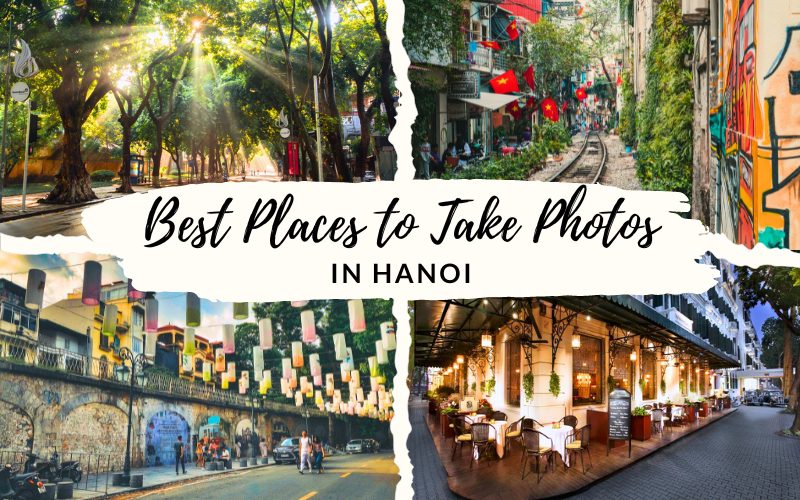 Coming to Hanoi, a city with a thousand years of culture, you will surely be amazed by the city's beautiful landscapes and constructions imprinted with traces of time. Every corner of Hanoi is perfect to be a part of your photos. Let's check out the lists below to explore the local spots to take beautiful photos in Hanoi!
Hanoi Old Quarter – A Symbol of Hanoi Architecture
If you love the nostalgic beauty of Hanoi, the Old Quarter is a beautiful photo spot for you. This fun place in Hanoi will serve you the perfect old background for your vintage photos. Hanoi Old Quarter is not only a clear proof of the imprint of time but also brings a sense of the idyllic pace of life in this capital city.
It is the image of rows of old houses covered with years of color that make Hanoi Old Quarter special. The Old Quarter deserves to be one of Hanoi's most beautiful places to take photos, so you can comfortably check in and enjoy the atmosphere.
Hanoi Train Street
Train Street is an ideal location for you to capture stunning photos in Hanoi. The curved segments of the railway passing through the Old Quarter attract several tourists to visit and experience. In the morning, there are fewer trains passing by, allowing you to freely explore the narrow alleys and immerse yourself in the local daily life. As evening approaches, the sightseeing activities pause, giving way to a time of sitting, observing the train street, and enjoying food and drinks. With an authentic Hanoi backdrop, you will be able to capture wonderful photos that you cannot find anywhere else.
St. Joseph's Cathedral
Another beautiful place to take pictures in Hanoi is St. Joseph's Cathedral. Located at the intersection of 3 streets: Nha Chung – Ly Quoc Su and Nha Tho, this is not only a place for Christians but also a famous photography spot in Hanoi. If you are seeking a beautiful outdoor photography location in Hanoi, the Cathedral will be in the top 1 as it offers you beautiful scenery and is completely free.
Just standing from the outside, you can take many stunning pictures thanks to the Gothic architecture of the Cathedral. This place's sacred beauty and impressive architecture will make your photos more soulful than ever. In addition, you can also come here from 7:00 AM to 11:30 AM or 3:00 PM to 9:00 PM on Sundays if you want to explore the inside of the Cathedral.
New Hanoi Newspaper Office – Favorite Spots of Young People
The New Hanoi Newspaper Office is already familiar among young Hanoians because this is one of the famous places to take photos in the center of Hanoi. The space is really impressed by the nostalgic retro colors. Old bulletin boards, yellow walls, and green-painted windows would be excellent materials for your photos, taking you back to the golden age of newspapers. Since the office is located in the Old Quarter area, you can go out on weekends to take beautiful pictures during your trip to Hanoi.
Phung Hung Mural Street – Old Hanoi Captured in Wall Paintings
Phung Hung Mural Street is a collection of 20 artworks about the old days of Hanoi. This place serves as a vintage Hanoi backdrop for many travelers to capture a special moment. You will encounter murals depicting scenes of a diverse range, from bustling markets to women carrying street-vendor baskets, reflecting Hanoi's life through several decades.
During the daytime, the street exudes a poetic charm. Meanwhile, when night falls, lanterns light up, adding an enchanting and surreal touch to Phung Hung Street. Don't miss out on the opportunity to visit and take stunning photos during your trip to Hanoi.
Phan Dinh Phung Street – Classic Place to Take Photos in Hanoi
If you have the opportunity to go to Phan Dinh Phung Street in the fall, you can definitely take poetic and romantic photos. On the two sides of the road are shady hundreds of years old trees, with yellow leaves falling loosely in Autumn. You can walk on the sidewalk and choose your favorite corners. Phan Dinh Phung, the most beautiful street in Hanoi, is a great choice for those looking for a beautiful place to take photos of Ao Dai.
Long Bien Bridge
Long Bien Bridge is a piece of historical evidence and a symbol of tragic and heroic years. Bringing classic nostalgia, Long Bien Bridge has become the most preferred free check-in place in Hanoi that you should not miss out on. The best time for you to come here to take pictures is around 4:00 AM to 5:00 AM, when there is no traffic, or from 4:00 PM to 5:00 PM, the golden hour.
Long Bien Bridge is one of the vintage places to take photos in Hanoi that young people visit often. The special thing about this bridge is its rusty condition and the daily image of the people around it. That oldness creates several poetic, romantic, and emotional photos.
Sofitel Legend Metropole – Luxurious Photo Spot
Sofitel Legend Metropole Hotel is a good suggestion for those who want to take a couple of photos. This gorgeous photo spot in Hanoi is known as an "oasis" in the heart of the capital, with luxurious dishes and elegant space. Sofitel Legend Metropole Hotel has just received five-star ratings from Forbes Travel Guide in 2023. With old French architecture and luxury cars around, this will be an excellent place for photos with luxury style.
Intercontinental West Lake Hanoi
Intercontinental West Lake is undeniably one of the most luxurious and sought-after hotels in Hanoi. Even if you don't have the chance to stay as a guest, don't miss the opportunity to visit this exquisite establishment. Indulge yourself in the delightful experience of their afternoon tea set, meticulously crafted with delectable treats and fine teas.
For photography enthusiasts, Intercontinental West Lake presents an idyllic setting to capture stunning moments with your glamorous outfit. The view of West Lake and elegant furniture provide a perfect background for your photoshoot, and the impeccable service ensures you feel like a true star during your visit.
It would be a big loss if you didn't take any pictures while traveling to Hanoi. Why don't you choose one of the above places to take photos of your beautiful memories in Hanoi? This city has several attractions that you should visit. You can customize your trip with IDC Travel, we are always glad to bring you the best service.
Read more: