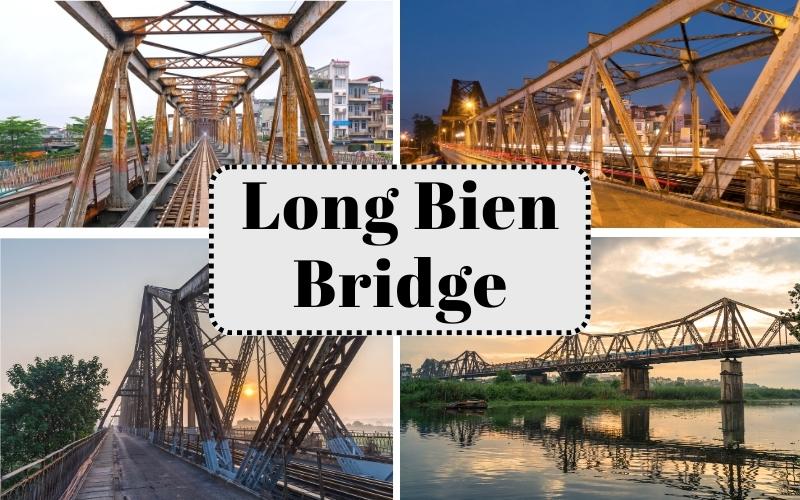 The vibrant city of Hanoi – Vietnam's capital is renowned not only for its distinct cultural traits, bustling modernity, and delectable traditional cuisine but also for its iconic structures that hold deep significance for the people of Hanoi. Among these architectural wonders, Long Bien Bridge stands as a testament to the city's resilience during the two resistance wars and bears witness to the profound transformations that have shaped Hanoi in the recent era.
History of Long Bien Bridge
Long Bien Bridge, an emblem of Hanoi's history, holds the distinction of being the city's first steel bridge and one of the earliest constructions by the French in Vietnam. Erected between 1899 and 1902 under the visionary architects Daydé & Pillé from Paris, the bridge was initially christened after the Governor-General of French Indochina, Paul Doumer. However, after the Vietnamese victory over the French in Dien Bien Phu in 1954, it was rightfully renamed Long Bien Bridge.
In its early days, Long Bien Bridge stood tall among the world's greatest bridges, a marvel of engineering. Constructed within a remarkable timeframe of three years and nine months, the bridge involved the labor of over 3000 Vietnamese workers and a dedicated team of approximately 40 French directors, engineers, experts, and foremen. Nevertheless, it became a significant tool for the French colonial exploitation policy, enabling them to exert control over North Vietnam with ease.
During the fierce resistance war against the United States, particularly from 1965 to 1972, Long Bien Bridge became a strategic target due to its vital role in linking Hanoi and Hai Phong, the two major cities of North Vietnam. Subjected to relentless bombardments by US aircraft, the bridge endured a total of fourteen attacks, destroying most of its spans. The remnants of the bridge now serve as poignant reminders of our country's indomitable past, with Hanoi standing as a poignant witness to those tumultuous times.
In peacetime, Long Bien Bridge adapted to the increasing vehicular traffic since the 1990s by restricting usage to trains, motorcycles, bicycles, and pedestrians. Beyond its transportation function, the bridge remains a cherished historical landmark, drawing in both residents and visitors who seek to connect with the storied heritage of Hanoi and Vietnam at large.
Unique Architecture of Long Bien Bridge
Spanning an impressive length of 2290 meters, Long Bien Bridge gracefully traverses the waters of the Red River, forming a vital link between two districts of Hanoi: Hoan Kiem and Long Bien. This cantilevered steel marvel has witnessed the ebbs and flows of history, its rails now tinged with time, and its narrow roads weathered and rough, running alongside the railway tracks. Revered by many, Long Bien Bridge is likened to a silk ribbon gracefully adorning the serene beauty of the Hanoi capital.
From a distance, the silhouette of the bridge emerges against the canvas of the azure sky, serving as a welcome sign that you have entered the embrace of Hanoi.
Standing upon the bridge, you cannot help but be enchanted by the breathtaking panorama of the city. The Red River meanders beneath, embracing lush alluvial grounds, while boats bustle along its currents, painting a lively scene. The riverbanks reveal a verdant expanse of banana fields and corn-alluvial plains, stretching like an immense green carpet in every direction.
Things to Do When Visiting Long Bien Bridge
Stroll along the Bridge
At night, while standing on Long Bien Bridge, a magnificent view of the city center unfolds before you, sparkling in its splendor from a distance. Missing out on taking a stroll along the bridge, relishing the gentle caress of the evening breeze while anticipating the passing night train, would truly be a missed opportunity. This bridge offers a captivating spectacle, drawing those seeking respite from bustling city life to savor moments of rare relaxation in its embrace.
Take Beautiful Photos
When visiting Long Bien Bridge, make sure to bring your camera to capture the awe-inspiring scenery. The bridge's rustic charm complements both traditional and modern outfits, making it a sought-after location for youngsters who wish to immortalize their youth against the vibrant backdrop of the capital city. On the other hand, the elderly often frequent the bridge to reminisce about the nation's heroic history, finding solace in its enduring presence.
Admire Sunset and Sunrise
Long Bien Bridge is renowned as one of the prime spots in Hanoi for witnessing breathtaking sunrises and sunsets. During these moments, the sun casts its radiant glow upon the bridge, creating a mesmerizing display of twinkling reflections on the river below. The sight is truly magnificent and unparalleled, offering a unique experience that cannot be replicated anywhere else in the capital city.
Enjoy a Cup of Coffee with Long Bien Bridge View
Perched on the 4th floor of Serein Cafe & Lounge at No.16, Tran Nhat Duat Street, you have the perfect setting to savor authentic Vietnamese coffee while engaging in lively conversations with friends, all while gazing upon the charming Long Bien Bridge. The vantage point from this spot also treats you to views of a bustling nearby market and the scenic Red River Flower Garden. With Long Bien Bridge gracefully adorning the background, this spot becomes an ideal haven for visitors seeking to capture numerous beautiful photos and create lasting memories.
How to Get to Long Bien Bridge
Situated approximately one kilometer east of Hanoi Old Quarter, the bridge is easily accessible by various means of transportation. If you are within a short distance, walking, bicycling, or motorbiking to the bridge is a convenient option. However, if you are coming from a more distant location, you can opt for a bus ride and alight at the Long Bien Bus Stop. Numerous buses, including numbers 01, 14, 15, 18, 22, 34, 41, 47, 50, 55B, and 36CT, conveniently pass by this stop, providing easy access to the iconic bridge.
>>> We highly recommend joining a motorbike tour, watching the sunset over Long Bien Bridge, and then heading to Hanoi Old Quarter for interesting nightlife activities. Check out the itinerary here.
The more than 100-year-old Long Bien Bridge is more than just a tourist destination, it is a witness of Hanoi's long history. So, don't miss out on visiting this city's symbol once you are here. Plan your trip with us now if you are ready for an amazing Hanoi city tour.