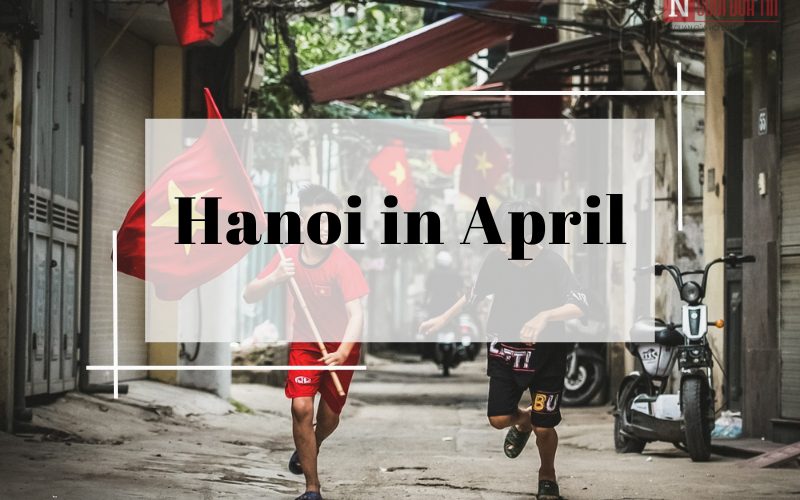 April in Hanoi brings forth a delightful spectacle of beauty and renewal, as the city transforms into a vibrant canvas of spring blossoms and festive celebrations. The mild and pleasant weather makes it an ideal time to wander through the enchanting streets, soaking in the magnificence of Hanoi's historic landmarks. The city's contagious energy invigorates both locals and tourists, as they revel in the delectable cuisine and lively entertainment. Amidst breathtaking scenery and cultural treasures, Hanoi in April becomes an enchanting feast for the senses, captivating all who have the pleasure of experiencing its allure. In the following article, let's delve into Hanoi's weather conditions in April and things to do here for an ultimate experience.
Hanoi weather in April
As April arrives, Hanoi transitions into its summer season, bringing with it rising temperatures. The days become warmer, with temperatures ranging from 71°F (21.7°C) to 80°F (26.7°C), accompanied by an average of 2.7 hours of direct sunlight during the 12.6-hour days. The warmth begins to set in around noon and extends until 7 pm at the start of the month. As April progresses, the warmer hours shift, beginning around 10 am and lasting until 10 pm by mid-month. Towards the end of April, the entire day remains warm.
While April marks the end of Hanoi's spring, it also signals the approach of the wet season, commencing in May. Rainfall gradually increases, doubling compared to March, with an average total of 90.1 mm spread over 13.3 rainfall days. With a humidity level of 83%, unexpected showers are common throughout April, intensifying as the month progresses. Rainfall is most frequent around noon, and by 8 pm, the skies usually clear up.
However, this is still a good time for outdoor activities in Hanoi, especially experiencing nightlife. Remember to bring breathable clothes and a light jacket for cooler evenings.
Things to Do in Hanoi in April
Enjoy the Holiday of the Dead
The Holiday of the Dead (also known as Thanh Minh Day in Vietnamese), is a significant occasion celebrated on the third day of the third lunar month in Vietnam. This day holds great importance for families as they gather to pay respect to their ancestors and departed loved ones. Prior to visiting the gravesites, families engage in thoughtful preparations by cleaning and painting the tombs, showing reverence to their ancestors' memories.
Additionally, Thanh Minh Day is often referred to as Cold Food Day, during which many Vietnamese people enjoy cold dishes throughout the day. This traditional practice adds a unique cultural touch to the solemnity of the occasion, as people take time to honor their ancestors' spirits and share meaningful moments with their families.
Feel the Heroic Atmosphere of the Reunification Day
Traveling to Hanoi in April on Vietnamese National Day and Labor Day, celebrated together on April 30 and May 1, promises an exhilarating and vibrant experience. Throughout Vietnam, these significant holidays are marked with enthusiasm and joy. In Hanoi, the festivities are truly remarkable, with captivating parades, dazzling fireworks displays, and mesmerizing cultural performances. The city streets come alive with a sea of flags and banners, evoking a spirited and patriotic ambiance.
It's worth mentioning that these holidays are peak travel periods, with many locals journeying to reunite with their loved ones. Consequently, accommodations and transportation may be in high demand, leading to potential price increases and crowded spaces. To ensure a smooth and delightful trip, it's advisable to book accommodations and transportation well in advance.
Participate in Thay Pagoda Festival
The Thay Pagoda Festival holds significant cultural and historical importance in Vietnam, taking place annually at the Thay Pagoda, situated approximately 30 kilometers west of Hanoi city. This vibrant festival typically occurs on the 7th day of the third lunar month, which usually falls in April on the Gregorian calendar.
The Thay Pagoda, also known as the Master's Pagoda, is a venerable Buddhist temple with roots dating back to the 11th century, during the reign of the Ly dynasty. This sacred temple is dedicated to Thich Ca Buddha, who is believed to have preached there.
Throughout the festival, people from all corners of Vietnam gather at the Thay Pagoda to pay their respects to Thich Ca Buddha and actively participate in a diverse array of cultural activities. These engaging events include captivating traditional Vietnamese opera performances, awe-inspiring martial arts demonstrations, and enchanting puppet shows, providing a joyful and culturally enriching experience for both locals and visitors alike.
Join Hung Kinh Festival
If you seek more activities near Hanoi in April, make your way to Phu Tho province, approximately 50 miles away, to partake in the mesmerizing Hung Festival. This grand celebration takes place on the tenth day of the third lunar month and pays homage to Vietnam's first kings with captivating rituals and cultural performances. According to folklore, these legendary rulers were descendants of the Dragon and the Fairy, and their contributions shaped the destiny of Vietnam.
Throughout the festival, various engaging activities take place, such as lighting incense at temples and shrines dedicated to the Hung Kings, participating in cultural and sporting events, and relishing traditional Vietnamese delicacies like Giay cake and Chung cake.
The Vietnamese Government acknowledges the Hung Kings Festival as a national holiday, while UNESCO has proudly designated it as an intangible cultural heritage of humanity, underscoring its profound significance in the country's cultural tapestry.
Visit Bac Ninh from Hanoi
From Hanoi, you can embark on a day tour to Bac Ninh province, which is just 1-hour drive. This province is well-known for its peaceful atmosphere and as the land of historical and cultural heritages with famous temples such as Dau Pagoda, Do Temple, But Thap Pagoda, etc. It is also home to the traditional Quan Ho Folk Song, which was also recognized as an intangible cultural heritage by UNESCO in 2009. Visiting Bac Ninh in May, you can participate in the Do Temple Festival, which is organized from the 14th to 16th day of the third lunar month, generally in April on the Gregorian calendar.
>>> Join our Bac Ninh Cycling Tour 1 Day from Hanoi to feel the tranquility and peace of this cultural-rich land.
Enjoy Authentic Hanoi Food
Visiting Hanoi in April, you should not miss its authentic dishes, such as:
Bun Cha
Bun cha, a beloved Vietnamese delicacy, has captured the hearts and taste buds of food enthusiasts worldwide. Originating in Hanoi, this delectable dish has now become a staple across the country and beyond. At the core of bun cha is succulent grilled pork, marinated with a flavorful blend of fish sauce, sugar, garlic, and various seasonings, imparting a delightful aroma and taste. The juicy pork is grilled over charcoal to perfection, creating a smoky and tender goodness.
Accompanying the grilled pork are rice noodles, creating a harmonious combination of flavors and textures. To elevate the dish further, a plate of fresh Vietnamese herbs, such as crisp lettuce, aromatic mint, and fragrant coriander, is served, adding a burst of freshness to each bite. But what truly elevates the bun cha experience is the tantalizing dipping sauce. A perfect harmony of fish sauce, vinegar, sugar, chili, and garlic, the sauce infuses the dish with a sweet and tangy kick, leaving a lasting impression on the palate.
Hanoi Coffee
Hanoi's coffee culture is a captivating fusion of traditional and modern elements, deeply influenced by its French colonial past. Egg coffee, an absolute favorite among locals and visitors alike, dominates Hanoi's coffee scene in April. This unique concoction blends aromatic coffee with egg yolks, sugar, and condensed milk, resulting in a luxurious and velvety texture. Served both hot and cold, egg coffee offers a delightful balance of flavors that delight the palate. Another beloved option is ca phe sua da, Vietnamese iced coffee. Prepared with dark roasted coffee beans and sweetened condensed milk, the refreshing brew is poured over ice, creating a delightful combination of sweetness and boldness. Ca phe sua da is a perfect choice for beating the heat on a scorching day in Hanoi in April, satisfying coffee lovers with its invigorating taste.
>>> Want to discover more coffee dishes in Vietnam, you can refer to our Vietnamese Coffee: A Drink of Country Spirit.
Vietnamese Steamed Rice Rolls (Banh Cuon)
Banh cuon, also known as steamed rice rolls, is a beloved Vietnamese delicacy cherished for its delicate rice flour sheets brimming with a savory blend of pork, mushrooms, and aromatic ingredients. Commonly enjoyed as a delightful breakfast or a light snack, this dish is a true culinary delight.
To craft these exquisite rice rolls, a thin rice flour batter is gently poured onto a cloth suspended over a pot of simmering water. Slowly steamed to perfection, the resulting rice sheet is lifted with care and filled with the delectable pork and mushroom mixture, then gracefully rolled into a delectable cylinder. Served with a dipping sauce artfully crafted from fish sauce, sugar, vinegar, and chili, and garnished with crispy fried shallots and fresh herbs like coriander and Vietnamese mint, banh cuon offers a delightful interplay of flavors and textures, creating a wholesome and mouthwatering experience.
While banh cuon can be savored throughout Vietnam, it thrives exceptionally in Hanoi, the birthplace of this culinary gem. It will be a big mistake if you explore the streets of Hanoi in April without indulging in this exquisite dish. It promises to unveil the authentic and delectable essence of Vietnamese cuisine that leaves an indelible mark on any traveler's taste buds.
>>> Find more authentic Hanoi foods to enjoy at our comprehensive list here.
Tips to Visit Hanoi in April
April emerges as an ideal time to explore Hanoi, offering respite from the chilly winter and sweltering summer. The month ushers in pleasant temperatures, providing a delightful window to savor Hanoi's charms before the forthcoming heavy rainfall that dominates May's weather. For an ultimate experience in Hanoi in April, please remember the following things:
When venturing into Hanoi's streets, donning light and airy attire is advised to stay comfortable amidst the warmth. Equipping yourself with rain gear, such as an umbrella and a thin rain jacket, is a wise move as sporadic rainfall can surprise you and your fellows.
Towards the end of April, Hanoi bustles with energy as Reunification Day and International Labor Day converge, beckoning families from all corners of Vietnam to embrace the capital's allure. However, this festive fervor brings in large crowds, and many businesses may close during this extended break. It's best to plan your visit accordingly to ensure a smooth and enjoyable experience in Hanoi.
Dress politely when you visit temples and pagodas in Vietnam or join their traditional festivals.
Bring mosquito repellents and bug sprays, especially when you go with your children, as the high humidity of Hanoi weather in April can cause more insect activities.
Hope this piece of information has provided you with the essential information for your trip to Hanoi. Plan your vacation with us if you are not confident about where to start, how to organize the itinerary and others.
Read more: