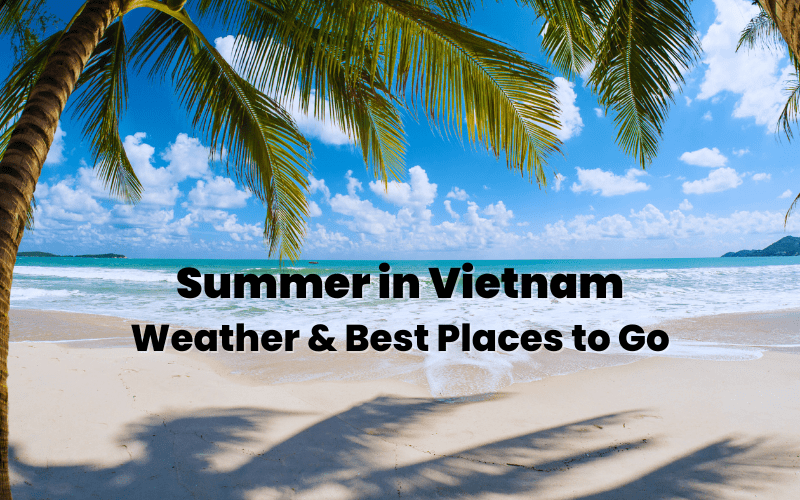 Vietnam is a vast country that spans over 3,000 miles (+4,500km), and the various regions experience diverse weather conditions throughout the year. As summer is the season when many individuals have the time off from work, school, or other obligations, it's worth considering Vietnam as a summer vacation destination. Let's explore whether summer in Vietnam is the best time to visit. If yes, where to go?
When is Summer in Vietnam?
The summer season in Vietnam usually runs from late April to late August, and the country experiences hot and humid weather during this time. Temperatures can soar up to 40°C, with an average temperature of around 34°C. It is advisable to avoid going out between 10 am and 3 pm when the heat is at its peak. If you plan to visit Vietnam in summer, make sure to apply sunscreen, wear a hat, and stay hydrated.
Despite the heat, heavy rain and thunderstorms can also occur in the afternoons, so be prepared. In southern Vietnam, summer coincides with the rainy season, which usually lasts from May to November, with the heaviest rainfall occurring from June to August. During this time, sudden and heavy downpours are common in Ho Chi Minh City and the surrounding provinces, and flooding may occur. The best way to obtain accurate weather information is to check the weather forecast or consult with a local travel agency before packing your luggage.
However, the Central region of Vietnam enjoys a drier and sunnier climate during the summer, making it an ideal destination to escape the heat and rain. The summer season is also the peak season for domestic tourism, and popular beaches such as Nha Trang and My Khe, as well as other destinations like Hue and Hoi An, can be crowded.
Should You Visit Vietnam in Summer?
As in many other countries, Vietnam experiences a less-than-comfortable summer season. Nevertheless, seasoned travelers are drawn to this country during the warmer months for a variety of compelling reasons.
To begin with, Vietnam boasts an abundance of stunning beaches, many of which rank among the world's most beautiful. There's nothing quite like cooling off in the crisp, refreshing waters on a scorching day.
Furthermore, the Vietnamese summer in the highlands, rural areas, and valleys offer breathtaking and temperate experiences. Travelers can fully immerse themselves in the delightful ambiance of places like Mai Chau Valley, marvel at the verdant rice terraces in Ha Giang, or savor the romantic landscapes of Dalat, among other options.
Lastly, Vietnam's summer cuisine is both distinctive and delectable. Tropical fruits, freshly blended smoothies, sweet cane juice, salads, and creamy coconut concoctions are among the delectable refreshments you simply must savor during this season.
Where to Go in Summer in Vietnam?
1. Sapa
Sapa, located in the northeast of Vietnam, is regarded as one of the most striking mountainous landscapes with an altitude of around 1500 meters above sea level. The town has a subtropical climate with highly seasonal weather, and its annual temperature ranges from 15.4°C to a maximum of 29.4°C. Therefore, Sapa is an ideal place to visit during the summer in Vietnam.
This town is also home to many traditional tribal villages of minority groups, such as the Black Hmong and Dao tribespeople. Visitors can trek through these villages to learn more about their unique local customs.
During the summer season, tourists can admire the magnificent view of the terraced rice fields turning from green to yellow for the harvesting season. For a stunning view and a pleasant atmosphere, visitors can head to Tram Ton Pass or Heaven's Gate, the highest mountain pass in Vietnam, to capture the beautiful scenery of Sapa town.
>>> Enjoy the peaceful atmosphere and stunning landscapes of Sapa with our Sapa Trekking Tour 3 days 2 nights.
2. Ha Long Bay
Halong Bay is a UNESCO World Heritage Site and one of the 7 Natural Wonders of the World, featuring over 1,600 limestone islands and cliffs. If you plan to visit Vietnam in summer, Halong Bay should definitely be on your list of destinations. The bay boasts aqua-green water, numerous cool caves, and unique grottoes, all of which create a fantastic scene.
During the high tourism season, Ha Long Bay cruises and hotels tend to fill up quickly and must be booked in advance. However, in the summer, prices are more appealing due to less demand for hotels and flights, and it is easier to find affordable options. Moreover, the atmosphere in Halong Bay is more peaceful and relaxed, allowing for greater immersion in the local culture. In the morning, you can watch the lapping waves, breathe in the fresh sea air and gentle breeze, and witness the spectacular ocean sunrise.
3. Mai Chau
If you're concerned about the crowds in Sa Pa during the summer months, Mai Chau is an excellent alternative. This Vietnam destination provides tourists with the opportunity to swim in waterfall pools, cycle through rice paddies, and stay in a tranquil homestay. Mai Chau offers all of the same attractions as Sa Pa but without the large crowds of tourists.
4. Ninh Binh
Ninh Binh, the former capital of Vietnam, is a picturesque destination that offers a blend of all the vibrant colors that the country has to offer. Often referred to as "Halong Bay on rice paddies," this scenic location is perfect for tourists planning to visit Vietnam in summer. The breathtaking views of the vast rice fields can be best admired while taking a boat trip in the Red River Delta and exploring the stunning caves.
5. Phong Nha Ke Bang National Park
Phong Nha Ke Bang National Park is a World Heritage Site and Biosphere Reserve that you should visit while traveling in Vietnam. Evergreen forests, various animal species, exotic birds, and wildlife are home to the place. Plan a trip to this beautiful place in Vietnam to see in summer to witness the wilderness, karst mountains, sophisticated caves, and magical underground rivers. Start by cycling or exploring caves, or explore the biodiversity in the botanical garden, or choose a guided tour and let yourself be enchanted.
6. Nha Trang
Nha Trang is a charming city that boasts a thriving economy, rich culture, and vibrant tourism industry. It is widely considered one of the most stunning beach destinations in Vietnam and with good reason. The city is home to a breathtaking 6-kilometer beach, which is simply stunning. With sparkling white sand and clear blue waters that merge seamlessly with the vast blue sky at the faraway horizon.
This city is more than just its pristine beaches, it is also famous for the vibrant nightlife, rich history, and delectable cuisine. Visitors can explore the many attractions in and around the city, including ancient temples, traditional markets, and picturesque fishing villages. And for those who love water activities, there is plenty to keep you busy, from snorkeling and scuba diving to surfing and windsurfing.
7. Hoi An
The enchanting ancient city of Hoi An, located on the central coast of Vietnam, becomes even more stunning in the clear blue skies of summer in Vietnam. It's a city with a rich history and a fascinating culture, and there's plenty to explore here. Wander through the ancient streets and marvel at the variety of architecture that includes Vietnamese, Chinese, and Japanese influences. Take a foodie tour and indulge in the many flavors that Hoi An has to offer, from local street food to high-end restaurants.
Exploring the city on foot, by bicycle, or by cyclo is an excellent way to immerse yourself in the unique ambiance of Hoi An. But if you're looking for some time on the beach, head to the nearby Bang Beach. This beautiful white sand beach is a great place to soak up some sun and enjoy the clear waters of the sea. If you're feeling adventurous, take the public boat to Cham Island, which takes around two hours. Here, you can discover even more beautiful beaches and enjoy freshly cooked seafood while enjoying the stunning island scenery.
>>> Discover the gorgeousness of Cham Island with our 1-day tour.
8. Da Lat
Da Lat is a beautiful destination filled with green forests and picturesque landscapes. At 1,500m above sea level, Da Lat is renowned for its mild weather, which averages between 18°C to 21°C, with the highest temperature at 30°C and the lowest at 5°C.
The city is situated on a series of green pine-covered hills, with a serene small lake at its center, beautiful flower gardens, and French-style architecture. Some of the most romantic and poetic places to visit in Da Lat include the Valley of Love, Lake of Sighs, Xuan Huong Lake, and Da Lat Flower Park. For adventure seekers, the area is perfect for mountain hiking and biking, while history enthusiasts can explore the summer home of Bao Dai, the last King of Vietnam.
9. Phu Quoc
Located in the Gulf of Thailand, Phu Quoc is a stunning and expansive island that travelers should not miss during their summer in Vietnam. Known for its pristine and natural environment, the island boasts some of the most beautiful beaches and sparkling coral reefs that are visible through the clear and translucent waters. Endorsed as a dreamy and idyllic destination, Phu Quoc is considered one of the top beach destinations in Vietnam. Among its most famous spots are Khem Beach, Sao Beach, and Ham Ninh fishing village, each offering unique experiences for travelers.
Additionally, Phu Quoc is heaven for scuba diving enthusiasts as the service is readily available on the island. This provides the perfect opportunity for tourists to explore and discover the fascinating marine life under the sea, creating a perfect summer trip for those seeking adventure and relaxation.
>> Explore the best of Phu Quoc island with our well-planned Phu Quoc Tours.
10. Con Dao
The Con Dao Islands are among the most mysterious islands in the world. The gorgeous and pristine beaches, corals, forests and other attractions of the archipelago are perfect for a summer trip to Vietnam. The famous Six Senses Con Dao Resort adds to the charm of this beautiful Vietnamese destination. If you are planning your summer vacation in Vietnam, you don't need to miss these attractions like French Tiger Cages in Phu Tuong, Đất Dốc Beach, Miếu An Sơn Buddhist Temple and Côn Đảo Museum .
What to Eat in Summer in Vietnam?
1. Tropical fruits – Most Popular Consumption in Summer in Vietnam
Vietnam is known for its tropical climate and as a result, the country is blessed with an abundance of delicious tropical fruits. Summer in Vietnam is also the fruit season, locals and tourists alike can indulge in a wide variety of fruits to help them stay cool and refreshed in the hot weather. Some of the most popular fruits during this season include citrus fruits, watermelons, mangoes, dragon fruit, rambutan, lychees, durians, and pineapples. These fruits are not only delicious but are also packed with essential vitamins and minerals that help in maintaining good health.
In addition to their health benefits, tropical fruits also play a significant role in the cultural identity of Vietnam. They are used in many traditional dishes and are an integral part of the Vietnamese culinary experience. The locals take pride in the quality and variety of fruits grown in their country, and they even celebrate the fruit season with colorful fruit festivals across the country.
2. Desserts – Must-Try in Vietnam in Summer
Vietnamese cuisine offers an array of mouth-watering desserts that are not to be missed. If you're looking to discover new flavors and try out new recipes, Vietnamese desserts are a perfect choice.
With a wide variety of delectable treats to choose from, it can be overwhelming to know where to start. The diverse and fascinating collection of Vietnamese desserts in summer includes sweet soups and drinks that you may not have heard of before, such as white jelly cubes sweet porridge, soy milk, coconut ice cream, yogurt with jackfruit, green bean porridge, etc.
>>> Discover more refreshments to try in summer in Vietnam at our list of must-try Vietnamese drinks.
3. Fresh Spring Rolls (Goi Cuon) – Freshest Vietnamese Dish in Summer
Vietnamese cuisine offers a wide range of delicacies, and one of the most popular dishes is Goi Cuon, also known as fresh spring rolls. The term "Goi Cuon (Gỏi cuốn)" translates to "salad rolls" in English, with "gỏi" meaning "salad" and "cuốn" meaning "to coil" or "to roll."
This popular dish in Vietnam in summer is typically made with rice paper and filled with shrimp, pork, vegetables, herbs, and rice vermicelli. However, you can customize the filling by adding or substituting ingredients according to your taste and what's available to you. This recipe for spring rolls focuses on shrimp, vegetables, herbs, and noodles, making it a light and refreshing snack or meal during the scorching summer months in Vietnam.
4. Fresh Seafood – Cannot Miss on Vietnam Beaches
It will be a big mistake if you visit famous beaches in Vietnam like Ha Long Bay, Nha Trang, Da Nang, Phu Quoc, etc. without enjoying the local fresh seafood. From Crab, and sentinel crab to shrimp, squid, hard clam, sweet snail, etc., the diversity of Vietnamese seafood will tantalize your taste buds and give you a deeper understanding and appreciation of Vietnamese cuisine.
Tips to Beat Scorching Vietnam Summer Heat
Due to the tropical climate, the hot feeling of summer in Vietnam may be a bit different. It is not only scorching but also humid at the same time. The weather can change dramatically, from terribly hot to heavy rain within the day. Therefore, you need to prepare yourself a good health to have great experience and unforgettable memories in Vietnam during this time. Below are some essential tips to avoid heat shock:
Provide your body with enough water
Consume a diversity of fresh food
Put on sunscreen, wear a summer hat and glasses to protect your eyes and skin
Better use sandals
Refresh on Vietnam's wonderful beaches or getaway at the tranquil mountain area for a more relaxing experience
Avoid going outside at noon, when the weather is at its highest temperature
Read through the above article for important information and notes if you are planning to visit Vietnam in summer of 2023/2024. You can also refer to our Vietnam travel guide for more tips on planning a perfect holiday in our country. And, don't hesitate to contact us if you still cannot choose a destination that best fits your preference or need an all-inclusive itinerary for your trip.
Read more: