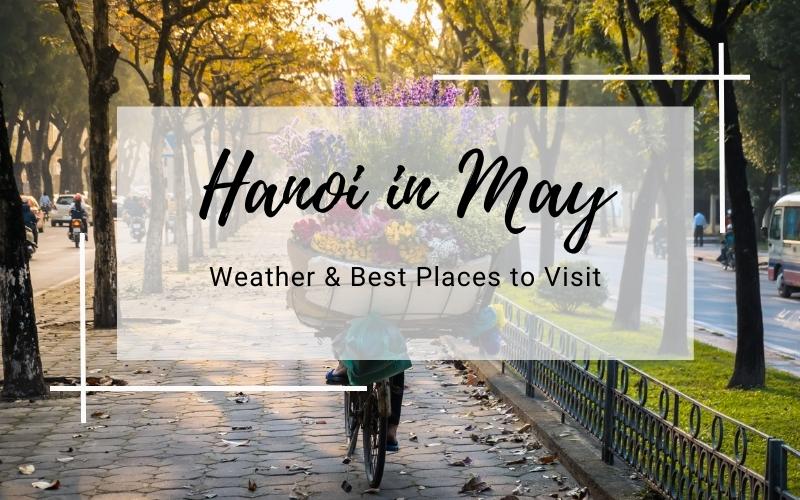 Hanoi in May presents an inviting atmosphere for travelers seeking warm and sunny days. With an average temperature of around 28°C, it's an excellent opportunity to indulge in outdoor adventures like exploring parks or embarking on a delightful street food tour. While it may not be as bustling as April, visitors can still relish Hanoi's rich cultural offerings and savor its delectable cuisine throughout this delightful season.
Hanoi Weather in May
Temperature
In May, Hanoi experiences an average daily temperature of around 27.4°C, with a temperature range of about 6-7°C. The daytime average low hovers around 24.6°C, while the average high reaches 31.4°C. Compared to the peak summer temperatures of 33.1°C in July, May offers a relatively cooler climate. This pleasant weather allows you to fully enjoy outdoor activities without being concerned about extreme heat.
However, if you plan to be outdoors during noontime, it's advisable to take some basic sun protection measures, such as applying sunscreen or wearing a hat. Embracing the traditional Vietnamese conical hat to shield yourself from the sun can also add to the enjoyable experience of exploring the city.
Humidity
Even though May marks the beginning of summer in Hanoi, the humidity remains around 85.5%. However, the wet spring has faded away, so there's no need to worry excessively. The high humidity in the air plays a role in maintaining a relatively comfortable temperature, even when it's high outside.
Precipitation
Hanoi weather in May witnesses a slight increase in rainfall compared to April, reaching around 165 mm per month, mostly in the form of showers that come and go quickly. As a result, the number of sunny hours also rises, with approximately 183 hours per month. This presents a perfect opportunity for sunbathing and enjoying the outdoors in the right places.
Major Events in Hanoi in May
International Labor Day (May 1st)
May 1st is International Labor Day, a significant holiday celebrated in Vietnam, especially in Hanoi, to honor the international worker movement. It coincides with the April 30th holiday, which marks the Liberation of the South and the reunification of the country. This is one of the major annual celebrations in Vietnam, also the peak season for domestic tourism as it aligns with the summer break for Vietnamese students.
In Hanoi, special activities include the sight of houses adorned with the national flag, creating a festive atmosphere throughout the city. Many locals choose to travel or visit their hometowns during this time, resulting in a slightly quieter ambiance in the city. This presents a great opportunity for tourists to explore the city, take captivating photos of Hanoi, and experience a different side of the city.
President Ho Chi Minh's Birthday (May 19th)
In May, the whole of Vietnam comes together to honor and remember President Ho Chi Minh. It is a time when people from all over the country visit Uncle Ho's Mausoleum or engage in activities to commemorate his significant contributions.
If you're in Hanoi during this time, you will have the opportunity to be part of this special atmosphere by visiting Uncle Ho's Mausoleum. However, keep in mind that it can get crowded as many people flock to pay their respects. Be prepared for longer waiting times and possible price increases for certain services due to the higher demand. Despite this, it is a meaningful and memorable experience to join the people of Vietnam in honoring their beloved leader.
Buddha's Birthday
May is a special time to visit Hanoi, Vietnam as it offers a glimpse into the celebration of Vesak Day, also known as Buddha's Birthday. This auspicious occasion falls on the full moon day of the fourth lunar month, in May on the Gregorian calendar. Throughout the country, people engage in various rituals and cultural performances to honor this revered day. The Buddha Bathing ceremony, acts of charity, and hoisting of the Buddhist flag are among the prominent traditions observed.
Temples in Vietnam and especially in Hanoi are beautifully adorned with decorations for this occasion, and as night descends, the sight of candles glowing on floating lotus flowers drifting along the river creates a mesmerizing spectacle. If you are traveling to Hanoi in May, don't miss the opportunity to be part of this joyful and spiritually enriching celebration.
Places to Visit in Hanoi in May
Inside the City Center
Ho Chi Minh Mausoleum
Ho Chi Minh Mausoleum, located in Ba Dinh Square, Hanoi, is an iconic memorial site and the final resting place of Vietnam's revolutionary leader, Ho Chi Minh. The imposing mausoleum was constructed after his death in 1969 and completed in 1975. It stands as a symbol of reverence and respect for "Uncle Ho," as he is affectionately known among the Vietnamese people.
The mausoleum's architecture reflects a mix of Soviet and traditional Vietnamese design elements, with its large gray granite structure and simple, austere lines. Inside the mausoleum, visitors can view Ho Chi Minh's embalmed body, which is displayed in a glass sarcophagus. The experience is solemn and respectful, with visitors required to maintain decorum and dress modestly while paying their respects.
Hanoi Old Quarter
Hanoi Old Quarter has become a magnet for international tourists seeking an exciting and enriching experience in the capital of Vietnam. Here, you can experience the vibrant atmosphere of the night market, and indulge in the city's delectable snacks like iced tea, fresh fruit, candy scissors, and more. Delighting in mouthwatering dishes like dried beef salad, La Vong fish balls, and pho rolls, all at affordable prices ranging from 5,000 to 50,000 VND (approximately 0.21 to 2.15 USD) also promises to be a long-lasting memory. Besides savoring the local cuisine, you can shop for essential items like clothes, shoes, accessories, and souvenirs, all at budget-friendly prices.
Hoan Kiem Lake
May is an ideal time to explore Hanoi's captivating attractions, and among the top ones are Hoan Kiem Lake and Ngoc Son Temple. The pleasant climate and cool weather create a perfect setting to appreciate the architectural marvels of ancient Vietnam, including the Turtle Tower and Ngoc Son Temple.
On weekends (Fridays, Saturdays, and Sundays), the walking street comes alive with a vibrant and youthful ambiance, where you can engage in various exciting activities like rope skipping, parasol games, soccer, and tug of war. What's more, the enchanting sight of Hoan Kiem Lake adorned with striking red phoenix flowers and the alluring purple hues of the shrine add to the allure of this captivating spot.
>>> Visit these famous tourist destinations in Hanoi with our Hanoi Full Day Tour.
Far Beyond the City Center
Mai Chau
Mai Chau district in Hoa Binh province is a haven of natural beauty, graced with stunning landscapes that transport you away from the hustle and bustle of city life, offering moments of serenity and rejuvenation. In May, the district unveils its unique charm, allowing visitors to witness the fascinating rain praying ceremony of the Thai people. Immerse yourself in the picturesque fields and villages, where the essence of traditional life thrives. Also, stroll around the local markets to purchase exquisite brocade souvenirs, each piece reflecting the rich cultural heritage of the region. Mai Chau in May promises a captivating escape, where nature and culture seamlessly blend to create an unforgettable experience.
>>> Read through our article on Mai Chau Itinerary: How to Spend 1,2,3 Days in Mai Chau? if you are interested in visiting this place. Or, refer to our Northwest Vietnam Tour in 10 Days for a well-planned tour itinerary over Hanoi, Mai Chau, and more breathtaking landscapes.
Ha Long Bay
Halong Bay, located on the western side of the Gulf of Tonkin, is truly a gem among the world's 29 most exquisite bays and a must-visit destination in Vietnam. Its breathtaking beauty is defined by a vast expanse of sea and 1,969 islands of all shapes and sizes, adorned with mesmerizing natural landscapes. For an unforgettable experience, the ideal time to explore Ha Long is from May to June. During these months, the weather is pleasantly cool, avoiding the scorching heat, making it perfect for both swimming and sightseeing. The tranquil climate creates an excellent atmosphere for cruising Halong Bay for one or two nights, offering an enchanting journey amid the captivating scenery.
>>> Check out Ha Long Bay Cruises to find the one that best fits your personal preferences and budget.
Hanoi Travel Tips
Utilize ride-hailing apps: In Hanoi, Grab and GoViet are excellent and convenient ride-hailing apps that offer affordable transportation, especially during rush hour. Download them together with other Vietnam travel apps before entering the country for the best convenience.
Consider renting a motorbike: Exploring Hanoi on a rented motorbike can be a great way to get around, but keep in mind the chaotic traffic and exercise caution.
Opt for public transportation: Hanoi's public transportation system, comprising buses and trains, is both cost-effective and efficient. Try them if you want to save more for your trip.
Prepare for the weather: May in Hanoi marks the beginning of summer, bringing above-average heat and occasional sudden showers. Tourists are advised to pack summer clothes and carry a raincoat with spare clothes to handle unexpected downpours, which can last 3-5 minutes. Additionally, essentials like sunscreen, sunglasses, insect repellent, and correct charger adapters are essential for a comfortable trip.
Hanoi in May beckons with a host of fascinating activities and places to explore. From the charming night market to other hidden gems, the city promises unforgettable adventures. These are just a few delightful suggestions for your May travel itinerary. Contact us right now and plan to trip to embrace the opportunity to discover the wonders of Hanoi during this enchanting season.
Read more: