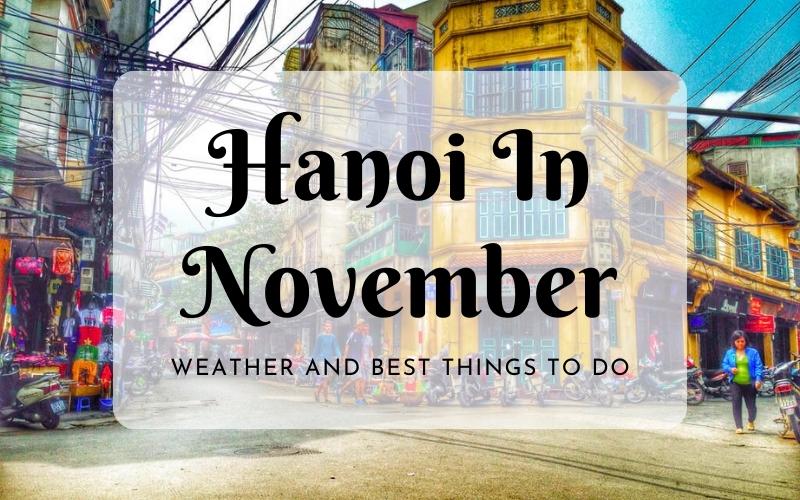 If you travel to Hanoi in November, you will be greeted by a cool and pleasant atmosphere, making all activities more interesting. During this time, you will have the opportunity to experience a part of the unique cultural space of the Vietnamese capital, promising memorable and wonderful experiences. Let's explore the charms of Hanoi in November with IDC Travel.
Weather in Hanoi in November
If you choose November to visit Hanoi, you have chosen the right time. Hanoi weather in November is in the interference of autumn and winter. The weather is both cool and sunny. The average temperature in Hanoi in November is about 18-24ºC, with bright and warm days. The early morning and night will be slightly colder. This is the ideal time for you to plan your Hanoi travel with friends and family.
Coming to Hanoi in November, you should prepare some long-sleeved clothes since the air here is cool. Besides, bringing moisturizer is essential because Hanoi weather in November is sunny. Although it is not as harsh and hot as summer, this hot sun will make your skin dry and cracked, causing pain and discomfort. Be sure to prepare a full range of lotions so you can explore the capital comfortably.
Best Places to Visit in November in Hanoi
Hanoi Old Quarter – A Must-Visit Place
If you want to learn about the culture and lifestyle of the old-school Hanoians, don't forget to visit Hanoi Old Quarter! Hanoi Old Quarter has 36 streets, including Hang Ma, Hang Ngang, Hang Dao, Hang Than, Hang Buom, Hang Dau, Hang Bong, Ma May, and many more. Each street is associated with a separate traditional craft village. Along with that, the ancient beauty hidden in the middle of the modern capital will bring you a unique and unforgettable experience.
Businesses on these streets are almost still trading traditional goods according to the street's name. However, some other roads have switched to selling more trendy items. Traveling to Hanoi in November and exploring 36 streets, you will have special experiences amidst the bustling atmosphere in the capital. Moreover, the ancient beauty of the old quarter in the heart of the modern city will surely attract tourists who love Hanoi.
Ho Chi Minh Mausoleum
Ho Chi Minh Mausoleum is the place to save the body of President Ho Chi Minh – the former president who lives forever in the hearts of all Vietnamese. Located in the middle of Ba Dinh Square, where President Ho Chi Minh read the Declaration of Independence, this is a sacred place of great significance to every Hanoian in particular and the country in general.
This is a modern and sophisticated architectural construction. It looks simple but contains many deep meanings about national history and culture. Besides, you also have the opportunity to visit the galleries of precious artifacts related to President Ho Chi Minh and his life.
Temple of Literature
With its ancient beauty and thousand years of civilization, Hanoi is always a favorite destination for tourists who want to visit and experience historical and monumental destinations. Visitors can go to the Temple of Literature, which is considered the first university in Vietnam.
The relic area is a "mirror" reflecting the spirit of studiousness and a place to pay respect to talented people. The Temple of Literature is a typical Confucian relic. This place consists of great value in terms of art, aesthetics, and architecture. When visiting this place, you will admire many valuable documents and artifacts. Especially there are 82 stone steles of doctors inside the Temple of Literature. UNESCO recognized these artifacts as "Global Memory of the World."
Delicious Hanoi Food to Try in November
Bun Thang
Bun Thang is a good choice if you are looking for a winter breakfast in Hanoi. It was made with many special ingredients, such as fried eggs, dried shrimp, shiitake mushrooms, and chicken. The broth of Bun Thang is cooked according to a unique recipe, making it extremely rich, juicy, and very fragrant. It would be your most local experience if you travel to Hanoi in November, wake up early, and have yourself a bowl of Bun Thang. This dish is said to be a quintessential cuisine associated with the image of the Hanoi people.
Hot Banh Duc – A Local Snack of Hanoians
You can try another local food called "Hot Banh Duc." This dish is actually another variation of the traditional Banh Duc. Instead of being cooled and cut into pieces to dip in soy sauce, the cake is eaten while it is still heating.
To create a delicious hot Banh Duc, it is necessary to prepare a lot of different, meticulous, and complex ingredients. You can enjoy the Banh Duc with a typical sweet and sour dipping sauce, stir-fried minced meat with wood ear, coriander, and dried onion. Some restaurants even add fried beans to this dish. The cake is chewy and soft, soaked in a decadent dipping sauce, and mixed with other ingredients to create a taste you will never forget. The price of a portion of Banh Duc ranges from 15,000 VND – 20,000 VND for each bowl, which is very cheap for a delicious afternoon snack.
Sweet Dumplings
Travel to Hanoi in November, do not miss out on this famous snack of Hanoians. Sweet Dumplings is definitely a dish born for the winter in Hanoi. Its hot taste, combined with the sweet soup and fresh ginger, would warm your body right at the first bite. The ingredients for the cake are made from glutinous rice, green beans, black sesame, ginger, fresh coconut, sugar, and peanuts. A bowl of Sweet Dumplings usually includes two cakes, one filled with green beans and the other filled with black sesame.
When enjoying Sweet Dumplings, you will find it has the soft taste of the dough, the fleshy taste of the fillings inside, along with the sweetness of the hot ginger soup. The price of a Sweet Dumplings bowl will range from 15,000 VND to 20,000 VND. The most famous restaurant in Hanoi is probably the shop of the artist Pham Bang on Hang Day Street. The Sweet Dumplings here are kept true to the traditional taste of Hanoians, ensuring an authentic experience for you.
Tips to Visit Hanoi in November
During your trip to Hanoi in November, you can admire the beautiful architecture and culture of this city in the comfy weather without worrying about the heat. However, for the best trip to Hanoi, you should keep in mind some notes below.
You should bring 1-2 coats of moderate thickness to adapt to the Hanoi weather in November. The weather in Hanoi during this time often has unexpected monsoons. 

Some attractions, such as the Ho Chi Minh Mausoleum or Temple of Literature, require proper attire. You should also bring a polite outfit to avoid unnecessary incidents when visiting.

Traffic in Hanoi is quite complicated for foreign tourists. You can take a taxi to travel to your wish destinations. However, renting a private car is highly recommended for your back-and-forth transportation.
Traveling to Hanoi in November is really interesting, isn't it? Hurry up to plan to experience the wonderful atmosphere of November in Hanoi and enjoy all the traditional cuisine in this beautiful city! You can also create your own trip to suit your preference. Just tell us where you want to go and let IDC Travel help you with the rest.
Read more: