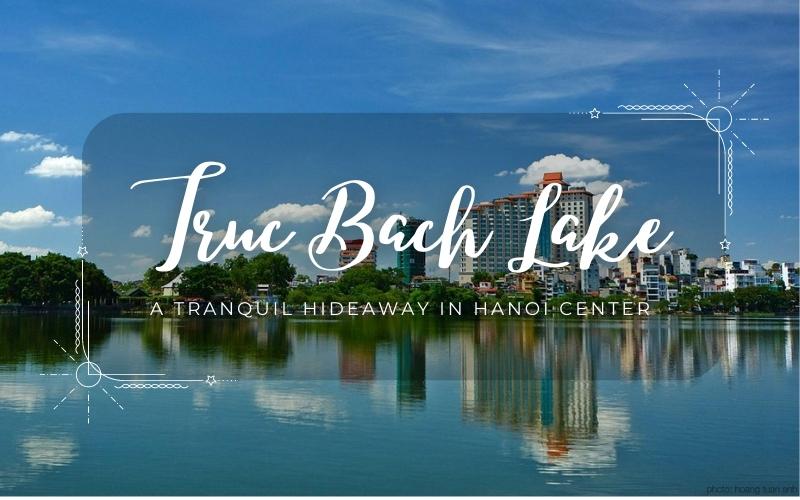 Talking about the beautiful attractions in Hanoi, Truc Bach Lake would be a name to mention. Not as famous as Hoan Kiem Lake or West Lake, Truc Bach Lake still leaves a mark in the hearts of tourists with its poetic and unique appearance.
History of Truc Bach Lake
Truc Bach Lake is now located in Ba Dinh district, Hanoi city. The lake is 22 hectares wide, with a circumference of more than 1.8 kilometers, situated on Thanh Nien Street and right next to West Lake.
Previously, this lake was a part of West Lake. In 1620, people around this area built a small embankment-shaped dyke across the lake to facilitate catching shrimp and fish. Therefore, West Lake was split in half. The larger half of the West Lake is still the West Lake, and the smaller half is now Truc Bach Lake. The embankment blocking became Thanh Nien Street today.
The lake did not have a proper name when it was first separated. However, the Truc Yen village (also known as Truc Lam village) was nearby, planted with many bamboos. In the 18th century, Lord Trinh Giang built a palace to relax by the lake and called this resting place Truc Lam. After that, Truc Lam became a detention place for the court ladies who committed crimes. They must weave silk to support themselves. Their silks were beautiful and became famous throughout the region. This beautiful, shiny silk is called bamboo silk (竹柏 – Truc Bach). Therefore, the village specializing in silk weaving is named after the silk's name. The small lake was then called Truc Bach Lake.
Special Features of Truc Bach Lake
Not as ancient and mysterious as Hoan Kiem Lake nor as dreamy as West Lake, Truc Bach Lake has an idyllic beauty with a stone embankment and cobblestone pavement. The flower beds planted around the willows along the path create a peaceful scene. However, the lake's features have both historical and political significance.
Thuy Trung Tien Temple
Thuy Trung Tien temple is located in the middle of the small lake, hidden among the dense trees, seeping a contemplative look. As a spiritual relic, it was not known by many people before, despite its airy and prime location.
Previously, the temple was called Cau Nhi Temple (Puppy Temple), associated with legends and folk beliefs related to the event that King Ly Thai To moved the capital to Thang Long. Before Ly Cong Uan became king, people whispered that a dog in the Co Phap continent gave birth to a white puppy with black spots resembling two words "Thien Son" (天山 in old Vietnamese). Because King Ly Thai To was in the age of the Dog, he believed in the story and built a temple to worship the Dog God. The temple was moved to the island of Truc Bach Lake and still exists to this day.
Today, Thuy Trung Tien Temple worships Mother Goddesses. This temple is a unique spiritual place in the landscape complex of West Lake – Truc Bach Lake. Perhaps according to the old legend, Thuy Trung Tien temple now raises five puppies that wander around the campus all day.
The Special Relief
On Thanh Nien Street, there is a special relief commemorating an event associated with the nation's history.
On October 26, 1967, during the Vietnam War, John McCain (a US Navy pilot), while on a mission to attack the Hanoi power plant, was shot down by an anti-aircraft missile and parachuted into the lake here. Since locals arrested him, John McCain became a prisoner of war for over five years. After being released from prison in 1973 after the Paris Agreement, he returned home and actively participated in reconciliation, normalization of relations, and promoting cooperation between Vietnam and the US.
Must-Do Activities around Truc Bach Lake
Riding a Duck Boat
Coming to this lake, you can rent a duck boat and experience the service here. The port is open from 7 AM to 9 PM daily. The price of renting a large boat for the whole family is VND200,000. The small boat rental price is VND100,000. This experience will definitely be unforgettable for visitors when visiting Truc Bach Lake. You can ride duck boats while enjoying the scenery of the lake, with cool fresh air.
Cafeing with a View
The Highlands Coffee Yacht on the lake is next to the duck boat wharf. This cafe owns the most beautiful location in the Thanh Nien Street area. If you choose a seat on the 2nd floor, you can fully enjoy the picturesque scenery of both Truc Bach Lake and West Lake. After walking around the lake, this cafe shop should be your final stop for relaxation and enjoying the true Vietnamese coffee flavors.
Walking/Biking around the Lake
You can combine other different activities if you don't want to stop at a coffee shop. Why not treat yourself to a glass of traditional Vietnamese drink and take a walk around Truc Bach Lake? You will have an opportunity to immerse yourself in the calm space of the lake and watch the Hanoi streets. You can also rent bicycles and ride around the Truc Bach – West Lake area. By taking part in this activity, you will have a memorable experience like a local Hanoian.
Foods to Try in Truc Bach Lake
Frog Hotpot
Truc Bach Street has always been famous for frog hotpot. If you intend to stop to find a hotpot restaurant when passing here, dozens of hospitable staff will be running out to offer. The frogs here are marinated with spices before dipping into the hot soup, which makes them much more delicious. On cold days, hotpot shops all over Truc Bach Street are full of customers. Friends and families gather to eat and drink as bustling as a festival.
Pho Rolls
Talking about Hanoi Pho Rolls, a real Hanoian would mention Pho Rolls in Ngu Xa right away as a series of Pho Rolls shops gather on Ngu Xa Street. They are famous for the Fried Pho with a history of decades and the big, soft noodle soup, adding thinly sliced beef and crispy fresh vegetables.
Coconut Ice Cream
Coming to a tropical country like Vietnam, you should try tropical desserts. Coconut ice cream is a dish that is always highly recommended for young people and families. If you search for coconut ice cream near Truc Bach Lake, you will find Bao Oanh – Cafe & Coconut Ice Cream. This place seems to be the origin of this dessert in Hanoi.
A portion of coconut ice cream here costs 80,000 VND, but it is enough for two to three people to eat. Moreover, the restaurant's space is large and beautifully decorated, allowing diners to enjoy the view of the windy lakeside.
Attractions nearby Truc Bach Lake
Quan Thanh Temple
One of the famous tourist attractions near Truc Bach Lake is Quan Thanh Temple (also known as Tran Vu Temple). This place is a Taoist temple constructed to worship the North God, known as "Tran Vo." The temple is a must-visit destination for all tourists to have an authentic Hanoi experience. You can easily walk to this temple from Truc Bach Lake as it only takes about five minutes to arrive.
Tran Quoc Pagoda
Tran Quoc Pagoda is the oldest pagoda in Hanoi, very close to Truc Bach Lake and always crowded. You can freely walk around the temple grounds and admire the bodhi trees, various sanctuaries, and temples with curved incense sticks. There is no strict dress code, but you should wear formal clothes when visiting the temple.
West Lake
West Lake is one of the famous tourist attractions near Truc Bach Lake in Hanoi. Owning a peaceful and quiet beauty, West Lake will be appropriate for those fed up with the hustling modern city life. West Lake combines a poetic lake, a majestic historical site with exciting activities, and unforgettable Hanoi cuisine.
Truc Bach Lake is absolutely a must-visit destination for all Hanoi visitors. If you want an experience like the locals and explore more famous attractions of the capital city, check out our Hanoi motorbike tour and give yourself a chance to discover all the interesting places in Hanoi. Do not hesitate to contact us to have your best trip to Vietnam's capital.