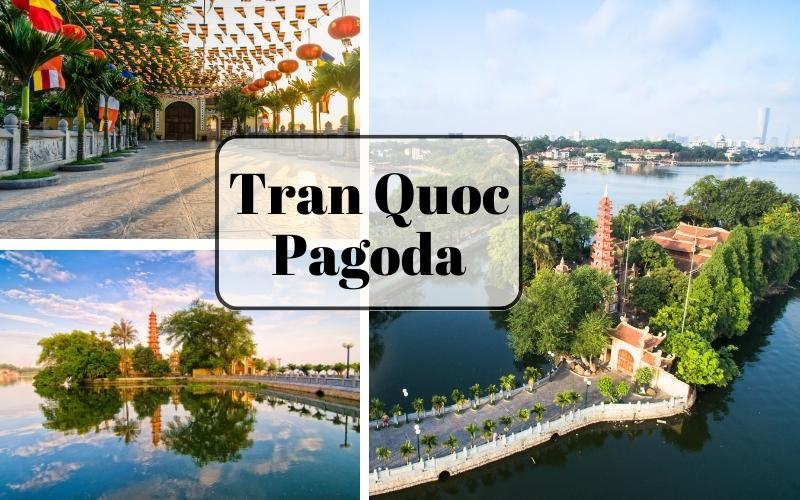 Located on a small peninsula on West Lake, Tran Quoc Pagoda is considered one of the most tranquil and picturesque pagodas in Hanoi with a history of more than 1,500 years. The Pagoda possesses a wealth of historical and architectural significance, making it a renowned destination for Buddhist devotees and tourists alike. The sacred Buddhist temple is revered by both Vietnamese locals and visitors from around the world. It stands as an essential stop on the itinerary for anyone embarking on a one-day tour of the city.
Essential Information for Tourists
Location of Tran Quoc Pagoda
Tran Quoc Pagoda is located in Hanoi – the capital city of Vietnam. Specifically, it is situated on a small island in West Lake (Ho Tay), near Thanh Nien Road.
Opening hours and Entrance Fee
Operating hours: Tran Quoc Pagoda welcomes visitors daily from 8 am to 4 pm.
Admission fees: Free.
The History of Tran Quoc Pagoda
Tran Quoc Pagoda's origins trace back to the era of the Ly Nam De Dynasty, between the years 544 and 548. Initially named "Khai Quoc," which translates to "Opening a country," it was established along the banks of the Red River, approximately within Yen Phu Ward, Tay Ho District, where it stood for centuries. During the reign of King Le Thai Tong in the 15th century, the pagoda underwent a name change to "An Quoc," signifying a peaceful country.
However, in 1915, a serious landslide was ingrained into the stability of the pagoda's foundation. To ensure its preservation, the government, and local residents made the decision to relocate the entire structure to Kim Ngu Island on the eastern side of West Lake. This relocation marks the current location of Tran Quoc Pagoda, which stands as a testament to its historical journey and can be witnessed to this day.
The process of renaming continued until it eventually acquired the name "Tran Quoc Pagoda" during the reign of King Le Huy Tong (1681-1705). The name "Tran Quoc" carries the meaning of "protecting the country." With each successive name bestowed upon the pagoda, we witness a significant milestone in the country's history and the heartfelt wishes of its people intertwined with this sacred sanctuary.
The Landscape and Architecture of Tran Quoc Pagoda
Renowned for its breathtaking landscape and revered as a place of spiritual sanctuary, Tran Quoc Pagoda has long been a cherished destination for kings and nobles of Vietnam. Throughout history, it has been a beloved site for sightseeing, particularly during festivals, full moon days, and the Tet holiday. Despite the encroachment of urbanization on the surrounding landscape, the pagoda continues to maintain its well-deserved reputation and allure, remaining an esteemed and revered destination for visitors from near and far and being a testament to its reputation as one of the most beautiful temples in Vietnam.
Nestled amidst the bustling Thanh Nien Road, the expansive Tran Quoc Pagoda complex spans over 3,000 square meters and is enveloped by the serene waters of West Lake. Meticulously designed in accordance with the revered principles of Buddhist architecture, the complex features an intricate arrangement of buildings, including three prominent structures are known as "Tien Duong," serving as dedicated spaces for incense burning. These interconnected rooms harmoniously form the shape of the Cong script, adding to the aesthetic allure and symbolic significance of the pagoda.
The Tran Quoc Pagoda precinct boasts a prominent feature that catches the eye from a distance—the towering stupa, erected in 1998. Standing at a height of 15 meters and composed of 11 floors, this stupa is adorned with vaulted windows on each level, each holding a precious gemstone statue of Amitabha. At its pinnacle, a resplendent nine-story lotus (Cuu Dinh Lien Hoa) gleams, also crafted from gemstone. Situated in perfect symmetry with the stupa is the venerable Bodhi tree, graciously gifted by the former Indian President during his visit to Hanoi in 1959, thus marking its 50-year presence. Abbot Thich Thanh Nha of Tran Quoc Pagoda elucidates the significance of this correlation, stating, "The lotus symbolizes Buddha, while the Bodhi tree represents supreme knowledge."
Tran Quoc Pagoda goes beyond its spiritual significance; it also serves as a remarkable repository of invaluable antiquities, some dating back hundreds or even thousands of years. The front house of the pagoda showcases a collection of worshiping statues, each a masterpiece intricately engraved and meticulously polished by skilled craftsmen. Among these treasures, one statue stands out in its magnificence – the revered "Thich Ca Thap Niet Ban" statue. Regarded as Vietnam's most exquisite statue, it captivates all who behold it with its extraordinary beauty and artistic brilliance.
With its historical and architectural values, Tran Quoc Pagoda is not only a worth-visiting and sacred sanctuary of Buddhism attracting countless Buddhist believers; but also an indispensable place for cultural visitors to Vietnam.
Best Places to Visit near Tran Quoc Pagoda
Quan Thanh Temple
In close proximity to Tran Quoc Pagoda lies Quan Thanh Temple, an ancient Taoist temple renowned for its exquisite architecture and cultural importance. This sacred temple is dedicated to Tran Vu, revered as the God of the North. A visit to Quan Thanh Temple provides an opportunity to appreciate its architectural grandeur and gain insights into the spiritual heritage of Taoism in Vietnam.
West Lake
You can try a leisurely walk or bicycle ride along the enchanting shoreline of West Lake, the largest lake in Hanoi. Immerse yourself in the serene atmosphere as you soak up the picturesque vistas that unfold before you. Discover the allure of the charming lakeside cafes and restaurants, offering delightful culinary experiences amidst this setting. Take your time to savor the tranquility and admire the beauty of this captivating destination.
>>> Driving around West Lake, consume delicious street food and Vietnamese coffee with our Hanoi Motorbike Tour 1 Day.
Ho Chi Minh Mausoleum
Located a short distance from Tran Quoc Pagoda, you'll find the Ho Chi Minh Mausoleum, a highly significant landmark in Hanoi. This revered site is the resting place of the preserved body of Ho Chi Minh, the esteemed former leader of Vietnam. The mausoleum stands as a tribute to his enduring legacy and offers visitors a profound glimpse into the history and reverence surrounding this influential figure.
Getting to Tran Quoc Pagoda
Taxi/Private car
Tran Quoc Pagoda is conveniently accessible by taxi from any location in the city. You can simply flag down a taxi and provide the driver with the address of the pagoda. As a popular landmark, most taxi drivers are well-acquainted with its location.
You may want to explore the option of renting a car with a private driver, offering the convenience of having a dedicated driver who is knowledgeable about navigating Hanoi. Many of these drivers are fluent in English and can provide valuable insights into the city, including its historical landmarks, delicious cuisine, popular entertainment venues, and more. If you require further details of this service, don't hesitate to contact us.
Grab/Ride-sharing services
Besides private taxis, you can make the most of ride-sharing apps like Grab to effortlessly book a car or motorbike taxi and enjoy a seamless ride to Tran Quoc Pagoda. With these convenient apps, you can easily arrange transportation according to your schedule, ensuring a smooth and hassle-free journey to the pagoda.
Public bus
Hanoi boasts a comprehensive public bus network, providing convenient transportation options. By checking the local bus routes, you can identify buses that pass in close proximity to Tran Quoc Pagoda. Get off at the nearest bus stop, and a brief walk will bring you to the pagoda's entrance, allowing for easy access and exploration. To go to the pagoda by bus, you will take 2 bus routes that are bus line 33 and bus line 50.
Walking or cycling
If your accommodation is situated near West Lake or in nearby areas, walking or renting a bicycle is a delightful option to try. Embrace the opportunity to enjoy a leisurely walk or bike ride while immersing yourself in the scenic surroundings. This allows for a pleasant and immersive experience as you make your way to Tran Quoc Pagoda.
For those with a profound fascination for spiritual attractions, Hanoi undoubtedly stands as a must-visit destination when traveling to Vietnam. If you find yourself fortunate enough to journey to this captivating country, don't forget to seize the opportunity to explore Tran Quoc Pagoda, the oldest temple in northern Vietnam. Contact us for assistance in planning your upcoming trip to Hanoi. We are here to help you create a memorable and enjoyable experience in the vibrant city.