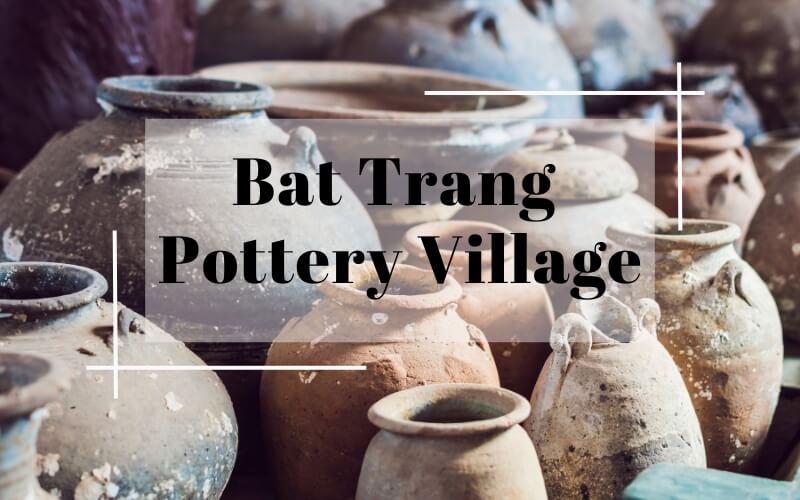 Located approximately 13 kilometers southeast of Hanoi center, on the opposite side of Chuong Duong bridge, Bat Trang pottery village is a charming small village that has gained popularity among tourists for famous high-quality ceramic products. It is considered a must-visit destination in Hanoi, Vietnam for historic and cultural lovers, who want to get a glimpse of the traditional methods and techniques of pottery making.
Where is Bat Trang Pottery Village Located?
Bat Trang Pottery Village, situated in Gia Lam District, Hanoi, is conveniently located on the bank of the Red River, just 14 kilometers from Hanoi city center. Getting to the village is easy and can be done by various means of transportation.
Public buses are the popular choice for affordability and convenience. From your location, find a way to reach Long Bien Transit Point on Tran Nhat Duat Street, where you can catch bus number 47A to Bat Trang Ceramic Village Hanoi. The bus will drop you off at the village entrance. It takes approximately 30-40 minutes and costs 7,000 VND per ticket.
If you prefer to explore on a motorbike, it only takes 20-30 minutes to ride from Hanoi city center to Bat Trang Pottery Village. Simply follow the road along the Red River bank after crossing Long Bien Bridge or Chuong Duong Bridge. You can use Google Maps or follow the signposts along the way.
Taking a taxi is another convenient option. You can request your hotel receptionist to book a taxi for you or arrange one yourself.
If you opt for a Bat Trang Pottery Village tour with a tour operator or agency, transportation will be included in the package. You will be picked up directly from your hotel, eliminating the need to worry about transportation arrangements. This is the fastest and most convenient way to have a day trip to Bat Trang village from Hanoi. Arrange your trip with us now.
The History and Development of Bat Trang Pottery Village
Bat Trang Pottery Village holds the distinction of being the oldest ceramic-making village in Vietnam. While historical records suggest that it was established in the 14th or 15th century, there is evidence pointing to an even earlier origin.
During the reign of Emperor Ly Thai To, the first ruler of the Ly Dynasty, the capital was relocated to Dai La, known as Hanoi today. Many craftsmen accompanied the emperor and chose Bat Trang as their settlement due to its proximity to the Red River, offering convenient water transportation. The area was abundant in white clay, which further attracted pottery makers.
Despite the challenges and changes over the course of history, the villagers of Bat Trang have diligently preserved their ancestral traditions. Today, Bat Trang stands as a renowned brand not only in Vietnam but also across Asia, particularly in the realm of ceramic products. Bat Trang Ceramics are esteemed representatives of Vietnamese fine arts and have garnered widespread recognition.
Famous Products of Bat Trang
Throughout its history, Bat Trang's ceramic products have gained a reputation for their exceptional quality, style, and glaze. They are sought after by aristocratic families and serve religious purposes. The village's products have garnered popularity in foreign markets, particularly in Japan (sold under the brand "Kochi (Giao Chi) ware"), the Netherlands, Britain, Portugal, and Southeast Asia.
Bat Trang offers a wide range of products categorized into three main types based on their purpose.
Utilitarian wares: This category includes plates, bowls, teacups, kettles, wine bottles, flowerpots, vases, jars, and more. These items are characterized by their thickness, which sets them apart from their Chinese counterparts.
Cult wares: Cult wares consist of lamp stands, candle holders, incense burners, altar boxes, swords, and other items used for religious or ceremonial purposes. Collectors value these pieces due to their inscriptions containing production years, names of producers, and potters.
Decorative objects: This category encompasses house models, altars, statues, and architectural fixtures that serve as decorative elements. This is also the one you can buy as a Vietnam souvenir for your relatives and friends.
What makes Bat Trang products truly unique is the diverse range of decorations they feature. With a rich history and continuous development, the village has accumulated a wide array of special designs. Additionally, the high-quality glaze applied to these products comes in a variety of colors, including blue, brown, white, moss green, etc., making the products more and more captivating.
Places to Visit in Bat Trang Pottery Village
When exploring the cultural and fine art wonders of Hanoi, a visit to Bat Trang Pottery Village is an absolute must. This enchanting destination offers much more than just a glimpse into Vietnamese handicraft traditions; it also presents a plethora of exciting activities to engage in.
As you embark on your journey to this traditional ceramic village, be sure to discover the following captivating attractions:
The Ancient Village
When you visit Bat Trang pottery village, it is highly recommended to explore the ancient village with its distinct architecture reminiscent of the past. Take a memorable ride on a buffalo car, immersing yourself in the rustic ambiance and traditional Vietnamese atmosphere of bygone days.
The Pottery Market
Just like other traditional craft villages, Bat Trang Pottery Village features a bustling market where you can find a wide array of ready-made ceramic items. Within its expansive 6,000-square-meter space, numerous stalls offer an impressive selection of excellent ceramics, ranging from household items like cups and dishes to rockery miniatures, ornaments, ceramic pictures, and worship items. While you may come across Bat Trang products in the Old Quarter of Hanoi or other ceramic shops in the city center, the unbeatable prices and unique designs found in the village market make it a must-visit destination for ceramic enthusiasts.
Bat Trang Pottery Museum
For enthusiasts of fine arts, the Bat Trang pottery museum holds great appeal. This captivating museum encompasses six floors, each showcasing stunning pottery collections categorized by their distinctive styles.
The first floor exhibits the ceramic masterpieces of Bat Trang Pottery Village, providing a vibrant backdrop for photo enthusiasts with its colorful architecture and captivating lighting. The second floor offers a wealth of information about the village's history and development, enriching visitors with insights into its rich heritage.
On the third floor, the Contemporary Art Center presents exquisite examples of contemporary ceramic art, highlighting the fusion of tradition and modernity. The fourth floor treats visitors to a delightful combination of coffee and scenic views overlooking the Red River. The fifth floor features a tranquil space dedicated to tea and the art of delicate tea ceremonies.
Van Van Ancient House
This magnificent architectural masterpiece showcases various ceramic motifs, such as blue glaze kettles, dragon vases, and a collection of pottery stamping molds dating back to before the 15th century.
Constructed 11 years ago, this extraordinary structure comprises three compartments. The first one features a 200-year-old wooden house relocated from Thai Binh. The second compartment houses another antique house acquired from Nam Dinh. Lastly, the third compartment preserves an existing historic house.
Van Van ancient house welcomes visitors daily from 8 am to 5:30 pm. It is advised to be mindful of the operating hours to ensure a delightful visit.
Ceramic Clay Yard
When visiting Bat Trang Ceramic Village, a visit to the ceramic clay yard is a must for an exciting pottery challenge. If you're interested in simply experiencing pottery making, it will cost around 20,000 VND per turn. However, when in Bat Trang, it's recommended to go all out.
For a modest price of 40,000 – 60,000 VND, you can truly embrace the role of a potter and create finished clay products using the potter's wheel. Initially, you may feel a bit unsure if you're unfamiliar with the process, but there's no need to worry. Skilled potters will provide enthusiastic guidance and assistance to help you along the way.
Once you've completed your "masterpiece," it will be fired and dried to maintain its shape. In the next stage, you can unleash your creativity by painting designs on your creation, allowing your artistic side to flourish.
Your product can be left uncoated or coated with enamel for increased durability. However, you should apply enamel to ensure the longevity of your masterpiece.
>>> Spend a half day exploring all the best of Bat Trang pottery village and join a pottery-making process with our Hanoi Full Day Tour.
Exploring the historic ceramic kiln, handling a pottery-making process, delighting in the cuisine of Bat Trang pottery village, etc. A thrilling journey awaits you to experience this scenic spot. Plan your trip with us now to capture every wonderful moment.