Lunch & Dinner
Pick up at hotel transfer to Noi Bai airport for flight to Dien Bien Phu .
13h20: Arrive Dien Bien Phu city, tour guide and car pick up at Muong Thanh airport and transfer to hotel.
Have lunch.
PM: Haft day tour around the battlefields. You see the museum of Dien Bien with exhibits collected during the fiercest war in Indochina during the 1950s, and then we visit the vestiges of bunkers and fortified stations of over 16,000 French Expeditionary troops (including Elliane Hill and De Castries bunkers…). You will also be able to see headquarter of Vietnamese army (Viet Minh) which lies some 30km away. And finally you will understand why the French lost here and ended their attempt to control Indochina. You will visit A1 hill, Muong Thanh Bridge.
Have dinner at restaurant, overnight at hotel in Dien Bien Phu city.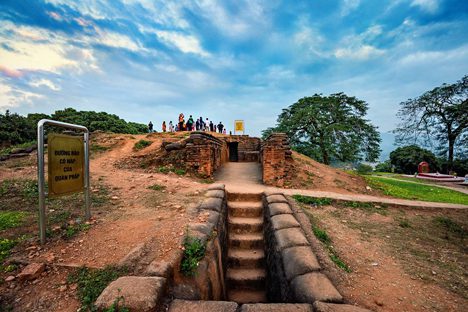 Dien Bien Phu